18 Reasons Why You Need To Clean
Do you ever wonder why you need to clean and what is the point in doing the same jobs repeatedly? There are some great reasons why you need to clean but when you actually start to think about them in detail, it does give you even more motivation to clean your home and to keep repeating those cleaning jobs.
Having a want to clean isn't something that comes naturally for some people, they might see it as a waste of time, however, giving a reason can help to stimulate and motivate you which is why I created these 18 reasons why you need to clean.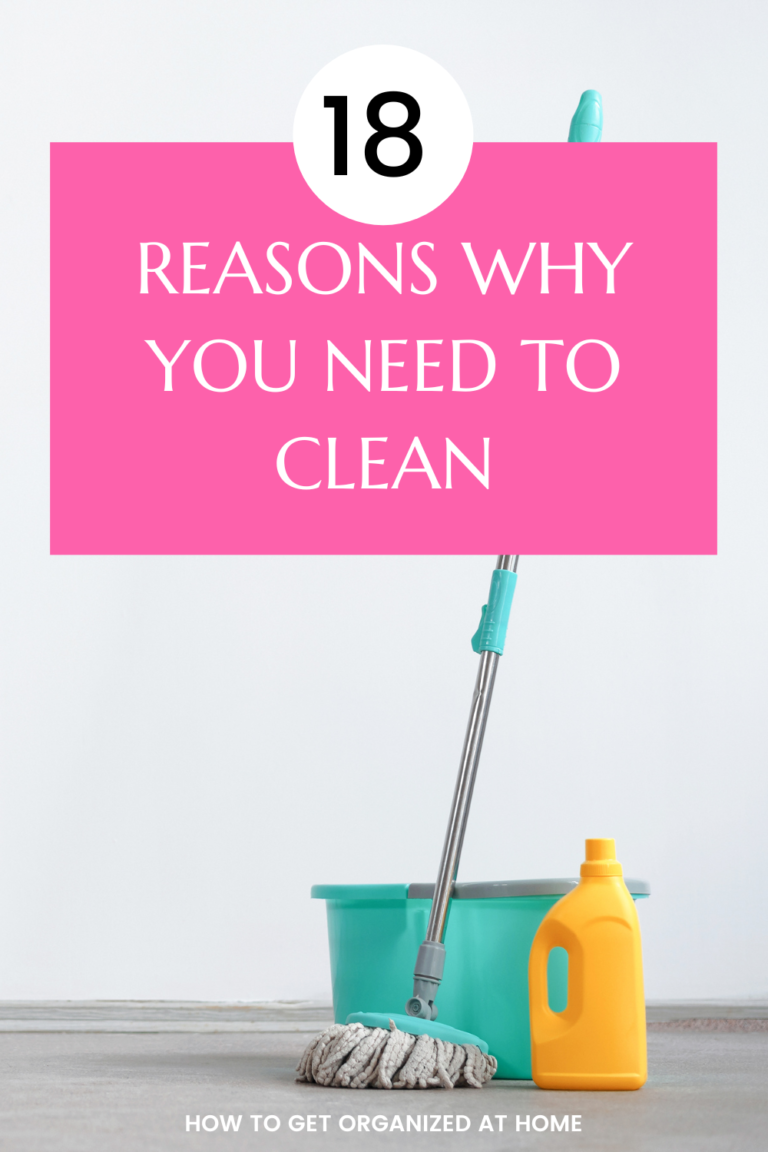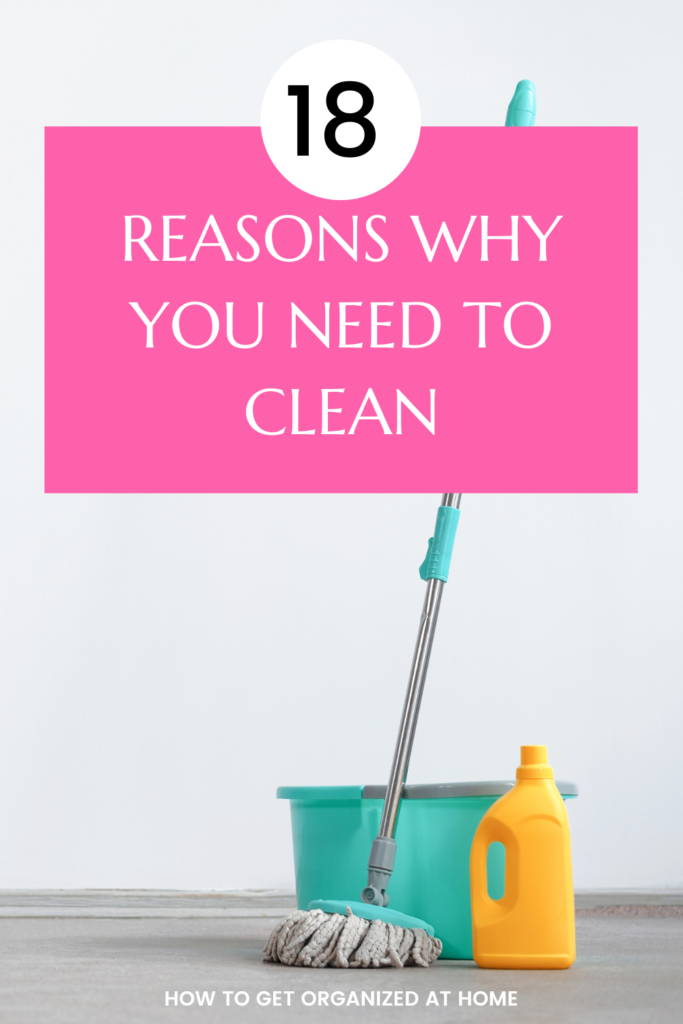 Creating A Home You Want
When you think about leaving home and starting your own home, remember you will need to clean it regularly. You will need to do those same tasks over and over again. This repetition can cause some people to wonder why they clean, and what purpose does it hold for them?
But understanding that you deserve to live in a clean and tidy home is just as important as any other cleaning reasons you might hear.
Related article: What Is Home Management And Why Is It Important?
18 Reasons To Clean
You deserve to live in a clean home
It's part of being an adult
The health of you and your family matter
Feeling good and proud of your home
It's calming, you are just focused on one task
Cleaning is exercise and this is good for everyone
Able to invite friends over
Prevent pests living in your home
Good for your mental health
A clean home is essential for children and babies
Reduces the overwhelm you can feel walking into a clean home
You don't need multiple items of the same product, keeping things clean prolongs the life
It can make your life easier
It can make for a happier home all round
Increase the value of your home
Reduces the risk of allergy-related illnesses
Helps manage your time
It's part of teaching our children how to clean
Related article: What Is Home Management And Why Is It Important?
Products You Need For A Clean Home
I'm always asked what I use to clean my home so here is my list of must-have items.
Affiliate links are included for your convenience. (This means if you make a purchase after clicking a link I will earn a small commission which won't cost you a penny more!) Click here to read my full disclosure and privacy policy.
Related article: How To Choose The Right Cleaning Products
You Deserve To Live In A Clean Home
The most important person is you and so is your health and well-being and understanding that the person who deserves to live in a clean home is you. You deserve to use a clean bathroom, to use a clean kitchen, and to get into a bed with clean sheets.
You deserve a clean home too.
Related article: How To Keep A Bathroom Clean
Teaching Our Children How To Clean
This is the one area that I really missed the mark, I needed to clean. I needed to do all the cleaning, no one else could do the job properly and that meant I didn't teach my children the importance of cleaning for themselves.
I only realized when they became adults that I had failed to teach them how to clean and this is one area I wish I could go back and teach them.
Related article: Do You Make Your Children Do Chores?
Managing Your Time
To keep a home clean and tidy takes work and you need to manage your time well. This is all good practice for planning goals and dreams and fitting in the tasks that you need to do for those too.
Related article: How To Use A Weekly Planning Sheet For Success
Allergies And A Dirty Home
If you are an allergy sufferer then a dirty home can and will play havoc with them. Not just dust allergies too are affected by an unclean home.
If you suffer from hay fever, the pollen can land on your floors and surfaces and as people walk through the room the pollen is going to move and affect you.
Keeping this pollen to a minimum is going to improve how the allergy sufferer feels.
Related article: 20 Easy Cleaning Tips To Actually Help Allergy Sufferers
Property Value
Looking after your home can help to increase the value of your home if you decide to sell it. This is because a dirty and unkempt home isn't going to attract those people who will pay top dollar for your home.
It doesn't matter if when you move all the clutter will go with you and they might even want to replace the kitchen and the bathroom, they won't pay the money to you.
Related article: How To Keep Your Home Clean When You Want To Sell
Happier Home
If you are happier and everyone in your home will benefit from having a less stressful environment to live in. I know that it can't make some of the stresses go away but when I feel good about my home it does have an impact on those around me.
Related article: The Best Murder Mystery Subscription Boxes
Cleaning Is Part Of Being An Adult
I know we don't always want to hear that there are responsibilities that we need to do just because we are adults.
But it's true as an adult you have responsibilities that have to happen, you either clean your home yourself or you pay someone to do it for you.
It really is as simple as that.
Related article: Is Living With Someone Who Doesn't Clean Frustrating?
The Health Of You And Your Family Matter
If you don't clean your home it can make you and your family poorly. The dirt can bring in unwanted pests, and allergies and it just isn't good for your health.
There are also the possibilities of breeding your own bacteria and having a breeding ground for germs to grow and develop in your home. If you have mold in your home, again this is not good for you or your family. This is not a good situation to be in.
Related article: How To Get Rid Of Mold Simply And Easily From Your Home
Feeling Proud Of Your Home
There is nothing wrong with being house proud and keeping your home clean and tidy and asking people who live there or visit to respect how you are feeling about your home.
Keeping it in order and clean can and will make you feel a sense of pride in your home.
Related article: What Is Home Management And Why Is It Important?
Cleaning Is Calming
You will be surprised how calming cleaning can actually be. You aren't thinking about 100 other things, just the task you are doing and this can calm you and give you clarity on other situations.
Related article: Fall Cleaning Checklist To Make Cleaning Easier
Exercise Is Cleaning
If you worry that you aren't getting enough exercise then it's time to get your clean on. You move and you do different activities than just sitting in a chair and this is exercise.
You might be surprised at how much you move doing the cleaning.
Related article: Why People With Clean Houses Don't Do These 16 Things
Having Friends Round
When our homes are clean we are open to inviting people into our homes more, we aren't embarrassed about the state of our homes and this is good.
Being able to not worry about if you are going to be judged by people entering your home.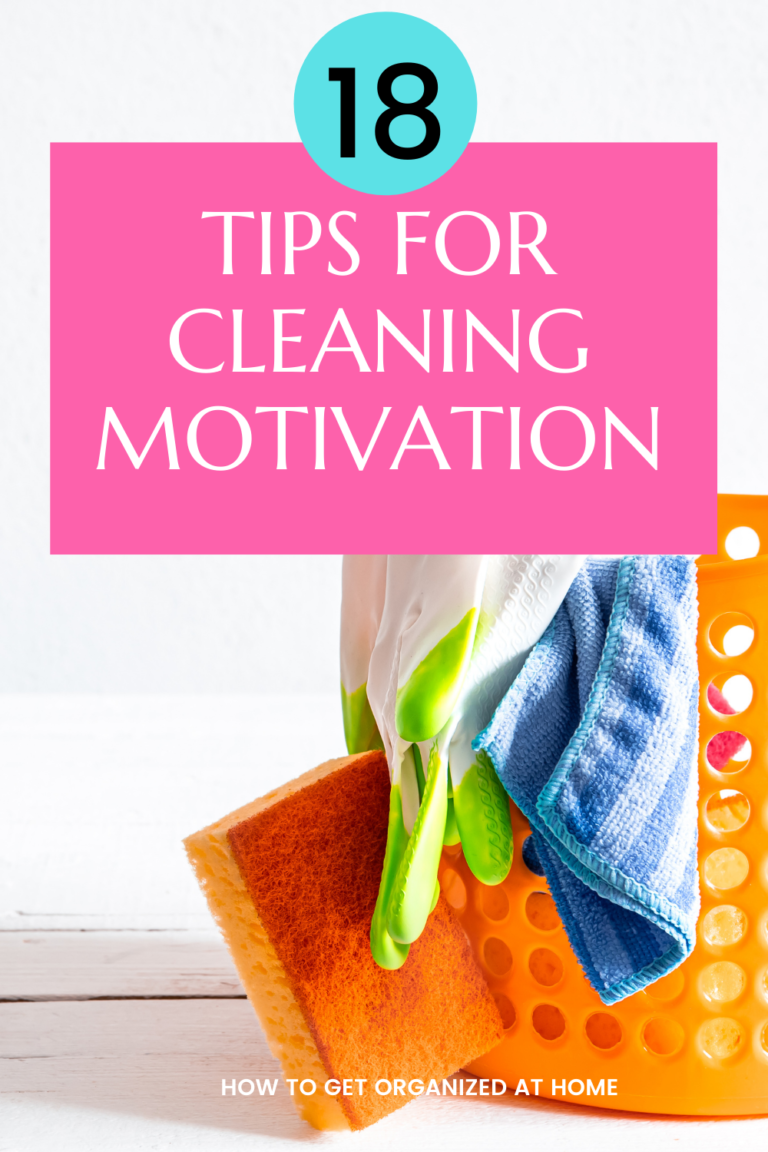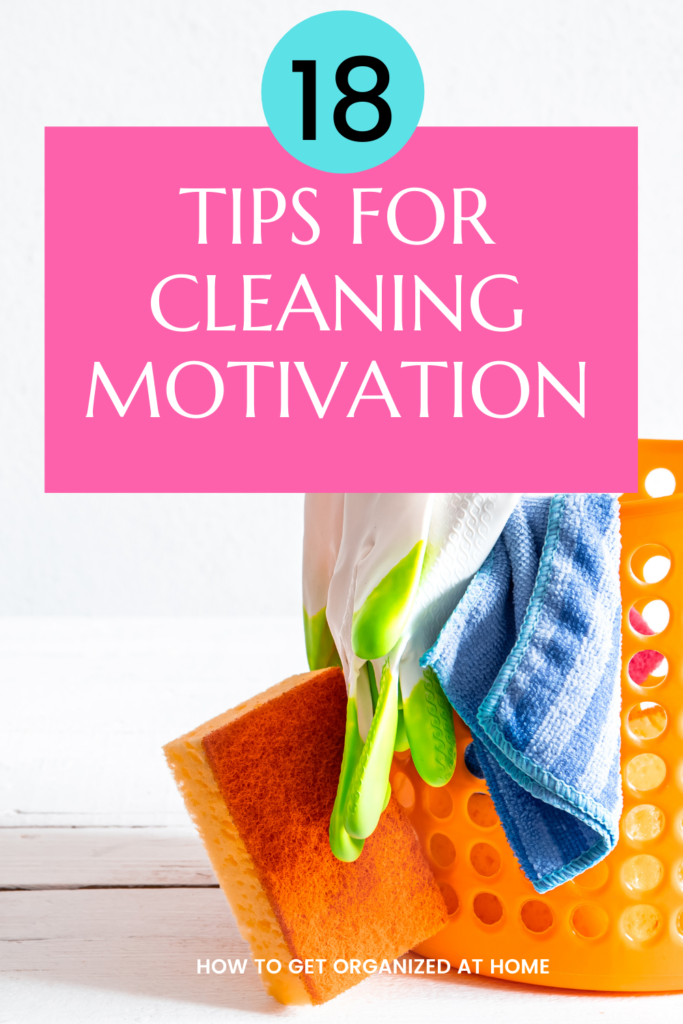 Prevent Pests
When we live in dirty homes it is an invitation to pests who are looking for an easy meal to come into our home and go unnoticed and can then set up their own home inside of ours.
Yes, sometimes pests do arrive and we have a clean home, but these are going to be visible more when the home is clean and tidy.
Mental Health And A Clean Home
This one might surprise you, a clean home is so much better for your mental health than a dirty one.
If you have poor mental health and walk into a room that is dirty and untidy you might not notice but if you walk into a room that is clean it can lift your mood and make you feel so much better without doing anything.
Having Children And Babies
We are responsible for the health of our children and babies and they can't make the decision to clean a room. As a parent, it's your responsibility to provide a clean and tidy home.
How A Clean Home Reduces Overwhelm
If I walk in the front door and the house looks clean and tidy I get a sense of calm. If I walk in it looks dirty and untidy it makes me anxious knowing that I have things I need to do.
So, for me, a clean and tidy home reduces the overwhelm I can feel.
Keeping Things Clean Last Longer
If you clean something after you use it then you are going to prolong its life. This is because you are caring for the item, making sure that it works to its fullest potential.
For example, I have a great article on cleaning a cordless vacuum and how it can affect the performance of the vacuum if this isn't done on a regular basis.
Making Your Life Easier
When you have a clean home it can make your life easier you aren't worrying if people will turn up and judge you. You aren't worried about pests in your home or your children getting sick from an inadequately clean home.
This will make it way easier to live your life and reduce any unnecessary stress.
Why Should We Clean Our House Daily
Cleaning little and often is something that I think works for me, it allows me to split my time and I do feel I get more done because I'm not just doing all the tasks in one day.
I am fresh each day and I'm able to see things I might miss during one massive cleaning session per week.
Related article: 20 Things People With Clean Homes Do Daily
Why Cleaning Is Important At Home
Cleaning is one of those tasks that we just need to do and it's important that we do it. As adults cleaning is part of life and once we accept that it becomes easier to manage and do.
Understanding Why You Need To Clean
Looking for a reason to do those jobs and cleaning tasks on a daily basis can help reduce the need to question the practice. It is something that you will need to do for the rest of your life; it is a part of being humble to yourself, not thinking that you are worth more than the next person.
Why You Need To Clean
Cleaning has the power to bring you back to the realization that what you need to do to keep your home clean is the same as the next person.
How much you clean is a personal preference, but not giving yourself that understanding of the importance it holds for you and your future self.
It teaches you the ability to take on tasks that aren't as important for the future of the world but to tackle them with the same intent as to the importance they hold for you and your family.
Reasons For Cleaning
Why you need to clean has a multitude of different reasons, some are stronger than others are, but what is the most important element is that you and your family deserve to live in a clean home.
The reason you pick to motivate you to clean isn't as important as actually getting up and cleaning your home.