Are you looking for some fun activities that you can do at home that are for adults or older childred? Are you bored of board games? How about a mystery subscription box, which is literally a murder mystery in a box?
Having a monthly mystery box will allow you to discover the amateur detective you always wanted to be.
You're the one that solves the TV show crimes before the end, now you need to test your skill's of deduction and puzzle solving talents with your own murder mystery box.
Are you up for the challenge?
On Your Own Or With A Friend
Can you play on your own?
So many games are set up for multiple players and I think it's great to see an option where you can play the game on your own if you want to.
With some of the subscription boxes there is no reason why you need to have other people play the game, it's nice to talk about the game and often you will find an online community for the games.
However, some of these murder mystery boxes do require more than one person to play and I will be highlighting those games for you.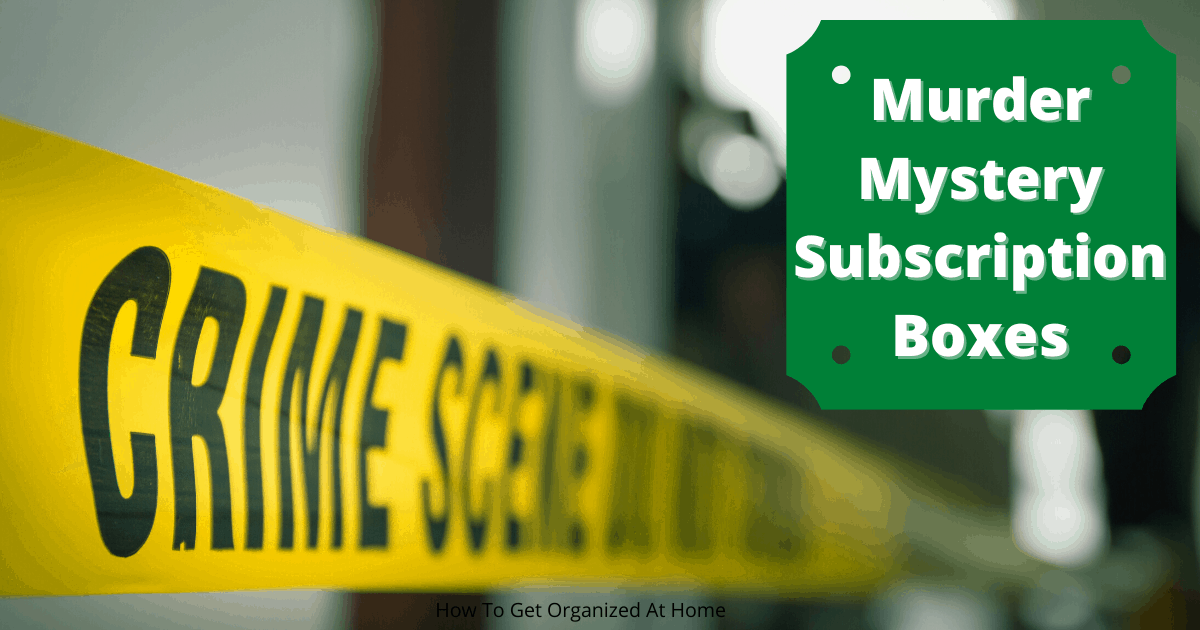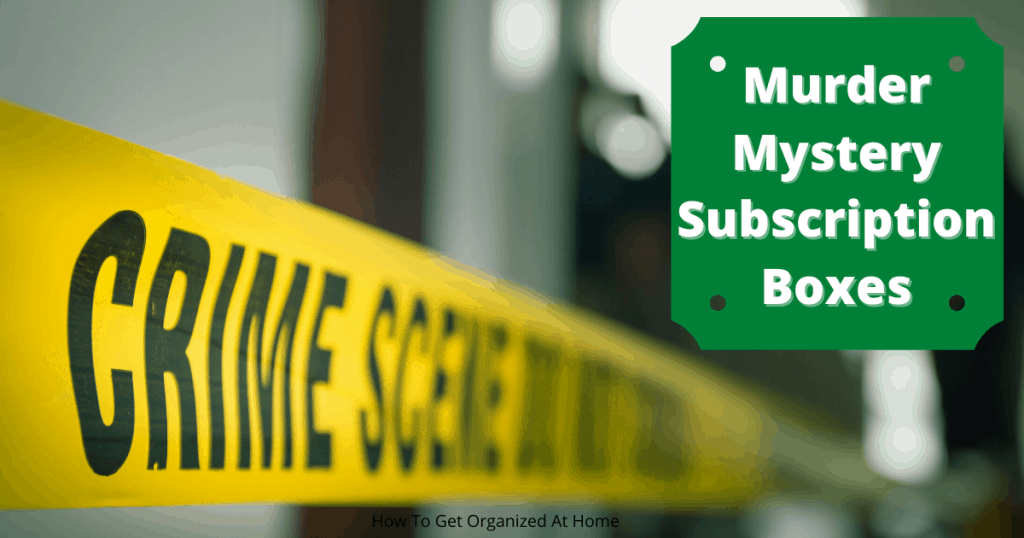 Why Play These Games
It's been a tough year for most people, and it doesn't seem like it's going to go away for some time. So, having a chance to enjoy some amateur sleuthing is a fun way to relax and unwind with new subscription mystery boxes there is always a new case to solve.
Check out the best murder mystery games that I've found that I know you will love.
A Game For Adults
I would be very cautious of the ages of children I would allow to play.
Some of these games do contain graphic images and this isn't suitable for all ages of childred.
I think the youngest age range I've seen is 13 but you know your child and how well they can handle the crime scene photos.
These aren't games you can sit down and play with young children, due to the fact that you are solving murders and there is no real game strategy in most of these types of games. It will be boring for many younger minds.
I would suggest most of these subscription boxes are designed for adults.
Hunt A Killer Reviews
Affiliate links are included for your convenience. (Which means if you make a purchase after clicking a link I will earn a small commission which won't cost you a penny more!) Click here to read my full disclosure and privacy policy.
I was gifted two boxes of the set of 6 from Hunt A Killer to see the quality of the game for myself.
I was super impressed by the quality of the material inside and the added addition of having an online option to access the material in a different way, as not everyone takes in information the same way.
The stories take 6 boxes to uncover all aspects of the crime and each box has a lot of information that you will be looking back over as you continue your journey forward, so you will need to keep all the boxes with their contents for the duration of the game.
My Thoughts On The Subscription
I loved it, it felt that I was doing something fun and totally different. It felt odd that I wasn't told how to proceed I am a rule follower, so I found it odd in the beginning to sit and work through the information without a set of instructions.
But on the other hand, it also felt a bit liberating too!
How Much Is Hunt A Killer?
You can purchase one box a month or a bundle so you have the whole story in one go. You can purchase them individually but at the speed you want so you can go quicker than waiting a month for the next instalment.
You can get Hunt A Killer anywhere as it has an international posting. Complete box sets start at $180 this is the whole package. The monthly option starts at $30 per month plus shipping.
Pin This: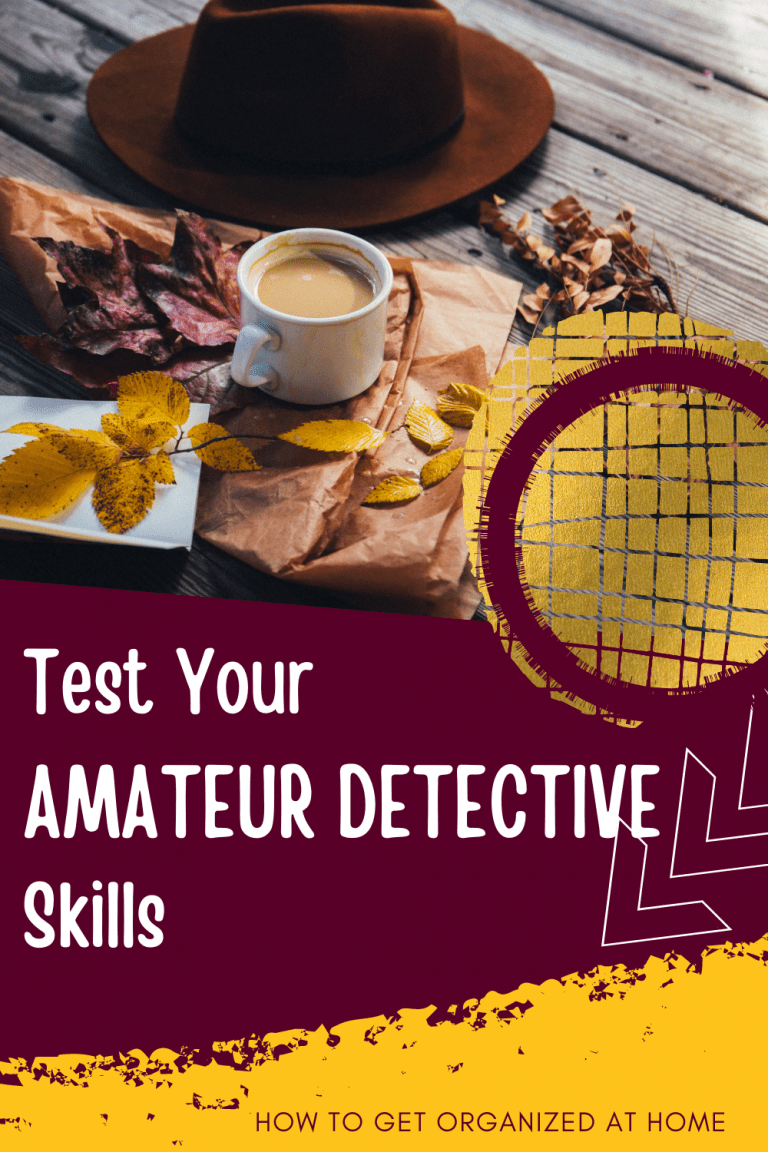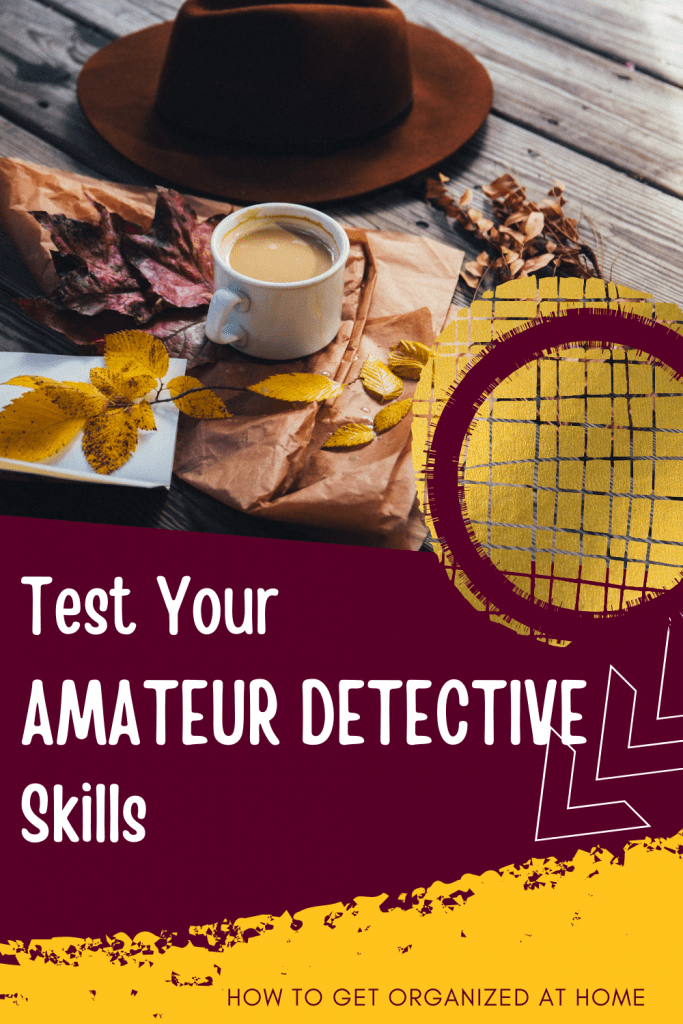 Related Articles
Another Great Mystery Game Box
I've written another murder mystery in a box review for The Detective Society and I must admit I'm extremely impressed with not only the quality but the actual game play too.
It was an amazing and riverting experience that blew my mind with the game play in just one box.
You can check the article Want A Great Detective Game To Play That Will Test Your Abilities?
Cosy Killer On Subscription
There is a completely different set of stories to work through with Cosy Killer, it is a completely company so you would expect that.
However, each story takes 12 months to complete if you follow the pattern of one box per month, so this is a lot more commitment for sone season of the subscription.
For the older games you can order them in sets of 3 or individually the choice is yours.
The shipping for this one is located in two different parts of the world. For me, this means that there is a UK based shipping centre, and this is amazing news.
There are so many of these subscription boxes I can't get hold of because of where I live.
You can buy the annual subscription from Amazon and the monthly subscription starts at £25 or $40.
Who doesn't love a good murder mystry game to play?
Mystery Party Boxes
How about an amazing choice of crimes to solve? My Mystery Party looks different than some of the ones I've seen before.
There are so many options and it's classed as a party box and there are even non-murder options for the younger generations.
This might be good if you have a young detective in your home.
It's different as it's one story per box and even though it's not local to the UK because the boxes can be downloaded you can play these anywhere that you can download the game.
So, each box or virtual box, has the complete information for the case, you don't have to purchase any other boxes to find out who was murdered or who did it.
So, this is something that you can save money on in that you are getting the whole story in one go but you don't have any of the evidence in your hands like with other subscription boxes.
Obviously, this is reflected in the price of the virtual box against the actual box if you chose that option. The downloadable option starts at just over $39 for the boxes, which is just one complete story in a virtual box.
Crime Time Fun
I have been gifted a game with this option but I've yet to play it.
If you are looking for that interaction with friends and family then Crime Time might be what you are looking for.
You need a minimum of 5 people and before Covid, it was set up more like a dinner party where you invite guests and they play the characters of the game.
Since Covid, they have adapted so you can also play virtually with family so you can still get that family experience but without the risk.
The disadvantage with this game is the fact you need friends, in a covid world this is difficult!
As each person plays a character, I'm assuming it's more of a roleplay type murder mystery and less like a detective game like the subscription boxes.
The good thing about this game is the fact you can download the game; you aren't waiting for a subscription box to turn up in the mail.
The price for this starts around the £30 mark.
Let's Recap…
Have you tried a murder mystery subscription box? No? Then here's why I think you should consider trying one out.
They are fun for those who like to think about puzzles but not in the way of a board game. More of a strategy game where you are in control of finding your way through the maze of information.
You aren't left hanging, you can get the answers to the problems if you are really stuck, but that takes the fun out of the game.
With Hunt A Killer, you message your contact with what you think the solution is for each box and they tell you if they agree or if you need to think again.
If you are interest in any of the games that I've mentioned click the link and it will take you to the game site.
The prices vary, I've included pricing information with each option I've mentioned. I do think it's hard to pick the best mystery game but these would make the final cut.
Have fun and begin your journey as an amateur sleuthing detective.