Hi, I'm Sharon!
I am a writer and a blogger, a wife to my husband and a mum to 3 wonderful children, 2 of whom have now left home.
I started How To Get Organized At Home because I wanted to write on the topics that interest me and to connect to other people who want to live a more organized life.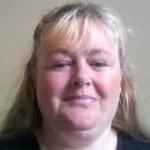 I am passionate about budgeting and living an organized life; however, there are a lot more areas that I want to share with you, including my own struggles with depression and how I have moved forward with my life battling this condition.
I share posts and articles under these categories:
Financial, Organizing, Home, Time Management and Gardening
Stay Connected
Join me at How To Get Organized At Home daily as I write new posts every day on the site, I send out a newsletter once a week.
Or connect with me on Facebook, Twitter, Pinterest and Google +.
You can contact me on the contact page, where you can send me a message or ask a question.
You can read my disclosure page; this highlights all the disclosures on the site.