How To Get Rid Of Mold Simply And Easily From Your Home
Do you have mold in your home and you want it gone but you don't know how you are even going to start? Follow these simple tips and advice on how to get rid of mold in your home simply without feeling like you have let yourself down.
Mold spores are in the air, you can't see them and that means they can float by you and find the perfect breeding ground for a new mold colony. You have to be on the lookout for areas in your home that could potentially be the ideal home as well as staying on top of the mold problem that you might already have in your home.
Let's look at the different areas you might get mold in your home and the ways in which you can tackle it safely and reduce the likelihood of it returning.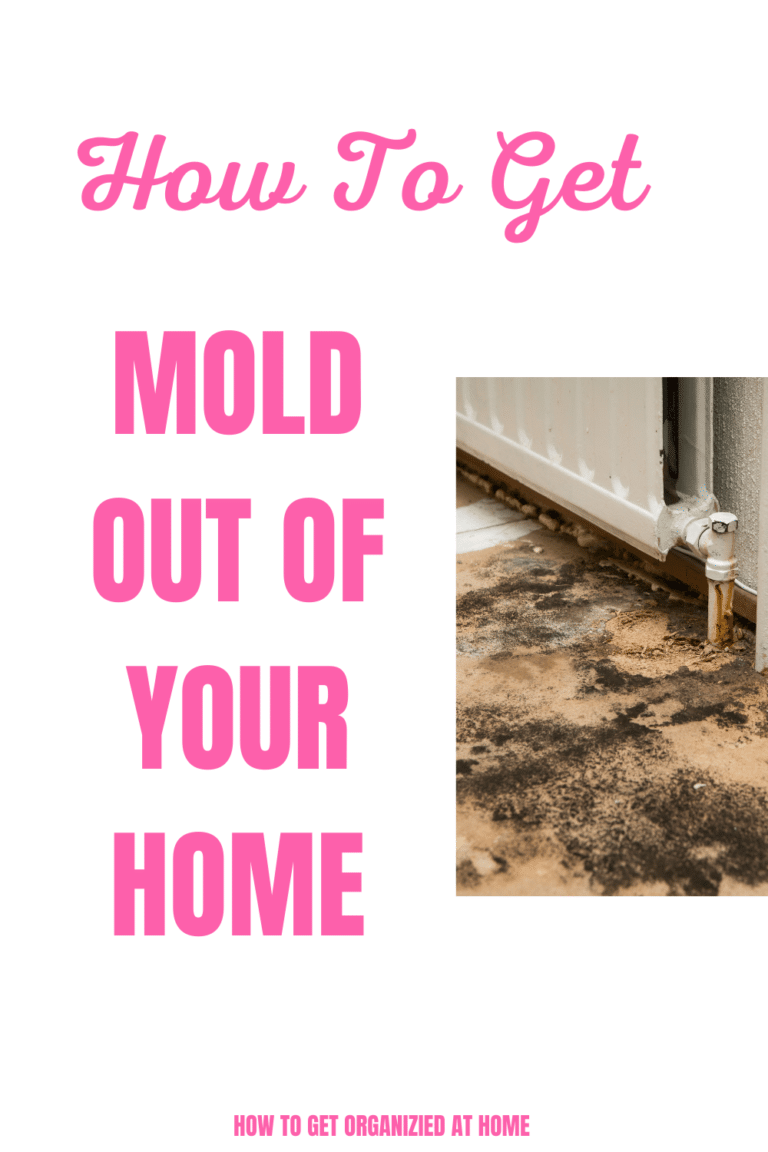 What Is Mold?
I think this is an easy question to answer, it's a living organism that loves to live in warm and damp areas of our homes.
They have found that our homes make really good places to live and grow and set up their own homes.
They are spread by the mold creating spores which can float off in the air and find new places to set up home.
Killing Mold In Your Home
The good news is that often most mold is easy to treat and to kill off, however, it is possible for it to come back. Even though mold is tiny it's not good for our health or the health of our families to live in homes that have bad mold outbreaks which is why it's so important that you don't let mold fester in your home and grow out of control.
There are some molds which are not easy to treat and can make your home not habitable because they are really bad for your health.
There are some types of mold that you have to get experts to get rid off, some black mold removal is done by specialists who will remove the toxic residue from your home and make it safe for you to live there.
Where Do Molds Live?
Affiliate links are included for your convenience. (Which means if you make a purchase after clicking a link I will earn a small commission which won't cost you a penny more!) Click here to read my full disclosure and privacy policy.
Mold likes to live in wet and warm places so this often means bathrooms and windows. The more we seal up our homes the more mold is going to take over different areas and this isn't good practice for anyone.
We are told to block drafts in our homes, have triple glazed windows because this will prevent drafts and heat loss will become a minimum.
What they are forgetting about is how much mold loves this type of environment and often this will mean an outbreak of mold.
But how do you prevent mold from taking up home in your home in the first place ? You have to have ventilation, it's important for any home. Air needs to move around your home and not just sit in your home and stagnate.
Open windows and letting in fresh air can have an impact on reducing the amount of spores that can and will take hold of the different areas in your home.
Property Damage
If you have damage to the property you are living in and there is a high amount of water that is running down the wall this can and will lead to potential problems on the inside.
The wall will become damp and that means that mold is going to set up home, you will not only need to sort out the problem with what is causing the water damage but you will also need to tackle the mold that takes up residence too.
It's important to keep on top of any repairs you need to make to ensure that you reduce the potential for damp to penetrate and cause cases of mold to appear.
Related Article: How To Get Rid Of Mold And Damp
How Do You Get Rid Of Mold On Walls
The first thing you need to do is to check as to why you are getting any mold in the first place? Is there a blocked gutter or do you have a leak that is dribbling down the wall and causing any dampness?
You need to get this repaired first, it will keep coming back unless the damage is fixed first.
I always mark any dampness and mold areas with a pencil to make sure that I'm checking if anything is spreading and becoming worse or if things are improving.
You don't need harsh chemicals to get rid of mold, what you do need is a cloth and diluted tea tree oil, this will kill the mold including the roots.
Make sure that you wear gloves, safety glasses and a face mask to prevent any spores going into your face and breathing them in.
How Do You Get Rid Of Mold In A Bathroom
This will depend if the mold has penetrated the sealant that you have in the bathroom. If there is mold on the sealant you will need to replace the sealant. Whilst there are products that seem to appear they are tackling the mold in these areas, most of them contain bleach and all bleach does to mold is remove the colour.
It's not killing the mold, the mold is still alive and all that happens is that it will reappear.
There are different types of mold and different colours too, sometimes mold can look pinky, but you still need to get rid of this mold and the best option is diluted tea tree oil, but you can also use hydrogen peroxide as an alternative that will also get rid of the mold and kill it.
Often what you find in the bathroom is surface mold and it's easy to wipe away unless it's some sort of porous materials, like shower curtains. If you have shower curtains you are going to need to wash them regularly to prevent mold growth, but you will need to ensure that the curtain dries between each use.
Related article: How To Remove Mold From A Bathroom Ceiling Without Bleach
Mold In Grout
There is nothing that will spoil the perfect presentation of a bathroom quicker than seeing mold in the grout. Getting mold out of grout isn't easy because it dips and so it's more difficult to get out which is why I use a grout brush and this makes the cleaning process so much easier.
A grout brush is simply a scrub brush that is narrow to fit between the tiles.
Sometimes, I just use a cream cleaner on these areas as often grout isn't firm in these areas and a quick brush is all you need.
Pin this: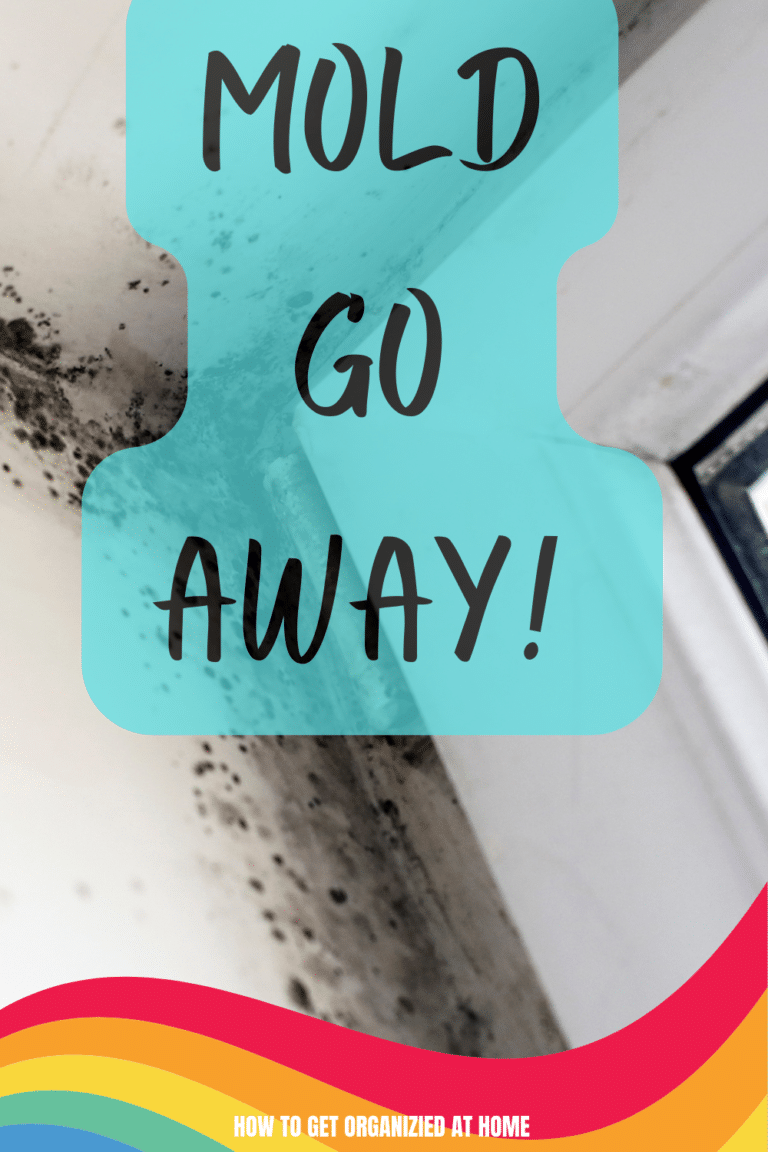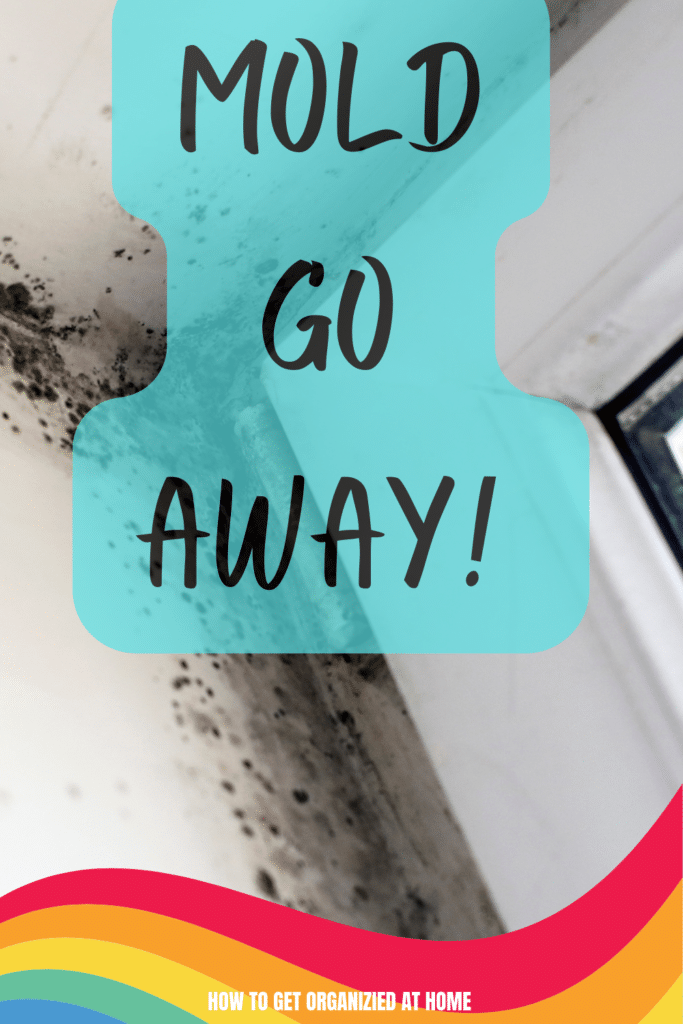 How Do You Get Rid Of Mold In The Kitchen
There are lots of places that mold will take hold in the kitchen if you let it. You really do need to keep an eye on the different areas of your kitchen and make sure that mold isn't making a home for itself.
Common places include:
The seal around the fridge, this does gather dirt quickly and becomes a perfect home for mold

Sealant joining countertop and wall. This is often a common place as it's often damp and mold exposure won't take long to take hold

Behind the taps

Around the edge of the sink

Joins that you might have on the counter top

Around the windows and on the window sills

Kitchen appliances that haven't been cleaned properly
When you attempt to clean any of these areas make sure you are wearing rubber gloves to protect your hands and protective clothing so you don't splash cleaning solution onto your clothing.
Related article: The Best Way For Tackling Mold On Window Sils
Mold In The Laundry
Clothes can go moldy quickly if they are left wet or damp and sit there for a while before washing, this is due to the damp cloth that is perfect for the mold to set up home. If your clothes have mold on them I don't wash them or see if I can rescue them because of the fact that you don't want any mold spores near your skin or in your washing machine.
It happened to me and the clothes went into the bin. I don't want to risk my health or my family's health by potentially exposing them to mold spores in their clothing. Mold can and will result in respiratory problems and you really don't want that for your family.
If you keep your washing machine dry when not in use it will reduce the likelyhood of mold devloping in their, if mold does take up residence then you must prevent future mold growth.
As I've said before, a bleach solution isn't going to get rid of the mold, it will just help to make the machine look clean. You need to clean the machine with a product that will kill it comepletely but don't put toxic chemicals in your washing machine. Use a solution of tea tree oil or hydrogen peroxide.
How To Find Signs Of Mold
The best way to find mold is to keep a lookout for signs including the musty smell that's associated with mold. If you are vacuuming make sure your vacuum has a hepa filter, this will stop the mold spores going back out into the air you breathe.
You will often see the visible mold appearing and this means that it's already started to colonize this area in your home.
If you see mold, you want to attack it so it doesn't become a problem in your home. Using tea tree oil is perfect because it has antibacterial properties that will help to remove the mold and avoid health problems associated with some of the strong household cleaners that are often high in bleach.
What To Do If You Have Mold
You need to look at the source of the problem and work out why the mold is taking up home in your home. Is there adequate air movement? Do you have an exhaust fan in your kitchen and bathrooms? Have you considered vents in your windows or opening your window if you are in the bathroom or kitchen and making a lot of condensation?
There is a possibility that you have a moisture problem in your home and you need to address this in the first place. It can be as simple as drying washing indoors without opening a window to let the extra moisture out of your home.
Damp towels and other clothes drying on an airer will cause more moisture in your home and can lead to a damp surface and this can then lead to mold.
Related article: How To Get Rid Of Mold In A House
What To Do If You Have Mold Stains
If you have mold on your walls or ceiling you are going to need to paint them with an anti mold paint. This should prevent the stain coming through onto the new painted surface. It acts as a block to stop any of the mold stain penetrating to the new painted surface.
Sometimes this doesn't work because you haven't gotten rid of the problem and there is still a mold and damp issue that is causing the mold to continue to grow and spread.
Let's Recap…
You don't want mold in your home, you want to get rid of it as soon as you possibly can. It's not good for your health or that of your family.
Use tea tree oil or hydrogen peroxide to kill the mold so it doesn't come back.
If you have mold in sealant then you are going to need to replace the sealant to completely get rid of the mold.