20 Easy Cleaning Tips To Actually Help Allergy Sufferers
When it comes to cleaning it's possible to have an effective cleaning system that allows you to help allergy sufferers. There is nothing worse than having allergies in your own home.
My husband has allergies and it's important to keep the home a safe environment for him. These are my top 20 tips on how to remove allergens from our home.
This post is an advertisment feature for Klarify a company where you can buy a home testing kit to find out what you are allergic to. This article is 100% my own opinion.
20 Tips To Reduce Allergens In Your Home
cleaning more often
reading labels
microfiber cloths
dusting
stop mold
tackle the kitchen
vacuum
hepa filters
curtains
clean carpets
clean floors
bedding /bedroom
bathroom
laundry
pets
plants
reduce clutter
remove shoes
outside entryways
leave after deep clean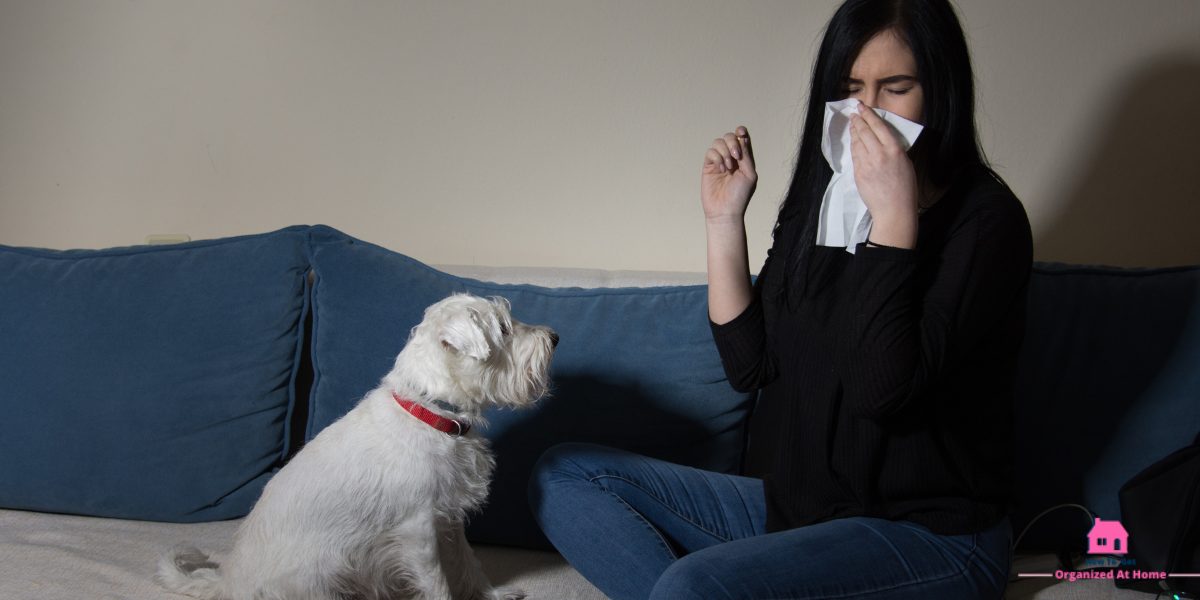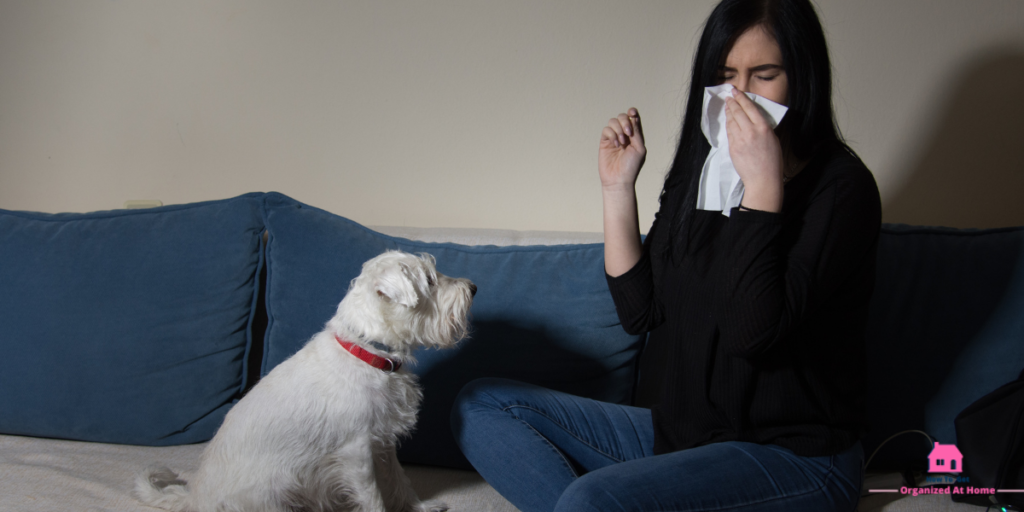 How To Clean For Allergies
One of the most effective ways to reduce the allergns in your home is to keep it clean. This reduces the irritants from your home that you or your family reacts to.
However, there are ways in which you will need to clean your home that reduces the spread of the particles that you or your family is allergic to.
Creating a system that allows you to follow a cleaning plan will help to reduce the allergyns in your home.
What Could I Be Allergic To In My House?
Affiliate links are included for your convenience. (Which means if you make a purchase after clicking a link I will earn a small commission which won't cost you a penny more!) Click here to read my full disclosure and privacy policy.
If you want the information about what you are allergic to then getting tested for the things you need to avoid will help you make better choices.
You can get a home testing kit by Klarify that will help you identify what you need to avoid at home.
Best Cleaning Products For Allergies
Removing allergens is important but finding the right products isn't always easy which is why I have included some products that are great for cleaning with allergys.
Why Reading Cleaning Labels Is Important
If you want to have a better relationship with the products that you use to clean your home you need to start reading the label.
Knowing what's used to make a product is going to help you identify the products that you need to avoid using.
If a certain chemical is causing you or your family issues then taking steps to eliminate it from your home is beneficial to you and your family.
Why Micorfibers Are The Best
The cloths you use to clean your home are important too. Some cloths like the Ecloth's are able to remove germs and bacteria with just the power of water.
So, less chemicals in your home mean less exposure to potential sources of irratants for you and your family.
They are able to grab hold of the dirt and not fluff it up and into the air around you.
Why Dusting Is Important
Keeping on top of your dusting is going to make the most difference to your home in terms of keeping the allergies at bay.
Dust is a collection of a lot of different particles that gather on surfaces and to keep your home allergy free you need to keep this to a minimum and that means dusting often.
Stop The Mold From Growing
Any sort of mold is bad for your health and that means checking your home regularly for any signs of mold in your home.
Taking action and getting the mold out of your home has to be a top prioirty in your home. You don't want to live with any type of mold. So, as soon as it appears you need to take action to remove it as soon as possible.
Items to use to kill mold:
Keeping Your Kitchen Cleaning Is Key
Your kitchen is an important area to keep clean, crumbs that are left untouched could attract insects and vermin and these can cause allergies to flare up.
Also, because the kitchen is a warm enviroment it can become a breeding ground for a lot of different germs and bacteria that a person can potentially be allergic to.
Sometimes it's the chemicals we use to clean our kitchens that can also cause allergic reactions so keeping chemicals to a minimum is important too.
Pin This: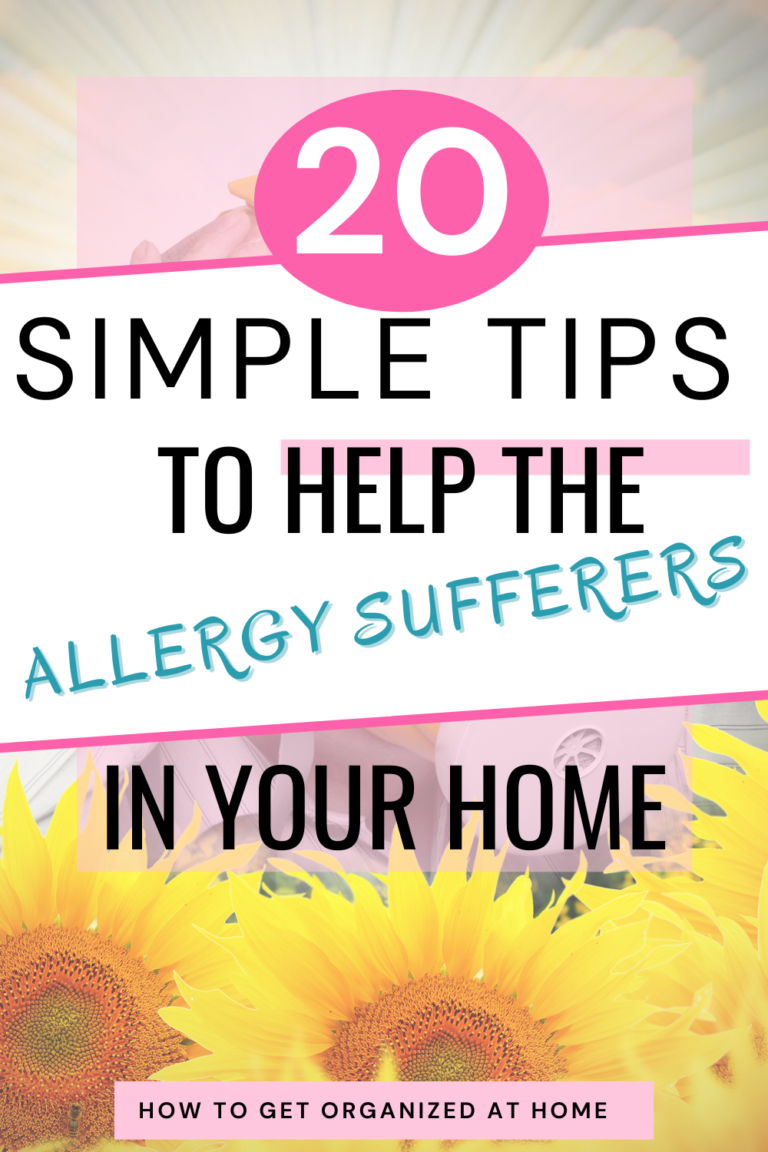 Vacuuming Is Important In Allergy Cleaning Too
Pollen and other debris collects on the carpet, it's important to keep this to a minimum and you do this by vacuuming your home on a regular basis.
If you have hayfever sufferers in your home you need to vacuum every other day this helps to reduce the amount of pollen is in your home.
Is Sweeping Bad For Allergies?
Don't sweep floors if you have allergy sufferers in your home, it increases the chances of making the debris airborne and this can and will cause more issues.
Deep Clean Your Carpets
Pet dander, pollen and insects will reside in your carpets unless you take action to remove them. Deep cleaning your carpets is something you should do on a regular basis.
Either you tackle the job yourself or you employ a company to do the job for you, either way this will keep your carpets looking great for longer and less likely to be an area of concern.
Why You Need To Clean All Your Floors
Tiles, laminate and wooden floors all need cleaning on a regular basis. Always vacuum first as this will reduce the dust flying around your home.
But deep cleaning with a mop or steamer will kill any germs or bacteria that are living on your floors and this will help to keep your allergies at bay.
Use Hepa Filters Where You Can
If you need filters in your home make sure they are Hepa filters. These are designed to reduce the amount of pollen and other small particles that fly around in the air.
Making the air you breathe less likely to cause irritation to your allergys.
The Curtains And Blinds
The dressings at your windows will be a perfect place for dust to settle and they aren't always the easiest to clean. Don't forget to put these into your cleaning routine so you remove as much dust as possible before it has a chance to build up.
Pay Extra Attention To Bedding And Bedrooms
You will spend a lot of time in bed sleeping and this is where the majority of the dust mites in your home will gather.
You can't see them but belive me they are there and they are there in the thousands.
If you have a dust allergy it's more likely that it's the poo from the dust mite that's causing the problem and washing your bedding is going to ensure that you are getting rid of this dirt.
So after stripping your bed, vacuuming your floor is going to pick up any debris that has fallen of your bedding, protecting your health further.
Read: How To Reduce Dust Mites In Your Bedroom
Pin This: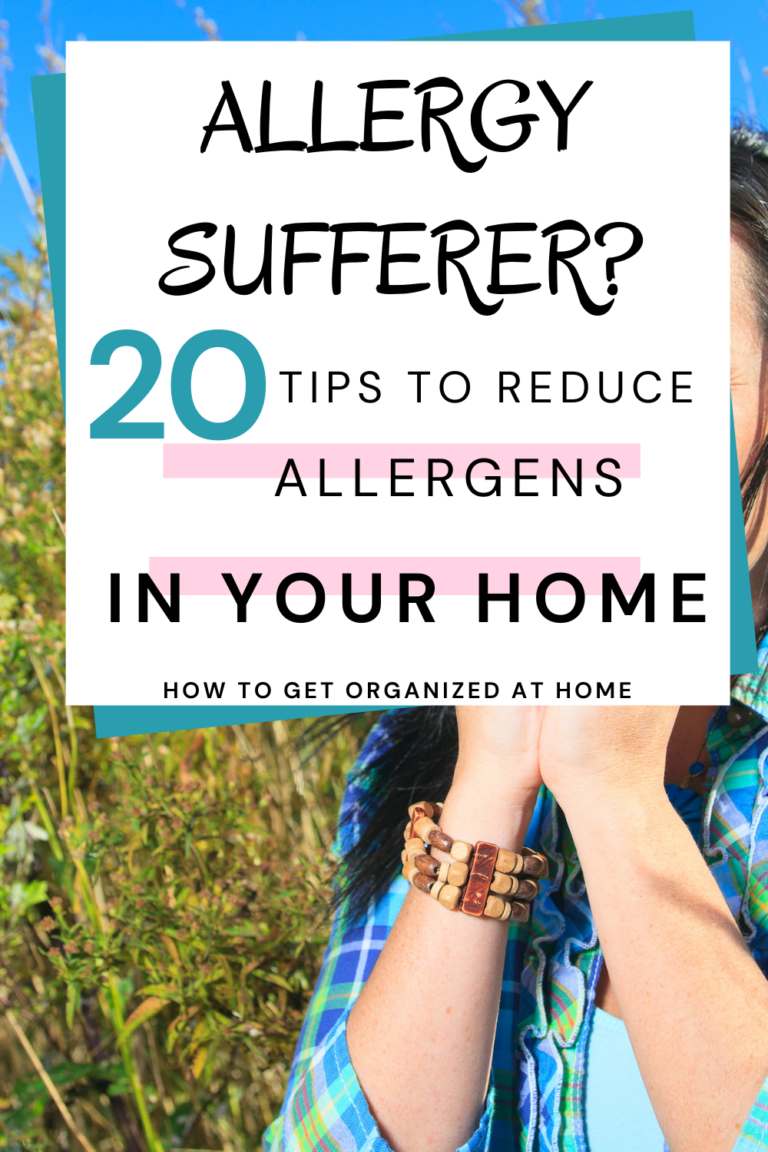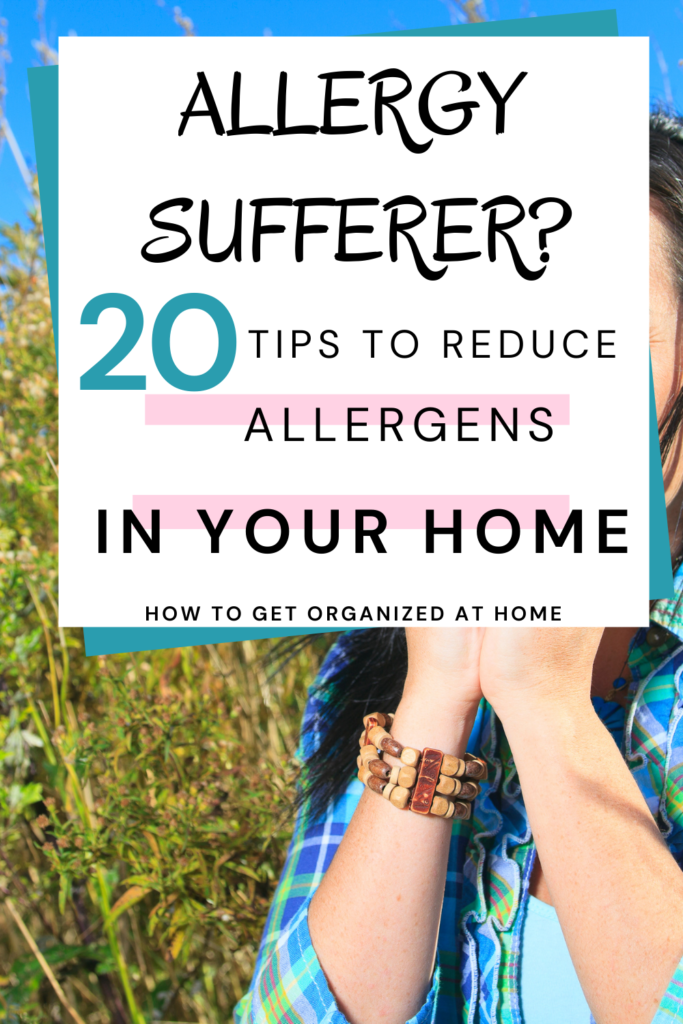 Bathrooms Are Important To Clean
Bathrooms are a great place for mold and mildew to set up home, they are damp with high humidity and this creates the perfect condition for mold and other germs to set up home.
Keeping your bathroom clean and free from potential harmful allergens that would like to live there is so important.
But not all cleaning products kill mold.
Read: The Best Ways For Tackling Mold On Window Sills
Getting The Laundry Allergy Free
There are two areas you have to consider when it comes to tackling the laundry.
The products you use to clean
The laundry it's self
Some people have allergys to the chemicals in the detergents that you use to clean your clothes and often it's difficult to work out what causes a reaction and what doesn't. Often it's trial and error that you need to go through finding the right products for your family.
The laundry itself is important to keep clean because even walking outside you are picking up pollen and other debris from the air and it gets trapped in the fibers of the clothes you wear.
Removing these from our clothes is the important part of laundry and that means thinking about where you are drying them too as it's not a good idea to dry outside if you have allergys.
But having wet clothes drying in your home you must think about ventilation as damp air could attract mold spores to accumulate and set up home.
People, Pets And Allergys
Having allergies is a pain especially if you have pets in your home. They shed fur and dander from their costs and this can lead to reactions from people with allergies.
Keeping pets confined to certain areas of your home will help to reduce the places that these particles can end up making it easier to deal with having a pet and suffering with allergies related to having a pet.
Washing pet bedding frequently and bathing the pet is often something that needs to happen often to reduce the potential of the particles spreading around the home.
Plants And Dust
Any surface of your home is going to collect dust and this includes plants too. It's important that you take the time to keep the leaves of your house plants clean and dust free.
I have plant cleaning in my cleaning schedule, you might be surprised how dirty they can become.
Also, consider the potential of mold growth on the soil, you might be able to reduce this by having decortive stones on the top preventing mold growth.
Why You Must Reduce Clutter
Surfaces in your home attract dust, the less items you have the fewer surfaces you will have to clean. This potentially reduces the amount of irritants that you have in your home.
It also makes cleaning quicker as there is less to clean and could make you feel that you have more space in your home.
Remove Shoes At The Doorway
If you want to reduce the amount of dirt that gets into your home that potentialy could be carry irritants in, don't wear footwear from outside inside the home.
Leaving shoes at the door will ensure that the dirt that is trapped on the bottom will stay on the sole of the shoe and not spread around your home.
Alternatively, you could always cover the sole of the shoe with a protector of some description, especially if you have visitors.
But there are always some people who refuse to take their shoes off and you will have to live with that or not invite them in.
Pin This: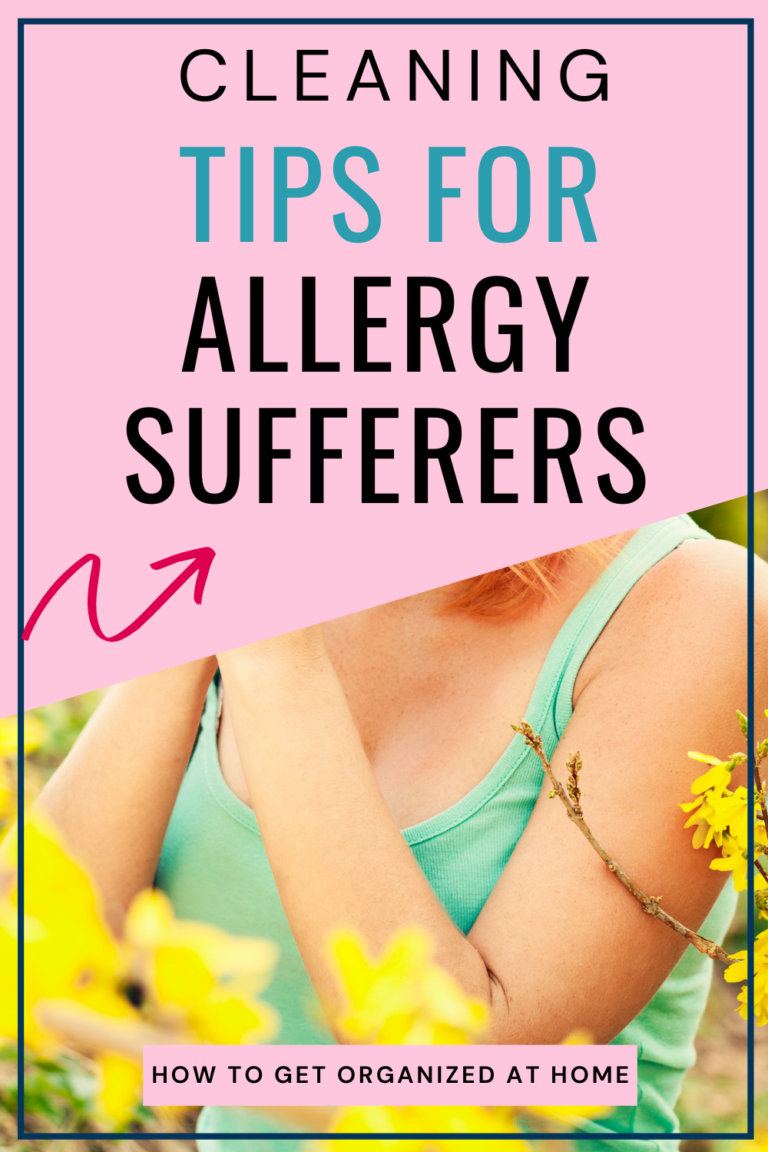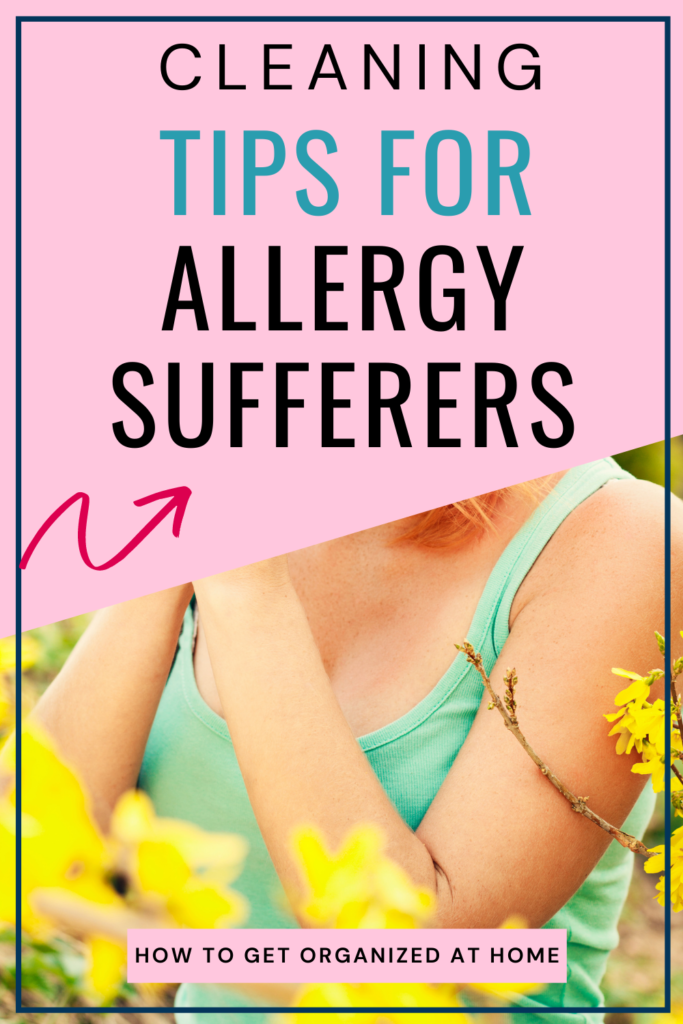 Outside Entryways
If you want less pollen and other irritants coming into your home then you need to ensure that the outside entryway is kept clear of debris that can blow up inside when you open the door.
This is the same for windows too, if you like them open ensure they aren't letting anything but air into your home.
Leave After Deep Clean
As with any cleaning there will be particles floating around in the air. If you don't want to sit in your home with a face mask on then it's a good idea to leave the house for a little while after a deep clean to let the dust settle back down and for there to be less pollutants in the air that you breathe.
Let's Recap…
Cleaning your home is key to reducing the pollutans in your home and making it a place that your allergys aren't so bad.
Think about the products that you use to clean your home and ensure they are as safe as possible for you and your home.
Deep clean your home often to ensure you are getting the dirt and dust out of your home.
Don't let the outside come into your home, the only thing you want is the fresh air and not all the pollutants that are often trapped floating around in the air. So think about the different ways you can reduce this from happening.