The Best Fall Activities To Do As A Family
What you do for your fall activities to make memories with your family is important, when the children are small taking every opportunity to explore and help them learn is important; they will soon grow up and want to do things with their own friends and the chance to build a relationship with your child has passed. If you take the time to build that relationship, and nurture your children into young adults, they will love and respect you too, it is not something that automatically happens, but something as a family, you have to work on together.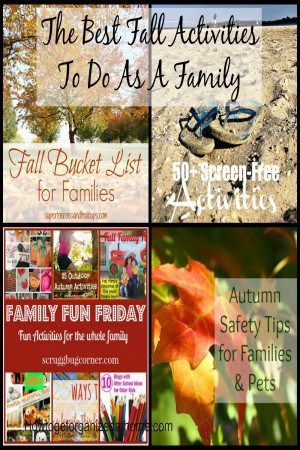 Affiliate links support How To Get Organized At Home
Related Articles
Finding Fun Fall Activities To Keep You Entertained
Knowing what to do can reduce the stress around being unsure and not having a plan. While some spontaneous adventure is fun, you can get more from an activity if you are fully aware of the costs involved and what you need to do, too. For me, planning was always the key to a successful adventure, those spontaneous adventures were always a worry; would we go over budget, how much will food cost, have we got everything we needed? What happens if something goes wrong?
The only way to win the struggles I had with activities was to ensure it was an activity, which we can do as a family. Since the internet was still in its infancy when my kids were little, it was so much harder to know what to do and to perform any sort of in-depth research prior to the event. Whereas, now there is so much more information available that there is no excuse not to plan and to know in advance the true cost of the adventure.
Best Fall Activities
Finding fall activities that you can do as a family is easy, the weather is often cooler and more suited for adventures, well that has always been my theory. I love the crisp, cooler air and the need for adventure and fun that this season has always brought. It is the relief after summer and the start of the cooler but busy seasons.
My favourite activity was always a walk, take the dogs and the kids to somewhere nice where they could walk, run and enjoy the environment around them. I have never been over fussy on the where it could be the woods or the beach, we are lucky that we live close to both options. If we went further afield, it would mean more planning but this enhanced the experience for me, I am sure the children never knew the planning process until they got older.
Getting children outside and having fun, running off that energy has always been a priority, it also meant that when it was bedtime they would sleep.
I made sure that screen free was an option, lucky the electronic era hit after mine had reached that age, this was perfect for me it meant that they were not distracted by mobile phones and this made life easy in so many ways.
I saw this article about creating a fall activities bucket list, here you can make a list of what you want to do this fall as a family. I thought this was a brilliant idea; you can work out ideas as a family and ensure that everyone gets to pick a fun thing to do and this makes it even more special.
There are loads of fun activities to do here, including berry picking; we would always go out and pick blackberries when I was younger and I have noticed an increase in the amount of people I see picking these in the last few years, hopefully, the tradition is returning, after all, they do make a fabulous pudding.
Whilst autumn brings the cooler weather, it also has its own hazards, which you must prepare for and when you are out, you must expect these. If you are unsure, as to what you might need or what to expect, it is a great idea to read this great article on the subject.
Therefore, a little bit of planning and getting outside with your family, making memories and having fun is important. It is a way to create those lasting memories and special bonds with those people you love.
If you are looking for more articles on this topic head over to the landing page where you will find links to other posts on family fun ideas.