How To Start Tackling Your Fall Cleaning Now
Are you over the summer and now need to get your home ready for the start of the cooler weather? Do you need to start your fall cleaning?
When the seasons change, so to do the activities that we do in the home and that can mean adding a few fall decorations to your home.
For this reason, I want to get rid of the summer vibes and bring on the cooler feel to the fall season.
The best way to do this to clean your home for the fall and bring out those seasonal items that add that fall feel to your home.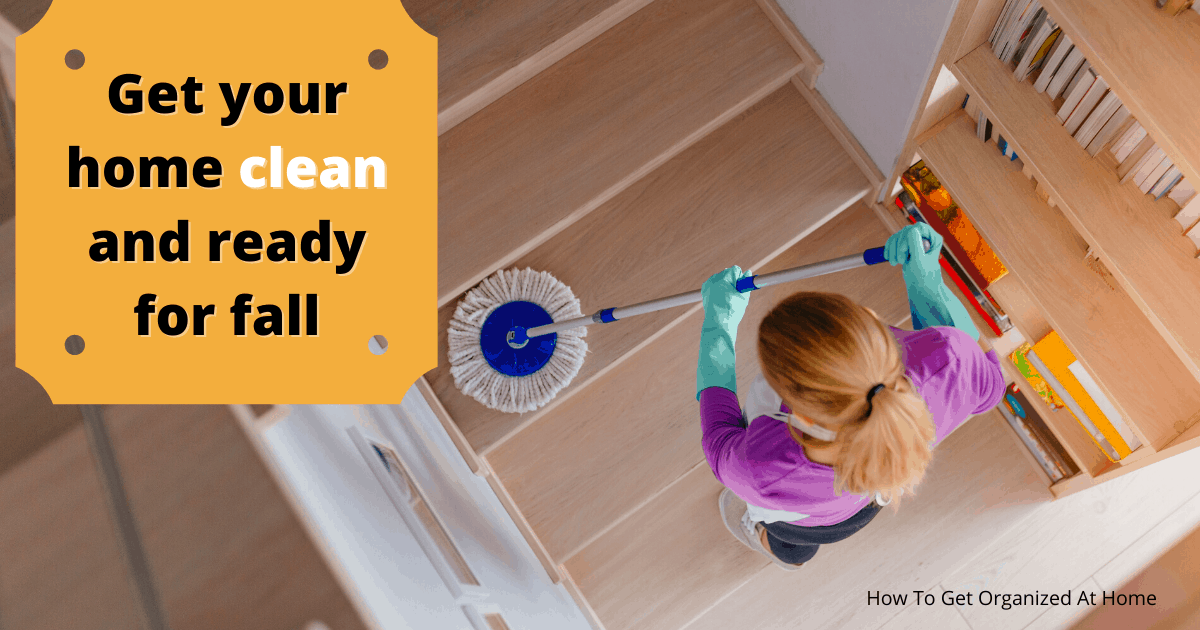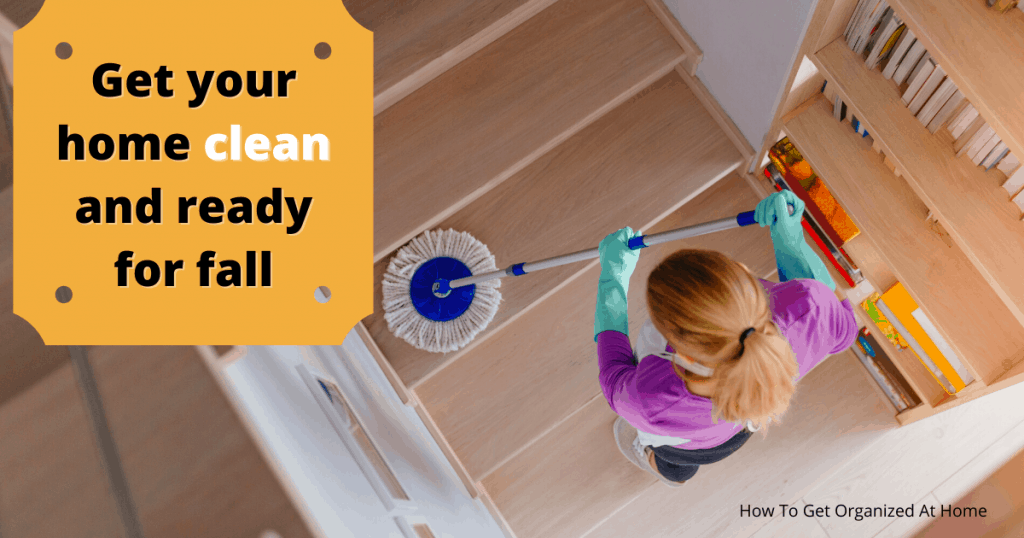 Related Articles
Where To Start
I think this is the most important aspect of a change in the season and the cleaning session that happens along with it.
But where do you start?
As with any cleaning session you should start at the top of your home and work downwards.
This means you won't have to clean an area twice as dust always settles on the lowest point.
If you want more help with your cleaning check out my Mini Cleaning Printable Pack!
Deep Clean Those Bedrooms For Fall
The bedroom is a great place to start, I won't wash curtains at this time of the year as I can't guarantee them to get dry.
My Nan used to change her curtains at this time of the year for a heavier set, but then that was before heating and double glazing.
I start with a good window clean, sometimes bedroom windows get neglected and need a good deep clean.
Don't hang out of the window to clean the outside, do this properly from the outside of the property or get someone to do this for you.
I vacuum them, clean the curtain rail and then spray them with a fabric refresher.
I do have the windows open, I'm not a spray loving person, but with the advances in technology and the current situation I want clean curtains in the bedrooms.
Look up, lights need cleaning and check edges of room for cobwebs or any damage that needs attending.
Strip the bed and vacuum the mattress, I then leave the bed to air for a few hours before remaking with a seasonal duvet cover.
The whole bedroom is cleaned, pulling out furniture to clean behind and everything is put back all fresh and clean.
Don't forget to vacuum your floor.
Do this process with all the bedrooms in your home.
Deep Clean Your Landing
This is the area that is upstairs and connects all the bedrooms in my home.
Start with the ceiling and clean any light fixtures and remove any cobwebs.
Then tackle any windows and curtains, the same as you did in the bedroom.
Now tackle the furniture, deep clean and move to clean the walls if possible.
Don't forget the flooring, get right into the edges and give the floor a deep clean, it depends on the flooring type as to how to clean it.
Do You Have Stairs?
Even though, technically I live in a bungalow we do have stairs.
It's a Dorma Bungalow so we do have an upstairs, but no bathroom upstairs just bedrooms.
For me the stairs are a pain, I need to decorate the stairs, and it's getting time for a new stair carpet.
But I do still deep clean as much as I can with the current state of the stairs. Don't forget to get the vacuum deep into the edges of the carpet on the stairs to get any debris out.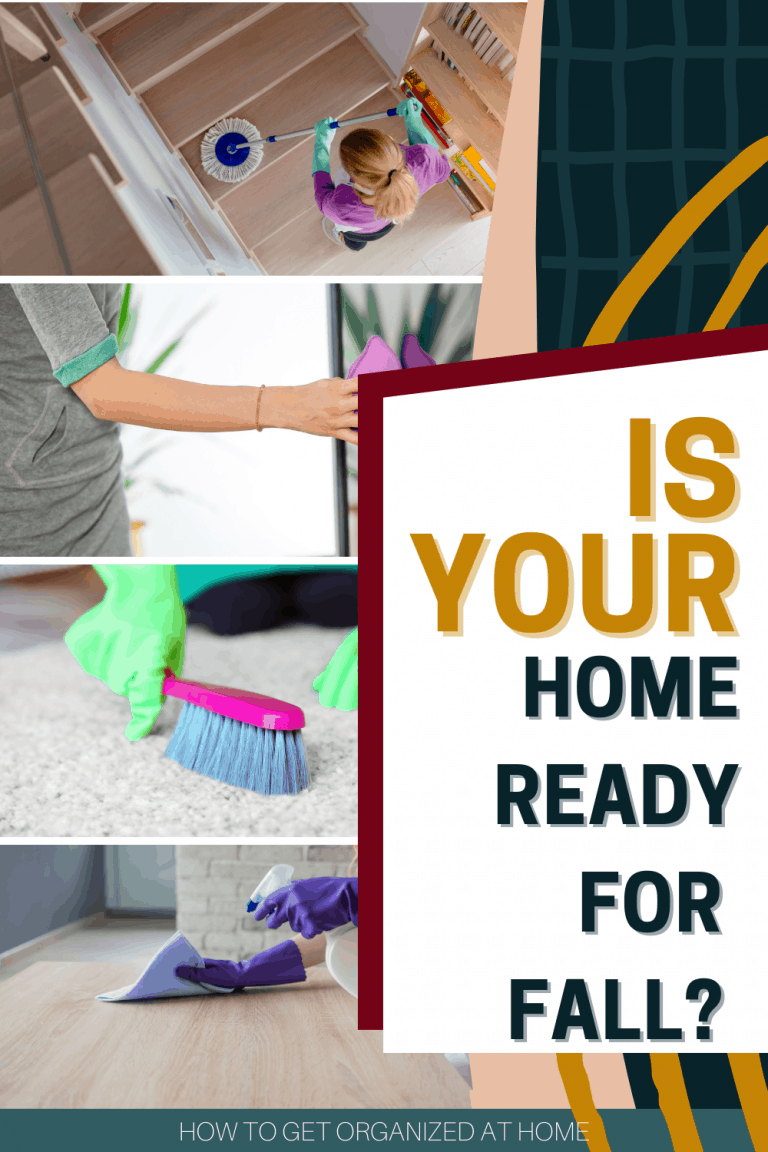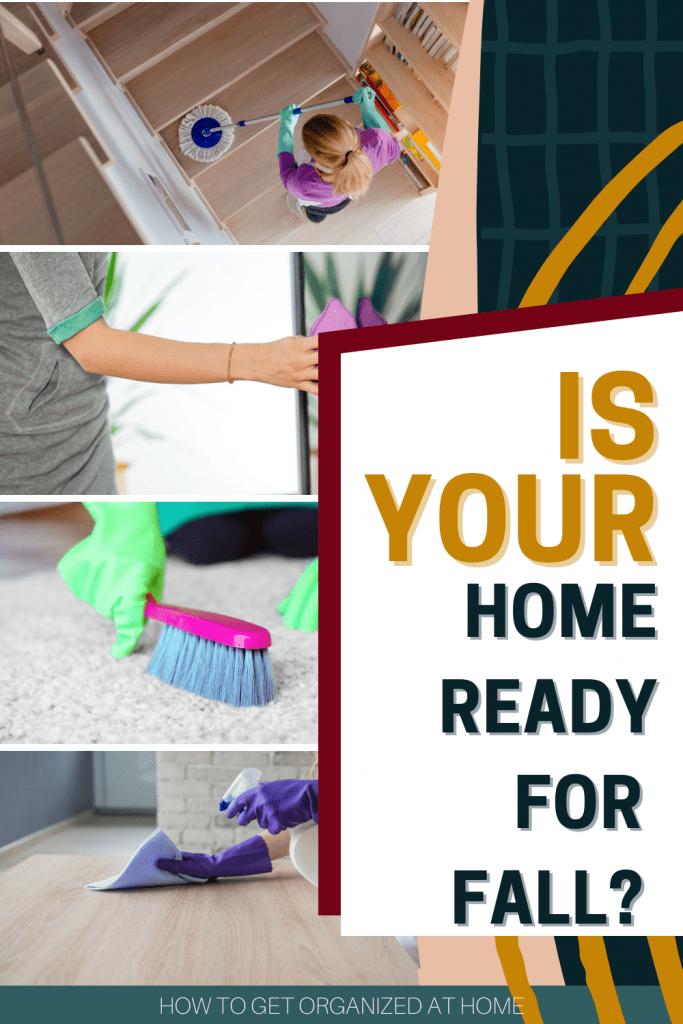 Starting On The Main Floor Of Your Home
The main living area of your home is going to get the most traffic and the most difficult to deep clean.
This is because people are still using this area and that means that it can become more difficult to tackle one area without interruption.
You might want to break the fall cleaning of the main living area down into smaller tasks, this way your home won't look like a complete disaster as you tackle each room.
Tackle a cupboard or two at a time and don't panic if it takes you longer than you planned, this is often the case when it comes to deep cleaning as you can get distracted with the items you are moving to clean.
If you bring out seasonal decoration, clean this before putting on display and try packing away a few of your normal decorations away to reduce the amount of cleaning you will need to do.
Tackling Fall Cleaning In The Kitchen
It's a great time for giving your kitchen a quick deep clean, it will help you when it comes to the pre-holiday clean.
Keeping your home clean and tidy doesn't have to be difficult, the more you tackle your cleaning the quicker it will be next time as there won't be much dirt and debris built up.
Start with looking up, clean those light fixtures, they get greasy in the kitchen.
Sweep the ceiling for cobwebs and other dust bunnies that gather in the corner of rooms.
If you can tackle the tops of your cupboards, it's a great way to check for items that shouldn't be there.
If after you've cleaned them, you put grease proof paper down the next time you clean it will just be removing and replacing the paper.
Tackle the inside of the cupboards one at a time. Get rid of out of date products.
Clean the kitchen floor, it depends on the type of floor as to how you clean it, follow manufacturer's instructions.
Get That Oven Clean
Tackle that oven, give it a deep clean and get it looking good for the amazing fall meals you will cook in there.
The more often you clean your oven the less time you will need to spend on it cleaning it.
Need more oven cleaning tips? How To Clean Your Oven And Make It Sparkle.
Deep Cleaning The Family Room
The family room is going to be the room you spend most of your time in as a family.
Start with looking up, clean any light fixtures and dust for cobwebs around the edge of the room.
The sofas and chairs in this room are going to need a deep clean, again, depending on the type of furniture you have will depend on how you deep clean it.
Any ornaments that you have out on display, these will need to be cleaned, but if you are putting out different decorations to highlight the colours of fall then put some of these away, it reduces the amount of cleaning you will need to do.
Move furniture as much as you can to clean behind and to clean walls too.
Don't forget the floor, this will need a deep clean, don't forget the edges of the room to ensure you have all the dirt picked up.
Deep Clean The Bathroom For Fall
Now is a great time to not only deep clean your bathroom, but to change any room fresheners to something a bit more seasonal.
It's so important to keep the bathroom clean, but a deep clean will ensure that you get those cobwebs and clean the light fixture too.
Don't forget to get behind the toilet and in any corner you don't normally tackle.
Cleaning The Front Entryway For Fall
This is the area that so many people see and for this reason it's the best area to make your home feel like fall without really doing much to the rest of your home.
Pay attention to the light fittings and the corners where cobwebs can hide.
If you have an outside light make sure it's working and give it a quick clean too.
Clean the door and brush down the step and you are good to add a few pieces to add that touch of fall to the front of your home.
A deep clean and a few pieces of fall decorations are great way to introduce fall into your home.
However, it's easy to over decorate and that will cause you more anxiety when it comes to keeping this area clean.
Less is always more.
Let's Recap…
When it comes to cleaning your home for fall, don't forget to pack away some of your decorations that you have out all the time.
This will cut down any extra cleaning you might have added to your cleaning schedule.
Don't go overboard with your seasonal decorations, just add a few.
The more you get deep cleaned will help to reduce how much time you need next time you have a deep cleaning session.
You Will Love These