Often, mould will develop around the windows and on the sills; this is due to the moisture, with warm air hitting the cooler glass and condensing on the window and providing a breeding ground for mould, (or spelt mold depending on where you are from). The best ways for tackling mould on window sills is to ventilate the room. We have created this problem for ourselves with the need to seal up our homes to reduce the energy loss in the windows, doors and even the walls themselves; however, what we have created homes with no airflow and this makes them ideal breeding grounds for mould.

Affiliate links support How To Get Organized At Home
Tackling Mould On Window Sills
To stop the mould from forming you need to supply some sort of ventilation to the room, some windows come with ventilation built-in but many don't; they are looking to prevent the loss of heat, but in some ways we are sealing our homes up so well we are creating new problems and one of them is mould growth. Getting rid of this mould is important, mould spreads by releasing microscopic spores into the environment and these spores can cause ill-health; it is not healthy to live with mould.
The way that you treat the mould will depend on the products that you use, some will kill the mould completely and others will just remove the surface covering of the spores and growth, but leave the roots behind, allowing the problem to start again.
You have to keep on top of the treatment and if you see it reappearing, it is important to tackle it. However, if you don't aim to tackle the problem you will have to continue to deal with mould, spending money on cleaning products, whereas if you addressed the problem the mould will go away.
 Getting Rid Of Mould
Getting rid of the mould isn't too difficult and it is important that you keep tackling the situation and don't allow it to develop and grow. This will prevent the possible health issues related to living with mould.
Bleach will kill the mould on contact and is an effective way to treat mould on a non-porous surface; if the surface is porous, the bleach is not an effective method to kill the mould, because it can't penetrate the surface and kill the roots of the mould. Using bleach is great at removing the mould but you will have to keep reapplying regularly to kill it as it regrows. So, whilst it gets rid of the visual aspects of the mould it doesn't penetrate and kill the roots of the mould, allowing it to re-establish and re-grow.
Borax is great for cleaning mould but you do need to scrub the surface and this will release the spores into the atmosphere and can spread the mould. Leaving the borax on until it is completely dry should eliminate the mould.
Vinegar is a popular cleaning product for those people who are trying to avoid chemicals in the home, unfortunately, it doesn't kill all forms of mould and this means it isn't really an effective cleaner if you are looking to remove and kill the mould growth.
Ammonia is not able to penetrate a porous surface and so some of the moulds could survive and continue to grow. It is important that you don't mix ammonia with bleach as this creates a poisonous gas, this combination of chemicals makes a chemical warfare.
Hydrogen peroxide is an anti-fungal product, which will kill the bacteria that it meets and is a safer product to use than bleach. Being anti-fungal will kill the mould.
Hot soapy water is the most ineffective way to kill mould, it can remove some of the mould but it won't kill the mould at all; what it will do is allow the mould to spread to new surfaces and spores release into the atmosphere.
Baking soda is a great cleaning product for lots of different cleaning tasks and one of those tasks is killing mould and absorbing the moisture too, making it a great treatment for mould as mould needs moisture to grow.
Tea tree oil is the best treatment for killing and tackling mould on window sills, unfortunately, it is the most expensive option too. However, it can penetrate into the roots of the mould and can kill and remove all traces of mould.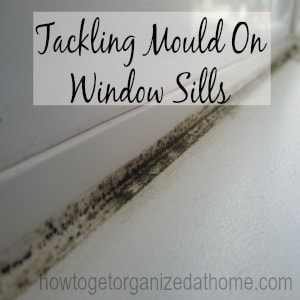 If you keep on top of the cleaning this can help prevent mould growth, it isn't always easy to plan it into our day, this is why I have created this printable to help you organize your cleaning schedule.
Therefore, if you are looking to tackling mould on window sills then you must try tea tree oil. If the mould has gotten into a porous substance, it is more difficult to kill with chemicals like bleach; they are unable to kill the root structure.
You must think about the different ways you can prevent mould from growing; try ventilating the room, or using a dehumidifier to remove excess moisture from the air to prevent the mould having the right living conditions to grow.
What tips do you have for tackling mould on window sills?
If you are looking for more articles on this topic head over to the landing page where you will find links to other articles on cleaning.
I have written other articles on this topic check out this one called, 20 Things People With Clean Homes Do Daily, it is good to copy other people's habits it can help to build your own habits.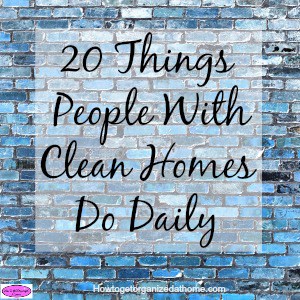 Further resources that you can use to find out more information about mould and getting rid of it is available here, this link directs you to another source of information that I found helpful.