How To Get Rid Of Mold And Damp
Mold /mould is a fungus that loves to grow where there is excess moisture but it can cause serious health problems and must be taken seriously. So how to get rid of mold is something you need right now.
Getting rid of mold and damp isn't an easy task and it is one that is on the increase with the desire to seal up our homes to prevent energy loss and save money.
What we are doing is creating environments suitable for mold and damp to grow and develop, they love these warm and humid environments.
We are creating and adding to our own problems with the constant need to save money by reducing energy loss. Often the answer is as simple as installing some form of ventilation to allow the air to flow around your home, reducing the chances of mold and damp to develop.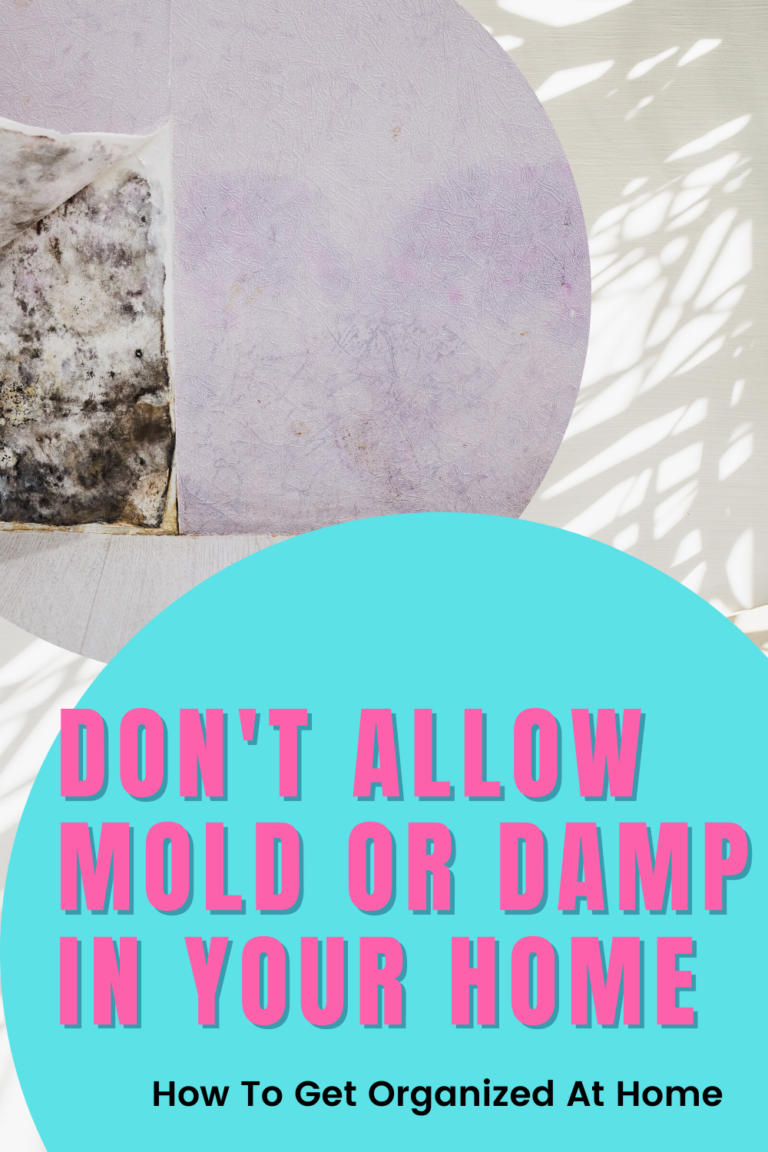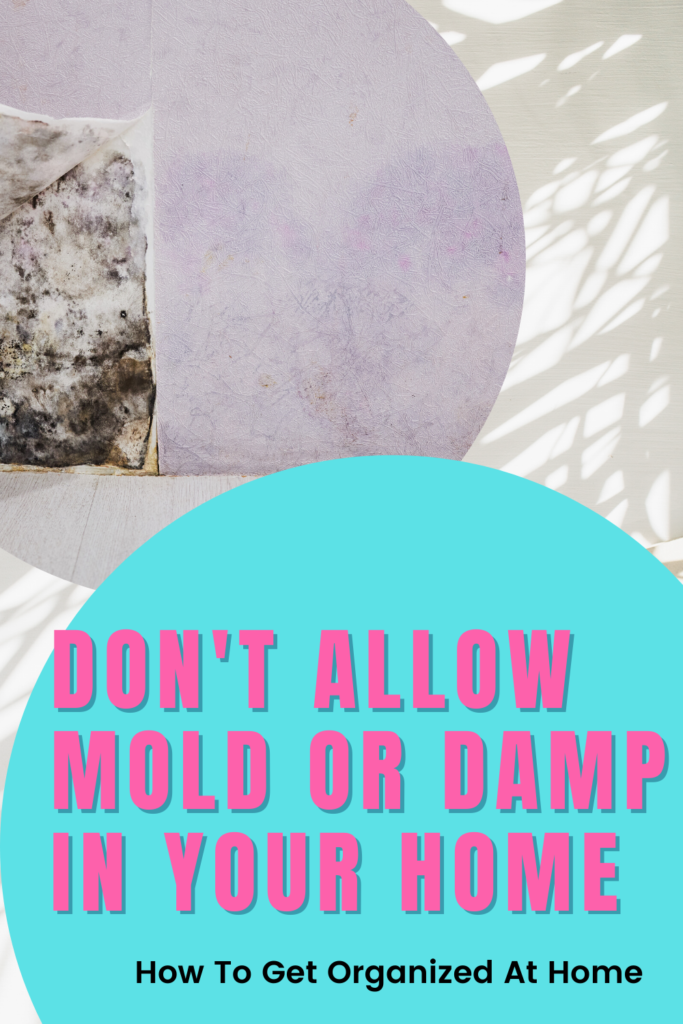 But What Do You Do If Mold And Damp Appear?
I think the best advice is not to panic but take a practical look at the problem. You want to access the area inside and outside of your home and look for changes that might be the answer as to why you have mold and damp.
Affiliate links are included for your convenience. (Which means if you make a purchase after clicking a link I will earn a small commission which won't cost you a penny more!) Click here to read my full disclosure and privacy policy.
Things to check for include:
However, having mold and damp doesn't always mean that you have a problem with something that is broken within your home.
But, if you can find evidence of why the damp is being caused, then you have to take the action to remove the mold as well as tackling the cause of the situation.
Sometimes mold and damp appear for other reasons too and can simply mean there is excessive moisture in your home and it has become the ideal home for mold.
Identifying The Source Of The Mold
So, taking action and looking for the source of a problem is always a good idea in the first place. It can help you identify if there is a potential bigger problem that you have to deal with and which has caused the presence of mold and damp in that area of your home.
If there is a problem with something that is part of your home you will need to take action to solve this problem because you will never get rid of the mold and damp until this is sorted.
It's a good idea to get into the habit of checking the outside of your home on a regular basis to check for damage that could cause mold and damp to penetrate your home.
What Action Should You Take
Mold can be a toxic substance and can have an impact on your health and therefore you must not take mold lightly. It's important to find an effective way to get rid of the mold without causing yourself or your family harm.
If you rent the property it is a good idea to talk to your landlord to assess the problem and to see if they need to address any building maintenance, if you notice a problem it's always a good idea to report issues as soon as you can to try and prevent damage to the home and to your health.
If the property is yours then you need to take the appropriate cause of action to ensure that you and your family are taken care of because any mold or dampness in your home can be dangerous to your health.
Pin This: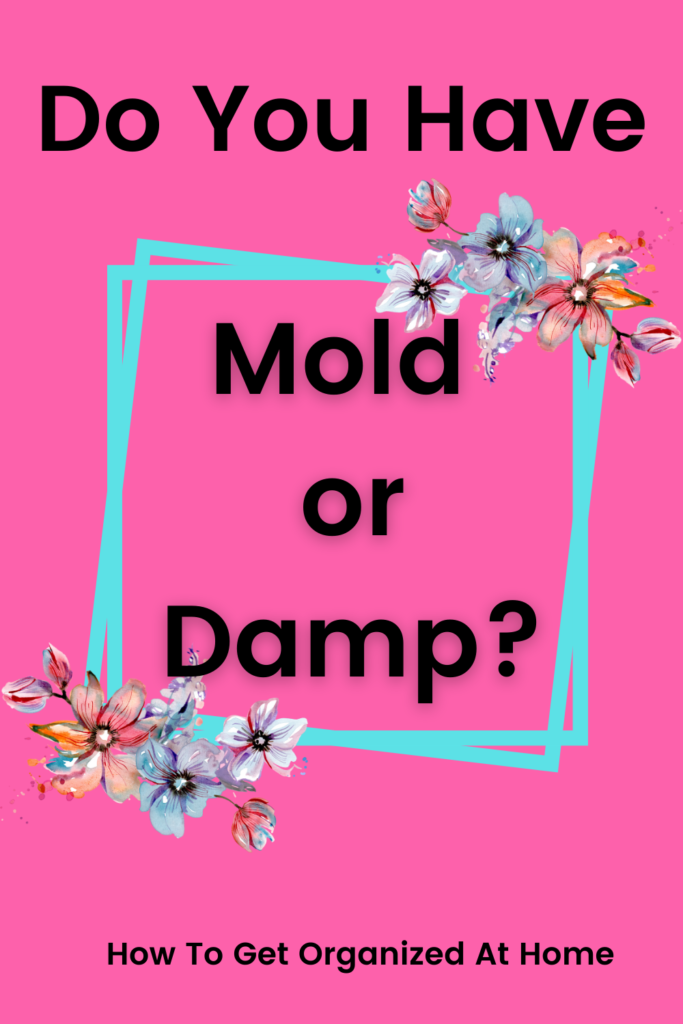 Mold And Dampness In Your Home
Be careful when cleaning mold, the spores are very tiny and it is easy to spread the problem rather than cleaning the mold away.
If you have mold and damp you need to ensure that the potential damp source is taken care of and then focus your attention on dealing with the mold while the damp dries out.
Mold growth can sit on a number of different surfaces including window frames, outside walls, and internal walls and furniture, black mold is something that you are going to see, however, some molds can cause ill health and it might even cause an allergic reaction so it's important to treat it with care.
Effective Ways For Tackling The Mold
The most effective way to deal with mold is with tea tree oil, you need to read The Best Ways For Tackling Mold On Window Sills which will give you some great tips on what products to use and what to avoid.
There are a lot of products on the market claiming to get rid of mold, the best way to test if a product works is to use this checklist that you can download here to track any mold breakouts in your home.
Once you have cleaned the area and removed the mold and if there was any damp that you have given it time to dry then it's time to take action. You can get a mold prevention paint that will cover the damp and the mold and remove the potential for it coming back.
However, if you haven't dealt with the reason you are getting mold buildup, then more mold will settle and the problem will return.
Preventing Mold And Damp Returning
There is always a reason for mold and dampness. If you don't address the situation then no matter what you do you will not prevent the mold from coming back.
Typical reason for mold in your home include:
Drying clothes on a radiator or clothes rack and not venting your home

Sealing home up so well that moisture can't escape and creating the perfect environment for mold to grow

Not having proper ventilation in your home

, you could use a dehumidifier to remove excess water
Mold loves damp areas and that's why it loves to live with damp, because the dampness provides the perfect conditions.
What Mold Spores Love
So, you need to think about the ways that you can extract the high moisture content out of certain areas of your home.
Using items like extractor fans, repairing leaky pipes, opening a window in the bathroom or kitchen when steam is produced. You could use a dehumidifier to remove excess water. The problem arises in these situations when there is poor ventilation in the home.
If you have mold on your window sills, this tends to form because of poor circulation in your home. There are so many recommendations for sealing up our homes that we forget that we need an air flow around our home to prevent mold.
What happens is the warm damp air inside hits the window and causes condensation and this makes the perfect situation for mold to settle and grow.
Opening a window is one of the simplest things you can do to let out the damp air from inside your home. When I replaced my windows I made sure that vents were added to every single window to reduce the need for remembering to open the windows everyday.
Related article: How To Remove Mold From A Bathroom Ceiling Without Bleach
Simple Tips To Prevent Mold And Damp
Damp is often caused by a problem with the structure of your home. Moisture is getting in somewhere and this is causing the damp to show. To prevent this happening as much as possible it's important that you look after the structure of your home. This means checking for damage and taking the appropriate action, like preventing leaves getting into your guttering and ensure that any problem is taken care of and the damp won't get worse.
When it comes to mold, you must ensure that you are letting the steam that builds up in your home from cooking, showering and breathing is let outside and you do this by ensuring that you have all the appliances that you need to vent your home correctly.
Things That Make Mold Worse
So, if you have a tumble dryer, make sure that the vent is clear and is venting outside and not inside your home. Open windows if you are cooking and showering or alternatively have an extractor fitted. It's the humid air in your home that the mold spores are attracted to.
It is important that if you want to prevent mold and damp development from damage, then you must make sure that you do regular checks of your home looking for any potential problems which you need to address.
Ideally, you should check out your home as each season changes; this takes into account the different seasons and the potential for weather changes that can affect the repairing of items when the weather is less favorable.
Why Tackle Mold In Your Home
Mold isn't good for the health of you or your family and it must be taken seriously. It can cause illnesses such as respiratory problems, it can have an effect on those people who suffer with asthma so it's important that you take it seriously and ensure that you are doing all you can to prevent mold or damp from coming into your home.
It is one of the reasons why it's important to keep your home clean as you need to be able to see all the important areas to check for mold and dampness. If you can't see the room for clutter then you might miss the early stages and it might become a more serious problem and one in which you can't tackle on your own.
Some mold is so dangerous that it becomes a hazard to your health and you have to move out because the mold has taken over.
If you rent your property then it can sometimes be difficult for the owners of the home to understand the situation and it's important that you make them aware of the mold and damp problems you are experiencing.
Why It's Important To Track Your Mold And Damp
I think it's important to track all the places that you find mold and damp, not only are you then able to see if something gets better but you are going to see if an area is getting worse.
You shouldn't be painting over damp patches until you know that it's completely dried out and that is why when I check on them I mark the furthest points with a pencil so when I next check I can see if the damp patch has gotten worse or if it has stayed the same.
Yes, in older buildings there is the higher potential for mold and dampness, but because we can seal a home so well I'm often asked how to deal with mold in new homes too.
There are systems that you can get that will keep the ventilation going throughout your home and it might be something you think about investing in if you are struggling with mold in multiple rooms.
You could also think about investing in a dehumidifier to remove excess water from your rooms.
What You Can Do To Prevent Mold
Mold and damp are not going away but we must do our best to prevent them from appearing in our homes and if they arrive to take action to remove it safely before it becomes a major health risk.
Damp is often a result of a problem with the structure of our homes and it's important that you check your home is looked after and repaired properly. Mold loves the damp areas in our homes as it becomes the perfect breeding ground and home.
Think about increasing the ventilation in your home, one option is adding in air bricks as this allows the air to flow better and can reduce the potential of having a damp and moldy home.
If you don't want to deal with the mold, asking for professional help is key because you can't live a healthy life if you have mold spores living and breeding in your home.
Let's Recap…
If you spot mold in your home, you need to treat it and prevent it from returning by ensuring you have an air flow in those rooms that are high with humidity levels, like for example: kitchens, bedrooms and bathrooms.
Protect yourself when you clean any sort of mold as you don't want to be breathing in any of the mold spores as these can be dangerous to your health.
Good ventilation is key if you want to reduce the potential growth of mold in your home, it can't set up home so easily and this means you won't get new homes for your mold developing.
Once you have removed the source of the problem you can buy anti-mold paint that you can apply that will stop any lingering roots penetrating the surface and causing another mold outbreak.
If you have a mold problem you need to address it now, it won't just disappear. It is a stubborn type of fungus and it can be very hard but not impossible to kill.