Do You Want To See My Plans For My Kitchen?
We moved in over 10 years ago and one of the first things we did was rip out the kitchen. However, it is now looking like it is in need of some love and attention and I thought what better way than to share my thoughts with how I intend to change my kitchen, but on a budget! Here are my plans for my kitchen!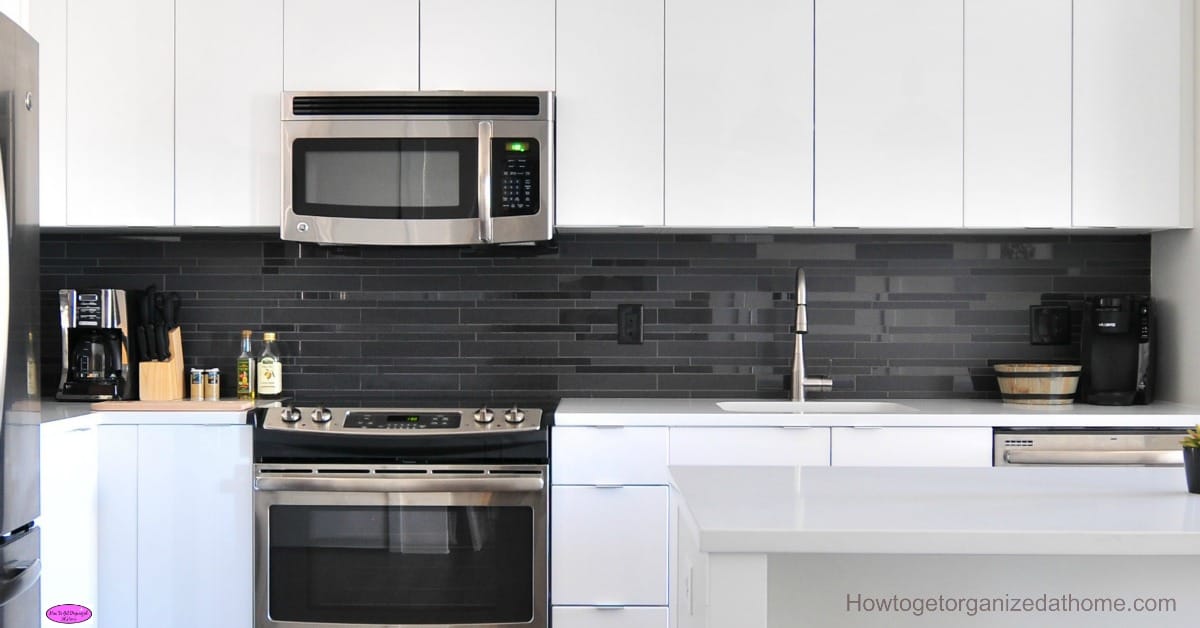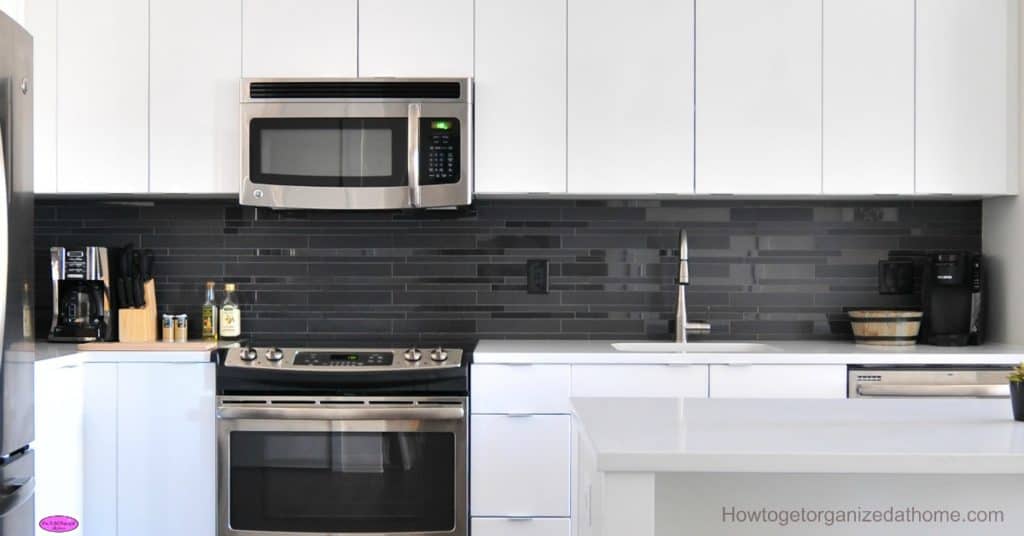 Affiliate links support How To Get Organized At Home
Understanding My Restrictions
My kitchen is a great size, however, the disadvantage comes with having 3 doors leading into this space, and it does restrict some of the cupboard placement!
What we are not doing is replacing the kitchen cabinets, they are still in great shape internally. I will go into more details later!
The reason behind this project is simple, it was something on our to-do list, but, a water leak prompted this upgrade sooner than planned, as we had to pull up the floor!
The Cupboard Plans
The kitchen cupboards themselves are in great shape, they're covered in melamine, and in many places, this has started to pop and become damaged.
The plan is to remove this covering and paint the cupboard doors. I have tried removing this on one of the doors and it works!
The paint, (this is similar to the paint I found), I have found that I love can work on top of this melamine covering if the door is in great shape! Unfortunately, my cupboards have seen too much use and it needs removing!
The idea is to just paint the doors and the frame of the cupboards, I have chosen a grey colour. The kitchen has been white for so long, I just needed a change!
The insides I plan at the moment on leaving white!
The Wall Plans
The lower half of the walls I want wood panelling, this I feel will be easier to keep clean with the dogs! But because of the leak, some of the skirting/baseboards need replacing!
There is some patching up to do with plastering too as some of the plaster has 'blown' and needs repairing.
The Kitchen Wall Tiles
While I would love to replace the tiles, I just don't think that would be practical, the alternative is to paint them! This is something I am so looking forward to, too!
I really can't understand my choice of tile, but that was over ten years ago we made those decisions!
With the cupboards grey I want the tiles to follow suit and are going for a grey colour too, but slightly darker!
The Floor Covering
This is one area we just haven't made up our minds with yet! But the colour I want is something sparkly which lightens up the room. Easy to keep clean is a top priority with 3 dogs that love to make a mess!
Currently, it is just a bare concrete floor, I have suggested painting the floor but that one hasn't been greeted with any enthusiasm at all!
Not Forgetting The Three Doors
There is an ongoing debate about the doors in the kitchen, there are 3 of them. I have always assumed they would be white.
However, after visiting Tasha at Designer Trapped In A Lawyer's Body, with her white trim and black doors, I think I might need to go back there and review what I am planning to do here! I think they look amazing!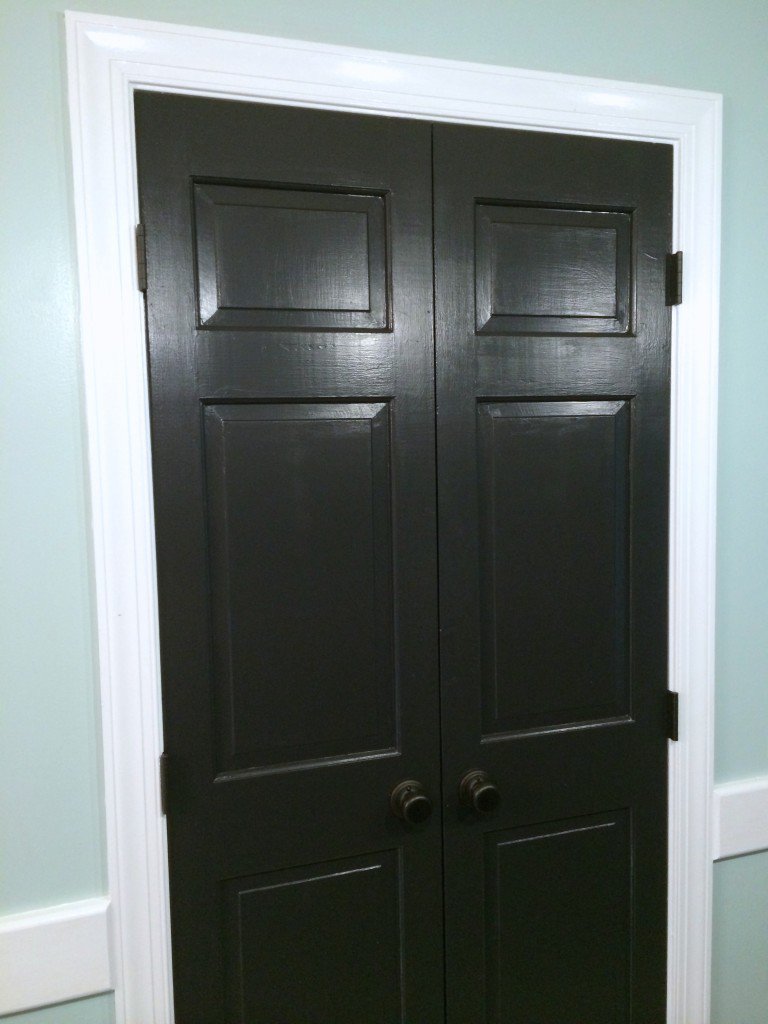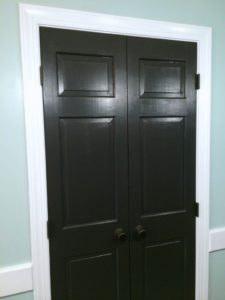 Finishing Touches
Even though I am nowhere near finished, or even hardly started on this project I have a few pieces in mind!
I want a large clock to go on one wall, I know that my husband will love this clock!
This wooden clock is more of my liking!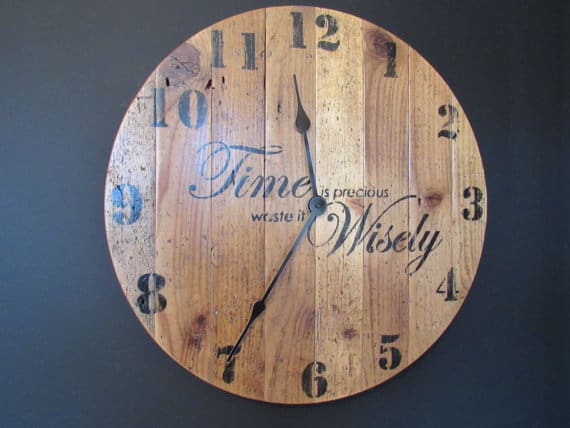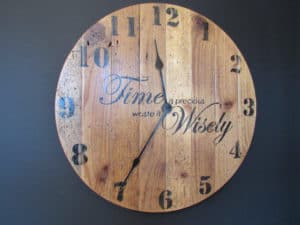 A large rug for the middle of the floor is a must! I just love the colour in this rug, what do you think?
The window dressing is where I'm stuck, we haven't had anything covering the window in about a year; the blind decided to break, and I just couldn't find anything I liked to replace it!
But it annoys me and I'm determined to find something this year, it has to fit with my colours and it can't be a curtain, I just don't like curtains in a kitchen!
So, I am on the hunt for a blind, just not sure on the style or the colour!
Why I Am Choosing To Share
I love pulling all my ideas together, it helps me to see what options I have and the tasks I need to do. Remember this is all being done on a budget, I want the best price but I also want it to look great too!
It is a great way to track what you are doing for a project and how you know that you have completed a project.
Many of the tasks are going to take time, it is fitting in these projects around life, and other areas that take my time.
I want to show you how making a room which fit your needs can help you to love that space and make you want to keep it clean and organized!
Looking for more articles on design? The Under The Sink Cupboard Challenge is a great place to start!