5 Simple And Easy Steps To Organize Your Home And Life
Do you get frustrated and wish your home and life was more organized, so you felt in control of what you need to do? Let me teach you my 5-step process to organize your home and life.
I know it's not easy getting all the pieces of the puzzle to work together but I feel there is a lot more you have to look at to achieve an organized life and home, than just tackling the clutter.

The 5 Steps To An Organized Home And Life
The 5 steps that I think you need to look at and work on include these areas and they are all just as important as each other.
Mental health
Cleaning
Time management
Finances
Organizing
Without tackling all these areas, I don't think that you can feel truly organized in your home and life.
Let's dig into each one separately and then see why I want you to look at the bigger picture and work through all these areas to have a better grasp on what it takes to become organized not just in your home but your life too.
Looking After Your Mental Health
I'm not a mental health professional, but I do suffer from depression and this is where I take my understanding of the condition from.
When I talk about mental health in relation to organizing you might think it's slightly odd, but if you don't look after your mental health you won't be in a position to achieve your goals of being organized in your home and life because mental health affects how a person reacts.
If you are not in a good place with your mental health, it's going to affect your motivation and how you feel about everyday tasks.
It's important to make sure that you are feeling good on the inside and this will show in everything that you do.
Your Mental Health Is Important
Understand how you are feeling, and really put your mental health first is key to getting yourself organized. If you are not in a good place mentally you won't be able to tackle all of the things that you need to do effectively.
Tasks take you longer to do. You often don't feel like doing the task and you can find yourself putting off the normal everyday tasks and this is counter-productive in the long term.
Take the steps to look after your mental health you will be thankful you did.
Here are some articles that I've written on mental health and anxiety and the tips and ideas I've used to help me feel better and manage the symptoms:
Why Your Depression Is Not Easy
Why Your Depression Affects Organizing
5 Things To Do When Depresson Strikes
Cleaning Is For Everyone
When it comes to cleaning, this is something you have to do, unless you can pay someone else to do it for you.
I think cleaning is part of the process to getting your home and life organized. Yes, you can have an organized home but that doesn't mean it's a clean home.
I think focusing on the cleaning before you focus on the organizing is important, I know it's easy to clean an organized space.
But if you don't have the energy to organize a space having the space clean is more beneficial than having it organized.
I think cleaning needs to come way before organizing because it's important for health reasons that you need to live in a clean space, the organizing falls in place better when you have spent the time cleaning and have a clean space to start with.
Here are some more articles on cleaning that will help you tackle all the areas of your home:
How To Set Up Your House Cleaning Schedule
How To Do A Quick Summer Clean Up
20 Things People With Clean Homes Do Daily
Why Time Management Is Important
Time management always comes third on my list. You need to know how to manage your time to fit everything that you need to do into your life.
If you don't you will find that you are putting too many tasks into your day and this often results in tasks uncompleted and this will make you feel frustrated and annoyed at yourself.
This is why I think it's important to tackle before moving forward with any organizing, get your calendar organized first.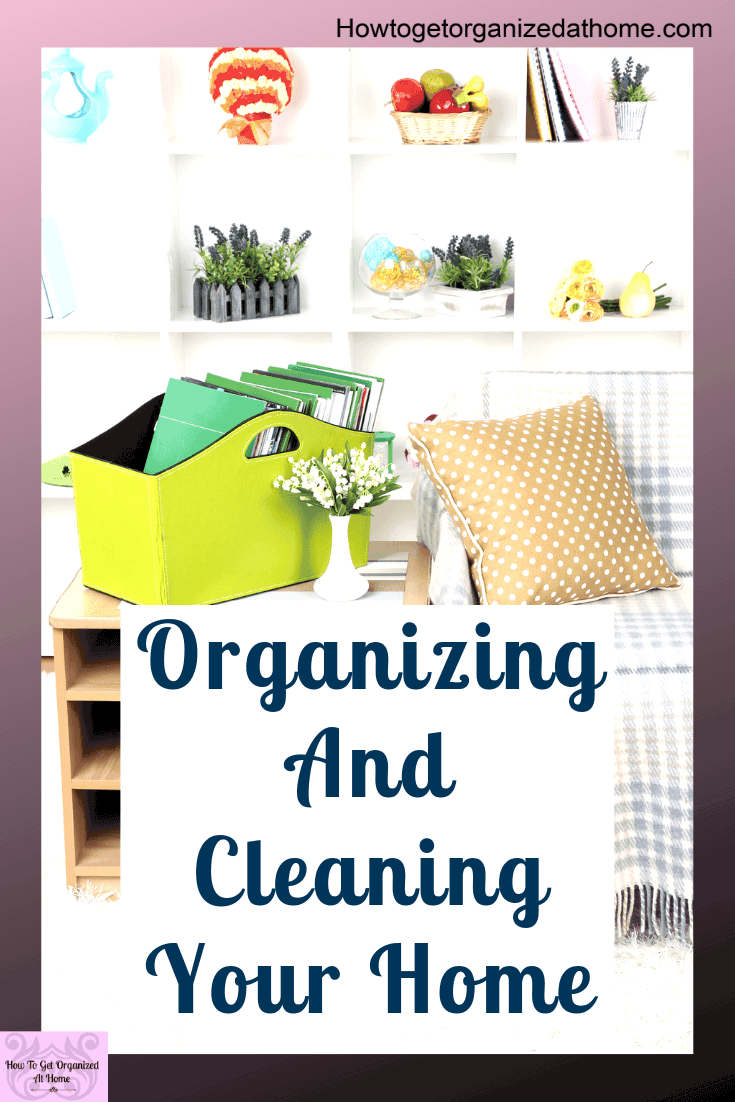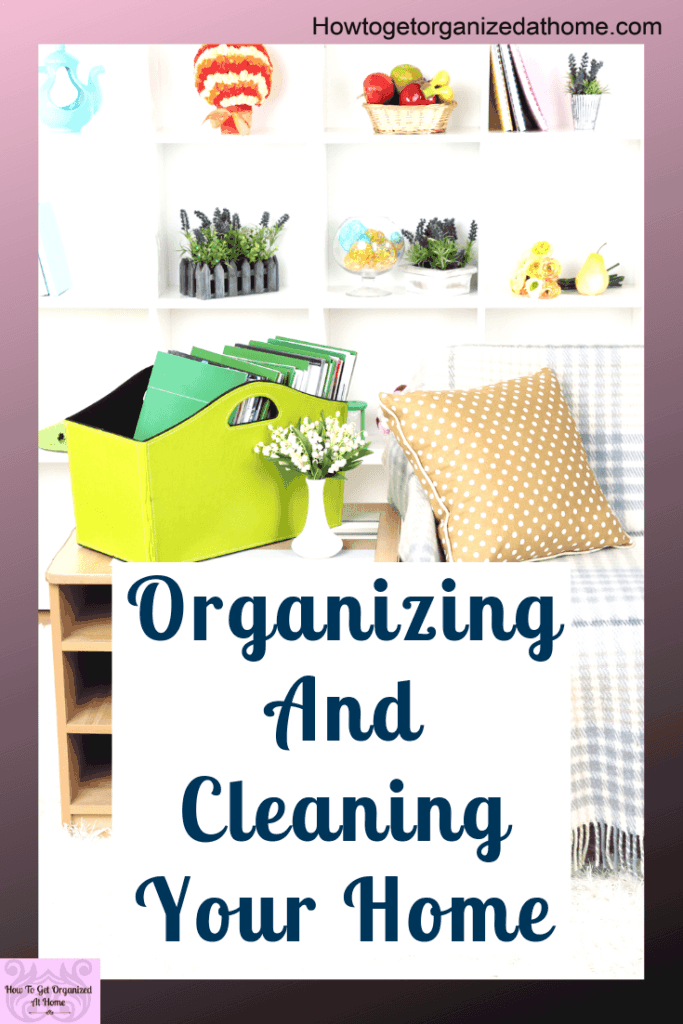 Your Schedule, Your Life
How you manage your time will depend upon a lot of factors, you might struggle to find something that works for you.
Do you buy a planner with the intention of using it every day and changing your life?
Often, people buy these planners, I was one of these people too, but never used them and gave up so quickly that they didn't understand what was wrong so they would buy another planner and the cycle would go on.
The secret in making a planner work is to use the planner and to use it every single day.
I thought there must be a magic that I was missing when it comes to time management, I just couldn't seem to get the right one for me.
What I was doing was not using the planner consistently and jumping from one system to the next hoping the next one would stick. The problem wasn't the planner it was me not committing to the system.
You have to choose a system and stick to that system; it takes a month to feel comfortable with a new system, so you have to give it time to work as well as working the system.
Here are some articles that will help you work out how to manage your time better:
Effective Time Management Strategies To Help You
13 Of The Best Life Management Tips
How To Use A Weekly Planning Sheet For Success
Understand And Develop Your Budget
The fourth process is to look at your finances, you can't have an organized home and life if you don't know where you stand when it comes to your money.
You need to know what you can and can't afford, this will help you make the right choices in your life and not add to the stress further on your journey.
You have to face your finances head on, you have to know how much money you owe and how much money you have each month to spend on the different areas of your life.
Without this information you won't make the right choices for you at this moment in your life.
If you don't have your money sorted out you will be unaware on how much you can afford to spend on items like your groceries or if you can afford to splurge on some luxuries, or even organizing systems for your home.
Knowing your money is important before you reach the organizing of your home.
You can find out more on how to look after your money and learn to budget in these articles:
Why Organizing Comes Last
Now it's time to tackle the organizing of your home!
I think this section must come last in the process purely because you need to have the other areas of your life sorted before you can do the organizing justice.
If you aren't in the right place mentally to organize you will struggle more than you need to, if you don't have your budget sorted how will you know how much you can afford to spend on new organizing solutions?
It surprising how it's all connected and going through the process in the right order will help you achieve the end results you are looking for.
Organizing And Cleaning Go Together
When you are organizing this is when I like to do the deep clean of the item you are organizing, this will make the space feel even better than just being organized.
When you are ready to organize there is a process that I like to take depending on the area I'm organizing.
You can find out more about this process in these articles:
12 Fantastic Secrets Of Organized People
8 Things Organized People Do Daily
Simple Tips And Ideas On How To Get Organized At Home
Let's Recap…
If your mental health is poor you won't have the energy to tackle an organizing project.
If your home isn't clean it's difficult to organize areas when you need to clean, and cleaning is probably more important than organizing, yes, I said that out loud!
Time management is important to conquer before organizing because it's surprising how much time it takes to organize a space and if you are tight on time then you won't have the time you need to organize your home.
Finances must come before organizing purely because you need to know how much you have in your budget for some of the organizing supplies that you might need to finally get organized.
Finally, comes the organizing, only when you are in the right mindset will you be able to do the space justice.
This is the process that I followed when it comes to organizing, if my mental health isn't right then I know I'm not going to do the organizing to my best of my ability.
It's the same with cleaning I need to have my home cleaned before I tackle organizing projects because I know it will make me feel better than seeing my kitchen in disarray after spending 30 minutes on an organizing project.
How can I add more things to my life if I'm not focused on my time, this will give me less time to do the things I normally do, and this defeats the objection? If my time management is working, then I can find the time to do the organizing projects without burning myself out.
If my finances are a mess, then you don't know what you have money wise when organizing and this is stressful.
So, you can see how important it is to have all these areas of your life sorted before you tackle the organizing.