Understanding how to get organized at home is going to save you time, money and stress. You will know when you need to do different tasks and your items will have a home. There are times that this can slip, it doesn't have to be perfect, this is an impossible desire that is not easy to accomplish, but what it does need is to feel right to you. You need to feel in control of your home and know where you're supposed to be at a certain time, it makes your life less stressed if you are more in control.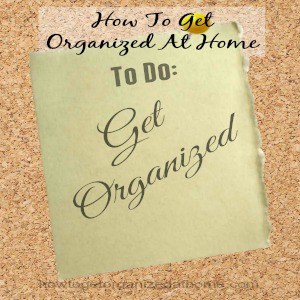 Get Organized At Home
This can mean different things to different people, it depends on how you interpret the meaning of being organized. For me it is about always being on time and not being late for an appointment, it is also about fitting a lot into my day. Working from home is difficult, I get distracted by the jobs that I need to do around the home as well as trying to do my work.
For this reason I have a plan, I must have a list of the most important tasks that I need to do and I try and get these done first, it doesn't always work the way I plan. This can mean that I have to work late but it is better to do this rather than trying to fit more into my day.
A plan is one of the most important tools you can have; it will guide you through the most difficult points of your day. It allows you to see the jobs you need to do as well as any appointments for the day.
Once you know your focus you are then able to move more freely through your tasks.
Daily Organization Practice
Starting your day organized will help, but if you have a routine that you need to follow as you start your day it can help to automate some of the tasks that you need to do on a daily basis.
If you have children, helping them to learn the tasks they need to do in a morning before they leave for school, can make that part of the day a lot less stressful for everyone involved.
Having a cleaning schedule that you can use is key to having a clean and tidy home; it doesn't have to be perfect but presentable for those unexpected guests. If you know when you need to clean and you have the time scheduled into your day it can make it easier to know what you need do and when. Again it doesn't have to be perfect, it has to fit your family and it needs to meet your needs.
It is possible to keep your home clean and tidy with as little as thirty minutes a day. This doesn't include cooking your meals and washing up afterwards, it is about the general picking up and a quick house clean.
Having a list of the tasks that you need to complete on a daily, weekly, and monthly schedule can ensure that all areas of your home are kept clean and tidy.
Having an organized home is about knowing what you need to do and when, it is not about putting off a job or a task but getting them done. It is easier to relax when you have done all your tasks. When my kids were little I preferred to spend time with them during the day and in the evening, I would tackle the house; it made sense for me to do it this way, where now I prefer to spread the tasks out throughout the day.
Therefore, if you are looking on how to get organized at home, it is about finding the right balance for you and your family and working out what works and what doesn't work for your family.