How To Do A Quick Summer Clean Up
I do love to clean but trying to fit extra things into my day as the weather warms up, including gardening, sometimes it's challenging. Whilst I love a clean and sparkling home, I also like a nice garden so I need time to do gardening. I can't create more time in the day so, I focus on summer clean up. It gives me that extra time I need to do all the other tasks in the summer months.
I use any extra time to do a little bit more in-depth cleaning, but nothing too deep as I just don't have the time! Check out these summer cleaning tips for more ideas.

How I Do A Quick Summer Clean Up
If I am trying to do a clean-up in record time, I want to focus on the areas that need the most attention, I don't always have time to do everything, but I still want to live in a clean home!
It is important to start at the top and work down; this makes any dust that has fallen down picked up with the vacuum or brush depending on your flooring.
As I clean most days, occasionally I will have the odd day off! I know what needs doing and what I can leave. I hate dust, but I really don't enjoy dusting when you just flick it around the room, it never seems to go and if it does it is quickly back.
Best Way To Clean Your House
That is until I discovered the better way to dust, I use a damp cloth to clean my furniture, it has a very mild solution of white vinegar and water and it is just damp, I have another cloth that is completely dry, with which I go over the damp area to make sure no residue gets left behind. The dust is captured in the cloth and not spread around the room and the furniture is clean.
I have noticed that furniture stays dust free longer so it does give me more space between cleaning and I literally wipe down the surfaces that I am focusing on that day and they are clean.
How To Clean Your Rooms For Summer
Make the beds; this makes a room look tidier without even trying, for me, this means my husband, he loves to make the bed and it looks so much better when he does it compared to my bed-making skills!
Affiliate links are included for your convenience. (Which means if you make a purchase after clicking a link I will earn a small commission which helps keep my blog up and running but won't cost you a penny more!) Click here to read my full disclosure and privacy policy.
Vacuum, if you have dusted upstairs then you must start there first; this removes any dust that did escape and lands on the floor. I tend to vacuum upstairs a couple of times per week, mainly because my office is upstairs and the dogs come up there with me; otherwise, I really wouldn't do it more than once a week.
Downstairs I hoover the carpeted rooms every day, the same as I sweep up my tiled floor. Now, I know that a damp mop would prevent the dust from jumping up, I have misplaced a cover and I am not going to buy a new one when I know I already have one, it is just locating it! (Great news I have found it, it got mixed in with some dust sheets, don't ask me how!)
I don't use the vacuum for collecting this dust because it will shoot it around the room more than the brush. A quick clean up with the dustpan and nearly complete, if I am not putting the steamer around on the tiled floor, I will do a quick spot check and remove any marks on the floor with a damp cloth. I use a white vinegar solution, but don't use this if you have wooden floors, apparently, it can cause damage, it is important to check manufacturer's instructions to see what products are safe.
A quick sweep outside the doors and a quick wipe down of the doors too and it doesn't even take me an hour.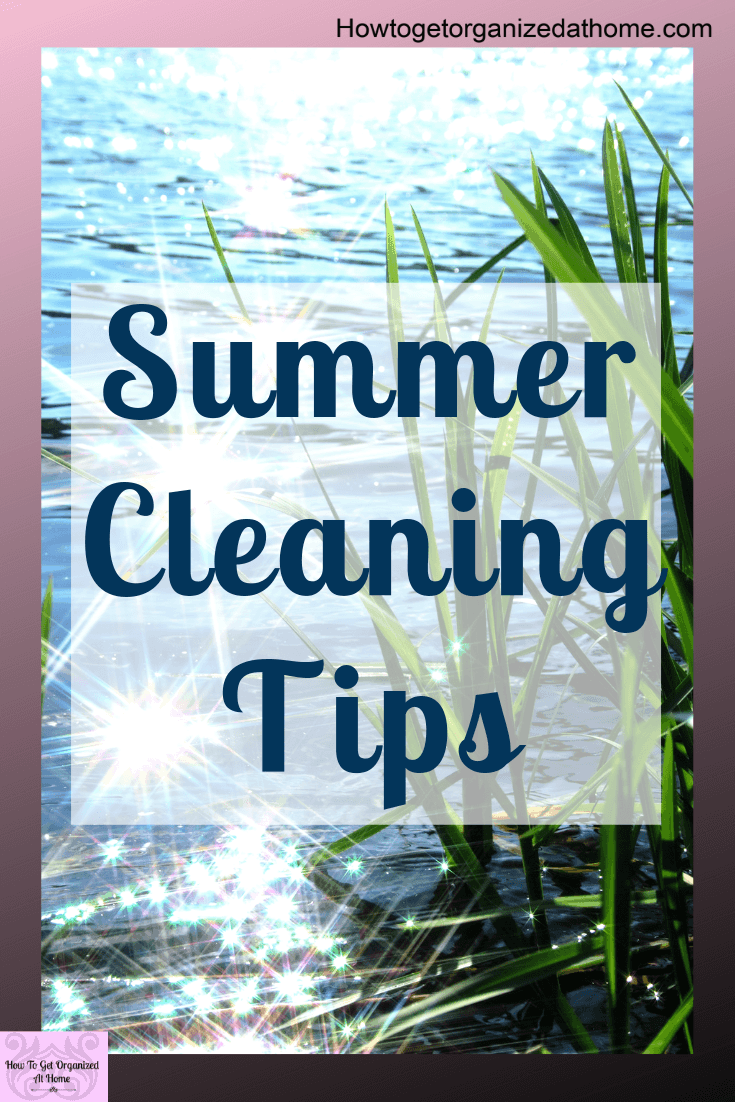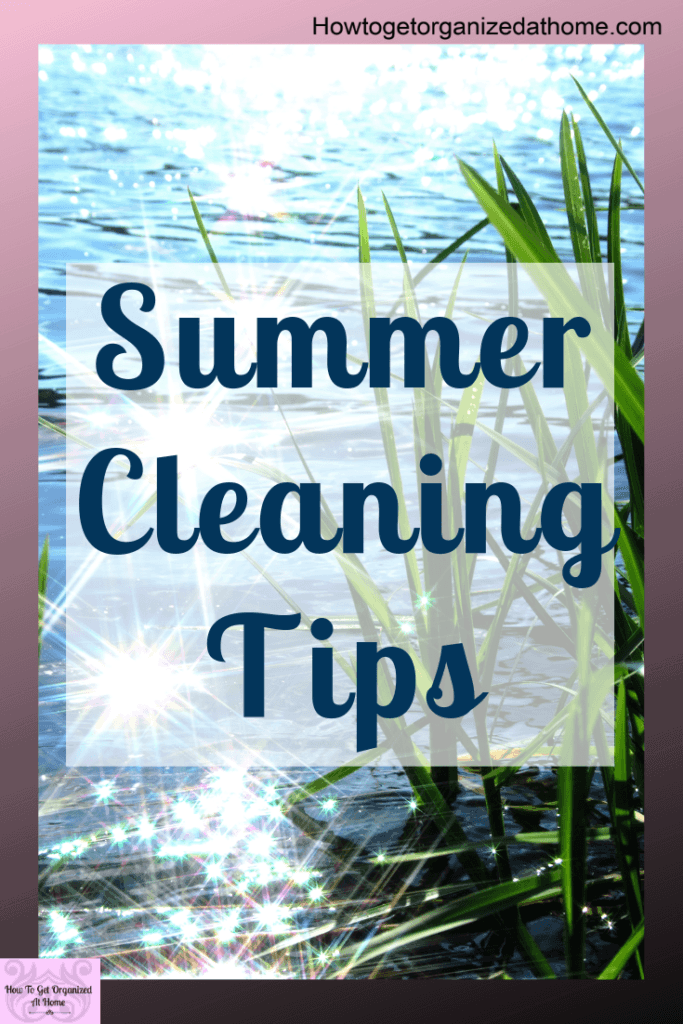 What I Don't Include In My Summer Cleaning
I don't include the kitchen or the bathroom because every time I use something in either I am automatically keeping on top of the jobs in these areas, so there is never washing up left in the bowl or sides that need wiping down.
Therefore, if you are looking for a quick clean up solution to give you more time then it is important to do the jobs that need doing, don't go too in-depth and the more clutter you have out the longer it is going to take.
Top summer cleaning tips:
Finish any task you start.
Don't get distracted
Know which areas need doing
Don't focus on the bigger cleaning projects
It is possible to have a clean home with minimal cleaning time!
Related article: How To Enjoy Cheap Summer Activities
Taking Time To Plan
It does take commitment to follow through with the tasks you plan! It is easy to think about having a clean home but never acting on those tasks that you need to do. This is where it is easy to allow those tasks to go undone!
With cleaning, I find you need short bursts of cleaning! I try to aim for 5 to 10 minutes at a time!
The faster you get at cleaning and the more frequently you clean the easier it becomes!
Sometimes, the idea of cleaning becomes overwhelming and we begin to assume that it is going to take longer than it actually will!
Jumping in and just doing these tasks is often enough to motivate you to clean your home!
If you are looking for a quick summer clean up, it is often simpler than you imagine.
It is about getting to grips with the tasks you need to do, stop procrastination and start moving forward. Think about what you must do and those items that aren't so important and start focusing your time on the things that will make the most difference in your home.