Effective Time Management Strategies To Help You
When it comes to creating an effective time management strategy that will work for you, sometimes you have to consider different ways, there isn't a one system fits all!
It's about trying different techniques and finding the ones that work for you, however, you don't want to constantly try new systems, you have to give a system time to see if it will work for you!

What Is Time Management?
The simple answer to what is time management is how we effectively use our time to do the things that we want to do in any given day!
This applies to a working environment as well as your home environment, using your time wisely will have an impact on how you go about your day and anything that you need to get done!
Time management skills are key to identifying your goals and helping you reach them!
It can be as simple as time management strategies for the overwhelmed mom, to the running of a multi-million-pound business. You have to the right strategies in place to make your day work, and work for you and your current situation!
Why Are Time Management Skills Important?
Learning how to make the most of the time that you have is key to living the best life possible!
You don't want to spend every waking moment working, you want to have fun and live to and to do this well, having a handle on your time management will allow you to do this well.
Your goals and dreams will just be that unless you take action and actually plan to tackle your dreams!
Don't let your life just pass you by, be active in your own life and journey to make the most of your life!
Identify Effective Time Management Strategies
The idea is to find a system that works for you, it needs to help you meet your goals and dreams but also tackle the day to day tasks that you need to do.
It's about creating a routine that helps you get out of the door in the morning, it helps you get ready for a meeting weeks in advance and not on the 10-minute drive before the meeting starts.
The idea behind an effective time management strategy is to find the balance in your life that allows you to accomplish the things that you want to but also lets you have fun too!
Getting the right strategy involves working out the important things in your life and planning on getting them taken care off.
Learning how to plan your day effectively that gives you the right balance in your day. It might look like you have lots of short sessions of focusing, it might be that you work better later in the day. However, you work best, it's about planning your time accordingly, to reach those goals and dreams.
How To Improve Time Management?
You can improve your time management skills, you will need to work out your own strategy, what gets you motivated to move.
When you have a reason why often this helps you to come up with a plan, I love a good plan that can help you move forward.
There are things that you can do to help improve your own strategy, it will help you define your goals and tasks and keep you on track!
If you are looking for some tips lets start with these!
Setting daily goals at your workplace is a good time management strategy here's a list of time management strategies that can help!
Categorize tasks

Organize workspace

Plan the week with the most urgent at first

daily to-do lists

Start your day with a clear focus
These tips are there to help you overcome the obstacles that are in your way.
The idea behind categorizing tasks helps you to work on similar tasks, this stops the stopping and changing tasks which can eat up valuable work time.
I think the most important is having an organized workspace, that doesn't just mean your desk, but all your files and information that you need also need a home.
When you know where things are it becomes easier to tackle the tasks that you need to do!
Effective Strategies For Time Management
Starting your day with focus is going to mean that you are not spending the first hour wondering what you should be doing, you have a plan and you can just jump straight in at the start of the day.
You need to find ways that help you develop strategies for staying on task and getting everything done.
I like to have a list that I can look at and know what I need to do but having too much on this list can be counter-productive because the list can be too long.
If I know it's something I don't need to do today it doesn't get put on today's list, it automatically gets given its own time at a later date.
It's about finding the right ways to do something that doesn't make you feel defeated, the idea is to complete your tasks and move forward not to get frustrated and never finishing.
Planning And Time Management Strategies
When it comes to planning I like to work out the important tasks, those that must be done to move me closer to the desired outcome, not just the filler that needs doing.
It's these big things that are going to get you closer to your dream, not the day to day stuff, yes, it still needs doing but it's about fitting that stuff in after you have tackled the bigger projects.
If you want to succeed in your dreams you have to take those actions that will take you there and sometimes that means putting those tasks first so they don't get forgotten or pushed down the to-do list.
By taking action it will mean that you will accomplish your goals and dreams!
What Is A Successful Time Management Strategy?
The simple answer to this is one that works, you get everything done that you want to, you have time to do the fun stuff and all the important stuff is taken care of!
How you do this will depend on how you work, mostly you will find a successful strategy will allow for the time to unwind and to relax, it's easier to get the things you need to do done when you are rested and focused on the task.
The system will be either electronic or paper-based, it might even be a combination of both. It's about finding something that works for you and sticking with it!
Don't change something unless it's not working for you!
Define A Successful Time Management Strategy
This is a strategy that works, it allows the person to complete everything they need to do in a manner that is acceptable to those that count!
If you are thinking about a work-place strategy it needs to meet to the satisfaction of your boss, if they aren't happy then your strategy might need changing.
If on the other hand, you are the person in charge, like at home, then it's about meeting your own goals and desires and getting the outcome you are looking for.
There is no set right or wrong answer here, it depends on the desired outcome, if that isn't met then you might need to tweak your system until you get the desired outcome.
A successful time management strategies are the ones where you are meeting your goals and getting the tasks that you need to do done!
What Are Other Ways To Improve Time Management?
You might be surprised at how often we put blocks in our own paths, we try to break what works and disrupt our own schedule!
How often do you say yes to something and really you haven't got time to do justice for the task? The same when it comes to delegating to others, how often do you just do it yourself because you feel they won't do the task right?
These are all things that many people need to work on, you are not alone, but learning to work so that you are doing the right work will help to keep you on time.
This is a list of helpful time management strategies that you need to practice to ensure that you are giving every opportunity for success in your day.
Say no

Delegate

Good housekeeping

Schedule

Don't procrastinate

Prioritization

To-do list

Avoid distraction
I wanted to go over good-housekeeping in a bit more detail because often people are stumped by this expression!
What it means is making sure that all the behind-the-scenes stuff is done. Your files are organized, your desk isn't full of tasks that you have no idea what you need to do, let alone when you need to do them by!
But setting boundaries and scheduling your time appropriately you will find that you are able to accomplish so much more than you might ever have believed!
Saying no is simple, you just don't take on more than you can manage!
When it comes to creating a schedule, finding one that works for you is important, you might prefer a paper one to an electronic, it's going to be a personal choice and one that you are happy with!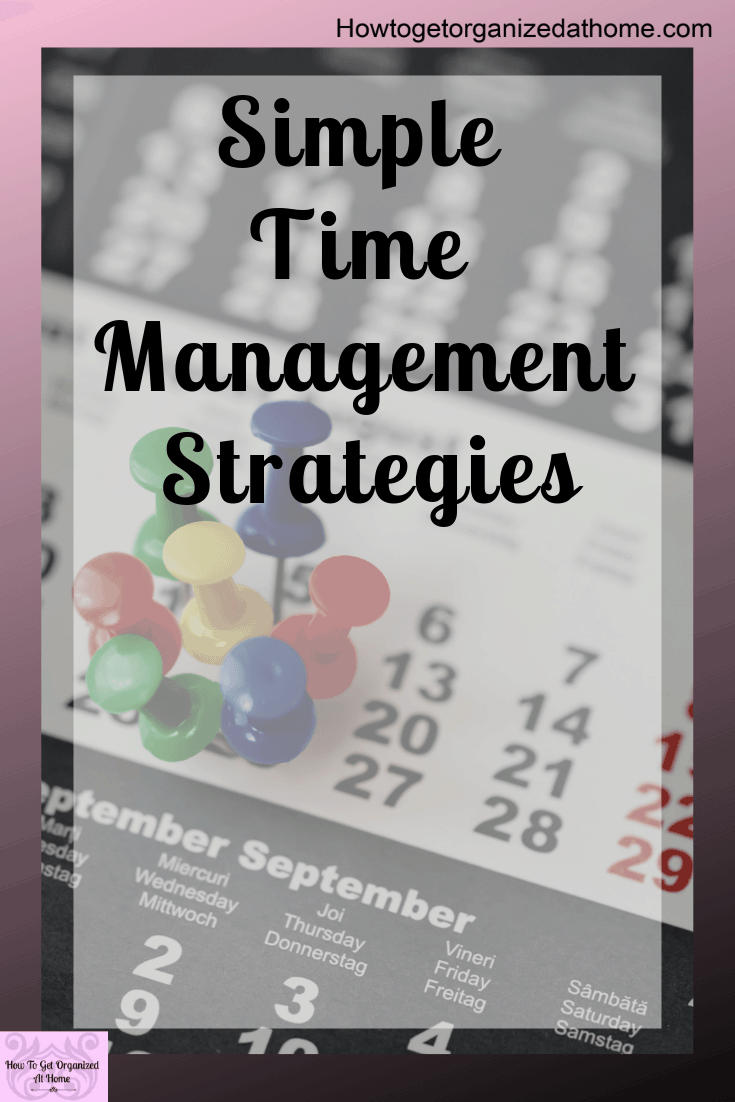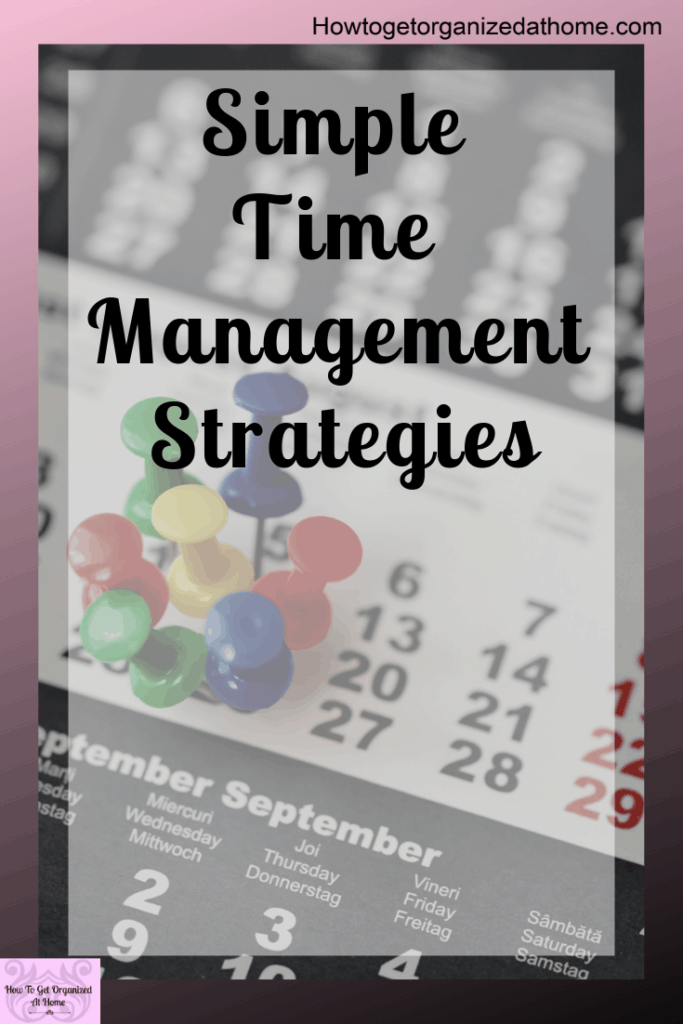 Good Time Management Vs Bad Time Management
There are things that you can do that might feel like you are not getting far when it comes to time management strategies. You might have picked up some bad time management habits that you need to identify and tackle!
A simple list of bad habits that can destroy any good efforts:
Not setting boundaries

Not keeping to-do list up to date

Procrastination

Not getting important stuff done first
If you aren't keeping your to-do list updated how are you going to know what you need to do?
Sometimes you might think of something else that you need to do if you have a place to put that thought it frees up your mind to concentrate on what you are doing, but it also means that you can ensure that you tackle the item at a later time and it isn't forgotten about!
If you are being easily distracted by social media or your phone, how is that going to help you reach your goals?
I think boundaries are one of the most important tasks you need to do, it allows you to focus on the tasks in hand knowing that you have rules/boundaries in place that allows you to work when you need to!
It might surprise you but you can build procrastination into your daily life, it becomes a habit that you do and one that you strengthen each time you use it!
Identifying what makes you avoid a situation and take action to stop it today!
Common Areas Of Improvement For Managers
It's simple to have an action plan, but what if you need something more, or you are expected to do more?
You might have to take some form of action to take your time management skills to the next level!
Here are some top tips to help you think about what else you might need to do to improve your skills.
Communication

Education

Review your time management strategy
The most important aspect of this list is communication, you have to learn how to help people manage their time and get the job done!
This is something that many people struggle with, not only do they need to help themselves improve their time management skills, but they also need to help others to do the same. Without learning effective communication this is often a stumbling block!
Affiliate links are included for your convenience. (This means if you make a purchase after clicking a link I will earn a small commission which won't cost you a penny more!) Click here to read my full disclosure and privacy policy.
Simple Time Management Tips
Simple tips that will improve your time management:
Time blocking

Know how you spend your time

Your daily plan

Automate

Most important tasks first

Batching

Remover perfection

Buffer time

Stop multitasking

Deadlines
Let's go into these in more detail!
How you spend your time: If you don't know how you spend your time you aren't going to know how to improve it! Any good plan always starts with looking back! Spend some time just tracking what you do normally, this will highlight areas where you need to improve!
Time blocking: This is gaining popularity at the moment, many people think that this is the answer to time management, but I think that it works for some people, I find it too restricting and I rebel when I have set hours for set tasks!
Your Daily Plan: I do think that you need a plan, something that is written down so you are able to see what you should be doing and what you might need to amend. It gives you the chance to see what you have planned and what you might need to move.
Automate: This really allows you to free up so much time! Technology has moved forward, and it is possible to automate functions to free up more time in your day!
Most Important Task First: This is something that I struggle with, I find it hard to put of the simple tasks till later in the day and tackle those big scary projects first!
Batching: If you haven't heard of batching then you might find this odd, it's about putting similar tasks together and doing them at the same time, apparently, this stops the chopping and changing from task to task which can eat up precious time!
Remove Perfection: I hate this one, I live for perfection and I know that it's not always possible! Take away the perfection and you might actually get things done!
Buffer time: I do believe that this is key to a successful plan, you need time in your day for when things don't go to plan!
Stop multitasking: Doing more than one thing at a time will make you have a pile of unfinished tasks, not just one completed and finished task! It doesn't work, so you must just stop!
Deadlines: You must have deadlines, you need these to plan work and to get things done!
Let's Recap…
When it comes to effective time management strategies you need to think through your strengths and weaknesses and see what you need to do to improve.
Create deadlines for your activities so that you have a time frame to work too!
Set out a plan for your day, you want to know what you are doing so that you can get straight to work!
Buffer time is going to allow you to fit in things that aren't planned, that chat with your boss on the stairs, without eating into the time that you have to do your job!
Don't multi-task, this really is asking for trouble, you don't concentrate on the task in-hand and this can mean not doing your best work!
Delegating is key if you have too much to do and don't be afraid to say no to somethings that you just don't have time for!
Time management is more than just having a planner, it's about working that planner and all the other systems together to make the most of the time that you have!