15 Simple Home Management Skills That Will Make Your Life Better
When it comes to your home and life the easier you make it the better it is for you and your family. Improving your home management skills will do just that, not only will you feel better about your home, but it will make living in your home less complicated and a lot less stressful.
These 15 different home management tips and ideas will help you to manage your home and life and are key to ensuring that every aspect of your home is looked after to the best ability.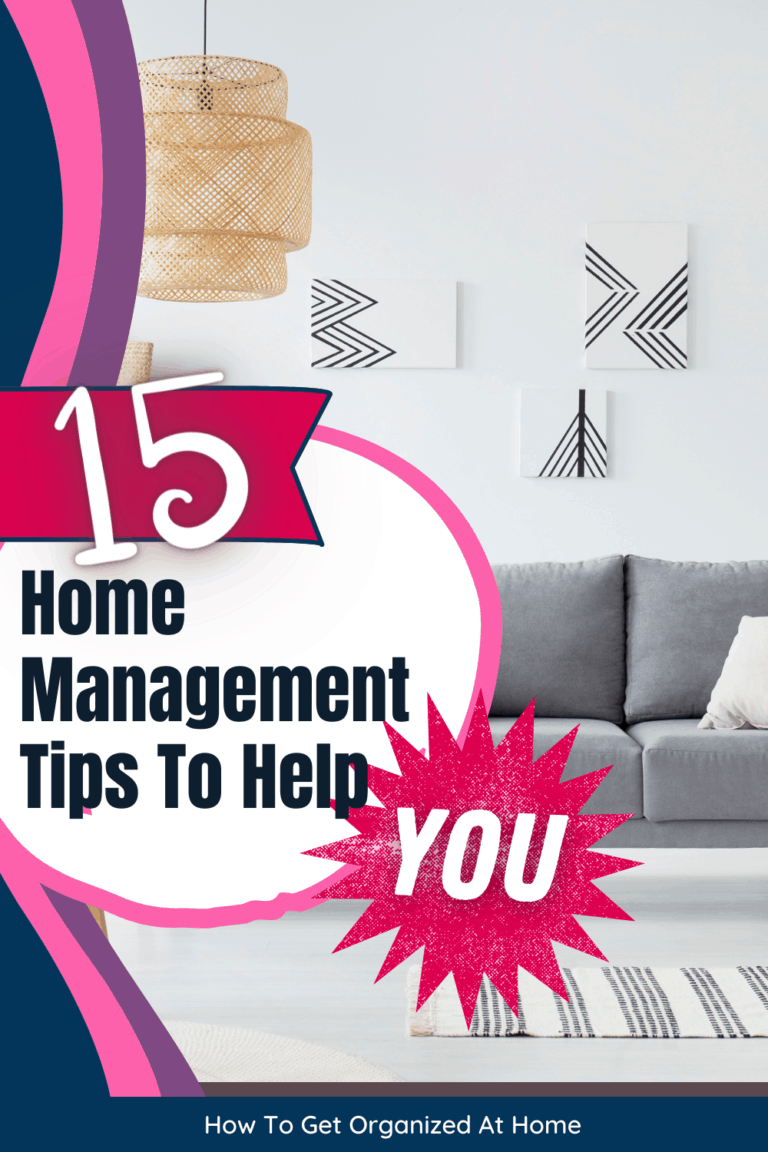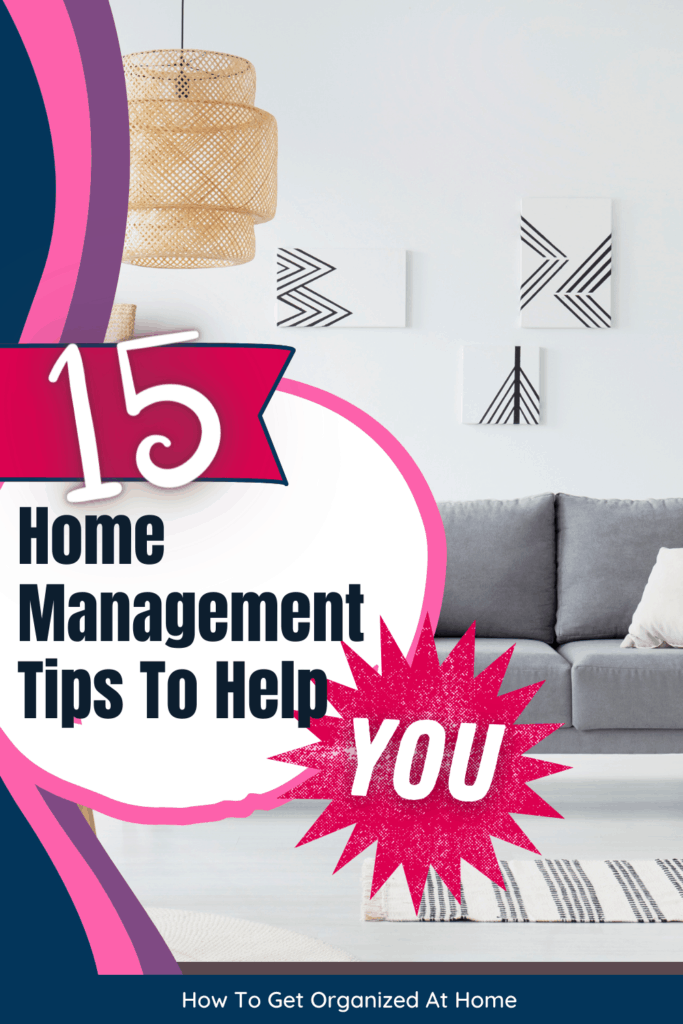 In some areas, you might need more work than others and that's OK it's about finding the right balance for you.
What Are The Principals Of Home Management?
When it comes to thinking about managing your home there are a lot of different areas you need to consider.
Affiliate links are included for your convenience. (This means if you make a purchase after clicking a link I will earn a small commission which won't cost you a penny more!) Click here to read my full disclosure and privacy policy.
Looking after a home and a family takes a lot of work and you need a lot of different skills to ensure you are looking after the entire process of home management.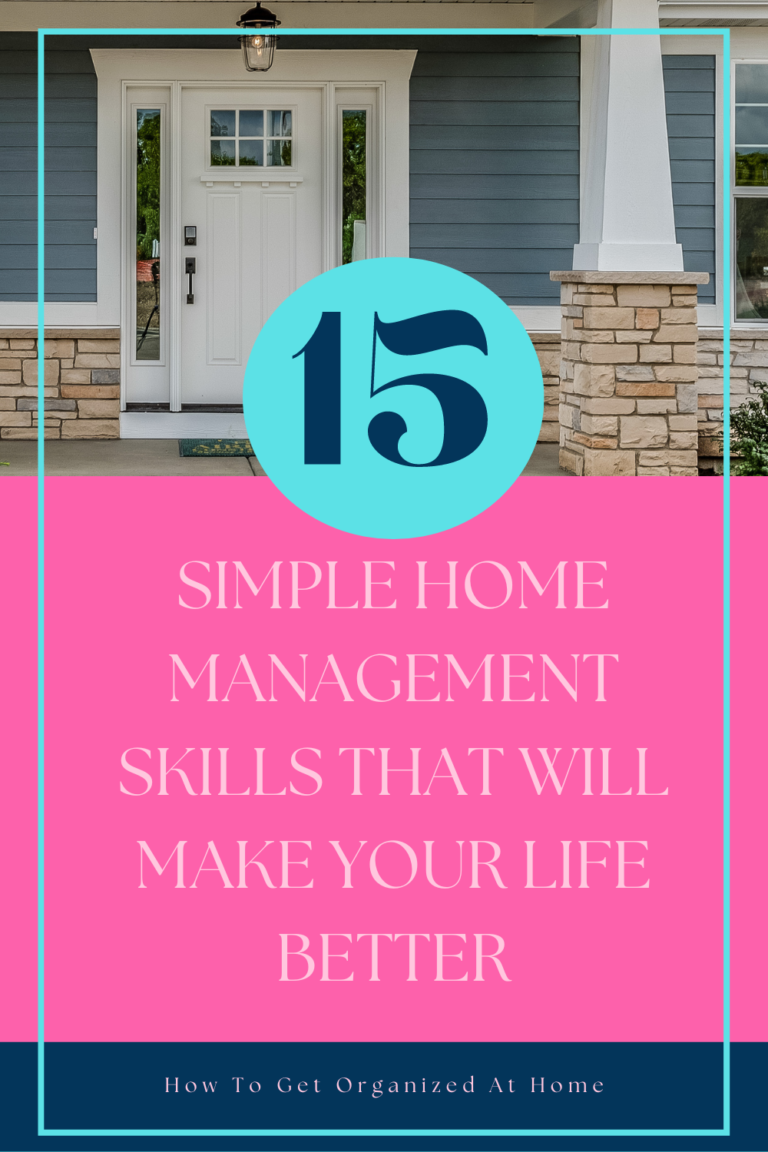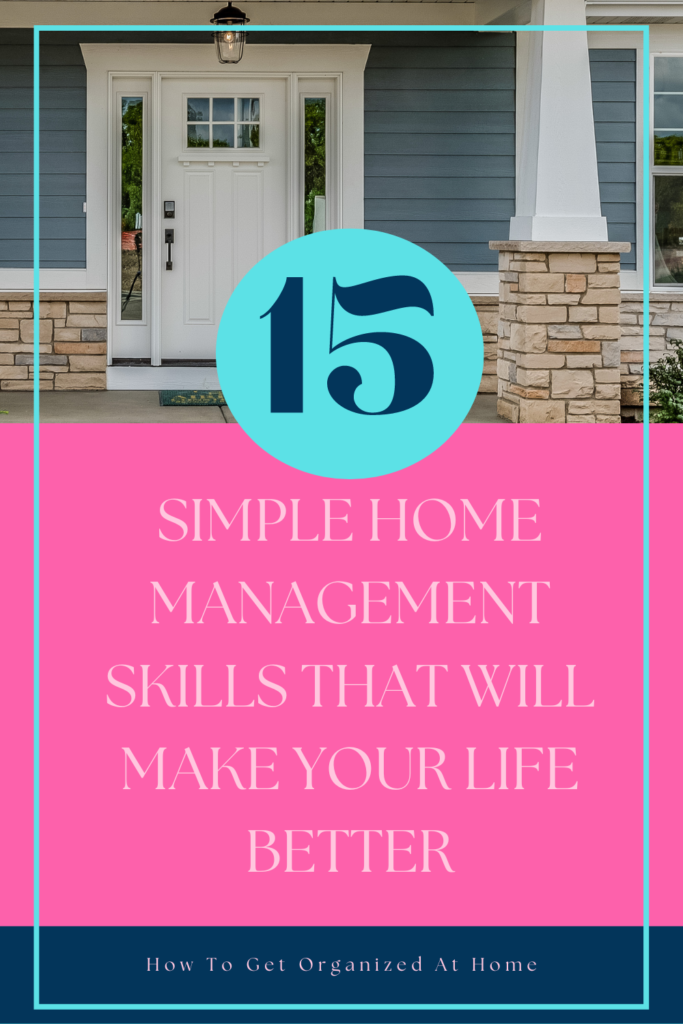 Using a home management system is a way to remember all of those different areas of your home aren't overlooked or missed.
This is important when it comes to appointments and the annual maintenance of our homes, we don't want to miss these as it can cause extra problems that we have to deal with.
Improving Your Home Management Skills
But what is home management?
When it comes to home management there are so many different aspects in looking after a home that sometimes you feel like you wear a multitude of different hats and that not only do you need to know the basics in cleaning, home maintenance, and finance but you also need to know how to meal plan do laundry and the worst of the lot, paperwork!
I like the description that Jessica from Life As Mom describes as 'successful home management is organizing all these areas in a way that fits your family's needs.'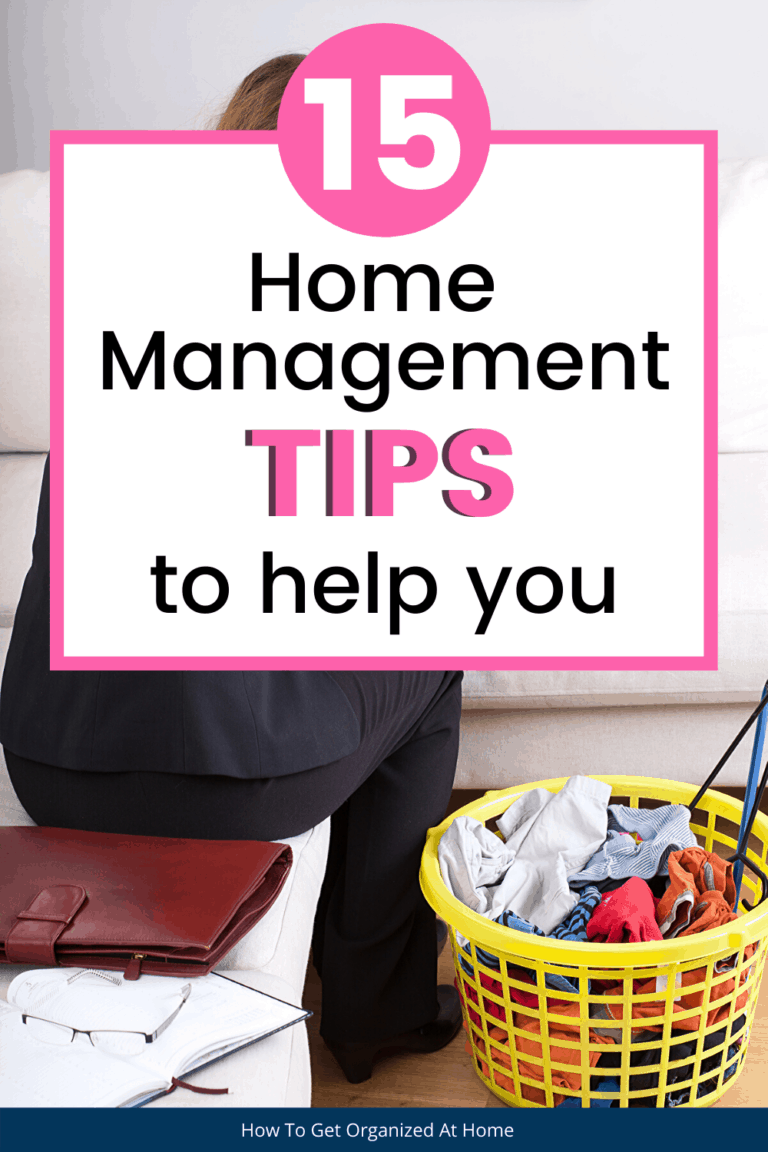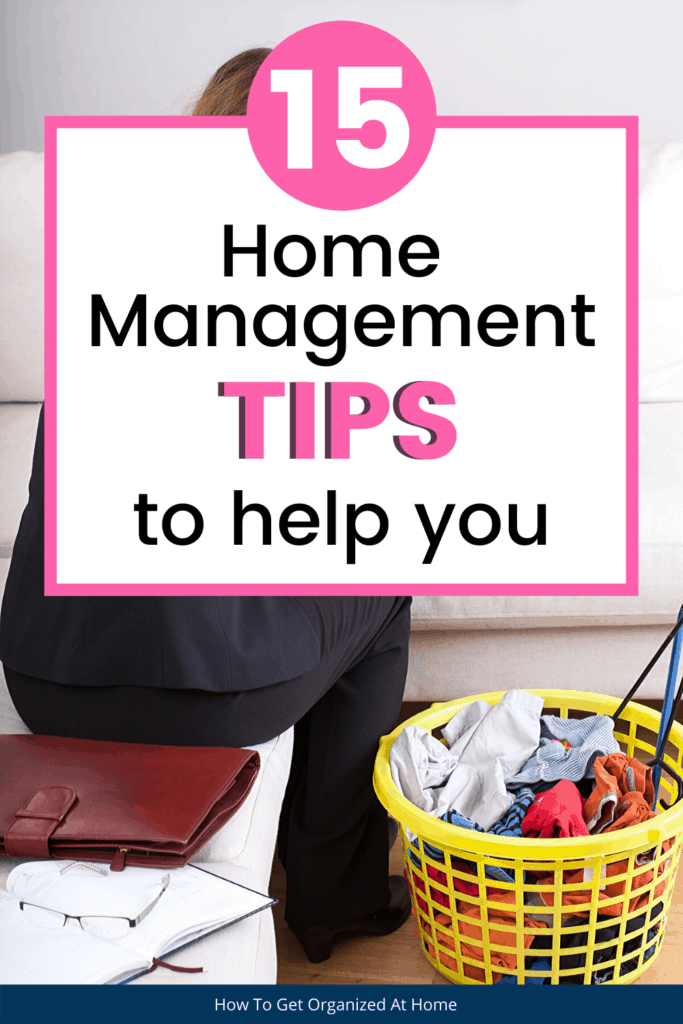 I think this is a great way to think about your family as a whole unit and how every aspect of your life revolves around your home and family and making this as easy as possible is key to having a great home management system.
It's how to look after your home and home life, it's bringing all the aspects of caring for your home and family under the one umbrella of home management.
Related article: What Is The Best Home Management System To Use
Why Home Management Tips
These tips and ideas will help you create systems in your home that will work for you.
The benefits of creating a home management system that encompasses the whole family out-rank any system that forgets any one of these areas, it's what makes a house a home that works for you and your family.
There is so much you are expected to know as an adult and having the responsibility of a home, it's overwhelming and scary but having a system that can guide you and help you in these areas is key to a successful home and life balance.
Related article: Just The Best Home Management Books For You
1: How To Deal With Home Organization
You need to have some organization systems in your home. There will be more than one system as you will need different systems for the different areas of your home.
The most important thing to think about when organizing is finding homes for the things that you and your family own. This gives them a place where they belong and they have somewhere to go.
Without having homes for the things it's difficult to keep your home looking tidy because no one will know where to put it when they have finished using it.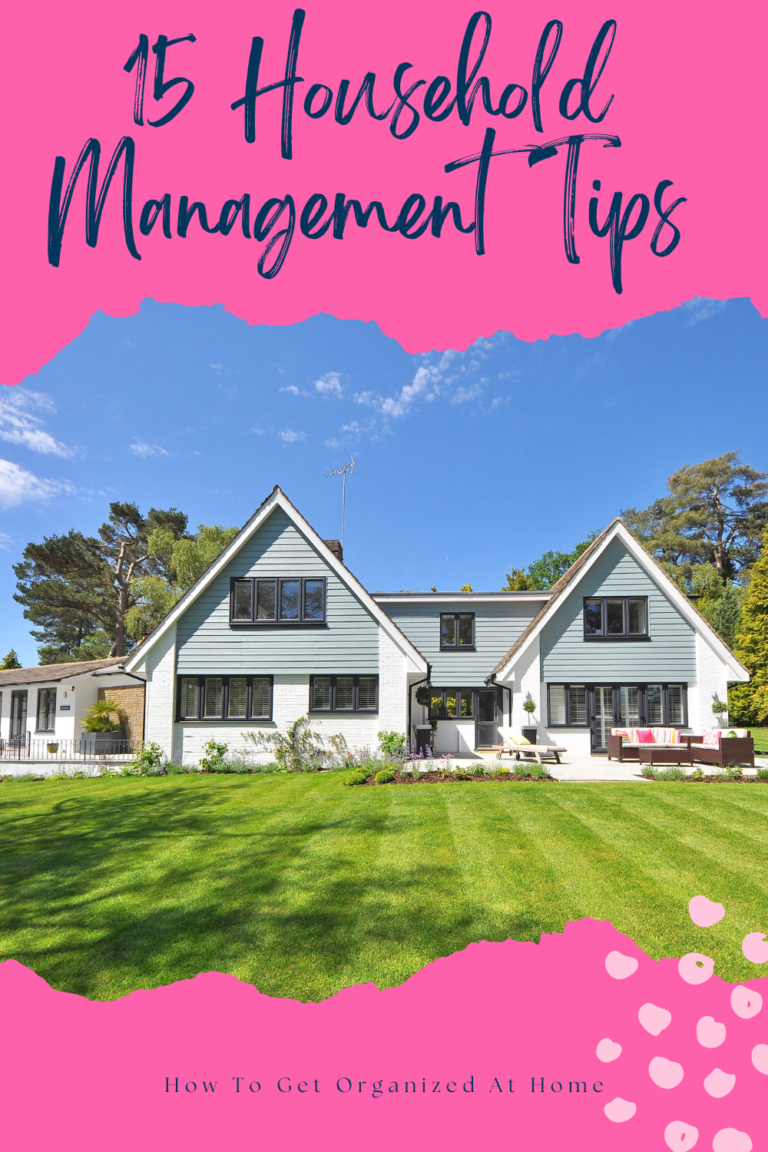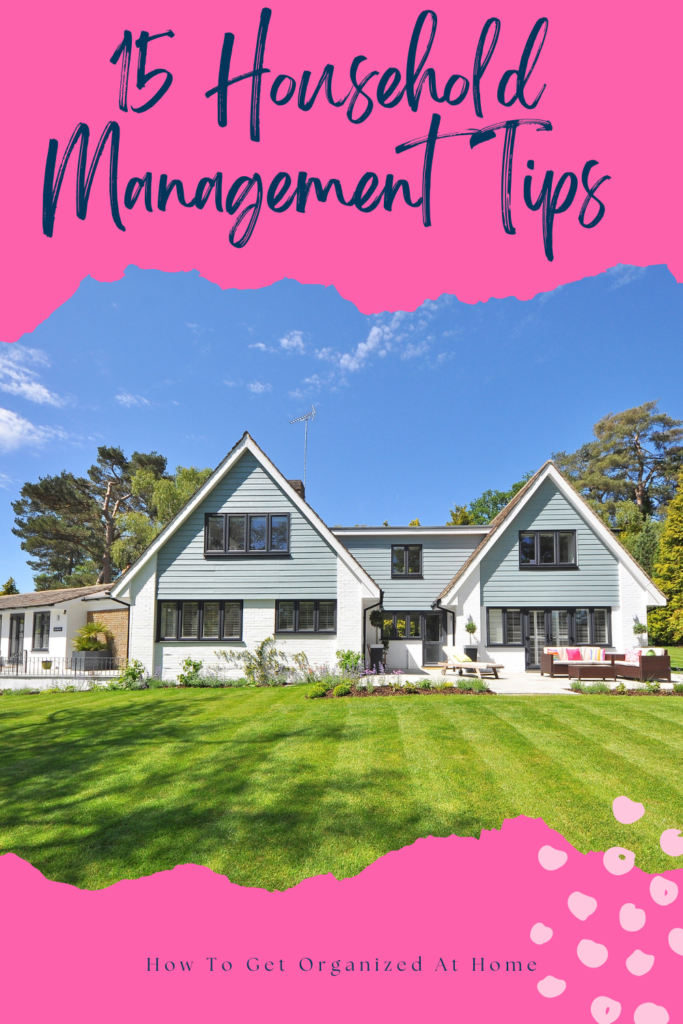 Getting your home to the point where everything has its own home takes time. You have to learn the skills required when it comes to organizing. It isn't going to happen overnight, it will take time and practice to get it right.
Related article: Simple Tips And Ideas On How To Get Organized At Home
Changing How You Organize
If you decide to take a new approach to organizing this will take time to pull everything together and it will be stressful.
Not only are you looking at setting up a new system for all family members to follow but you are dealing with this whilst trying to live, and this isn't always easy.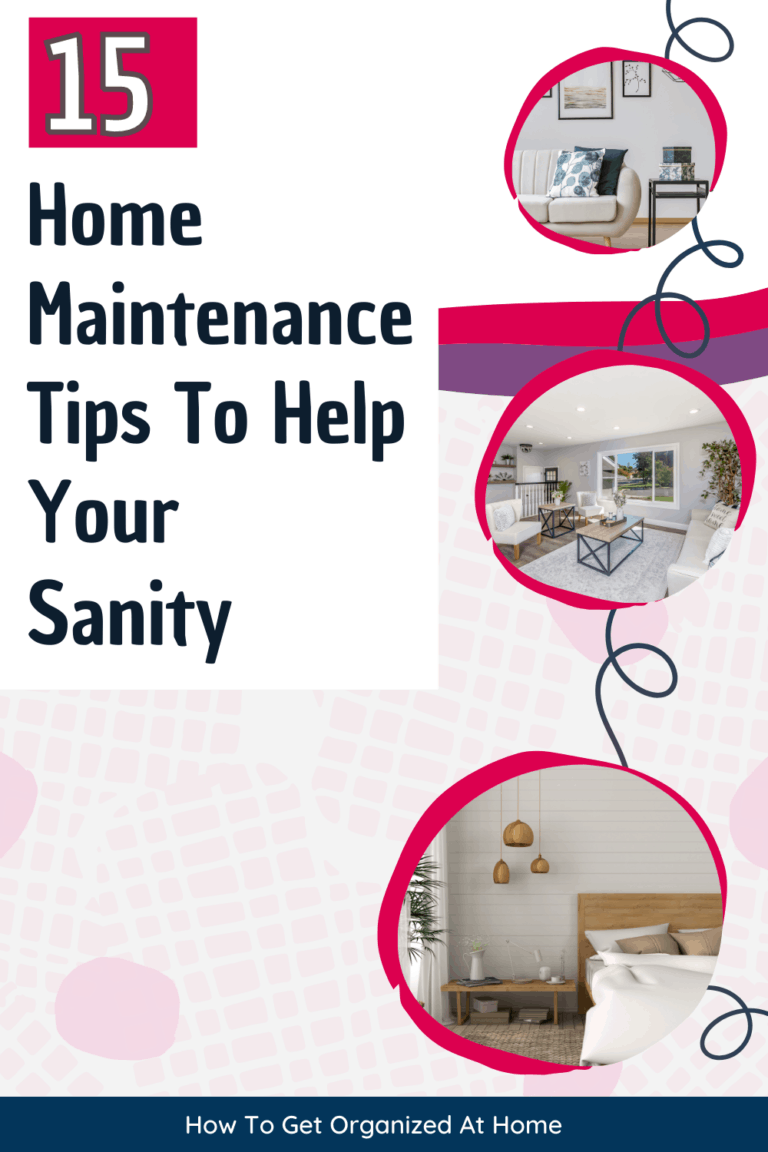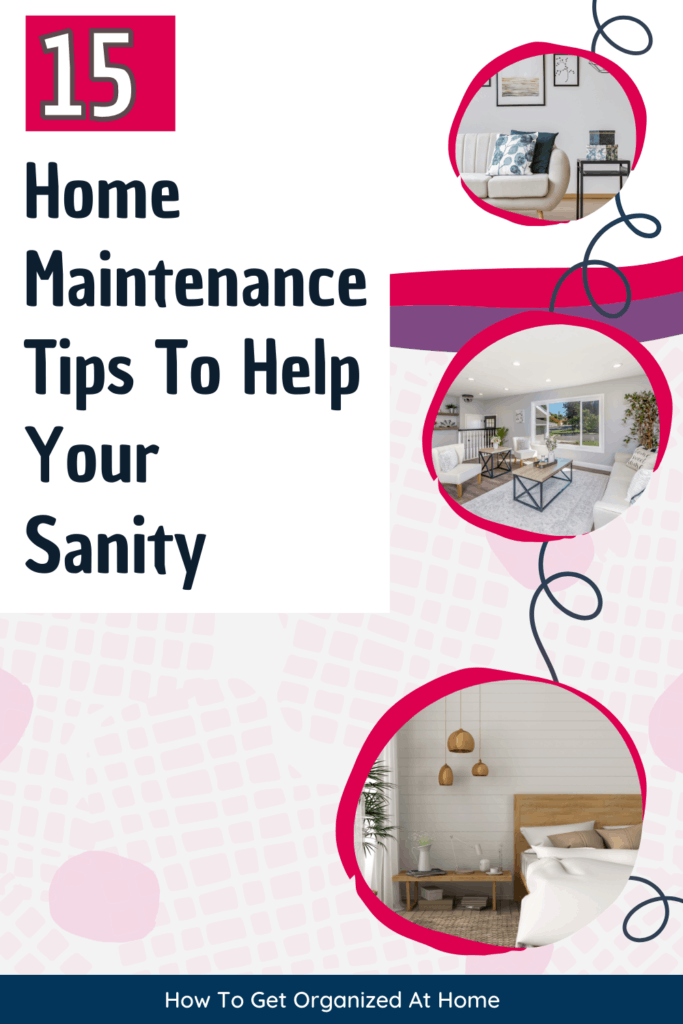 It's easy to get frustrated and annoyed when things aren't put away. You will be tested to the limits with your children and even your partner but sticking with it can and will in the long run make your home run smoothly.
It's like any new habit that you are trying to form, and it takes time and practice to get it right.
2: Getting Your Home Clean
One key area you have to tackle is how clean you want your home and whose job it is. When my kids were growing up, I did everything around the home and garden. I was home all day and my husband worked.
When I went out to work, I needed help and that meant that we divided up the cleaning and tidying of the home had to change.
What works now might not work long-term and you might have to tweak how you do things but that's OK and is a part of the changing circumstances in life.
Learning how to clean your home and to keep it clean is not something I was taught, it's something I learned as I was growing up. But cleaning your home as a child and having your own home to clean is something very different.
Related article: 20 Things People With Clean Homes Do Daily
Learning How To Clean
When it comes to cleaning, I was very much in charge of this area, it's something I love to do but also being in military accommodation for many years it was expected as well.
But in the beginning, it was tough, I had to learn how to clean and what needed doing I had to work it all out for myself, and cleaning just felt right.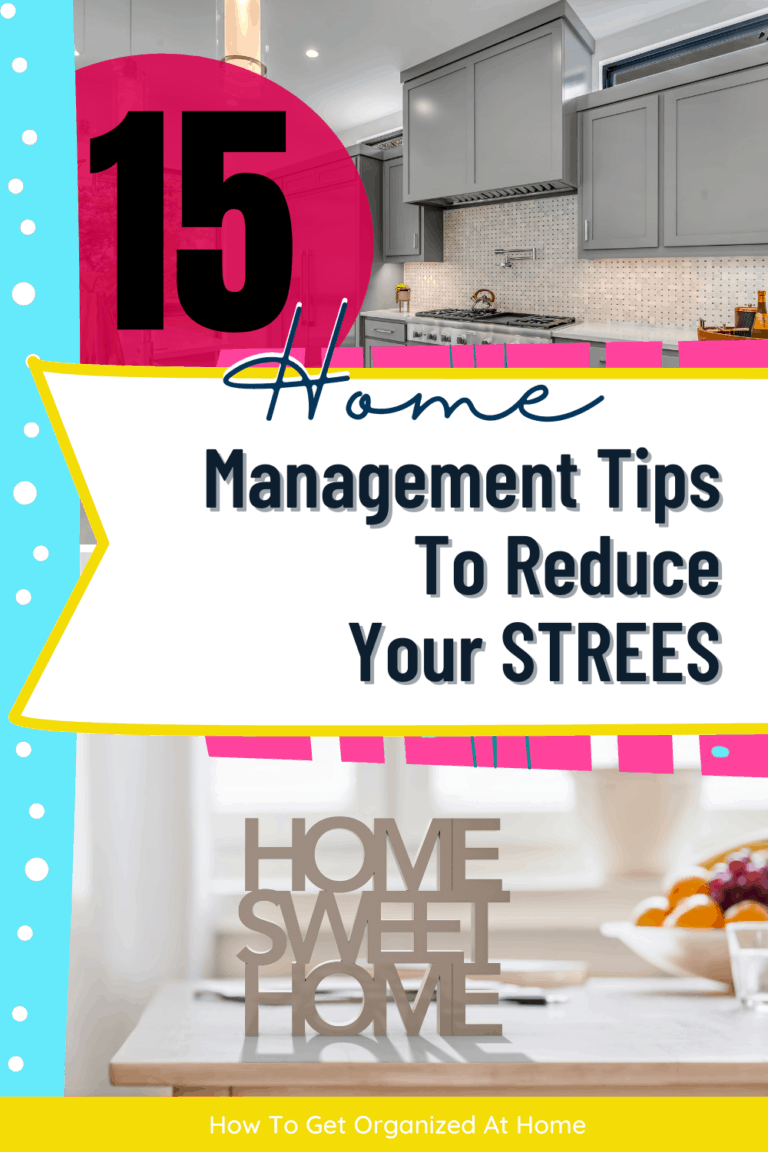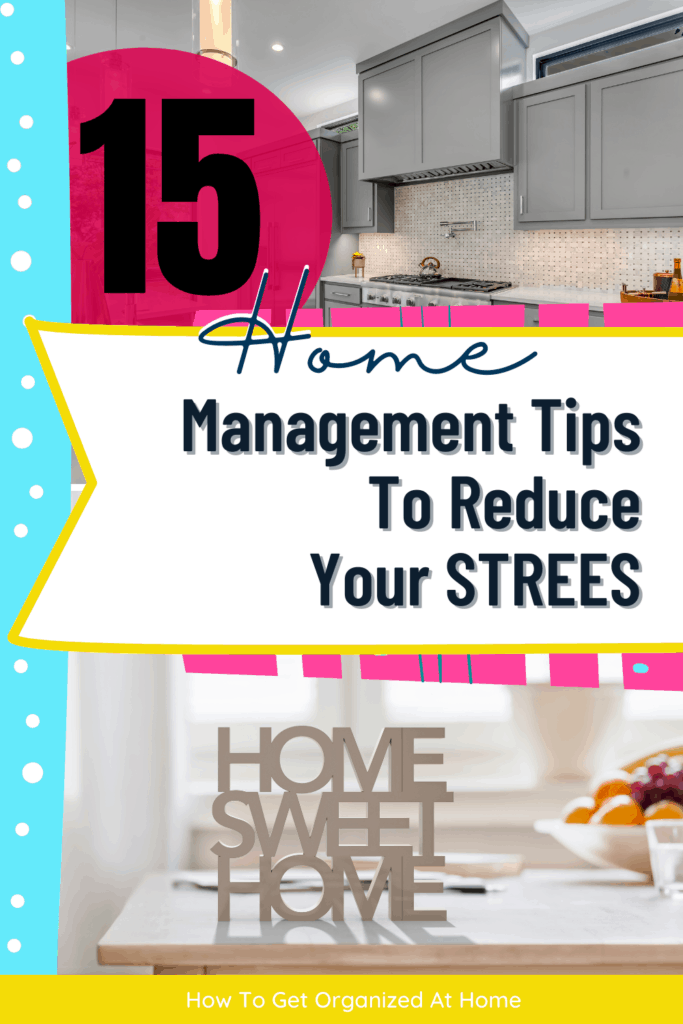 It doesn't matter what the house looked like as long as it was clean to my standards then I could make the best of it anywhere.
This was a good way to think because some of the military housing wasn't the best, but it was a home and that's what was important.
Related article: What Is Home Management And Why It's Important
But You Have To Teach How To Clean
If you decide that you want to share the cleaning with other family members remember to show them what they need to do.
Cleaning is something you have to learn to be able to do it well, for most people it's not a natural process.
So, if a person has never done a cleaning task before showing them what to do is important. But remember not to re-do something that someone else has done, this will knock their confidence and could sabotage your own efforts to get help in the future.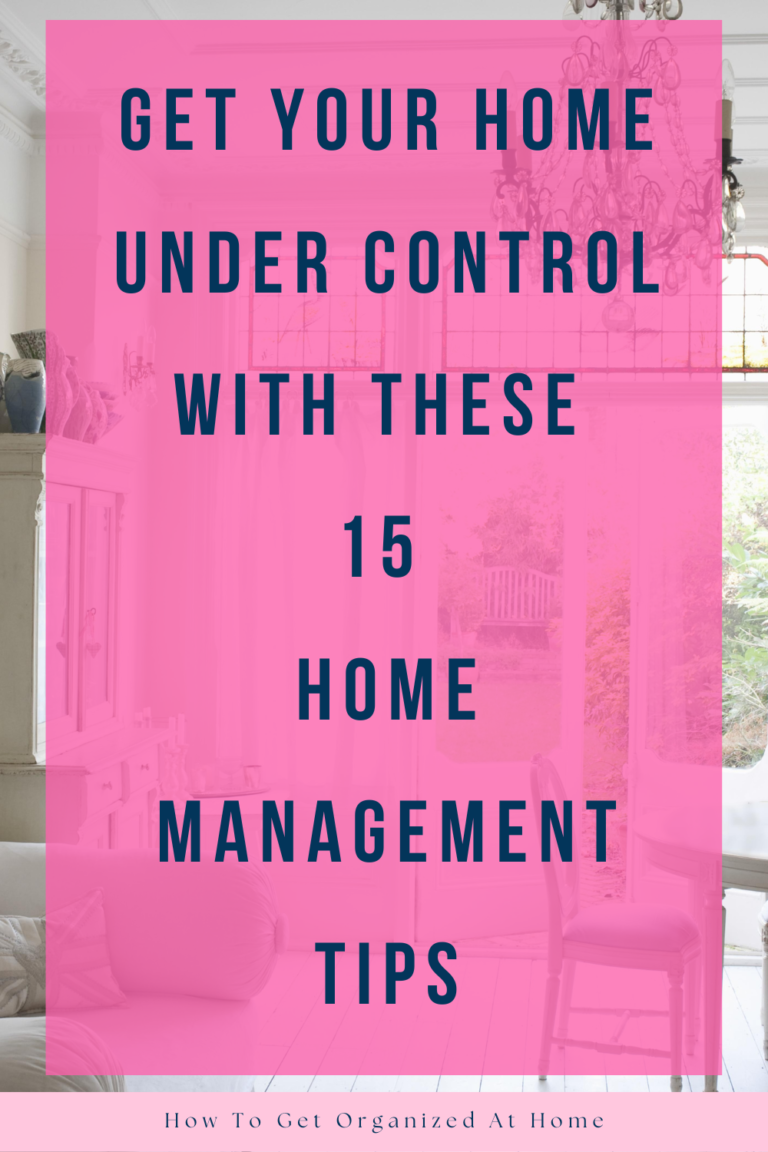 This is something I did, I couldn't cope with a job half complete or not done to my standard and I would re-do it or tell them more needed doing. But instead of getting them to help this turned them away and it became a struggle to get help in the future.
3: Money And Budgeting
You have to have a handle on your money, it's important to pay your bills and to ensure that you have food on the table.
Getting into the habit of creating a budget and sticking to your budget is part of the home management skills you need to learn.
For many people learning to budget is difficult, I've seen it first-hand when I worked in a bank, it's hard to look at your money and assign a task that it needs to do.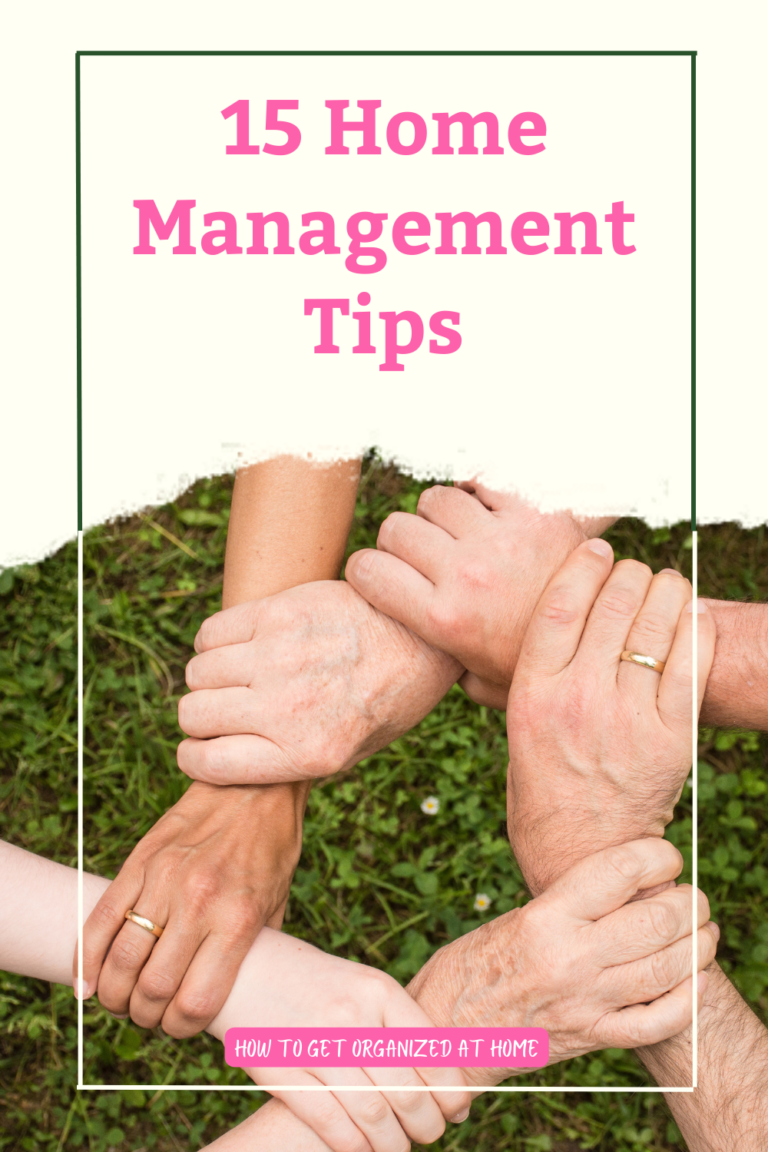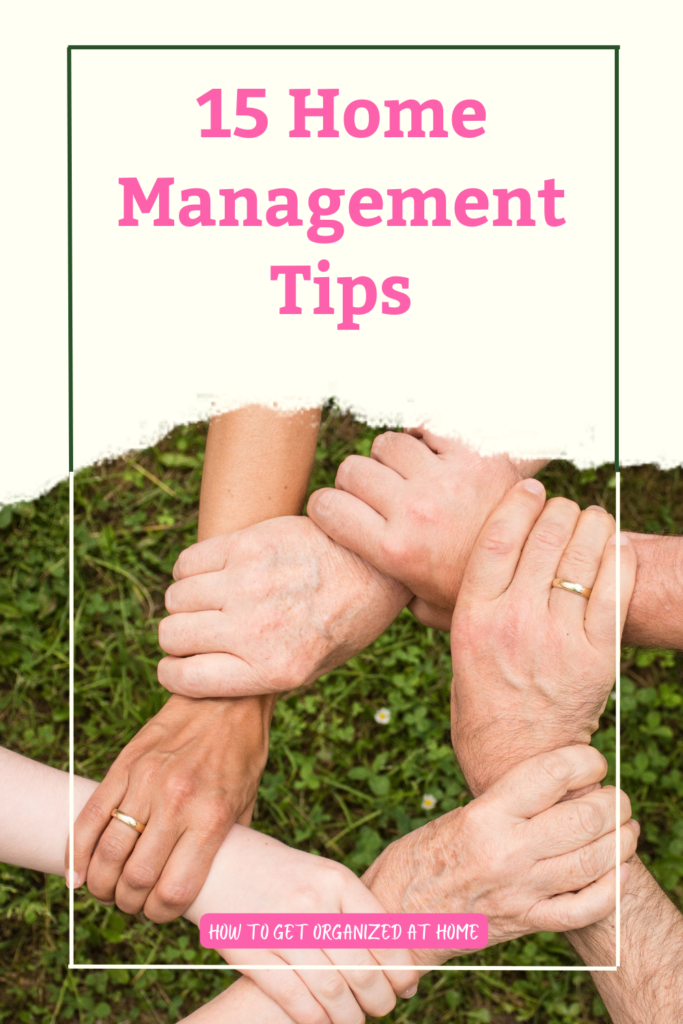 But looking after money and the household bills is an important home management skill you need to learn.
If you are looking for more help with creating a budget, check out It's Easy To Make A Budget.
4: Planning With Your Family
When it comes to home management there is more to this than you might at first consider. Planning is important to make everyone's schedule work together.
This includes doctors' appointments and school holidays they all fall into the category of planning and getting your home organized.
To run an effective home you need to know what you need to do and when, this isn't as easy as it sounds there is a lot more work involved to get it running smoothly.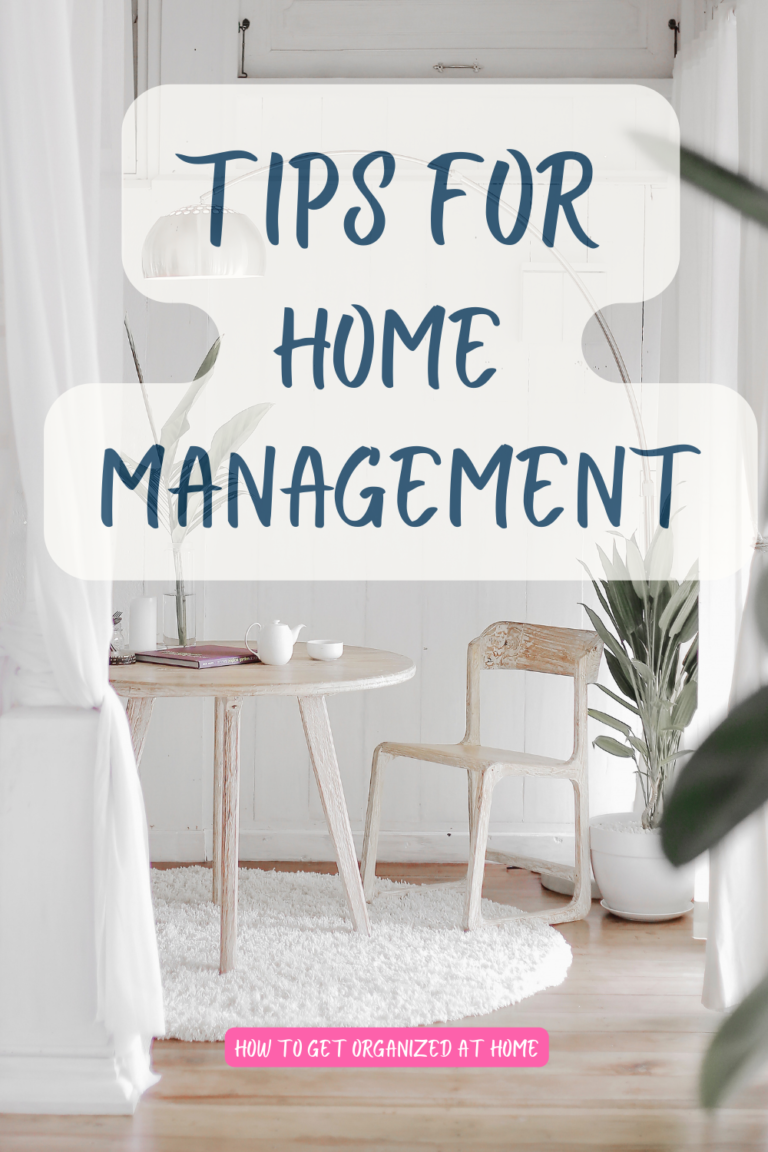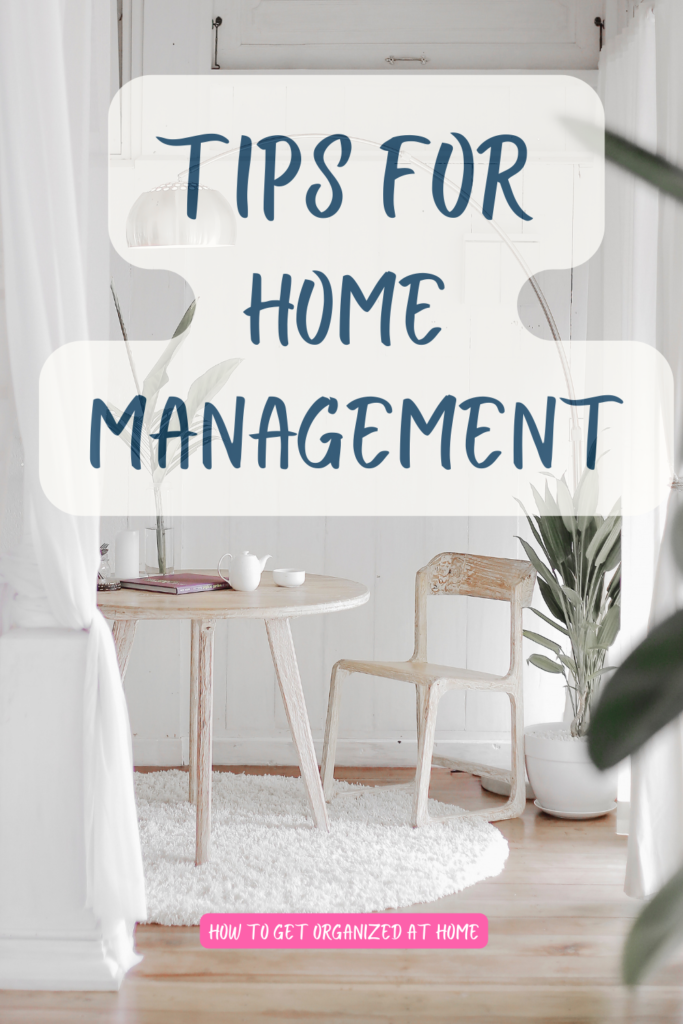 You could simply use a google calendar if you want an electronic one, you can share calendars so you know what needs to happen and when.
Related article: How To Use A Planner To Stay Organized And On Time.
5: Spending Time With Your Family
Having time to do the fun stuff as a family is so important and often overlooked.
You won't get the time again with family and making this time a priority will improve communication and relationships. Making family time special will allow you to make your family feel important and part of the process of home life.
It's about connecting with your family and making memories that are special and important so they can look back on them when times are tough.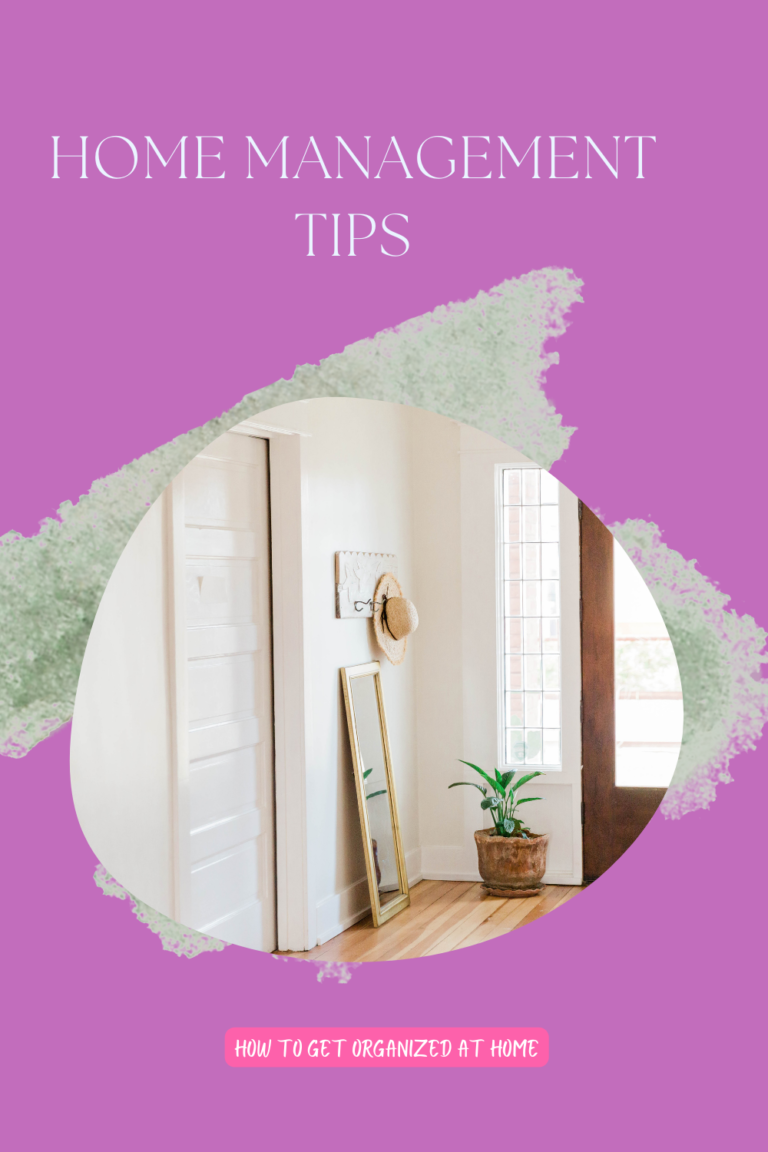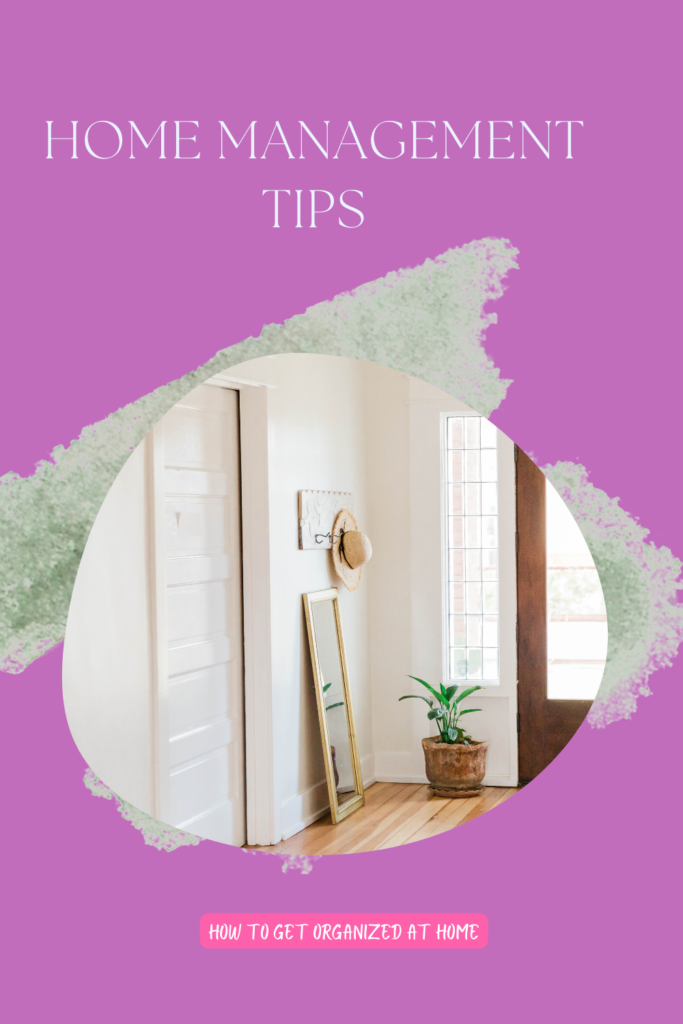 Making your family a priority will ensure that you are all on the same page and able to communicate with each other when life throws one of those unexpected curve balls.
If you want more help with loving your family you need to read Crystal Paine's book Love Centered Parenting. It is written from a religious angle but I'm not religious and I found it a great book.
Related article: The Importance Of Home Management: How To Run A Household
6: Meal Planning
Knowing what you are having to eat each night is important in any household. But when you have a family making sure that everyone is getting a well-balanced diet and on a budget is important.
It's not as simple as rummaging through the freezer right before you need to prepare the evening meal, it's about planning what you can eat and getting a variety into your diet that takes into account favorite meals and home cooking.
Cooking meals at home is something that seems to be declining, but it's a skill that you should develop as it can save you a lot of money and this is always important when managing a home.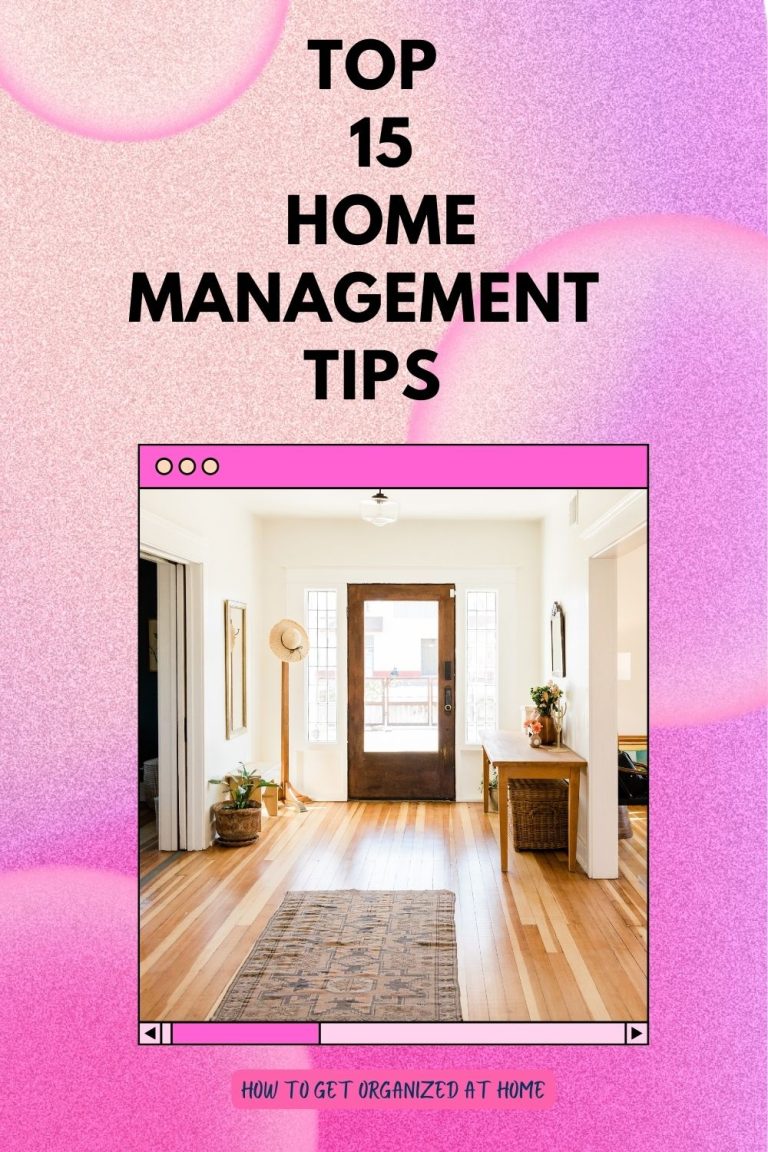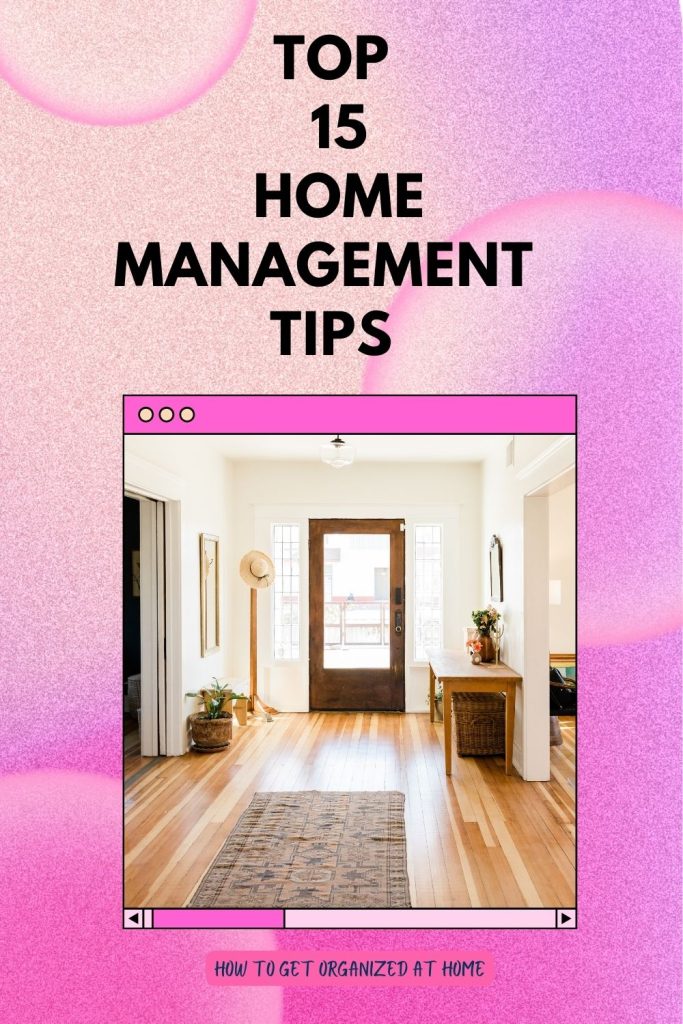 How you plan your meals will depend on your family, you can use a planning pad or a weekly whiteboard to which you can add your meals to.
Or even have a command center set up in your home with important information like your family calendar and your menu plan for the week.
7: Dealing With Mail Or Post
Unless you deal with the post as soon as it comes into the home it can quickly take over your home, but also there is the possibility of missing some important information or even missing the payment on a bill which can cause late payment fees.
You have to create a system that allows you to deal with mail when it turns up so that you aren't stuffing it into a drawer and forgetting about it.
Or, worse still just throwing it away without checking what's inside. You have to create a system that works for you and your family.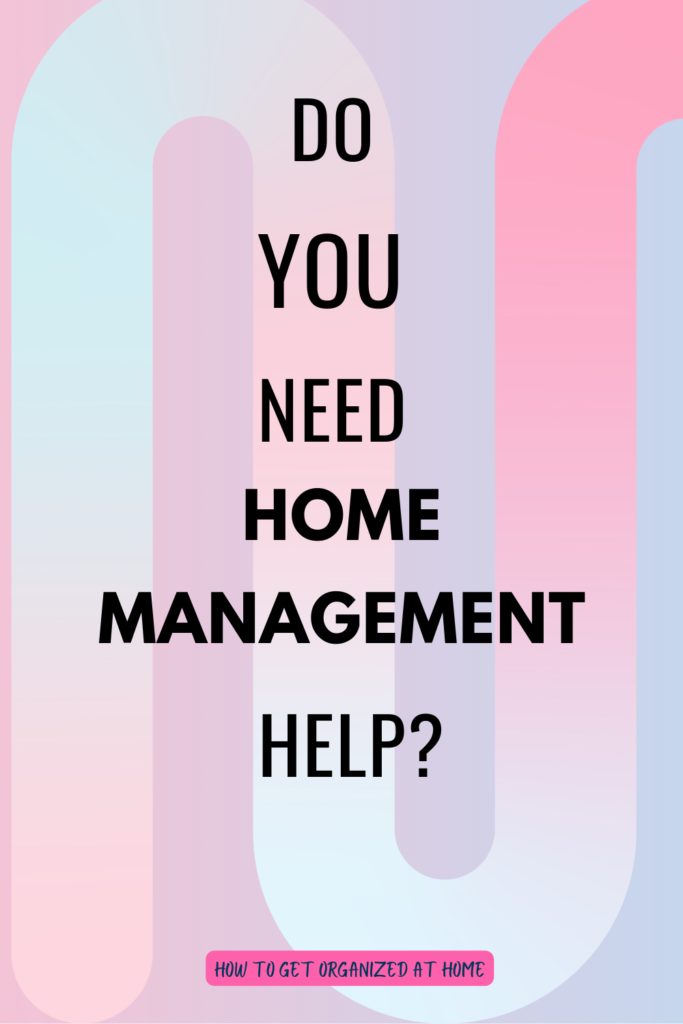 Take into consideration who opens the mail, who pays the bills, and what systems you need to have in place for organizing the mail you need to keep and shredding the items you don't need to keep.
Keeping on top of the mail is key to minimizing the paper that comes into your home. Having a home for the mail that comes into your home could also help, something like this mail organizer would be good.
8: Who Does The Laundry
Laundry is one of those jobs that if you don't do regularly it builds up quickly and you end up with no clothes and that isn't very pleasant.
However, in my opinion, it's not just about throwing it all into a machine and then hoping it comes out looking fine.
There are processes that you need to consider, including sorting the washing into different categories when they get washed and dried but also who's responsible for putting it away when it's clean.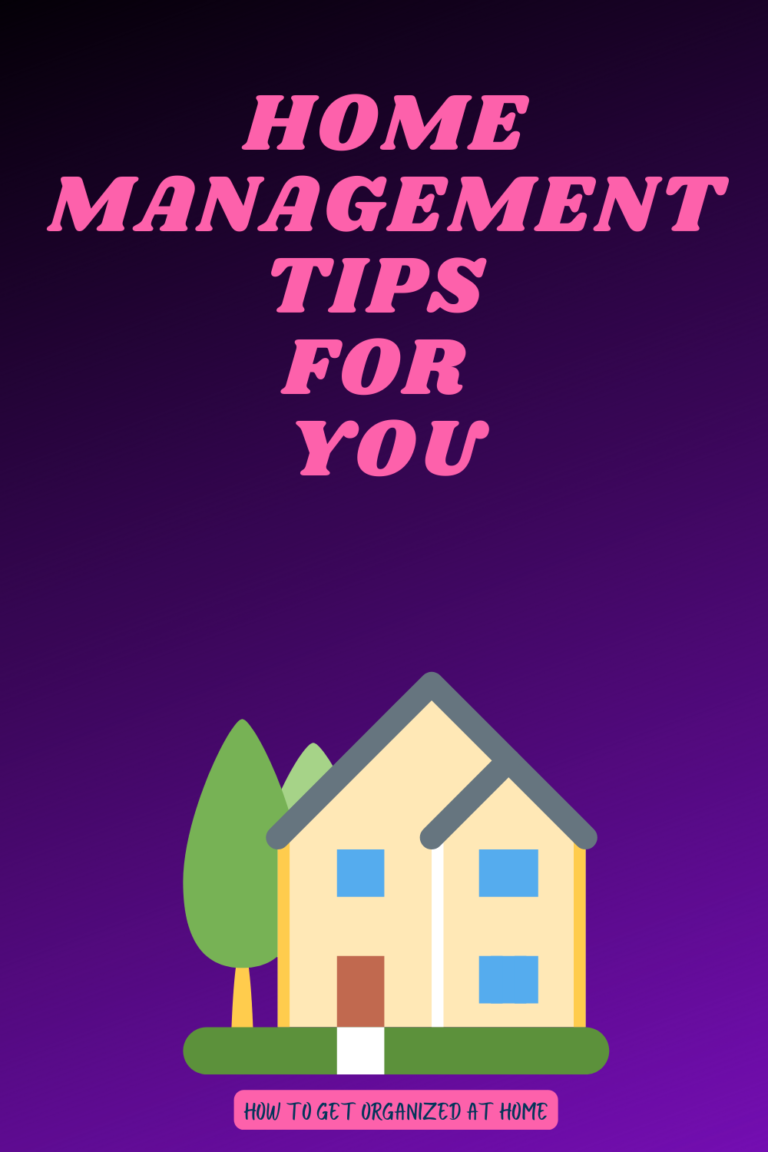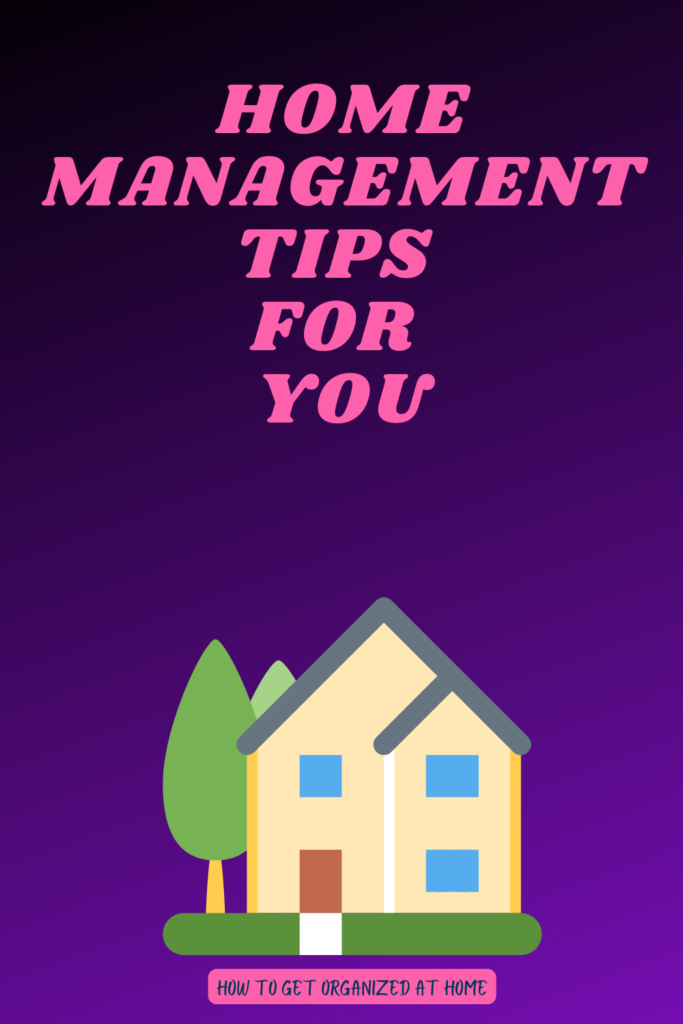 Where you put dirty laundry and where you put clean laundry before putting it away is important too.
Having a system that ensures that you have your laundry done is an important part of home management.
9: Home Maintenance
Keeping your home in tip-top shape means your home is being looked after and maintained.
This is something that you have to do as homeowners, if you are renting then this is something you need to discuss with your landlord.
But keeping your home in good working order is key to ensuring that your home will continue to keep a roof over your head. You can't neglect home maintenance it's a key part of your home management upkeep.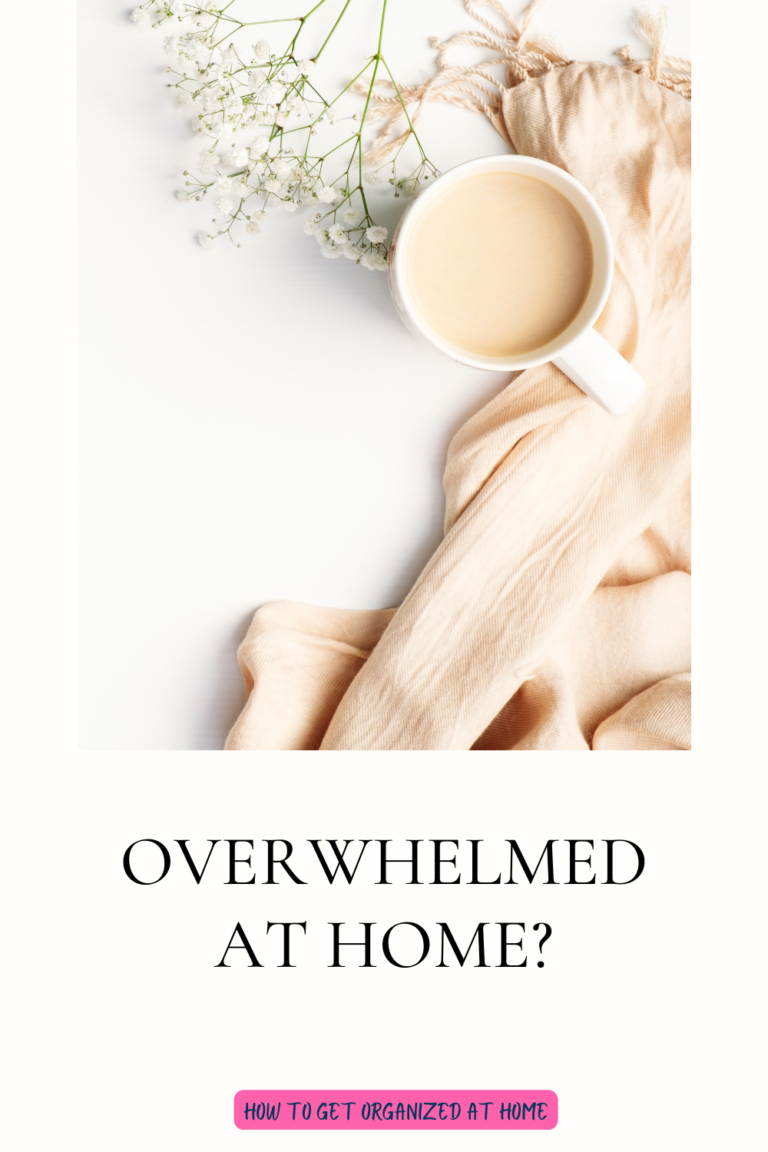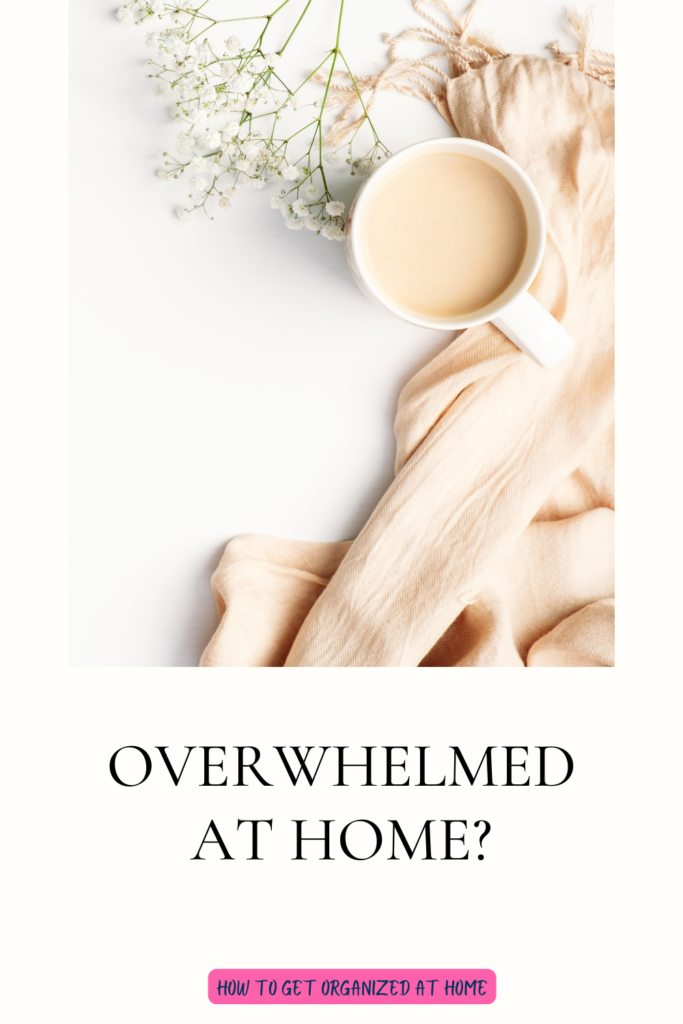 You can also include decoration and major updates to the interior and exterior of your home as part of your ongoing maintenance work.
Related article: What Are The Benefits Of Home Management
10: Dealing With Paperwork
The amount of paper coming into your home can be a lot!
If you don't keep on top of your paperwork you can quickly find yourself drowning in paper.
I do think it has decreased a lot since some schools are emailing rather than sending letters home, but there is still too much that comes into our home that needs dealing with.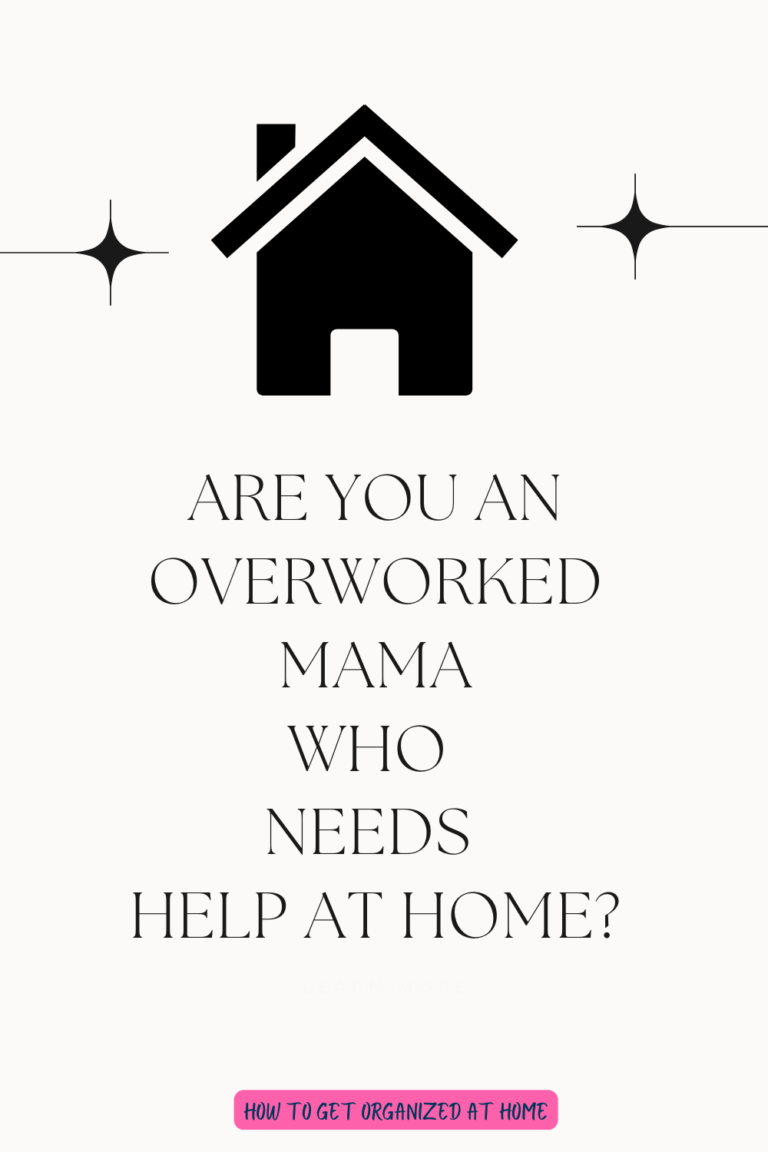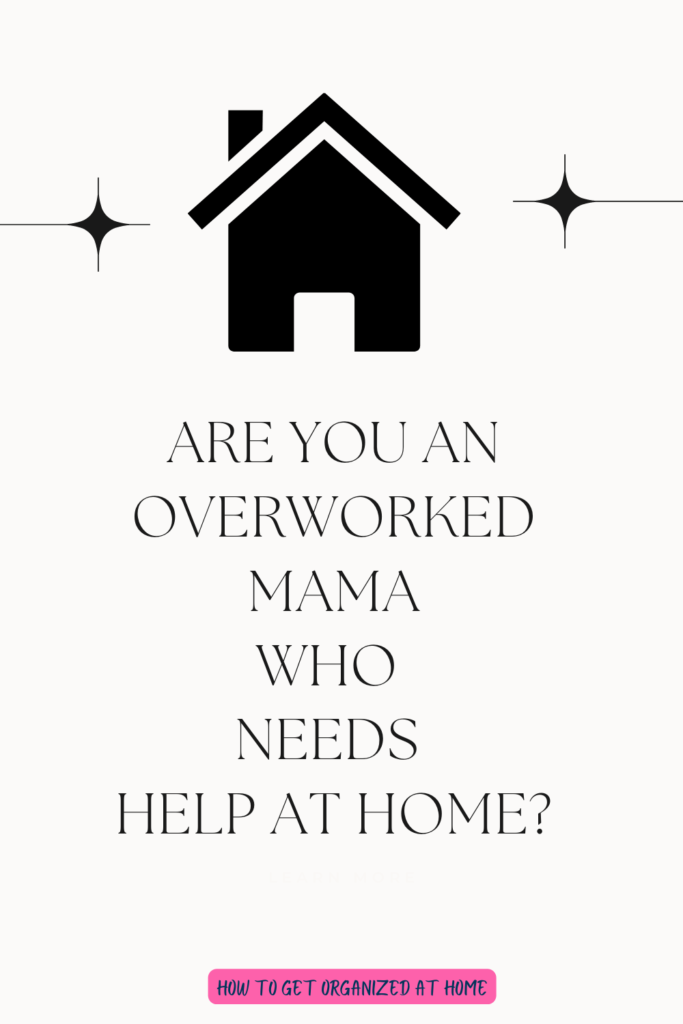 It's about finding the right system that works for you and your family. There are a lot of examples of going paper-free and just having images of your important documents stored on the cloud or on an external hard drive.
My friend Abby from A Girl And Her Blog has a whole course on doing just that, you can check it out here: Paperless Made Simple
11: Sorting Out Your Garden And Yard Work
Have you plans in place on who helps to keep the garden up to scratch?
I love being outdoors, I would rather be cutting the grass than stuck inside cooking dinner. This was often a trade that I did with my husband when the children were little. I would cut the grass if he cooked the evening meal.
It gave me a break from the children and his quality time cooking the evening meal. It worked great for us for many years.
Since the children have left home, we are making changes in the garden, it doesn't need to be kid-friendly, it can now be adult-friendly and it's starting to look good.
Having a plan for your garden and yard work is important not only for the practical side of having a usable outside space but also as part of the maintenance of the home.
A poorly maintained garden will reflect in the retail value of your home so it's a good idea that if you have an outside space then ensure you are looking after that too.
12: Looking After Your Own Health
You can't look after anyone if you run yourself into the ground. Take the time to put your needs first even occasionally.
Running a home is only going to be effective if you are looking after yourself, you must put your own health and well-being at the forefront of your mind.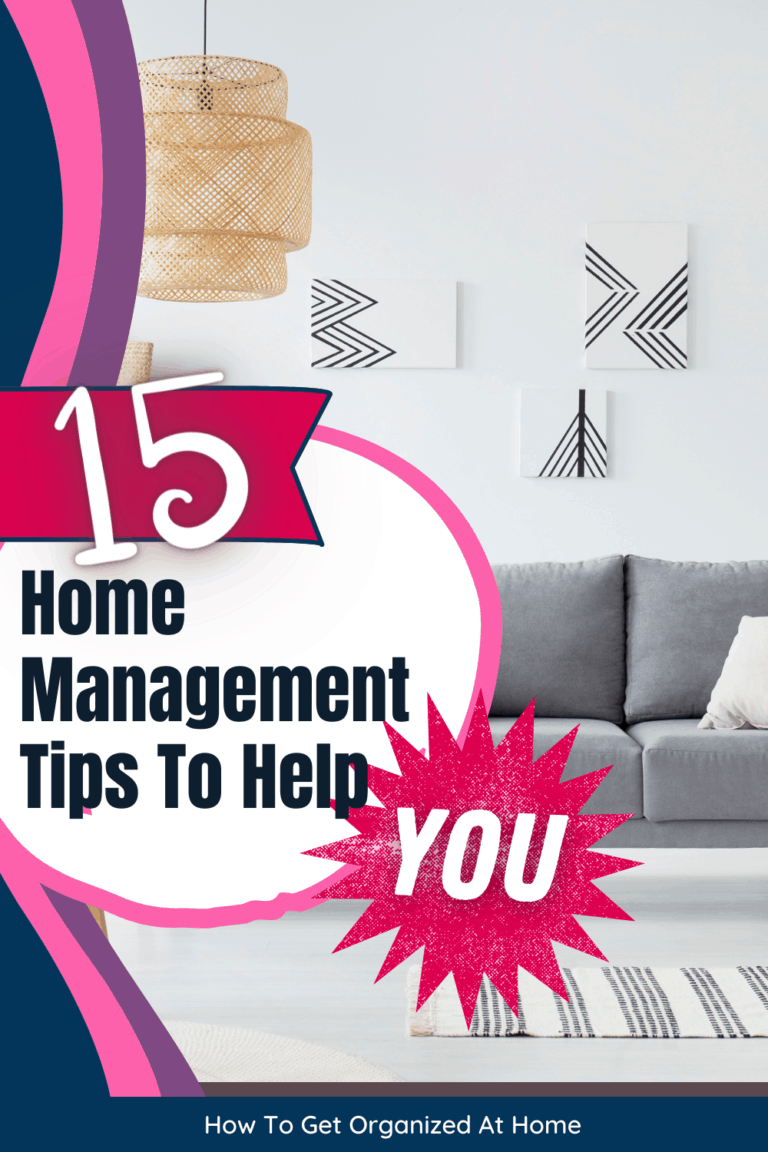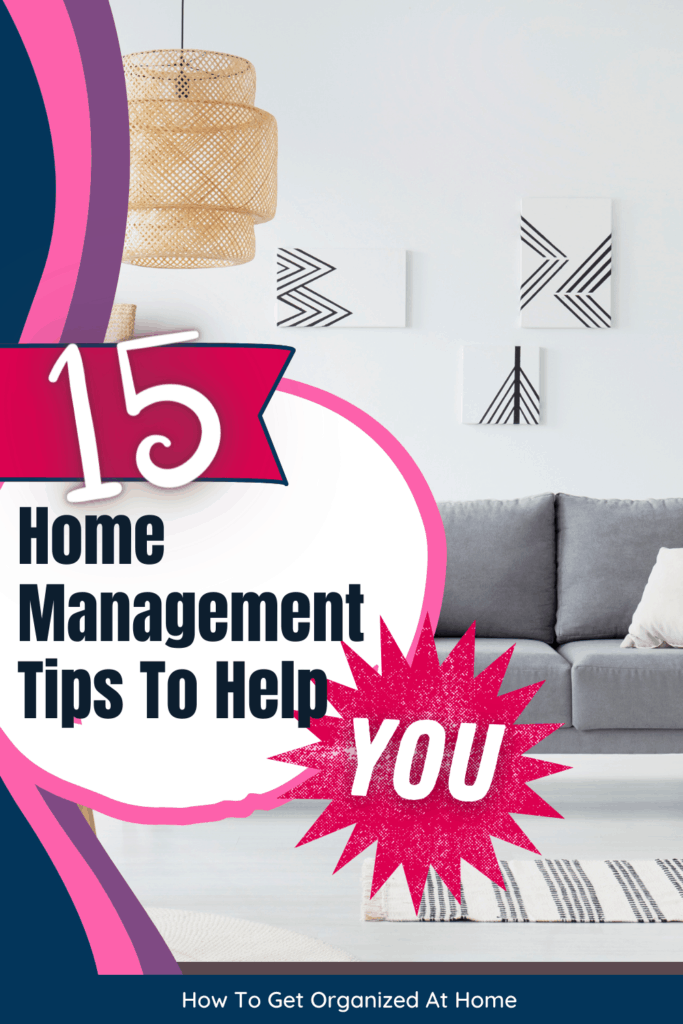 You can't look after the rest of your family properly if you aren't feeling well, and that includes getting enough sleep.
Eating healthy, getting exercise, and looking after your mental health are so important to look after your own needs.
13: Getting The Help You Need
If you want others to help you around the home, you must set this up as you go. If you do all the tasks and then suddenly you want help then the transition will be more difficult, I know I've been there.
I did everything, I was happy doing it. I wanted to live in a perfectly clean home, done my way.
When I started working, I quickly realized I needed help and it was more difficult to persuade my children to do tasks, it wasn't something they had been asked to do before and they found it difficult.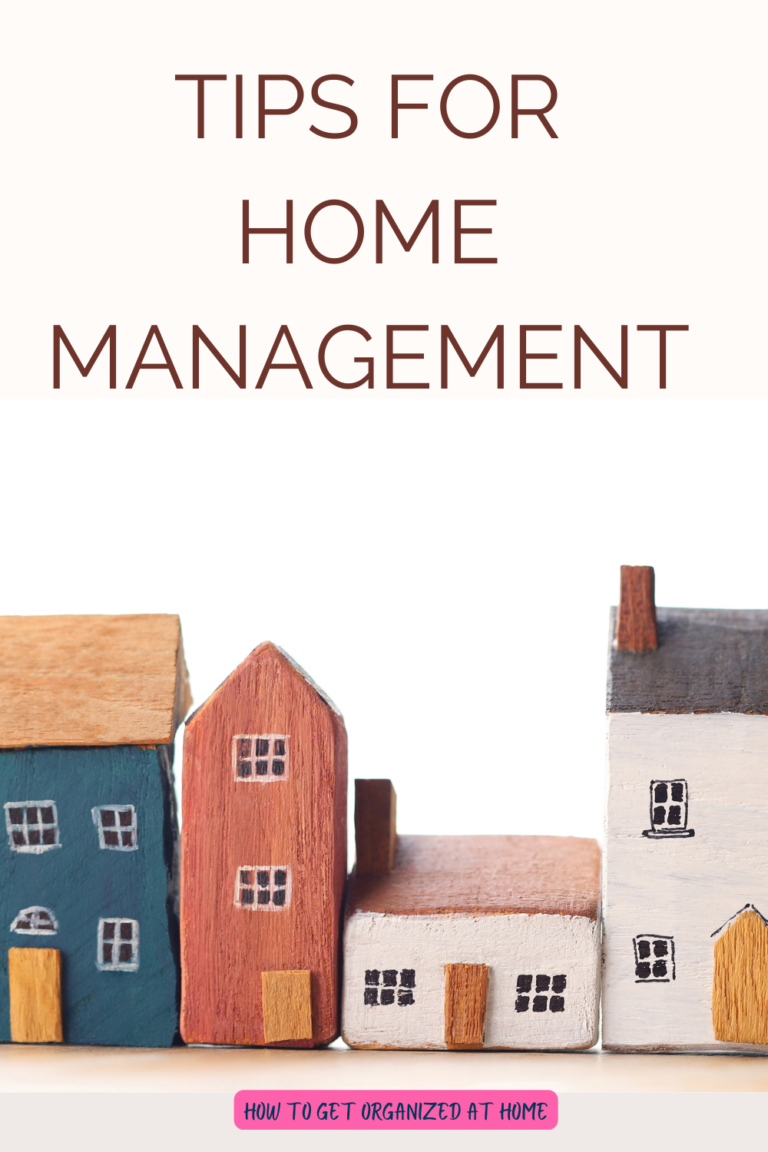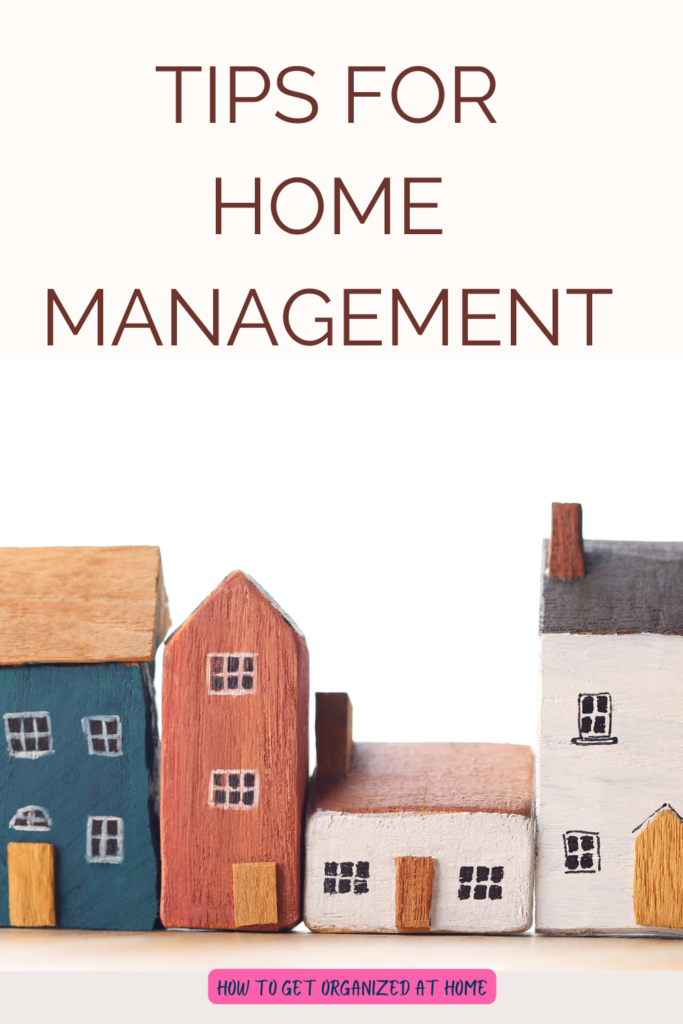 I found it difficult too, I had to let other people do tasks that weren't up to my standards, and I had to let my perfection go. It doesn't make someone want to do something if you are constantly going over what they have done.
You are creating household routines that will help you as a family to live and work under one roof together. So, think about what they can do to help and what you are willing to let go of.
14: Grocery Shopping Is Part Of The Process
When it comes to grocery shopping you either hate it or love it, there is no middle in-between ground. However, you still need to get food and you need a way that works for your family.
Whether you do this as a family or individually you will still need a shopping list to work from.
But this is where we had a problem, I'm terrible at picking up the shopping list, I would leave it on the counter and hope that I had brought everything we needed.
So, to help me we have converted to an electronic shopping list, one that is on both of our phones.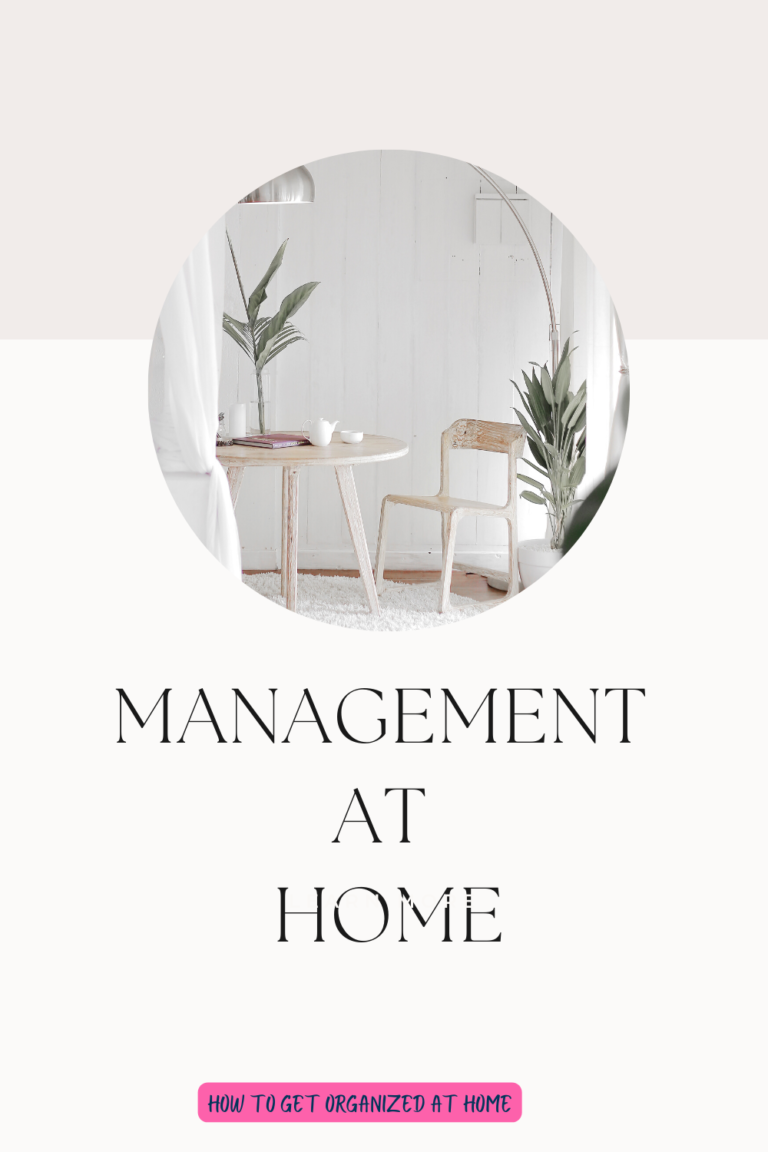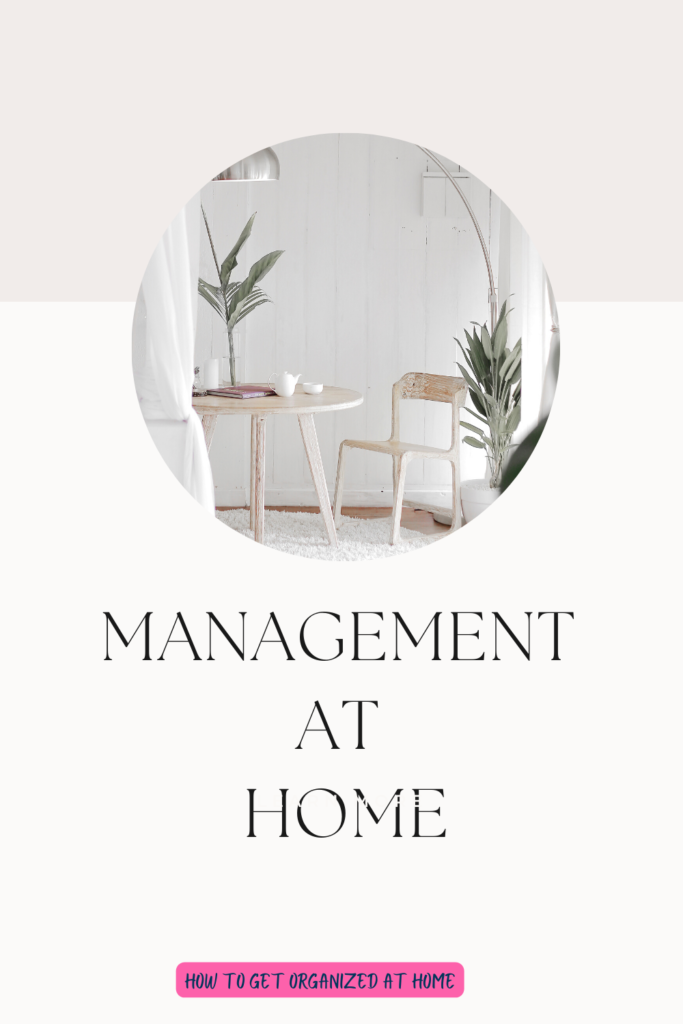 It also meant that I no longer had to guess what was on the list or ask for a family member to take a picture and send it to me.
Since Covid, we are getting our shopping delivered, it's easy and it means we stick within our budget, but it also means my husband can do the shopping without me and that is amazing.
15: Creating Routines And Schedules
Without routines, you will struggle to get things done.
They are the most important thing that you can set up for yourself and encourage your children to have routines too. This will help them to get the tasks they need to do done too.
Having a morning and evening routine will help you get things done on autopilot and without really thinking about them.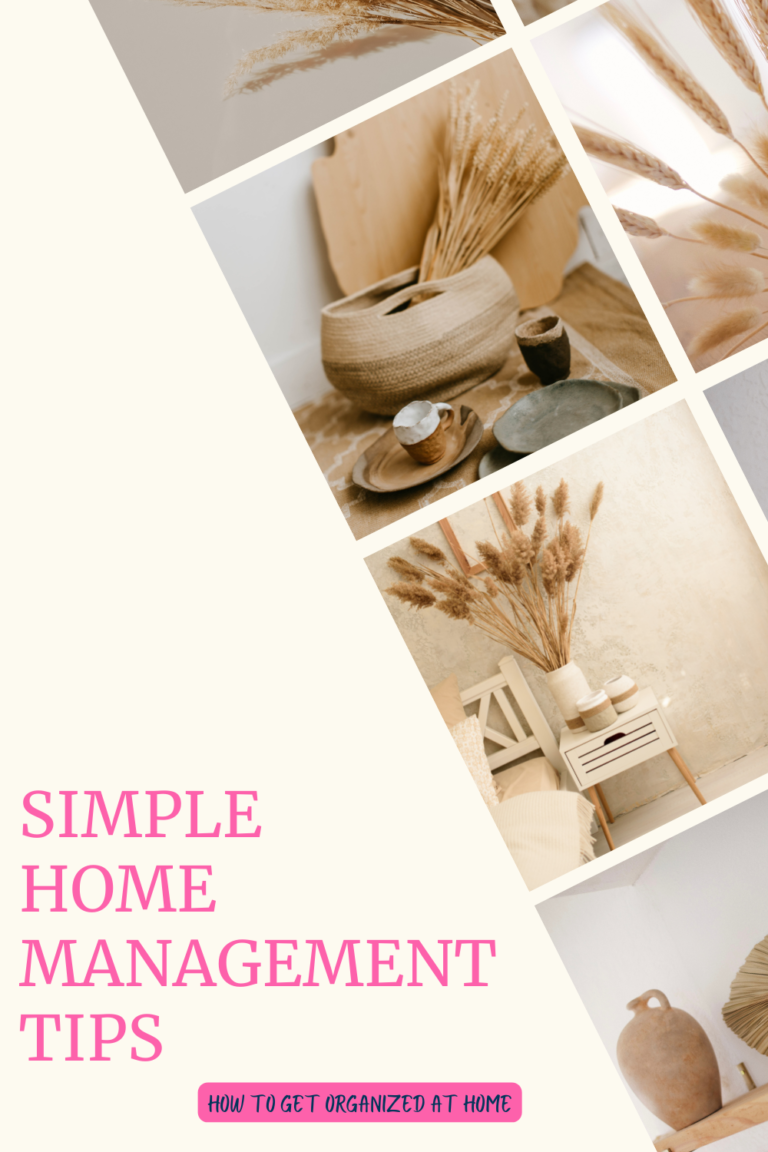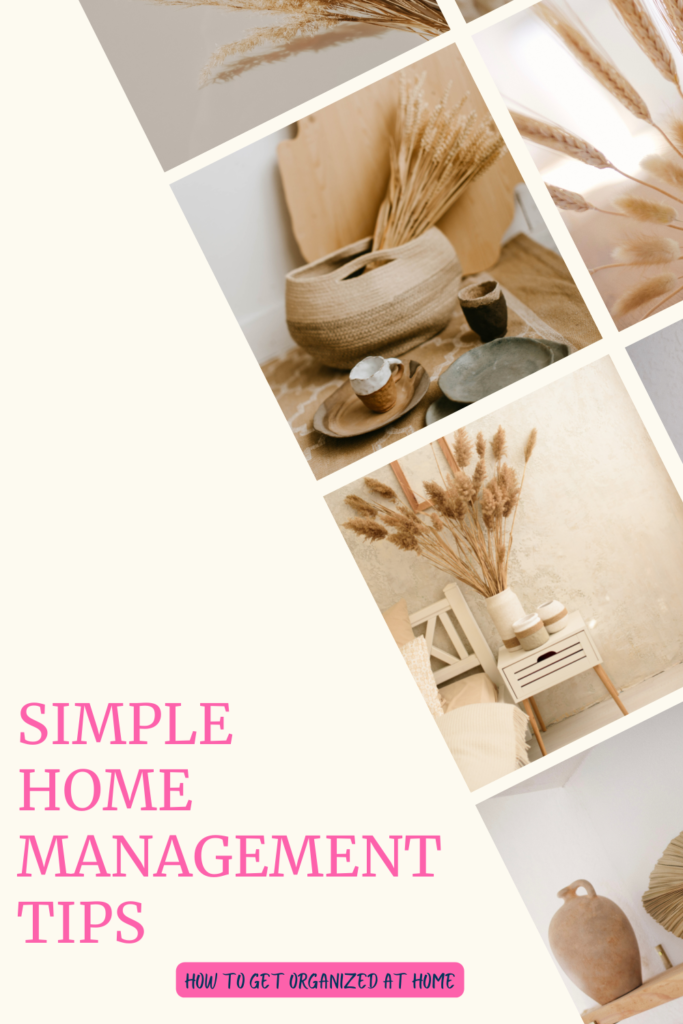 They also make the morning start off better as you are more prepared for the day.
It's a way to trick yourself into getting things that you need to do regularly done. You complete the task at a certain time in the day and then it's done.
Habits can take a while to set up so it's important to track the routines that you are trying to build. You should start to remember your routines within a week or two but it can take weeks for them to become automatic so be patient with yourself.
Creating The Home You Want
Having home management skills are important and they will help create the home that you want and love.
Creating a home management plan will help you pull together all the different areas you need to consider when looking after and home and family.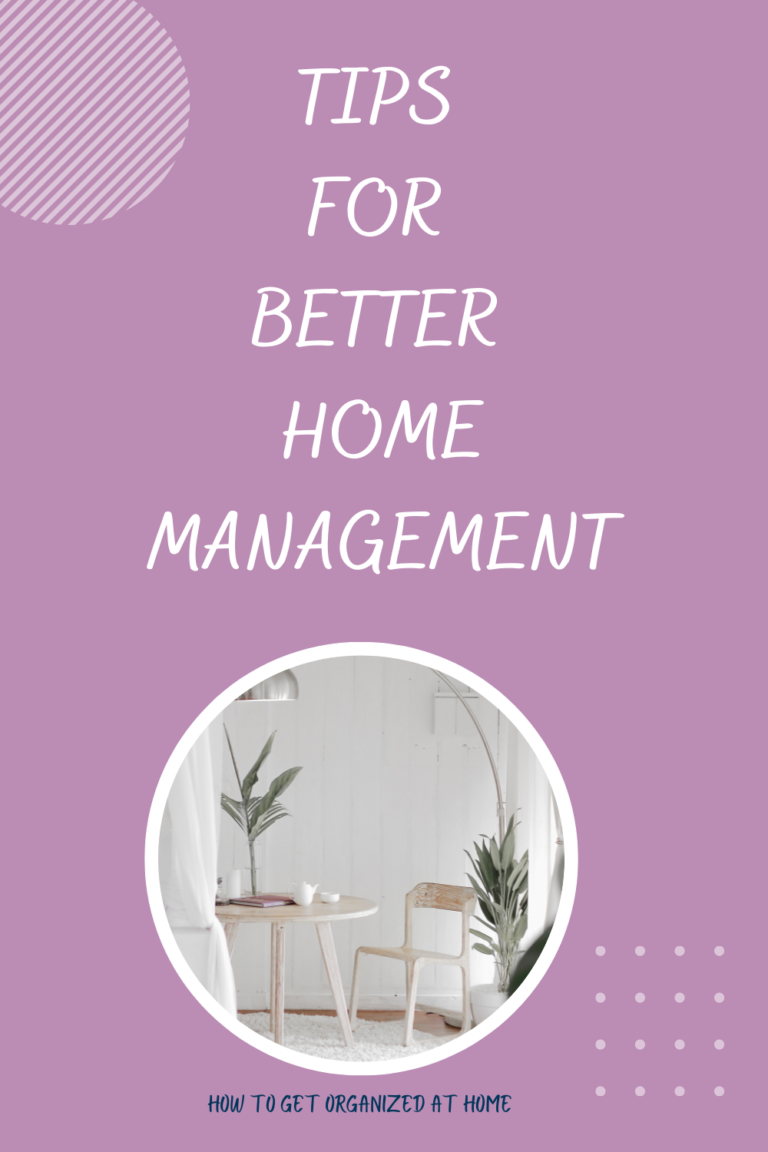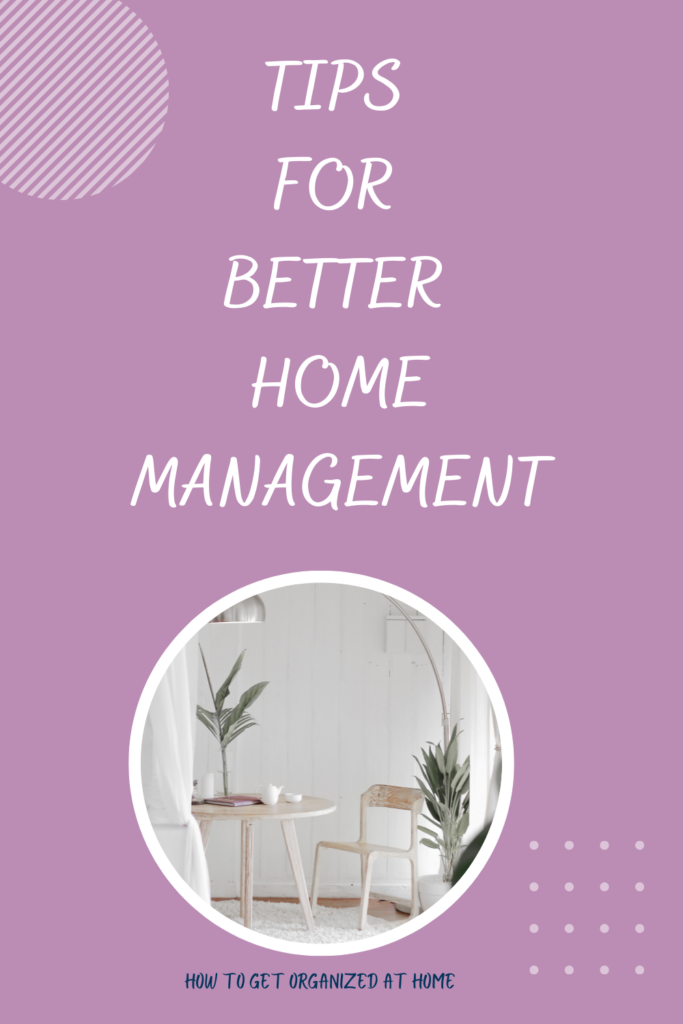 Home management is vast, there are so many different aspects to keeping your home running smoothly that often it can become stressful if one or more areas aren't under control.
By looking at your home as a whole and getting the balance right in all areas it will help you create the home life that you are looking for, one with a lot less stress and a lot more fun and enjoyment.
I hope I've expressed the importance of home management that will make a difference in your life.
More Resources Related To Home Management
The more information you have related to the topic of home management the better in my eyes!