It's easy to declare that you are going to start using a planner to organize your life, but in reality, it can take some learning to make using a planner successful! You need to learn how to use a planner to stay organized and on time, it's not something that happens when you buy your first planner!
The most important step to learn when using a planner is simple, you actually have to use it! You have to write appointments and commitments into your planner and you have to open it on a daily basis to read what is written there!
Without this step, you will quickly find that you will start complaining that your planner doesn't work!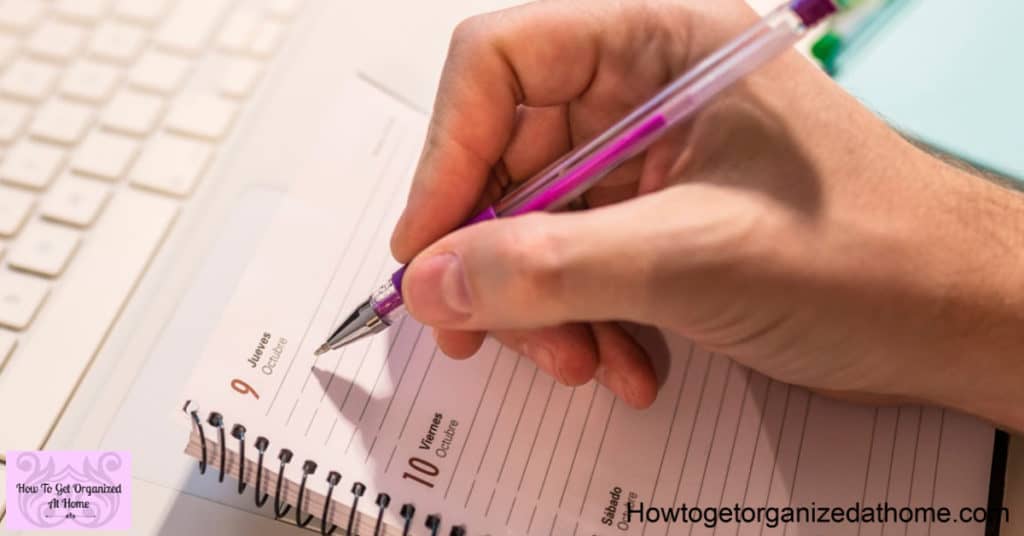 Related Articles
Use A Planner To Stay Organized
The most effective way to use a planner is to refer to it all day every day, treat it like your best friend. Write everything down in it and ensure that you are always referring to it when something is mentioned!
Take it everywhere you go, without it you will not know what you need to do!
It should hold all your to-do lists, your cleaning schedule as well as your work schedule!
I'm a one planner person, some people prefer to break their work plans from their home plans, but as I work from home, I keep both my home and work plans together in the one planner!
Planning Sessions Are Key
You have to spend time with your planner, working out what you need to do and when! These planning sessions are key to using your planner and relying on the information that it holds as to the potential of the session.
If you aren't truthful with your time and commitments it can't help you take control, however, if you tell it everything you need it to do, it will help you achieve your deepest dreams and desires!
Spending just five minutes in the morning or the night before and looking at your plans for the day helps to work out what you intend to accomplish in any given time frame!
Grab My FREE To-Do Printable
This information is used to send you updates, promotions, special offers, and news. We won't share or sell your details. You can unsubscribe at any time. Check out our disclosure & policies.
The Best Way To Organize A Planner
I like to jump around when it comes to planners, I've never found a shop brought one that meets all my needs and that is one reason why I decided to create my own!
The idea of having a monthly calendar as an overview of any appointments or birthdays in any particular month is important, I can quickly see what's coming up!
I then like to have a monthly overview, things that I want to do in the month, as well as things that I must do, I even have a section for things that I would like to do if I have time!
I then look at my weekly focus sheet, this allows me to fill in the tasks that I need to do in any given week! I like to break my tasks into rocks, these are the appointments and non-negotiable tasks, the pebbles, these are the things that I need to do to help me reach my goals and the sand is all those other tasks I need to do but are less important!
It allows me to break the month down into smaller more manageable chunks!
I then try and fit these chunks onto my weekly plan, this allows me to see what time I have and what I need to do in a more detailed plan!
Finally, I have my daily schedule, this is the most detailed piece of the whole puzzle, without this and breaking down my day I would struggle with adding too much in and not giving myself enough time to do the tasks!
The Importance Of Using A Planner
When it comes to being organized and not forgetting the things that you need to do your planner is going to be the key to your success!
Like I said before, you have to use your planner and follow what your planner is telling you to do.
If you spend the time to plan but never do anything that is on your planner then it's not going to work!
You actually have to do the work that it's telling you for the system that you pick to work! No one else is going to do this for you, it's the one responsibility that you must take on when getting organized with a planning system!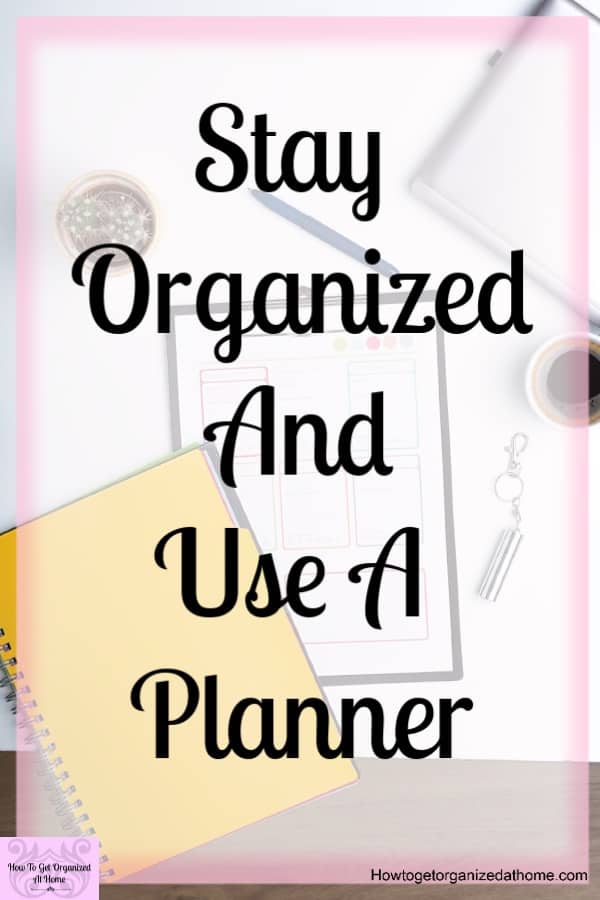 Time Management Is More Than Just Planning Your Time
Learning how important time management is will help you succeed at planning!
When it comes to planning your day the most effective option is to plan blocks of time to do particular tasks!
But unless you are taking action on those blocks of time you are not going to make any progress in your plan.
I tend to only mark in the appointments and when I'm working, the other tasks are there on my daily plan but I haven't set them in stone, I like a more flexible approach to planning my day that time blocking allows.
Just because I don't time block out my hours doesn't mean that I'm not getting those tasks done, I'm just not good with giving that much control to my planner!
Using A Planner Effectively
I really want to imply how important it is to use your planner, to take it with you and to use it!
Unfortunately, a planner doesn't come with its own helper, someone to write down appointments and places you need to be at certain times of the day, you have to do the work, it's tough I know but it's so worth the end results!
Planner Hints And Tips
I think the most important thing to do is to find a system that works for you! There are loads of different planners out there because there isn't a one system that fits all.
You have to find the right system for you, the one that makes the most sense to you and you feel comfortable using it!
It must make sense to, sometimes I've seen planners and I just can't see how it could possibly work, but for many people, I know that it does! It's about finding the right system that you love!
But you must give it time, a system isn't going to feel natural to you if you've never done any sort of planning before!
Find something you like

Remember to use the planner

Write everything down

Take it with you wherever you go
Affiliate links are included for your convenience. (Which means if you make a purchase after clicking a link I will earn a small commission which won't cost you a penny more!) Click here to read my full disclosure and privacy policy.
Let's Recap…
Your planner is an amazing tool, it can help you get organized, but only if you use it!
A planner allows you to plan your time and the tasks that you need to do on any given day!
But it won't do them for you, you have to work the system for a planner to actually work, if you don't do what it's telling you to do then you are going to feel low and not move closer to being organized!
You have options as to what your planner does, you can go into detail or you can have a basic plan, it depends on how you work as to what your planner is capable of!
Your planner can be the most amazing tool in your possession if you use it to help you get organized, look after it, and love it, tell it everything it needs to know, and it will help you organize your complete life!
Join My FREE Printable Library
This information is used to send you updates, promotions, special offers, and news. We won't share or sell your details. You can unsubscribe at any time. Check out our disclosure & policies.