Have you wanted to try to make a budget yet didn't know how, or do you think making a budget is too much like hard work?
The truth is, it is very easy to make a budget; the hardest part is sticking to the budget you have made!
You need to find the tools that you are most comfortable with, some people love spreadsheets, others prefer computer programs, but there is also nothing wrong with an old-fashioned pen and piece of paper; for me, this is how I managed our budget for years, it's what I am most comfortable with!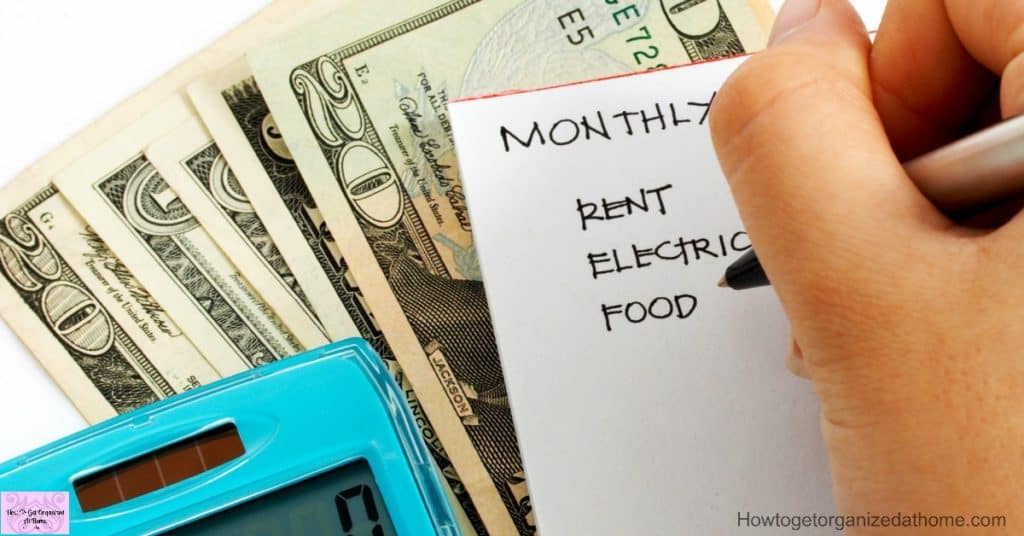 What Is A Budget?
A budget is a plan, a plan of what you need to do with your money each month!
All you are doing is assigning jobs to your money. This is so you know what money you have and what bills you need to pay.
Rather than looking at your account balance and hoping that you have remembered to take off all the bills you need to pay, you can look at your budget and know exactly how much you have in each area of your budget, or what job you've assigned to that particular group of money.
By creating a budget you are taking control of your money rather than just letting your money do as it pleases, or in most cases as the bank deducts money to pay for all your bills and spending. This isn't taking control!
A budget is simple. I want control of my money and my budget helps me achieve that; I have the same amount of money at the beginning of the month for my groceries as I do at the end of the month and that is purely down to my budget. This means that I'm not scraping around looking for money to buy groceries as I've already taken the full month into account!
Grab My FREE Budgeting Printable
This will help you with your daily Budget.
This information is used to send you updates, promotions, special offers, and news. We won't share or sell your details. You can unsubscribe at any time. Check out our disclosure & policies.
How To Make A Budget
The principles of a budget are simple, pulling together your information will take time, but it isn't difficult, the budget itself is easy, the hardest part is to make your budget work and sticking to your plan.
It is all very well spending the time creating a budget if you don't then spend the time ensuring that this time isn't wasted and you ignore your budget.
The process of making a budget is simple; you need some basic information, which you use for your budget:
You need to know the money you have coming in if this varies then you will need to spend more time with your budget each month making sure you have enough money for your categories. Include all the money that you have coming in, don't forget if you have any forms of benefit, you need to add all of this income together.
You need to know, what bills you need to pay, the amount owed and when they are due. This is all those fixed bills like your mortgage or rent, your utilities, and your phone bill. Include every bill that you need to pay.
You need to include any other expenses like groceries and fuel, these are the more flexible options, the ones that you are able to tweak a little to stretch your money further.
Take your total expenses going out away from the income coming in. If this figure is negative, that is, more going out than coming in, you need to jiggle your flexible categories so you have enough to cover all expenses.
Affiliate links are included for your convenience. (Which means if you make a purchase after clicking a link I will earn a small commission which helps keep my blog up and running but won't cost you a penny more!) Click here to read my full disclosure and privacy policy.
I like to work on a zero budget; I even had to explain this system to a financial advisor, which I thought was very odd. I give all my money jobs, one is simply a flexible category, and this is what I use for items that I hadn't budgeted for like a stamp or a birthday card. There is never a balance left in my account that isn't assigned a task. It's easy to make a budget, you can do this on the back of an old envelope or create a fancy spreadsheet; how you record your budget is entirely up to how it will work for you, even a simple accounting book, will work if you are comfortable with the system you've created!
How You Record Your Budget
How you record this information is your choice, there are options that involve computers, whether it is a spreadsheet or a dedicated program or go the old-fashioned way of a pen and a piece of paper.
I have, for most of my life, preferred the pen and paper method; don't get me wrong, I have tried the spreadsheet option and whilst yes it can work I just didn't find it to be the right solution for me!
Using Computer Software
I found YNAB. This is a computer program, it isn't free, but it met our needs. I liked their principal of trying to get things organized by just jumping in where you currently are and then working out your budget and the best ways to use the software.
Since I purchased this software, YNAB has changed to a monthly payment system rather than a one off payment, I haven't changed to this method and I'm not sure that I would!
What was amazing was the budgeting, it is similar to how I budgeted on paper and yet my husband liked it because it was on a computer and he was able to see the money we had and I didn't have to explain it.
We are still enjoying the system, we can both see the money we have in the different categories, there is an app, which you can download to your phone; it has helped us create our budget together. The meeting of the two different minds when it comes to money and budgeting!
Why Make Your Budget
I am an advocate for budgeting! I just think it is an important skill that everyone should learn!
I have worked in the banking industry and I know first-hand that they are there to make money, they don't do it for the benefit of the customer but the benefit of their business.
However, having a bank account is the best way to store your money; it isn't safe stuffed under the mattress, so you need to make sure that your money is working as hard as possible.
It's your job to give your money areas that it will work in, it might be saving for your car insurance or to pay for your groceries for the month.
By having a budget, you are taking control of your money and not letting the bank have the upper hand.
If you are looking for more information on budgeting, I think you can't go wrong with this article, it is full of useful information and easy to read.
Therefore, I hope I have shown you that it is easy to make a budget; you don't need to go overboard and create something fancy or elaborate unless of course, you want to.
Give your money a job so that it knows what it is doing and so you have control. It is easy to make the budget but more difficult to stick to it, there will be times that you become unstuck and that is OK, repair the damage, learn from your mistakes and move on.
You don't have to think you have failed; it is part of the budgeting cycle to look and assess where you are and what you need to do to succeed. How you record your budget is another personal preference, find something that works for you, is easy for you to understand and keeps your money on the right track.
Grab My FREE Budgeting Printable
This will help you sort your daily Spending.
This information is used to send you updates, promotions, special offers, and news. We won't share or sell your details. You can unsubscribe at any time. Check out our disclosure & policies.