Are The Swan Cordless Vacuums Worth The Money?
Are you looking for a cordless vacuum cleaner but don't know what to get? Can't afford to spend the high amount of money required for a Shark or Dyson handheld vacuum but still want the convenience of a handheld stick vacuum?
Then look no further than the Swan Cordless Vacuums, they are worth every penny and are a lot cheaper than other named brands.
I want to introduce you to the Swan brand, it's an amazing company with some really quality products for a fraction of the price of some of the bigger brands.
I have the Swan Power Plush cordless vacuum and I love it, it does the job it's supposed to do and that's what counts in my book
Handheld Vacuum Cleaner With Good Suction
I wanted a handheld vacuum because I wanted to quickly do those little clean ups that you need to do, but I didn't want to always get my corded vacuum out, carry it to the area that I needed, find a plug socket and then vacuum.
It's heavy, well not over heavy but its still a task that took longer to prepare than it did to clean up the mess.
I wanted something quick and easy to use, something that I could use without feeling like a tiny clean up needed a full-blown cleaning. Something I'm trying to avoid.
Affiliate links are included for your convenience. (Which means if you make a purchase after clicking a link I will earn a small commission which won't cost you a penny more!) Click here to read my full disclosure and privacy policy.
Vacuums I Looked At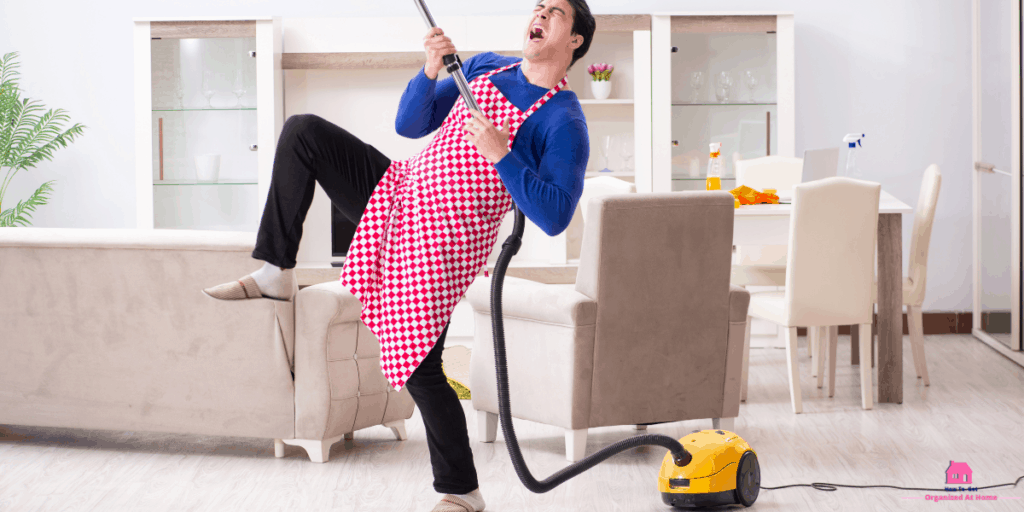 Best Cordless Handheld Vacuum I Could Afford
I did a lot of research, I went round all the big shops to 'try' out the big brand cordless vacuum cleaners and yes, they worked and yes I was impressed with how they worked but I wasn't impressed with the price tag.
I had to come up with something that was more affordable in my budget but still performed well.
I turned to the internet and Instagram, I follow a lot of people on Instagram that talk about cleaning and the products they are using. I know it sounds sad, but I really do like spending my spare time thinking about the different cleaning and organizing products you can buy.
One of the first questions is what is the best cheap vacuum? Cordless vacuums are limited on the suction purely because they have to store their power in a recharagable battery, if you are purely looking for performance then stick to a corded vacuum.
If you were looking for corded vacuums you might find contenders that work even better. . Swan has a corded vacuum that I've heard great feedback from and it's less than £100 and if you use my code Howto20 you can get 20% off the asking price.
Related Articles
Handheld Vacuum Cleaner
One company that kept getting into my Instagram feed was Swan, it wasn't a company I had thought about, but I wanted to look more in depth into their product range and to learn about how good their products are.
The cordless vacuum cleaner that caught my eye was the Swan Powerplush model. It comes with two different motorized heads, one for carpet and one for hard floors.
This jumped out at me because in my home most of my downstairs floors are tiled and the upstairs is carpet, so I didn't need to make a decision about where I could use the vacuum, it would work on both floor surfaces in my home.
I've found it to be great with pet hair, it pulls the dog hair out of the carpet and that's a positive for me, is it the best vacuum cleaner for pet hair, no, I think if you had a lot of pet fur you would do better with a corded vacuum as you get better suction with them. But for quick clean-ups it's perfect.
Swan Powerplush Model Vacuum
Let's get into the details of the Swan Powerplush model and what it offers and the pricing:
If you buy it direct from Swan you can get this model for under £150, this includes next day delivery, unless you order on a weekend. You can save money by using my discount code: Howto20 and this will save you 20% off the asking price.
If you can't afford to pay in full there is an option to pay in 3 instalments and from what I can see there isn't any interest on these payments if you pay on time but make sure you check this out first.
Pin This: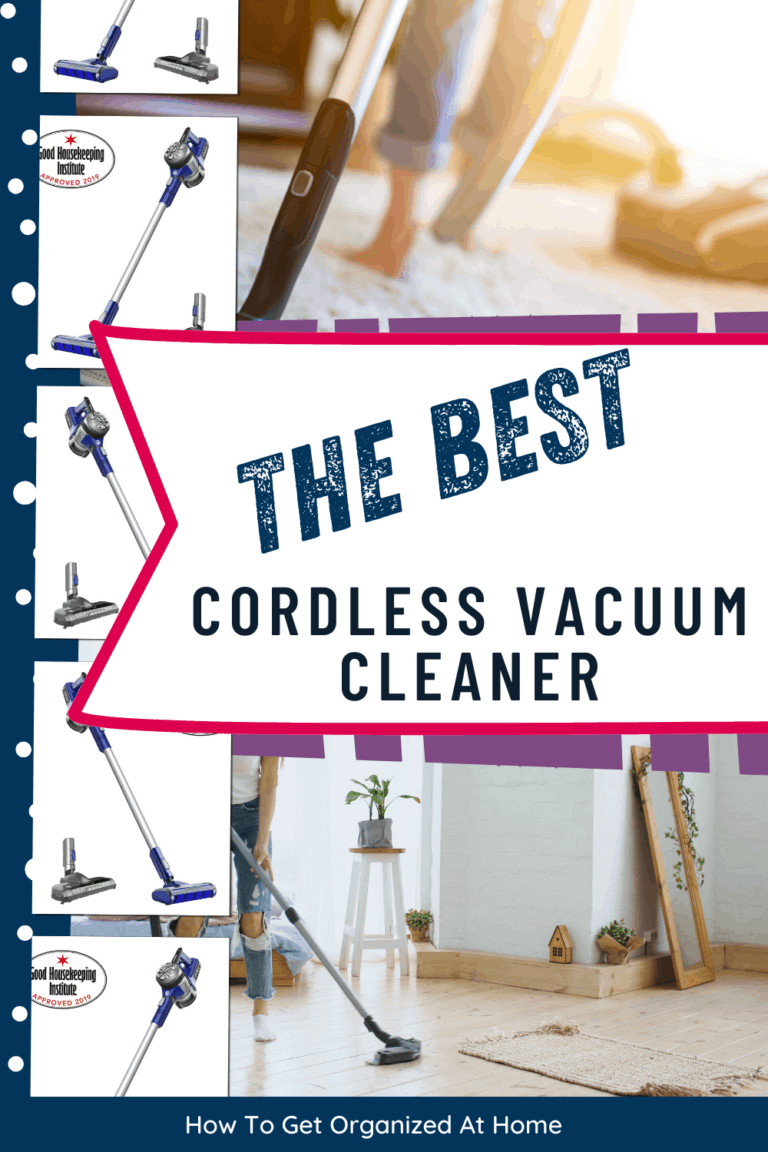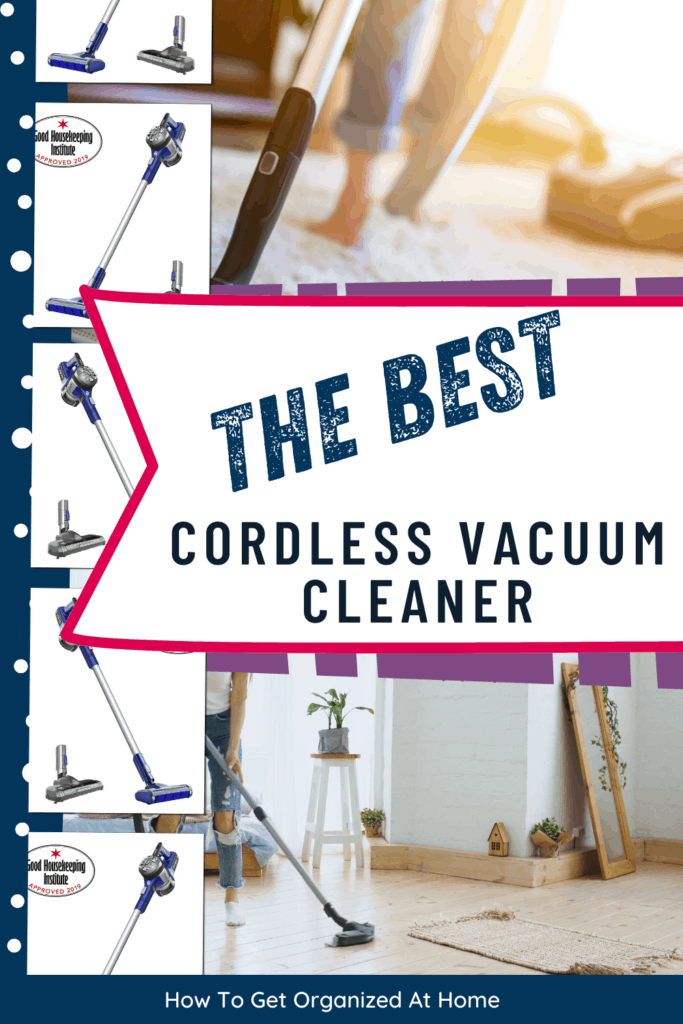 Key Specifications
Up to 22 minutes running time, this normally means that I do one floor at a time if I wanted to use this to vacuum the whole house.
Two different heads Powerplush head and the Turbo floor head. One is for carpets and the other is for use on hard floors.
Lightweight 2.4kg which is really light in comparison to a corded vacuum I'm used to carrying around
Swivel steering and it's easy to move around furniture and underneath furniture too.
21.6volt battery and the battery is detachable, this is important as it means the battery can be replaced. The battery is guaranteed for the 1st year.
It charges quickly compared to some models, it's a 3.5-hour charging time and when it's fully charged it doesn't keep charging. This is such an amazing feature and it will save the life of your battery; an overcharged battery has a very short lifespan.
LED lights on the heads that allows you to see the dirt in front of you.
It's a stick vacuum but it easily converts to a handheld vacuum for different areas of your home.
It's quiet and that's a positive.
It comes with a bracket to mount it to the wall
It has an Anti-allergen HEPA filter
Good Housekeeping Institute Approved
It's a great little vacuum and so easy to use, the different tools and heads all clip into the vacuum really easily and firmly.
There is no loss of suction when you move from a handheld to the stick version, the heads are powered, and I think this makes a real difference. You can feel them working and that's important.
I can even see vacuum lines and that shows that it has power to really pull the dirt from the depths of the carpet.
When on tiles it can pull from between the tiles that gather in the grout spaces and this shows to me that the powered heads provide that extra sucking power that is often missing in corded vacuums.
Pros And Cons Of Swan Powerplush Vacuum
I think talking about the pros and the cons of any appliance is important, you do have to think about all aspects of a product to ensure that you get the right one for you.
I think the biggest con for this vacuum is the need to find a place to store the 2nd head, yes, the tools all fit nicely on the wall mounted bracket which means they are all contained. But the second head needs its own place too and this is the only thing I can think of that really needs looking at in future designs.
Currently I have to place the head not in use on a shelf in a cupboard nearby. This can mean that the incorrect head is used for quick clean ups as you have to think about what head you need and what is currently on the vacuum.
As with all bagless vacuums there is a bit of maintenance required, you do have to clean the filters regularly to ensure they continue to perform as intended.
The only other issue I had was in the beginning when I picked up the vacuum off the wall mounted bracket, I was accidently turning it on. I have since trained myself to pick up the vacuum by the wand rather than the handle and this has stopped me scaring myself by accidently turning on the vacuum.
The Pros Of Swan Powerplush Vacuum
The pros of this appliance out ways any of the cons by a million times in my opinion.
It's light weight and versatile because it can go on hard floors as well as carpet. It is easy to change it from a stick vacuum to a handheld that is so easy to manoeuvre and collect the dust bunnies and dirt.
The storage container is easy to empty, you can even do this is two different ways. It has the HEPA filter which is important for reducing the dust and not just moving it around. It's easy to wash all the washable parts to keep it working in tip top condition.
It's great value for money, it does what a lot of the more expensive cordless vacuums can do just as well.
Comparing A Cordless To Corded Vacuum
How does it compare to a corded vacuum?
I think with any cordless vacuum you are going to notice that it has less power capabilities than some of the top branded corded vacuums as well as other vacuums in the Swan range.
But that is simply because the battery of a cordless is limited to the power capabilities, whereas a corded vacuum doesn't have those issues.
However, I've not noticed that any area looks less clean if I vacuum with the Swan Powerplush model compared to my corded vacuum.
I tend to choose my Swan Powerplush purely because I don't have to think about where the nearest plug is, I can just switch it on, and it goes.
Let's Recap…
The Swan Powerplush model is very reasonably priced in comparison to some of the other branded cordless vacuums. If you buy it direct from Swan you can get this model for under £150, this includes next day delivery, unless you order on a weekend. You can save even more money with my code: Howto20 which will save you 20% off the asking price.
If you can't afford to pay in full there is an option to pay in 3 instalments and from what I can see there isn't any interest on these payments if you pay on time, but please confirm this before purchase.
It's suitable for different floorings as it comes with two different heads that are both powered which means their sucking power is amazing.
It has a bracket so you can mount it on the wall to make charging easier and to hold the tools and attachments.
Overall, I love my Swan Powerplush vacuum, it does exactly what I need it to do and the price I was comfortable paying for.
It's one that I totally love and will continue to recommend.