What's The Best Shark Vacuum Cleaner For Your Money?
Are you looking for a new corded vacuum and you don't know which one to buy? Well, let me help you by explaining why I love the Shark Lift-away model with the pet features.
The most important thing to tell you is that it works, and it works well. The version that I have is still going strong and I think it's at least 3 years old now. In my opinion, it's the best Shark vacuum cleaner.
The best tips for vacuuming is to ensure that your vacuum is kept clean and in good working order.

But why do I recommend the corded lift-away model rather than the cordless options? It is simple, the corded vacuums have the most power and don't need recharging, they are ready to go when I am.
Affiliate links are included for your convenience. (This means if you purchase after clicking a link I will earn a small commission which won't cost you a penny more!) Click here to read my full disclosure and privacy policy.
Why I Have A Corded Vacuum
Why a corded vacuum? I do have both a corded and an uncorded vacuum but that is for the light tasks.
I have the corded Shark Lift-away for the deeper cleaner tasks.
I used to have 3 dogs and they were heavy shedders, I'm just down to one heavy shedder and I needed something I could rely on to get all that pet hair out of my carpets and the Shark vacuum did just that.
Shark Vs Dyson
I had a Dyson before I got the Shark and I was getting frustrated with it; it was old, and I didn't think it was doing a good job.
I needed a new vacuum, at that time I wanted a new Dyson, but I just couldn't justify the cost and that's when I turned to Shark.
It was at a much better price point and it was more affordable than the more expensive Dyson equivalent.
I was giving a full demonstration of the product in store and I was happy with what I was seeing.
Why I Purchased A Corded Vacuum
At the point of buying my Shark, cordless vacuums were a long way off from being any good for vacuuming large areas or coping with lots of dog hair which is why I opted for a corded Shark vacuum.
I think they have come a long way since purchasing my corded vacuum and I think if I was making a decision as to corded versus cordless, I would have a much more difficult time making the choice.
But even saying that I still think the Shark lift-away is the best Shark upright vacuum cleaner.
The Best Upright Vacuum Cleaners
I've only had upright vacuums for years, we used to have a cylinder one, a long time ago, but that hurt my back bending over, so upright was the only option for me.
I find it a much more natural position to push the upright vacuum compared to the cylinder-type vacuums that you have to drag along with you.
My daughter prefers the cylinder vacuums and she has the Swan cylinder vacuum, but I don't think it's as good as my Shark.
The Performance Of The Shark Vacuum
The suction on the Shark vacuum is amazing, it can pull deep down dirt from the carpet and you will be amazed at how much dust and dirt it can get from your carpets.
I think the only difficulty the Shark has is getting into the edges of the carpet, but to be fair I don't think there are any vacuums that can really get deep into the edges of the rooms and pull out the dust that hides by the edge of the carpet and the skirting boards with the normal vacuuming head.
You do have to watch the suction on the Shark on some floor types it feels like you are pulling up the floor, if this happens you just need to turn the suction down.
I know there is a lot of talk about the Sebo, being the best for vacuums, I have yet to test one of those out, so I won't be giving it a rating.
The Best Vacuum Cleaner For Pet Hair
Dealing with pet hair is something I have dealt with a lot over the years and it's not something that you want left on the ground after vacuuming, it defeats the object.
I've never had a problem with getting dog hair out of my carpets with the Shark Lift-away. I've had dogs that love to share their fur with my carpets and in all honesty the Shark has delivered every time.
The improvements that have come onto the market include the anit-hair wrapping technology and this is something I do need to try.
I do think that this is the best Shark vacuum for pet hair in my opinion.
Tackling Hard To Reach Areas
For detailed cleaning when you are trying to get right to the edge of the carpet you do need to use the crevice tool and attach this to the hose. What's great with the Shark is the ease of turning it from an upright into the detailing mode with the crevice tool.
I found that the quick detaching of the hose is amazing and something that makes cleaning so much easier because all the tools and attachments are right there on your vacuum.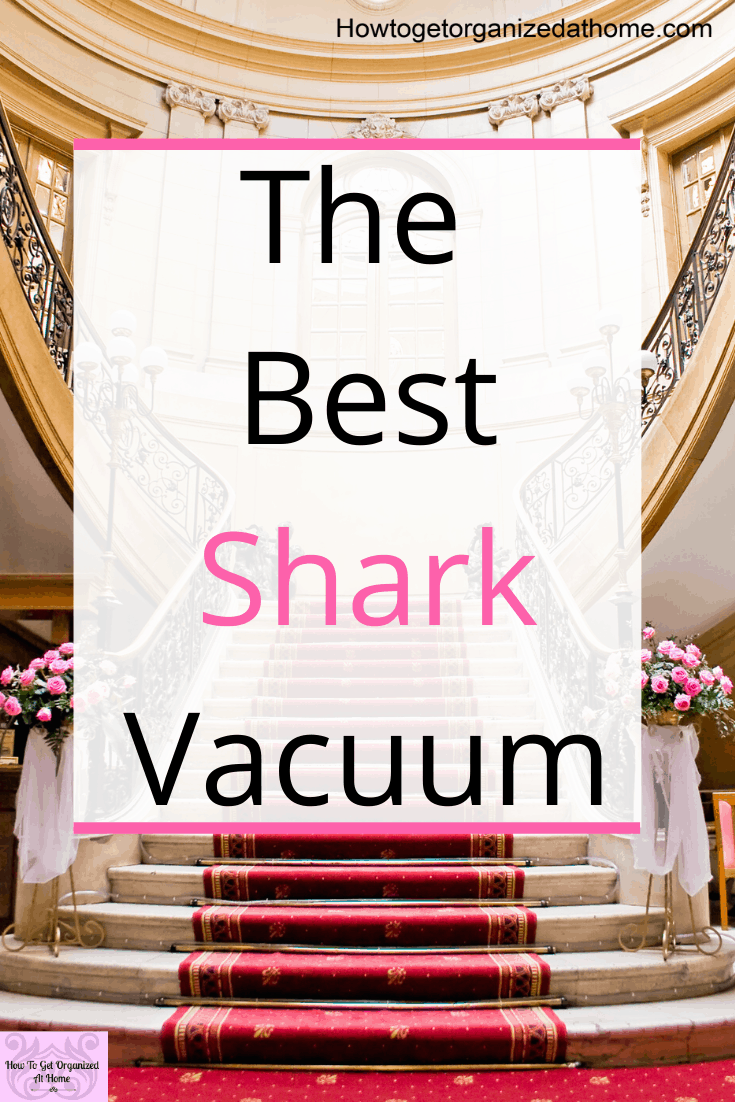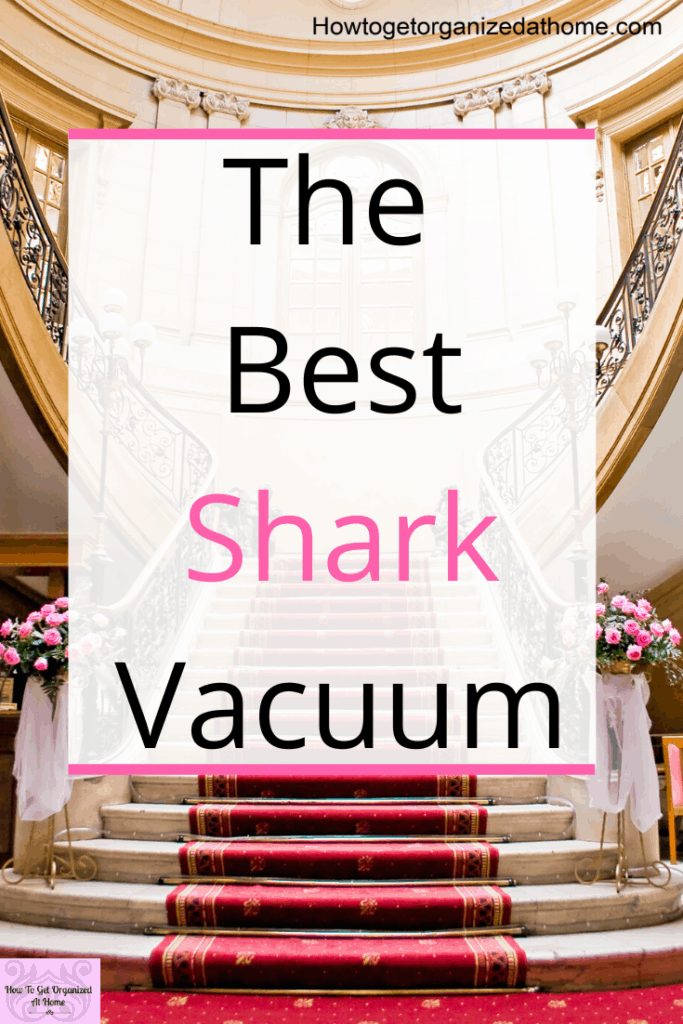 The only tool that doesn't fit onto the actual vacuum is the separate pet hair attachment, which is amazing for really tackling the stairs.
What's great about this attachment is that the roller on the bottom goes around and this makes all the difference when pulling dog hair out of carpet.
Using The Shark On Hard Floors
I've heard people say they don't like the Shark vacuum on hard floors and personally, I've not had a problem.
There is a fan in the front, so you do have to be careful that you aren't just blowing the dust before reaching it, but because the vacuum is very responsive you can quickly learn how to approach dust bunnies.
My Shark vacuum came with a dusting attachment. It attaches to the hose and turns your upright into a handheld dusting vacuum that you use to dust your hard floors.
If you are looking for more tips on how to vacuum your home you need to read this article all about how to vacuum your home.
The Best Feature
For me, the best feature of the Lift-away model is the ease of use and how you can detach the bottom head from the main body, this means vacuuming the stairs just got lighter.
Which is perfect for anybody who has difficulty carrying a heavy vacuum to clean the stairs.
The Importance Of Maintenance
The dust collecting tank is large and is capable of holding a lot of dirt, which is always great as it means less time emptying.
However, as with all bagless vacuums, there is more maintenance that needs to be done to ensure they are in tip-top condition.
This is an important part of owning any bagless vacuum, you need to keep in mind that you will be spending a lot of time maintaining it and keeping it performing at its best.
Why You Need To Maintain Your Vacuum
It's possible to make your machine poorly if you don't take the time to ensure that it's kept clean.
While any vacuum is designed to pick up fine particles of dust, these particles are also going to clog up your filters and make the suction of your vacuum suffer.
So, it's important to follow the manufacturer's instructions and keep your appliance as clean as possible.
Ideally, with a Shark that has washable filters, you want to wash the filters at least once a month and make sure they are completely dry before using them again.
I have two sets of filters so I can wash one set but still use the vacuum.
Don't forget the head of the vacuum too, you need to keep this free from hair and other items that can get tangled.
If you don't maintain your vacuum it makes the motor work harder and this will affect the life of the machine.
Surprising Feature I Love
One feature I never thought would make a difference, but I was so wrong is the LED lights on the front of the vacuum.
They are amazing not only do they show up more dirt than the naked eye, but it also means you don't need to put the light on if you are vacuuming in the dark.
They make vacuuming so much easier; you can see items that you might not want to vacuum up and this is always good as going through the dirt looking for something that you vacuumed up isn't a nice job.
The Pros And Cons Of The Shark Lift-away
As with any appliance, there are always good points and bad points to consider before purchasing an item.
It's a great machine and works well
Easy to use and empty
Long cable
Has great power to suck up dirt
LED lights on the front
The price is reasonable for this type of vacuum, so good value for the money
Cons
You have to wash filters regularly to avoid lowering the performance of your vacuum, it can even kill your vacuum as it has to work harder to do its job and this will have a negative impact on the motor.
It has a cord and that is restricting
Corded Vs Cordless
I've only recently felt that cordless vacuums are strong enough to warrant using one, when I originally purchased my Shark Lift-away I didn't think that cordless vacuums were worth using.
However, in recent years the technology and ability to create cordless vacuums have improved to a point where I considered buying one.
I purchased the Swan Powerplush cordless vacuum and I will say it's great. It's not as expensive as the Shark cordless vacuum and if you use code Howto20 you can get 20% off the price of a Swan cordless vacuum. But, it doesn't have the power of a corded vacuum.
Read my honest review of the Swan Powerplush cordless vacuum.
One of the main differences is the ability to grab the cordless and take it to where you need it, you don't have to worry about power sockets or where to plug it in, as long as you keep it charged, it will vacuum when you need it to.
However, the Shark does have more power and can last as long as you need it to do the cleaning.
It's my go-to vacuum for the deeper cleaning that you need.
What I Think About The Shark Lift-Away Vacuum
Do I think the Shark is a good vacuum? Most definitely yes.
The Shark Lift-away is the best-corded vacuum that I've used in a long time. It's a reasonable price for the quality of the product.
It does an excellent job at vacuuming, but you do need to remember to clean the filters and the head roller for it to work at its optimal performance.
I think having a corded vacuum for those deeper cleans is important, if you want a cordless vacuum you aren't going to get the same power that you do with a corded machine.
The Shark Lift-away corded vacuum is in my opinion the best corded vacuum that I've used. It does the job that it was made to do, and it does it very well too.
Other Articles Relating To Vacuums
There are so many different vacuums that sometimes you have to dig further. You can get so many Shark vacuums on Amazon let alone all the other brands.