Corded Versus Cordless Vacuums, Which One Would You Buy And Why
Are you in need of a new vacuum and you just don't know if you should go corded or cordless? It's a difficult choice to make but I wanted to give you some of the facts so you can make the best decision for you and your family. There are a lot of benefits of both, so which would you choose? Corded versus cordless vacuums.
When it comes to vacuums, they aren't cheap so making the wrong choice could cost you a lot of money and unnecessary worry. There is nothing worse when your vacuum doesn't do what it's supposed to do and that's picking up the dirt off the floor.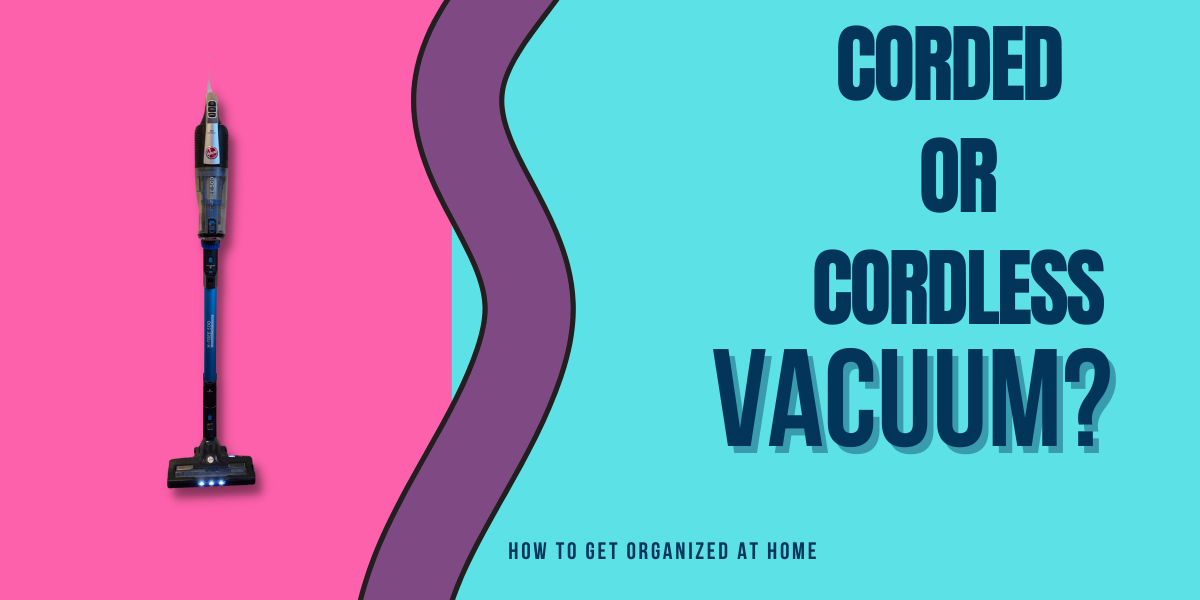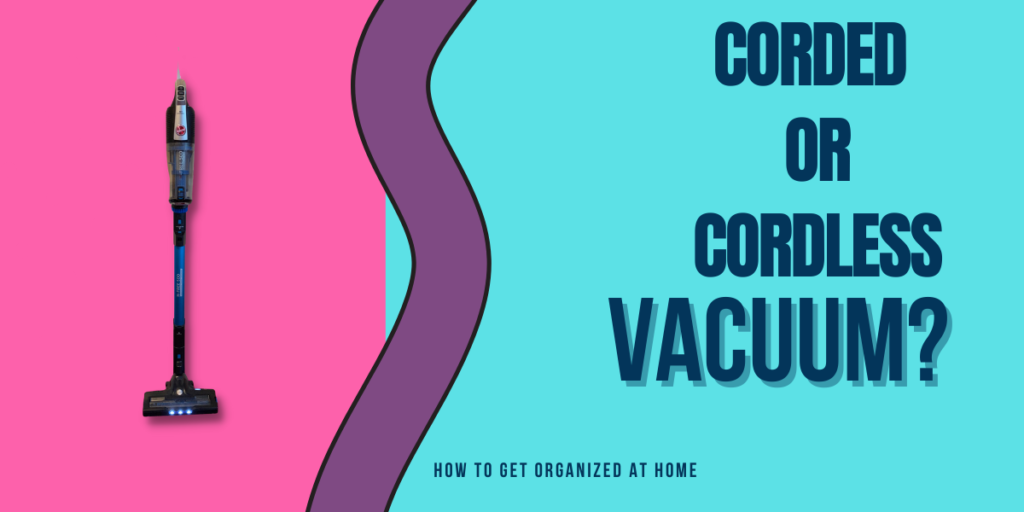 Thinking About A New Vacuum?
If you are considering purchasing a new vacuum you will have to think about the main reason you need the vacuum for. This might sound like an odd question but if you have just small areas to vacuum you might not need a large one, a handheld cleaner might be adequate for you.
But if you live in a larger space and have multiple flooring types you might consider getting more than one vacuum to tackle your larger home.
What's The Difference Between Corded And Cordless Vacuums
The most obvious difference is the way the vacuums work: a corded vacuum has a cord that needs to be plugged into the mains for it to work. A cordless vacuum doesn't need a cable to work, it's powered by a battery which you need to charge between each time you use your vacuum, there will also be a limit to the length of time you can vacuum before the battery runs out.
Affiliate links are included for your convenience. (Which means if you make a purchase after clicking a link I will earn a small commission which won't cost you a penny more!) Click here to read my full disclosure and privacy policy.
The other difference is the amount of power the vacuum has, there is always going to be a difference from the corded to cordless vacuums you just can't keep the power constant in a battery as you can the mains electric.
Let's Look At What Makes A Good Corded Vacuum
When it comes to corded vacuums there is always going to be a different selection of vacuums depending on the motor, the quality of the product and the suction that the vacuum offers.
So, what does this mean in terms of vacuums? A good vacuum needs to have the power to do the task and that means the motor needs to work and it needs to work well. Quality of the products can vary depending on a lot of different factors including how the company has chosen to design and develop the vacuum.
When I look at corded vacuums there are a number of things that I am on the lookout for and that includes current reviews of the vacuum by members of the public. Yes, you have to be careful when it comes to reviews because there are some that haven't been written well and are questionable whether they have actually used the product.
What To Look For In A Corded Vacuum
A lot of people always say the brand is important and whilst that can be true there are some great corded vacuums that aren't from the big companies like Dyson and Shark that make good vacuums but are less popular.
Why they are less popular probably relates to how they advertise their products and if they are looking at different angles of the vacuum market.
Other areas to look for include the motor capabilities, if you want:
Type of flooring the vacuum is recommended for; some are recommended for

hardwood floors

carpeted homes
What To Look For In A Cordless Vacuum
There are less options when it comes to a cordless vacuum, typically you get stick vacuums or handheld in the cordless options. But you do get a choice of bagged or bagless vacuums.
You must look for a vacuum with a powerful motor. If you are after a cordless stick option as you are going to want to vacuum areas of your home and that means it needs to have the power in the motor as well as a good power source, the battery, for it to perform well.
Often a cordless stick vacuum cleaner comes with a limited battery life, they need charging in between uses and sometimes this can cause problems if you live in a large home.
If you are looking for a cordless vacuum, especially for the stairs in your home, this is going to be different if you are just looking for a cordless vacuum for a daily bedroom clean.
A vacuum for the stairs is going to have a smaller body as you don't need to have a large capacity dirt canister, you need the power to pull the dirt and dust from the carpet but in a very small space.
So, for this area I would look at a handheld option as this is going to perform the best in this situation.
What Are The Areas You Need To Consider?
When it comes to choosing a corded versus cordless vacuum there are lots of areas to consider so I've made a list of things you might not have thought of.
How large is your home? This can affect the ability for a cordless vacuum, most batteries for vacuums have about a twenty minute run time, if it take you longer than this you will either need a spare battery or a corded vacuum.

If you hate stick vacuums because you find them uncomfortable to use then realistically you should go for a corded vacuum because most cordless tend to be stick vacuums.

A bag or not to bag, that is the question here. Do you want a bagged vacuum or a bagless vacuum? Now you can get both of these in corded and uncorded versions. A bagless vacuum will need more cleaning than a bagged version. So you must consider the time it will take to clean your new appliance regularly.

The weight you can lift. Typically a corded vacuum is heavier than a cordless vacuum so if you need a lightweight one you will need to look at the cordless option.
Pin This: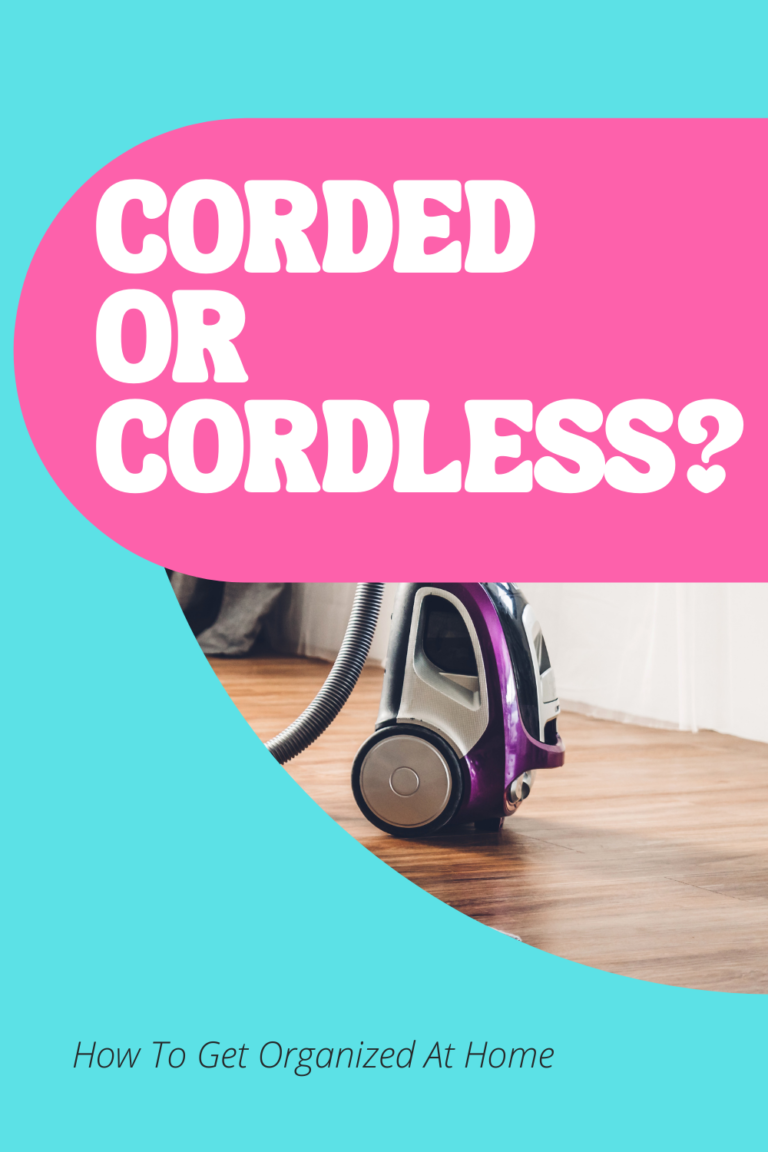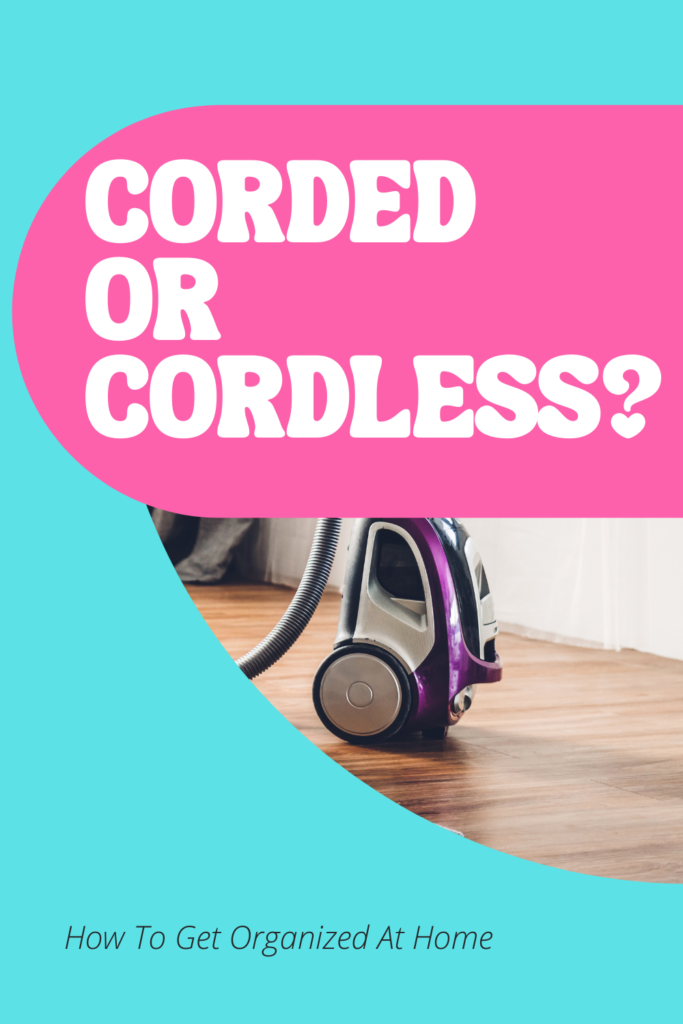 Let's Look At Some Corded Options
Let's start with some cheap options but they are still good vacuums and perform well.
The Swan Powerspeed Upright Corded Vacuum is an amazing budget friendly upright and the price is amazing, check out the current price here.
It has a 4 liter dust capacity dust collecting cylinder, a 400w motor and a 40w suction power and amazingly it has a 6 meter cord.
Related article: Are The Swan Cordless Vacuums Worth The Money?
The Swan Multiforce Pet bagless cylinder vacuum is a really good cylinder vacuum, my daughter has this model and it works really well but I'm not a fan of the cylinder vacuums as they hurt my back as you lean over the hoover to vacuum.
It has a 2 liter dust capacity collecting cylinder which is simple and easy to empty. It has a cyclone technology which I think is typical of a lot of vacuums currently on the market.
The Shark Liftaway corded vacuum is an amazing vacuum and I love mine very much. However, it is 5.6kg and whilst that might not seem like much if you have to carry it up to different levels in your home it will become heavy in no-time. The capacity of the dust collection is 0.83 liters according to the website but I'm sure this is wrong as mine holds a lot, the cord length is 8 meters.
Related Article: What's The Best Shark Vacuum Cleaner For Your Money?
Let's Now Consider Cordless Options
I want to share my favorite cordless vacuum and that's the Hoover H-Free 500 cordless pet vacuum.
The weight of this vacuum is a light 2.2kg and not in the turbo mode the battery life is 40 minutes and that is really good. When you put the turbo mode on it reduces the battery life quickly.
The downside is the size of the dust collection canister, it's tiny and it's something I need to empty more than once during my vacuuming.
But I consider this to be the only downside of this vacuum.
The Swan Powerplush cordless vacuum is an amazing vacuum for the money, check the price here, however you do need to keep on top of keeping the filters clean.
If the filters get dirty the performance of the vacuum goes down quickly. There is also a little flap that goes between the canister and the hose that sometimes gets blocked and stuck with dirt and debris, it is a pain to unblock but not impossible.
It's slightly heavier than the Hoover version coming in at 2.4kg and 22 minutes run time. However, the price is a lot cheaper than the branded Hoover vacuum.
Type Of Vacuum Cleaner
When it comes to vacuums they offer so many different adaptations that can and will have an impact on how you use them. For example, a cordless vacuum is easy to transform into a handheld vacuum and this is handy for tight spaces especially when there is no power cord getting in the way.
The corded variety have higher suction power because they run on mains electricity and not relying on lithium batteries to power the appliance and these will lose charge and reduce the strong suction power that you need to clean your home.
Related Article: Are Robot Vacuums Any Good And Are They Worth The Money?
Looking After Your Vacuum
As with all appliances you do need to keep them clean to work at their peak performance. So, look out for vacuums with washable filters, if you are going cordless think about options with multiple battery packs and even ensure that you have hepa filters fitted.
If you want any vacuum that you purchase to work long term you have to take the time to look after it too. That means following the recommended process for keeping the appliance clean and ensuring that it's working to its optimum level.
One of the areas of your vacuum that is always forgotten is the cleaner head until it's blocked. So, I always recomend checking these at least weekly to see if you need to detangle it.
What Are The Best Vacuums?
All of these things should be part of your list of wants for any vacuum, but you have to consider your home too.
If you have thick carpet in one room and the rest of your floors are hardwood then the choice of vacuum might be different than a person who has a home with lots of carpet.
You must look at the features that the vacuum offers and see if they meet your needs.
You might be limited to sockets in your home and need vacuums with long cables or going cordless.
If for example, you have a small apartment you aren't going to need a massive vacuum that takes up too much space, the Hoover H-Free 500 can be stored in a small cupboard as it can reduce down to just 69 cm in height.
Your budget will also have an impact on the vacuum you finally choose as this too will vary depending on the brand and the capabilities of the appliance that you choose.
There are good vacuums at the lower price point and that is important to remember you don't just have to have the most expensive vacuum to be the best vacuum for you.
Related Article:
An Important Consideration When Buying A Vacuum
You have to have a budget as to what you can afford when it comes to vacuum shopping.
There are vacuums that are cheap and there are some vacuums that cost an absolute fortune, finding one that you can comfortably afford is the most important factor you have to take into consideration when purchasing any appliance.
Let's Recap…
Getting the right vacuum for you is important, you want to make the right choice so that you can keep your floors clean and dirt free.
There isn't a perfect vacuum cleaner, there are always some areas that aren't going to tick all the boxes, but that's the way of life.
There are a lot of different types of vacuum cleaners and finding the right one for you is going to take some research if you are going to get it right.
We all have specific needs in our homes and how much we can afford to spend on a vacuum cleaner and that's OK.
For example, the most powerful vacuum cleaner on the market might be too heavy for you to carry safely upstairs and a smaller less powerful model is all you need.
I have multiple vacuums and I do use them for different tasks and they help me to keep my floors clean.
I don't think there is an ideal choice when it comes to picking a vacuum and looking at the different options available.
Working out what's important for you and your family at this current time is going to be my best advice as to if you go corded or cordless in the types of vacuums you pick.
I don't think there is a best option that will solve everyone's needs, it's important to look at what you want and need and work out your short list of the best cordless vacuums and the best corded vacuum cleaner and work with that list to pick the right vacuum for you and the needs of your home.