4 Reasons Why You Should Deep Clean Your Mattress
Do you regularly clean your mattress? If you are looking for a cleaner and healthier home then you must consider cleaning your mattress regularly, at least, every 6 months. How you clean your mattress will depend on the type of mattress that you have; read the manufactures instructions on the best way to care for your mattress, some you can't turn over and others you can't use any form of water based products to clean, so knowing what you can do makes the process easier.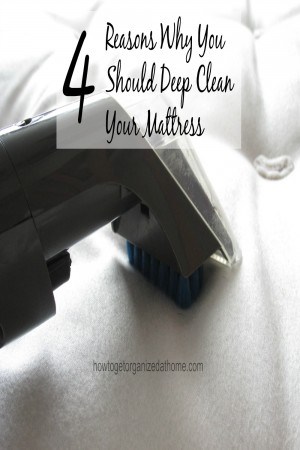 Affiliate links support How To Get Organized At Home
Why You Should Clean Your Mattress
When you sleep, you sweat, it is not something you can control, it happens and that moisture has to go somewhere, often into the mattress and a damp environment can and will increase the chances of fungi growing in and on your mattress.
When you lay in bed the dead skin from your body falls off and a nice little dust mite likes to eat these. If there is a good supply, they like to breed and develop a nice group. They can poop twice their body weight every day and all this happens in your bed and on your mattress.
A mattress is a breeding ground for bacteria, the dampness from the sweat and the dead skin cells are perfect for creating bacteria.
Bed bugs are not nice and if you suspect that you have these in your home then it is important to call in the professionals. They don't just live in the bed or stay in the bedroom so they are difficult to eradicate from your home without professional help.
Your Health And An Un-cleaned Mattress
These factors can all have a negative impact on your health; they can make you and your family ill. Being allergic to the dust mite and the poo that they leave in your bed is not nice; the bed you are sleeping in is making you worse.
All this can lead to asthma, eczema, headaches and sneezing and they all can improve by improving the cleanliness of your mattress.
How To Clean Your Mattress
Before you decide on how to clean your mattress you must read the manufacturer's instructions on how to clean. Here it will tell you if you can use water based cleaning products on your mattress.
If you are able to use a water based cleaner then it is important to make sure that the mattress is fully dry before you make the bed to ensure that you are not sleeping on a wet or damp mattress that can cause you health issues.
If you can use a water based cleaner you have a few choices, a steamer, this will kill bacteria and germs to get a clean and fresh smelling mattress.
You can use a carpet cleaner with an attachment to clean smaller items like mattress or chairs. If you are using this method ensure that you pull out as much of the moisture as you can, this should speed up the drying process.
Alternatively, there are companies that will come in and clean your mattress for you, but this is an added expense and one that you can avoid if you clean your mattress regularly, a vacuum and a deep clean, following manufacturer's instructions is adequate.
How To Spot Clean Stains
Most stains on a mattress are some form of body fluids and this means they are protein stains, so you need to look for solutions that are able to remove protein stains. One option is baking soda, salt and water, rub this into the stain and carefully remove and dry, again only use this method if the mattress is cleanable with water.
Baking soda on the mattress will absorb any bad smells that are on the mattress too, a sprinkle of baking soda and left to work for a time will freshen up the mattress between deep cleans.
Hydrogen peroxide and soap should remove the stain too.
Therefore, it is important to include a deep clean of your mattresses in your home on a regular basis, if you have pets sleeping on them you might need to deep clean them on a more regular basis, but you should aim for a minimum of once every six months between cleaning.
Related Article