Can you believe that it will soon be Christmas? In addition, if you are like me, there are loads of things that you would like to accomplish before the big event; you must start planning and implementing them now. This is why I plan tasks and I want to help you to plan too. If you want to know how to clean your kitchen before Christmas, without rushing and doing it all in one sitting, but spreading it out over different times according to your schedule, it is possible and it isn't as difficult as you might think, once you get going you will quickly see the positives and you might include these in your schedule on a more regular basis.
How To Clean Your Kitchen Before Christmas
What you don't want to do is to panic, there is time to clean your kitchen before Christmas and it isn't a mad rush. I like the slow and steady approach, it often means that I actually get more done, than if I rush and end up starting three tasks and getting none of them completed.
Three items that will help you clean your kitchen before Christmas:
Plan – you must decide what you want to get cleaned, if you have a list you are going to get those tasks completed rather than just staring around your kitchen, not sure what to do first. Write down all the areas that you want to clean and what you need to clean, number these in the order of priority that you should do the tasks. This helps to highlight the most important items and the areas that you really want to focus on and, at the end of the list, are the areas that you do want to tackle but not at the expense of those first items on the list.
Create time in your schedule where you can fit in short cleaning sessions; I dislike cleaning for more than half an hour at a time, I get bored and easily distracted, and this often means the task goes unfinished, or rushed and I miss the details. Therefore, I like to schedule cleaning time into my day but in half hour sessions. I don't have time for more than one extra cleaning session per week, so I schedule an extra half an hour a week to tackle the cleaning of my kitchen all before the big day.
Procrastination is a killer of even the best plans, if you let it into your life it will not stop until it has destroyed everything you want to do. I know this might sound over the top, but it is the truth; if you have something planned and you don't want to do it all, try doing just 5 minutes of the task and see if that helps to get you moving in the right direction. Procrastination is the biggest time killing and time-wasting activity that you can do, all it will achieve is frustration and anger towards yourself for not allowing completion of the task in hand.
What To Clean In Your Kitchen
What you need to clean in your kitchen will depend on the items that you have and the time you have available. This is why it is important to plan and to mark down the priorities; this makes it easier if you have to cross off items because of time constraints. You only have a set amount of time per day, you can't increase this, I know sometimes I would like to, but unfortunately, we are all constrained to the amount that we can physically do in any one day.
My list will contain these items, but your list is different and that doesn't matter, after all you are to clean your kitchen and not mine! You must ask yourself questions about your kitchen to work out what you need to clean.

Clean the oven, this I break down into three different sections and I know that each section won't take me the full half an hour to complete and that is OK I like finishing before my time limit, it makes me feel good! I have a great post on How To Get A Ceramic Hob Clean, it tells you how I clean my hob.
Deep clean the cupboards, this I will break down into about 4 different sections as I find this the most boring of tasks!
Clean the fridge, I like to add this in here, this is an area that can't be cleaned enough!
Clean the top of the fridge, this I hate because I have to use steps to reach and it annoys me the most, but it quickly becomes dusty.
Clean the light fitment, this gets dirty a lot, but that is because of the environment. Be careful when you clean light fitments, follow the manufacturer's guidelines on the best cleaning option. I wipe down the bulbs too, they can quickly get covered in dust and it reduces the light they can produce.
Deep clean the floor, I want to get down and scrub the floor, under the units too! This I know will take longer than half an hour, but it is my favourite cleaning task so I really don't mind this one.
Wipe down the walls; it will surprise you how much dirt and dust can accumulate on walls. Giving them a clean will make your kitchen feel even better!
I take this list and I break it down into my day planner, spreading these jobs out until the big day. I know that it works and it will work to clean your kitchen too. What you mustn't do is procrastinate, this will make the tasks harder than they need and you will need to fit the cleaning sessions closer together to ensure that your list is complete.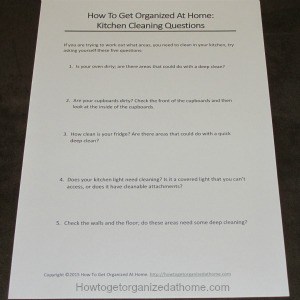 It is important to have the right cleaning products to get these tasks done fast and well a few of my favourite cleaning products are:
Therefore, it is important to consider the 3 main points, plan the tasks that you want to do, create the time to actually do the tasks and then ensure that procrastination doesn't take over and ruin any plan that you might have created. It is easy to think about the tasks, even plan the tasks but completion doesn't happen unless you follow the plan and commit to the actions you must take.
If you are looking for more articles on this topic then head over to the landing page where you will find links to other posts on cleaning.
What is on your kitchen-cleaning list?