If you want to get your home really clean before Christmas, now is the time to start planning! It is easier if you know what needs cleaning and when; you then don't spend time thinking about what you need to clean!
Having the information ready and at your fingertips is a great way to just take action when you have some spare time!
Don't be scared to have a short burst of cleaning, five minutes is better than none!
Clean Your Home Before Christmas
If you want to tackle your cleaning before Christmas, so you know that you have cleaned every surface and got rid of all those dust bunnies that are hiding around your house, you need a plan!
Make a list of all the areas you want to tackle. These are just some of the areas that you might want to tackle!
Behind the sofa
Under the bed
The kitchen cupboards
Light fittings
The junk drawer
Curtain rods
Tops of doors
Deep clean the tub
Polish the ornaments
Clean behind the toilet
Scrub the walls
Defrost the freezer
Clean the oven
Clean the windows
Knowing what needs doing is great, it gives you the chance to see what you need to do and then to plan this into your schedule.
If you are at home during the day, it is just as difficult if you work outside the home to fit in an extra task into an already busy schedule.
The answer is to plan but to plan small. You want to break this list down into tasks that really don't take long to do!
If you want to tackle your windows, who says you have to clean them all in one go? It is better to break this down into smaller chunks and say clean one window a day!
If you don't have enough time, cut the things that don't matter and focus on the areas that do!
Tips And Strategies To Help You Clean
Who has tried to do some cleaning and pulled everything out of their kitchen cupboards, sorting and cleaning all the cupboards, only to find that it is too big and you end up stuffing it all back and walking away?
I know I have, whilst I love cleaning, I don't like tasks to take hours! I get bored too easily!
It is better to concentrate on one area or one cupboard at a time! This way it doesn't get overwhelming!
Get Your Home Really Clean With Little And Often
The best advice I can give anyone for cleaning is little and often. It is the easiest way to keep your home clean and tidy.
However, if you struggle to find time to clean, it might be related more to the act of cleaning than the cleaning itself!
It is very easy to get bored with the concept of keeping our house clean, why should we, who cares?
The point is sometimes no one cares, but why you clean is because you and your family deserve to live in a clean home. You might just need to change-up your cleaning routine so it doesn't become such a chore!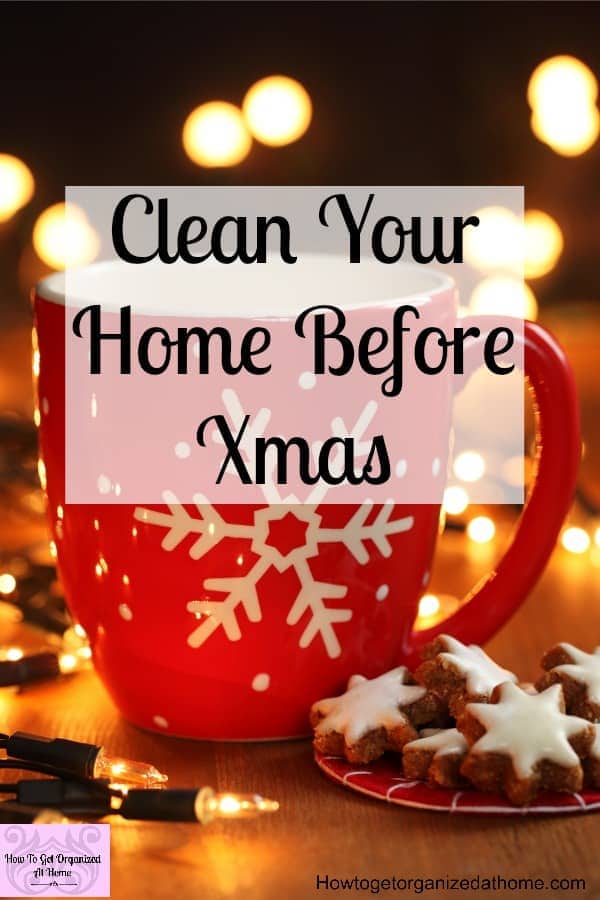 How To Clean Your Home
Make sure you have all the cleaning supplies that you need before starting a cleaning task. There is nothing worse than trying to tackle a cleaning project only to find that the cleaning product you were going to use has run out!
I always keep a spare, so I never run out of an item!
Plan your cleaning session too! If you are standing there thinking about what you should clean you are wasting time!
Keeping On Top Of The Cleaning
Once you have tackled an area, make sure that you pop back and check that area regularly, this way it will still be clean when you want to sit back and put your feet up!
If there are more than just you living in the home, try sharing out some of the cleaning chores! This is a great way to help you and to reduce the stress of keeping your house clean and tidy!
Creating Routines And Tools
Creating a routine that allows you to do tasks on auto-pilot, you don't have to think about the tasks as you know what you need to do!
You need to gather your cleaning tools and products:
Affiliate links are included for your convenience. (Which means if you make a purchase after clicking a link I will earn a small commission which won't cost you a penny more!) Click here to read my full disclosure and privacy policy.
Resources:
The vacuum you use is personal choice and price dependant too! I moved to a Shark from a Dyson and I love the Shark Vacuum so much better than my previous vacuum!
The cloths you use will affect your cleaning, I love microfiber cloths, they work so much better than old-fashioned dusters!
I try to use products that are less harmful and contain few chemicals, this is why I love white vinegar and bicarbonate of soda, they tackle a multitude of tasks!
I have a planner that you can use to help organize the coming year!
This makes cleaning and dealing with household chores so much easier than having to think what needs doing and then forgetting areas in your home!
The main one I forget is the laundry, I just can't seem to get a routine in place where I can remember the different areas associated with the laundry!
Creating routines to really tackle some of those areas you want to deep clean before the festive season begins, is a great idea to get ahead whilst it is still relatively normal at the moment!
Therefore, if you create your Christmas cleaning plan now when the festive season gets going, you will be ready to put your feet up and enjoy as all the hard work will be complete!
Do you need some cleaning supply ideas?