How To Get A Ceramic Hob Clean
If you are looking for a way to get a ceramic hob clean without using harsh chemicals it is possible, but it will take some hard work. It isn't a quick fix, but once you have it spotlessly clean it is easier to keep it that way if you keep on top of the marks and spills. I know there are products that claim to work with little to no effort and while this sounds great I have never found one that I like, I am always disappointed with the results. However, I am in a natural cleaning phase, I want to use products that aren't full of chemicals that I don't know what they do, let alone pronounce some of their names.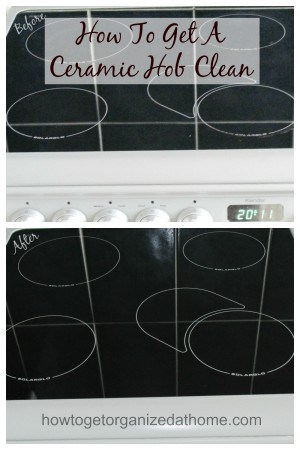 Affiliate links support How To Get Organized At Home
How To Get A Ceramic Hob Clean
Be aware, it will need elbow grease if you have some stubborn marks to remove but it is safe to use, no harsh chemicals or unpleasant smells and it is cheap.
What you need:
Bicarbonate of soda or baking soda, this is the same thing but has two different names.
A small amount of washing up liquid, literally just a drop.
Water to mix this into a paste.
Some cleaning gloves, it is a great idea to protect your hands when you do any sort of cleaning.
I apply this mixture to my hob and cover with damp cloth; this lets it do some of the work before I have to. I leave for about 30 minutes. Then the cleaning happens – you have to rub at the marks, the longer they have been there the longer it is going to take to come off. It might take a few repeats of this process until the ceramic hob is clean and mark free but it is so worth it.
You must rinse the paste off the surface and dry with a dry cloth, this buffs up the surface and allows it to shine. Don't forget to pay attention to the edge, sometimes this tries to hold on to the paste, I just gently go around the edge of the hob making sure that the paste hasn't got caught.
A clean hob that shines will make you feel good every time you go into the kitchen. It can even motivate you to tackle other cleaning projects because it looks so good.
Why Use Bicarbonate Of Soda To Clean
I dislike cleaning products that smell of chemicals and that are just plain nasty to breathe in. I don't know what they do to my health or the health of my family and for that reason I don't want to use them. Some of these products have the potential to harm the environment too, polluting the land, sea and sky with the release of chemicals. However, there is another reason; they are expensive and I just don't think they are worth the money. I don't want to break my budget on items that cost a fortune and in my opinion don't really work.
Yet bicarbonate of soda doesn't smell bad, I am not sure if it has a smell at all, and yet it cleans, and it cleans really well. I am really picky and if I like the shine and the performance then it has done a great job.
Taking care of your appliances is important, it can prolong the life of a product because you are looking after it and ensuring that it is working. If you allow food to burn then every time you turn the hob on you are burning this substance and this can lead to bad smells and a more difficult time when you do get round to cleaning. However, if you leave these food particles on the hob for any length of time, you might be invalidating your appliance if it was to go wrong.
Therefore, to get a ceramic hob clean, there are some things you need to consider, a cleaning product that can remove burnt on marks and bring your ceramic hob to a shine and it is cheap, then you need to consider using bicarbonate of soda as your go to ceramic hob cleaner.