If you want to make your own Christmas wreaths don't be scared to, there are loads of ideas and inspiration to help you create the perfect wreath for your front door!
These are great to do with your family, get the kids involved, it is all about making memories as a family together!
Don't be scared to let your imagination change the way you see the classic Christmas wreath!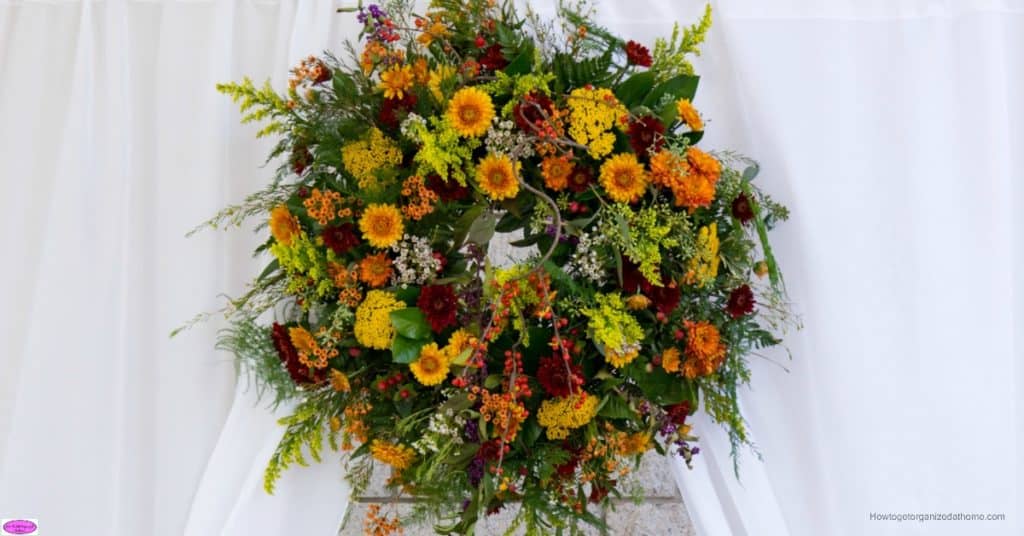 Affiliate links support How To Get Organized At Home
Looking For Inspiration For Christmas Wreath Making
If you are looking to make your own Christmas wreath, you can put your own twist to the standard and classic idea and concept of a Christmas wreath!
Here are some examples of different home-made wreaths; what is important is to see the variety and the differences there are in this simple idea of a Christmas wreath!
Gourmet homemade Christmas wreath: This looks like the traditional image I have of a Christmas wreath! It looks so easy to make too! There is nothing wrong with the classical style of wreaths, they look great and everyone will love them!
Christmas baubles wreath: This wreath is so pretty and beautiful too, a stunning decoration in its own right! I love how simple this wreath is, and yet I feel it is the most beautiful wreath I think I have ever seen!
Personalize your wreath: A great idea is to add something that means something to you or your family. Adding a letter or initials to a wreath is a great idea! This will make a great gift idea, especially if it is something that will last!
Toilet roll wreaths: You might think this sounds a bit odd, but wait till you see how beautiful these actually look! You will need a lot of toilet rolls and plenty of time to make this one, but it will be so worth it!
Not Up to Making Your Own?
Don't worry, I have you covered if you are not up to making your own Christmas wreath!
I found wreaths that you can buy and some of these are just amazing!
The most important thing is don't be afraid of your Christmas wreath, go with what you like but make sure that it is within your budget and the delivery time is suitable to meet your needs!
Non-traditional Christmas wreath: If you are looking for something festive, but not a traditional looking wreath then this is a great option!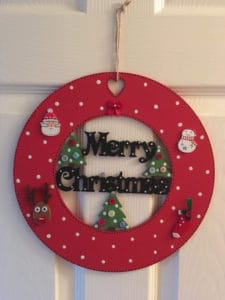 Traditional style: The traditional shape of a Christmas wreath, but this one's made from a tartan material, I think it looks awesome! If you prefer something different but still classically shaped this will certainly catch your eye!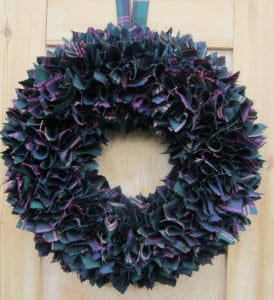 Different styled wreath: This wreath is awesome, it is fun with bright colours and has a very modern feel to the whole style of a wreath! The modern brightly coloured wreaths are wonderful, it takes wreath making to a whole new level, one that is exciting and colourful!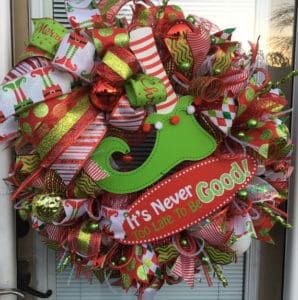 Light up wreath: This traditional looking Christmas wreath has lights. You must check how the light works, this one's battery operated!  These lighted wreaths are great for creating a sense of warmth at your front door!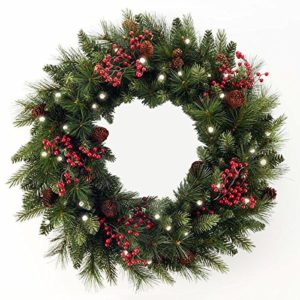 Hanging Large Christmas Wreaths
If you're worried about how to hang your wreath on your door, don't be!
There are lots of options that allow you to hang objects on your door without damaging the door.
A large suction cup is ideal if you have glass on your front door! They don't work so well on wooden doors, well not in my experience!
Another option is to place a command hook upside down on the inside of your door at the top this allows you to hook something on the outside of your door. By using a command hook it means that it is not permanent and will easily come off!
Fresh Christmas Wreaths
If you intend to have a fresh wreath, these are better to either be made at home or purchased from a local shop. This ensures the freshness of the wreath and hopefully ensures that it lasts a reasonable length of time.
Always check the freshness of one before making any purchase, you want to make sure that it is worth the money to buy!
Make sure you have this expense marked in your budget ready before you buy!
What is your best tip when it comes to making your own Christmas wreath? Comment below!
Therefore, it is important not to be afraid to make your own Christmas wreath, one that gives you a sense of pride but also has a touch of your own personality in it too!
Remember to consider your budget and what you can actually afford, don't spend more money than what your budget states. It will make it easier to follow your budget if you keep within your set limits!
Looking for more articles on the holidays? Finding The Best Holiday Tree For Your Budget is a great place to start!