What Are The Best Types Of Kitchen Flooring?
Are you struggling to work out what type of kitchen flooring to go for? Do you find the different types of kitchen flooring confusing?
I hear you; I've been having that problem too.
Are you frustrated because you can't make a decision as to the type of flooring you are going to install? There are so many different types of kitchen flooring that it becomes overwhelming as to what to go for.
When it comes to a kitchen floor, I think I've tried most of them over the years but making the decision now is the hardest yet.
This article is sponsored by Flooring365, but the opinions are 100% my own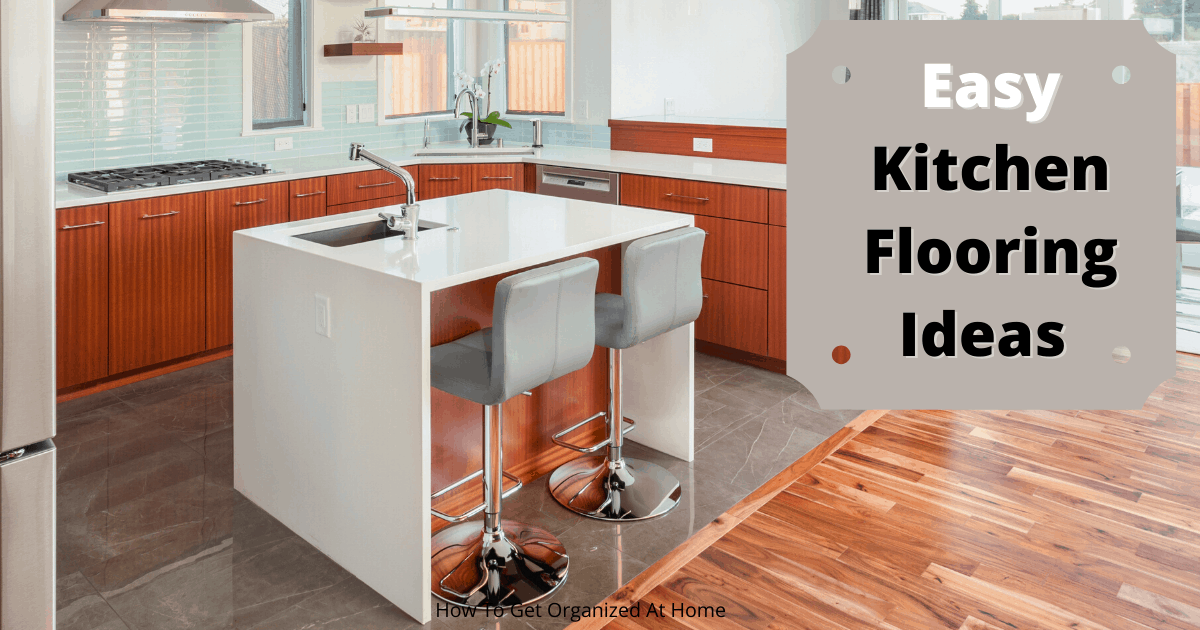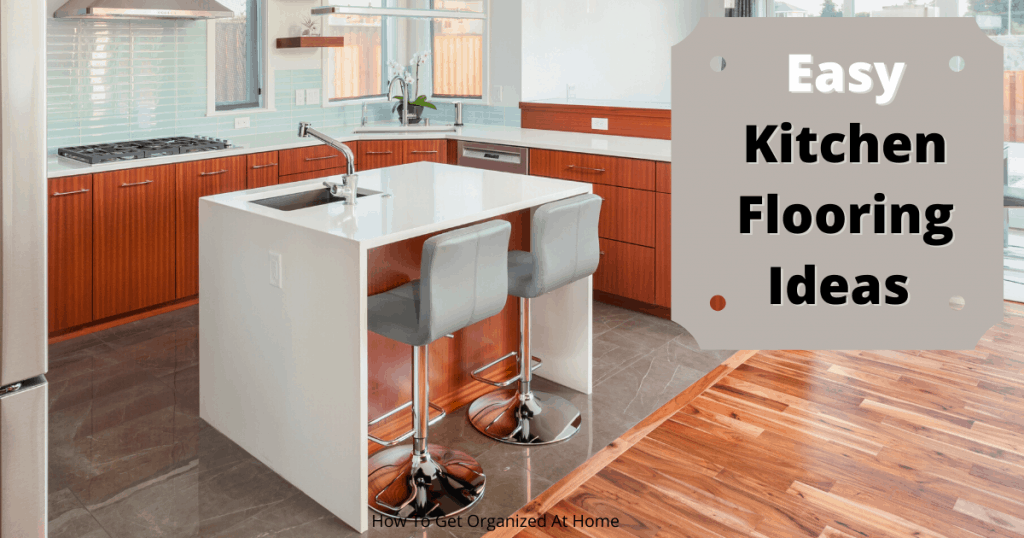 Related Articles:
Types Of Kitchen Flooring To Consider
There are so many different flooring options you can try that it becomes overwhelming and difficult to actually make a decision.
Affiliate links are included for your convenience. (This means if you make a purchase after clicking a link I will earn a small commission which won't cost you a penny more!) Click here to read my full disclosure and privacy policy.
Your options are:
Engineered wood
Laminate flooring
Tile
Vinyl
Concrete
But What Kitchen Flooring Type Is Right For You?
What sort of flooring is best for your kitchen to make it useable and something you are proud of.
There are so many different types of kitchen flooring that it can sometimes become overwhelming at what option is going to be right for you as well as being good for your budget too.
Here are some great options that you should consider before purchasing your new flooring:
Looks amazing but with the high moisture content in a kitchen and the fact that you aren't supposed to mop or even steam mop a solid wood floor how are you going to keep it clean?
A kitchen is a dirty place, food gets dropped and people walk on the floor yet cleaning the floor shouldn't involve a lot of water as this can lead to damage of the wood.
There are some great ways to clean a wooden floor the best cleaning solution is Bona it's a cleaning product especially designed for solid wood floors.
You can even get a Bona spray mop with a mircofiber head to keep your floor clean.
Laminate Flooring:
This type of flooring is a sealed surface and therefore is better at coping with water meaning you should be able to wash this flooring, but check with the manufacturer before using a mop and bucket or a steamer on the flooring.
We had laminate flooring in the kitchen and a radiator burst and it ruined the floor.
Engineered Wood Flooring:
This is a manufactured floor with a real wood top layer as it better at handling mositure than it's solid wood counterpart and is suitable for a kitchen, however I would check with the manufacturer if it's suitable to use a steamer or a wet mop on the floor before purchasing this option.
I think this is an option that I'm looking at in more detail as I want something that is going to look amazing and is able to deal with some mositure.
I think I would use the Bona spray mop on this floor too.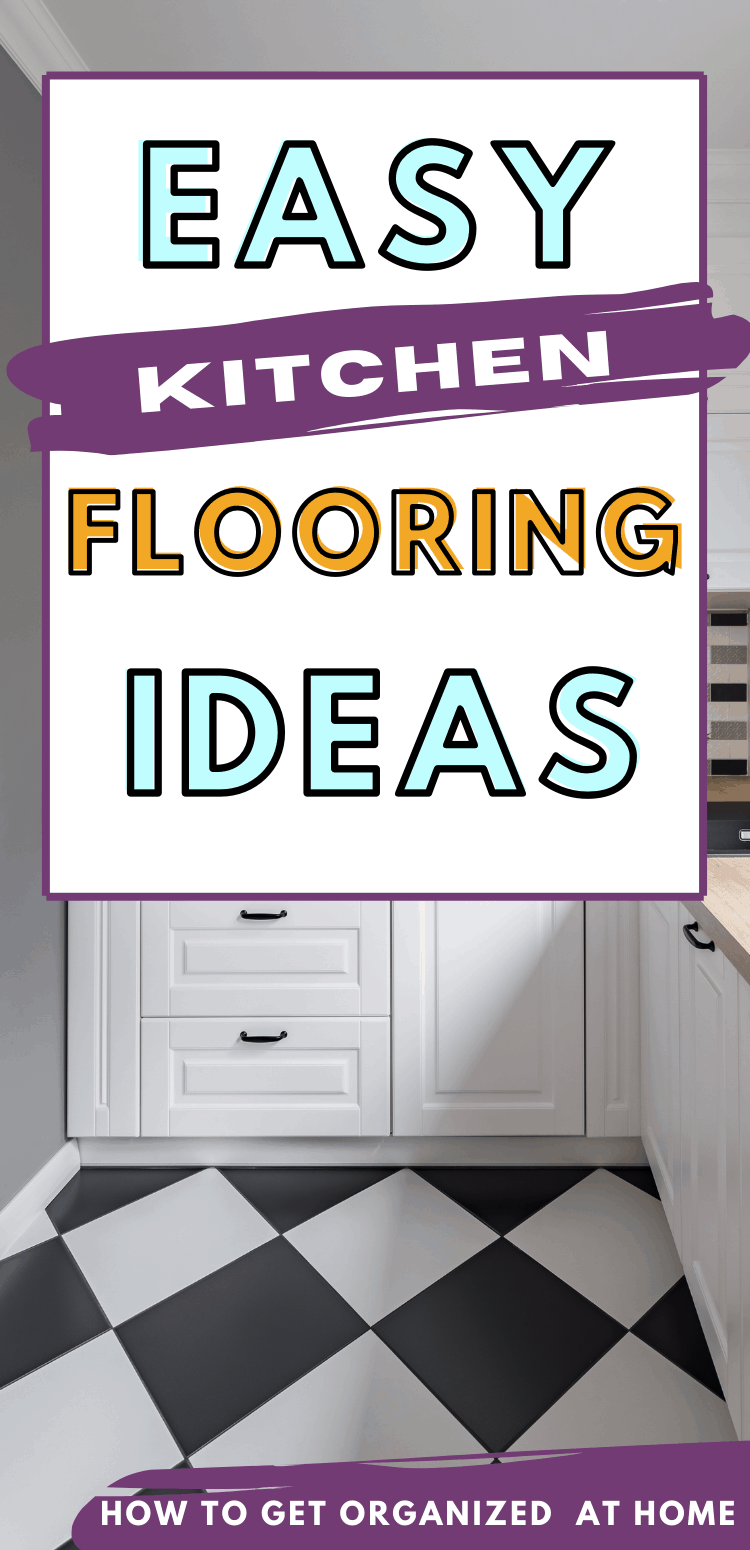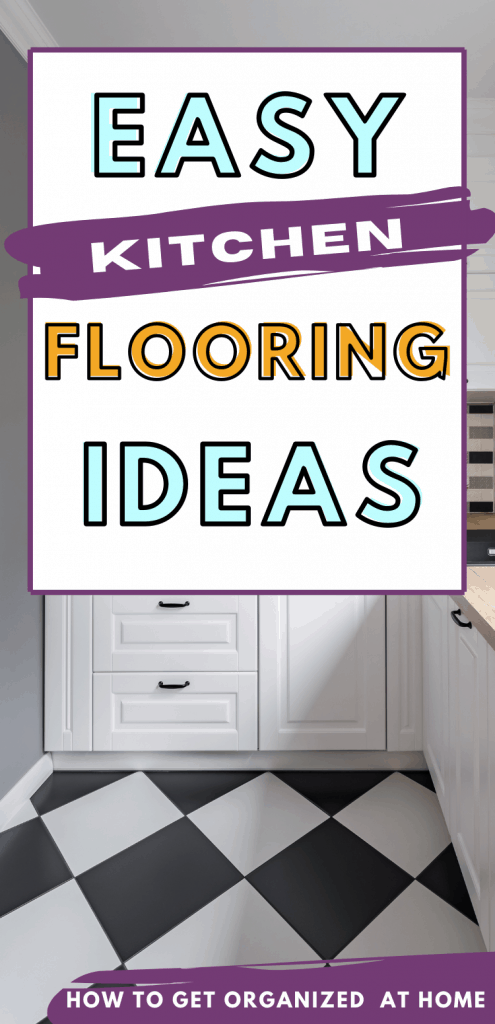 Vinyl flooring:
I know that there has been some improvements over the years on this type of flooring. I know it's waterproof and is easily cleaned using mop or steamer.
However, in the kitchen there are some appliances that I like to move, my oven, washing machine and fridge-freezer are all movable and having dogs I need to move them regularly.
This is where I'm cautious with vinyl flooring, I worry that it's going to rip. I've even looked at putting these items on wheels to make this process easier, but they lift the machines too high for the counter tops.
But it is easy to keep clean either with a mop and bucket or a steam mop.
Tiled flooring:
We have had tile flooring and I loved it until we had a leak behind the washing machine and it was dripping directly onto the grout and managed to get through that and went under the floor.
We really haven't had much luck with flooring in the kitchen.
It's very time consuming to install and even worse when you have to rip it up!
Concrete flooring:
Our floor in the kitchen is concrete that has been sealed so it's not dusty which was good news when we had to dry out the flooring after ripping up the tiles.
But we couldn't decide on what to put down so we painted the concrete with a cheap floor paint until we could make a decision.
We didn't put an epoxy resin coat on top and it's now starting to wear badly and even flaking in some spots.
Where I love the colour when it was first done I'm over it now and I want a proper kitchen floor!
To do a painted concrete floor you need time to do the painting and letting it dry and also putting the sealing epoxy coating on the top to stop the paint from wearing out.
It can look pretty and it's practical but you do need to think about the time it will take to dry and the amounts of coats and the epoxy resin sealer you need to do, it's not a quick project.
But can be less expensive than some of the other options.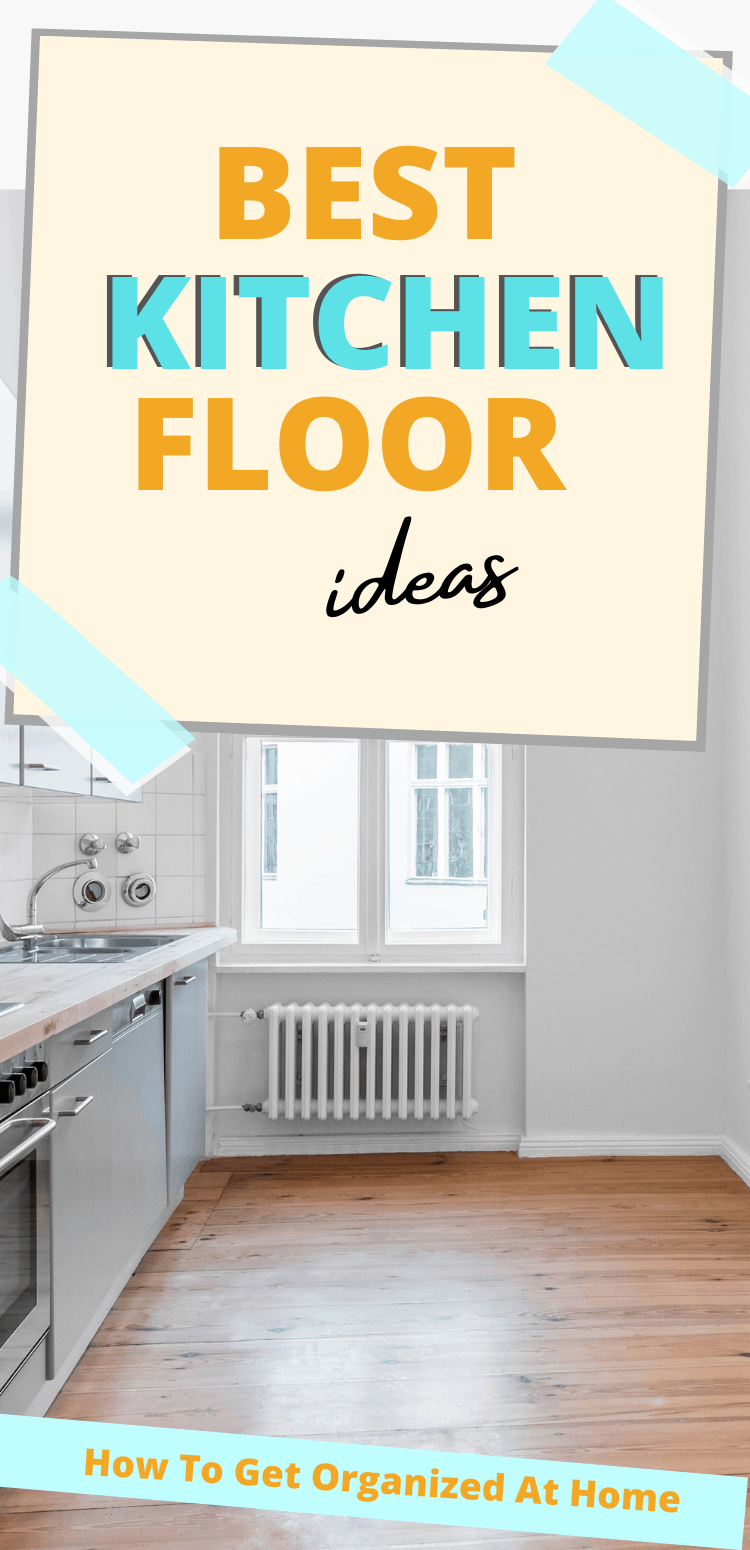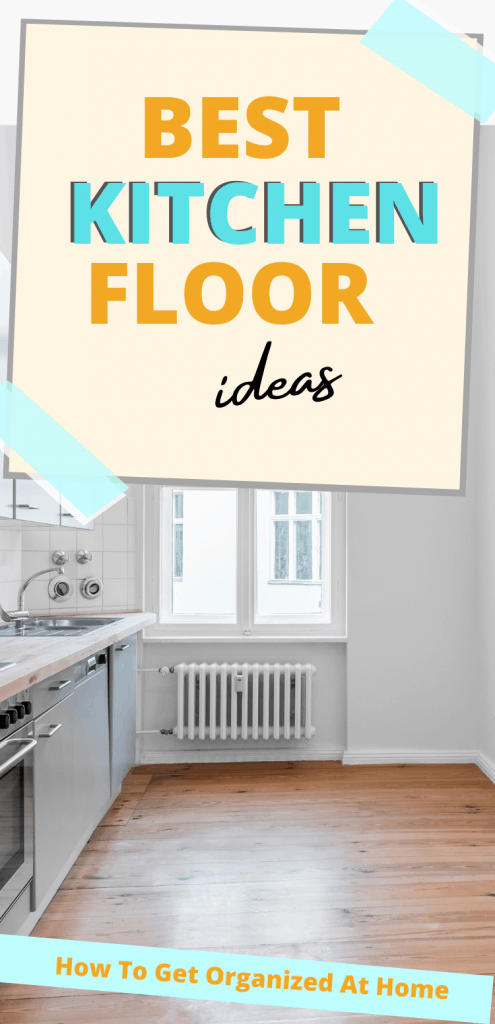 What Is The Best Type Of Flooring For A Kitchen?
Some questions You Need To Think About:
How much is your budget?
How long will it last?
Are you installing or are you paying for it to be installed?
What can you use on this flooring for cleaning?
What Is Your Kitchen Floor Budget?
When it comes to choosing a new floor for your kitchen the most important question is budget.
How much can you afford to spend? This must be something you work out first, how much money have you got to spend on new flooring.
It is possible to do your kitchen floor on a budget if you are prepared to do some or all the work to install the flooring yourself.
I know there are often credit options that you can choose but remember you will be paying more long term because unless it's interest free credit you will have to pay some form of interest.
How Long Will The Flooring Last?
If you are paying a lot of money for flooring, you want it to last.
Some flooring will last longer than others and knowing the rough age it will last is a good indicator of the quality of the product.
A solid wood floor can add value to your home but if you don't look after it the chances of it losing value if it's in poor condition is high.
Who's Installing The Flooring
Installing the flooring is important, you are spending money, so you want to do it right. If you are good at DIY, then it might be something you consider doing but remember the time commitment that you have to put into the project.
If you are getting someone else to install the flooring check that they actually know what they are doing to ensure that it's done correctly.
You might want to get a few quotes from different people and check with previous clients as to the quality of their work.
How To Care For Your Flooring
Cleaning your kitchen floor is key to keeping it germ free. Understanding the right way to keep your new floor clean and what you can use is so important to learn before you purchase.
Finding out if you can use a mop or a steamer on your floor will tell you a lot about the cleaning options you have.
Is it going to be difficult to keep clean? What maintenance program will you need that you need to follow and is it time consuming?
Is there anything that you need to avoid preventing damage?
Let's Recap…
These are all valid points that you need to think about in order to make the right decision for your new kitchen flooring.
Think about how much you can afford to spend.
Consider the different floor types and how they might work for you.
Work out who is installing the flooring.
Learn how to clean and look after your new flooring.
Enjoy it!