A home binder is an important tool that you can develop to meet your needs and the needs of your family. You can choose to use them and to develop and improve them as the years go by to meet your changing needs, or you can use them as a yearly record and keep everything you need for that year in the one binder, the choice is yours. What you must do is to make this file work and to use it regularly to keep your family organized and have important information to hand.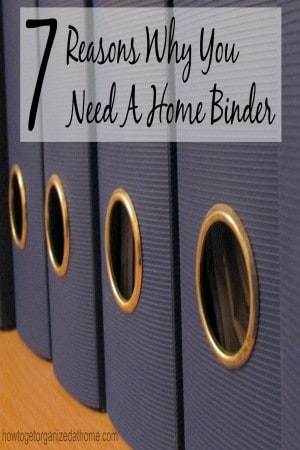 7 Reasons To Have A Home Binder
It is a way to have a command centre that's contained and everyone knows where to go to get the information. If you have everything in one place then it is easier to find and it makes running multiple calendars and tasks obsolete, because you know exactly where to find the information.
Setting it up and what you have inside is personal to you and your family; you don't need to have every single section that you can possibly imagine. However, all the information that you need will be at hand, you won't be running around trying to find a phone number or trying to work out if it there is a birthday coming up, you will know as it will all be in the home binder.
Keeping your meal planner contained and in the same place means, other family members can start to prep a meal if you are running late, because they will know where to look to check for the meal plan. This is a great way in working together as a family and this helps to spread those jobs around which all family members need to help with.
Having a section for phone numbers is crucial. Knowing that you have the number for the doctors or a plumber in case of an emergency is important. Yes, you might be able to have them on your phone, but what if you are not home and someone else needs help, having the numbers in a place where they are all together is important and can save time.
If you have a multiple list for different tasks and events, you don't want them cluttering up the different areas of your home. Do you want to see the front of your refrigerator? You don't have to keep the menu for the week, the schedule and your chore list on your fridge or cluttering another surface, keeping them together in a home binder is containing the important clutter and keeping it together and safe.
It is not a new idea, home binders have been around for a number of years, but they help a family stay organized. There is nothing worse than not knowing what is happening when you are dealing with family and different events and responsibilities they have. Having all this information together allows a family to work together and this makes a more organized family.
You will notice the benefit almost immediately; you won't miss appointments or forget something important if you work at keeping your home binder up to date.
Therefore, if you are in two minds about creating a home binder then it is important to think about the time you will save and how much more organized your life will be, start small and expand as you become more confident with developing a home binder that meets your needs.
If you are looking for more articles on this topic head over to the landing page where you will find links to other posts on organizing.