The Best Detail Cleaning Tips
While it is important that you are able to keep on top of your cleaning by ensuring the basics of your cleaning get done, but it is also important that you don't forget the detail cleaning that you need to do, to ensure that it doesn't get forgotten about too. It is important that you schedule in these deep cleaning sessions in the different areas of your home, to ensure they are as clean as possible.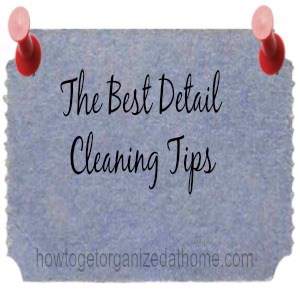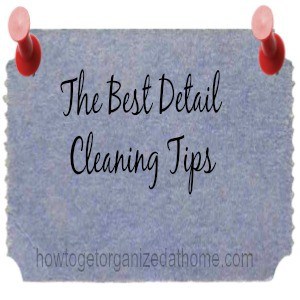 Detail Cleaning In The Kitchen
The kitchen is just one of the main areas where you must pay special attention to, if you are looking to keep your family as healthy as possible. You don't have to go around crazy on one day doing all those little jobs, spread them out and break them down into manageable chunks. Focusing on a small area means that you can take your time and fit in a deep kitchen detail cleaning session into your weekly schedule.
Cleaning The Bathroom
Some areas that you need to concentrate on in your bathroom, if you want to tackle the germs and keep your bathroom germ free and your family healthy. It is easy to schedule one or two deep clean tasks per day and allow you to have the clean home with minimal effort.
It is after all one of the few areas in your home that you are open to allowing your guests time to sit and just look around. Rest assured they will look and could pass judgement as to the cleanliness of your bathroom.
It is important to keep your bathroom clean and if you do have a bug going round your family, ensure you pay particular attention to the areas around your toilet, your sink and the towels that you are using. Sometimes it is a good idea, if you have a person who is feeling unwell, that they are able to have their own towel and not spread any potential germs to the rest of the family.
The Living Room or Family Room
This room, you spend the most of your time and while keeping on top of the basics is important, it is often the easiest room to overlook and yet the easiest to keep on top of with detail cleaning. There are some great checklists, which you can use to ensure you are tackling all the jobs around your home. There is nothing more satisfying than ticking off a job from your to do checklist that you have completed.
It is relatively simple to put a list together yourself and this allows you to include the jobs you need done, they don't always match another person's needs. For instance I vacuum at least once a day, I have dogs and they drop a lot of hair and some lists suggest once a week is adequate, for me my carpet which is a very light brown, would be black with black dog hair.
Windows and Doors
I hate seeing dirty windows but I hate cleaning them or even paying someone to clean them. Therefore, I have to tackle them in small batches, the ones out the front do get cleaned more than the back ones, but the dust and dirt from the road sticks to these quite easily.
Finding a window cleaner, which works is just as difficult; the shop bought ones are full of chemicals; finding a basic window-cleaning recipe that works is great and one that is kind to the environment and to you and your family is important.
Therefore, it is important not to forget the detail cleaning that you will need to do regularly around your home to ensure the deep down dirt isn't forgotten.