8 Tips For Better Window Cleaning
Window cleaning is a job I hate, I don't know if it is because I am short and have to use a step-ladder to clean them but I just know it is not my favourite cleaning job. Yet I hate to see dirty windows, they just bug me and make me annoyed. I am sure the local birds just know when I have cleaned and just make it their mission to use my windows to display their poop art!
I refuse to get a window cleaner because I dislike spending money so I won't account for it in my budget at all. Therefore, I have to either clean them myself or persuade my other half to clean them for me.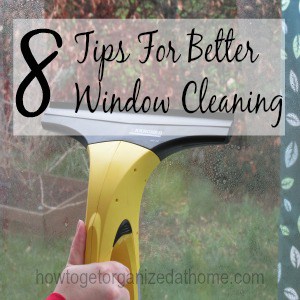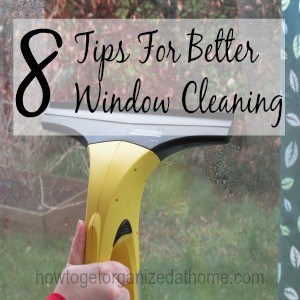 My 8 Tips For Better Window Cleaning
Clean them often, I am not one for window cleaning them every month, minimum I would say would once every couple of months unless it is a bad winter and they get cleaned less when it is cold and wet. But it does follow the more you clean them the less of a task it becomes when you do the job, they are not so dirty and difficult to clean.
Find a window cleaning product that you like, personally I just like warm soapy water, it gets the dirt and grime off and I am happy. It is not a chemical that I have to spray on and it doesn't mean any extra expense so I am perfectly happy with the warm soapy water.
How you remove the water is up to you again, some people use a cloth, others use newspaper; it's supposed to add a shine to the window. I prefer to use a squeegee blade that just wipes away the dirty water. I find that a cloth gets wet too quickly and can then start to smear rather than dry.
Forget old wives tales; if you like them, fine. If you can't be bothered then don't worry, you probably aren't missing anything vital. For me adding a touch of vinegar to the water makes my hands smell, I have never noticed an improvement in the shine on the windows that makes the bad smell of the vinegar worthwhile. The use of newspaper to clean them, again I found that my hands get covered in newspaper print and I didn't notice a difference.
One important thing you must remember when you're window cleaning is not to do it in direct sunlight, it can dry the water on the window too quickly and this will make it difficult to get them looking streak free.
Don't remove the spiders from the corners of your windows, use them to your advantage as a way to keep flies under control in the summer months.
Clean windows can save you energy; you won't need to turn on the lights so early if your windows are clean. Some of the modern glass can also keep your rooms cooler in the summer and warmer in the winter by reflecting the heat.
Don't stress about getting them streak free, this is not an easy feat and just having them clean is all you should really worry about.
These are great tips to help keep your windows clean, but what works the best is to keep up with the task regularly, they aren't so difficult to clean if you don't allow the dirt to build up too much.