How To Get Organized For Halloween
Are you ready for Halloween, or are you struggling to try to work out what you still need to do? How to get organized for Halloween doesn't have to be hard.
You need to create a plan as this will guide you through the process of getting everything ready before Halloween.
If you need more tips on any other home organization or cleaning, please check out my main page at How To Get Organized At Home.
You will need to create a list of all the tasks that you need to complete before Halloween and let's get them done.
Halloween doesn't need to be left to the last minute, the more you can get done before the main day the less stress you will feel.
Affiliate links are included for your convenience. (This means if you make a purchase after clicking a link I will earn a small commission which won't cost you a penny more!) Click here to read my full disclosure and privacy policy.
Why Get Organized For Halloween
Let's take the time to plan and have everything ready because we are going to spread the tasks out over a few weeks making it easier to manage than doing everything the night before.
Often, we put so much onto our plates that it is impossible to get it all done, the more you plan and organize these events the less stressful they become.
What's The Best Way To Get Organized?
Starting with a list is key to any organization plan, write down everything you want to get done for the event.
You then need to break down each item so it's just one task.
Sometimes we make lists that are more than one task and this can make the plans look simple but we have missed loads of steps we need to take.
Breaking Down Your Halloween To-Do List
If for example, your list was:
Buy costumes
Put up Halloween decorations
Buy all the food for the party
In reality, there is so much more to the list and it really isn't just three things you need to do. Your list should look more like this:
Work out what costumes everyone is wearing
What items do we need to buy for the costumes
Go shopping for the items we need to buy for the costumes
Find the Halloween decorations
Work out what decorations are going up and where
Decide if you need anything new for the decorating
Buy the decorations
Put up the decorations
Plan the food for the party
What food do we have and what do we need to buy?
Make a list for Halloween party food
Go shopping for the Halloween food
Breaking your list down will give you more of a sense of accomplishment as you complete each item and a detailed list of what you need to do making the holiday a lot less stressful and more enjoyable.
You now need to put these items into your daily planner so you have time to start tackling the activities and getting things ready.
How Do You Organize Halloween Costumes?
This is difficult because of the nature of Halloween costumes they tend to be difficult to keep organized.
It's better if you can keep them in individual costumes rather than bunching a few together. This helps to keep track of what goes with what costume. If you have a few different costumes it's a good idea to label who is wearing what.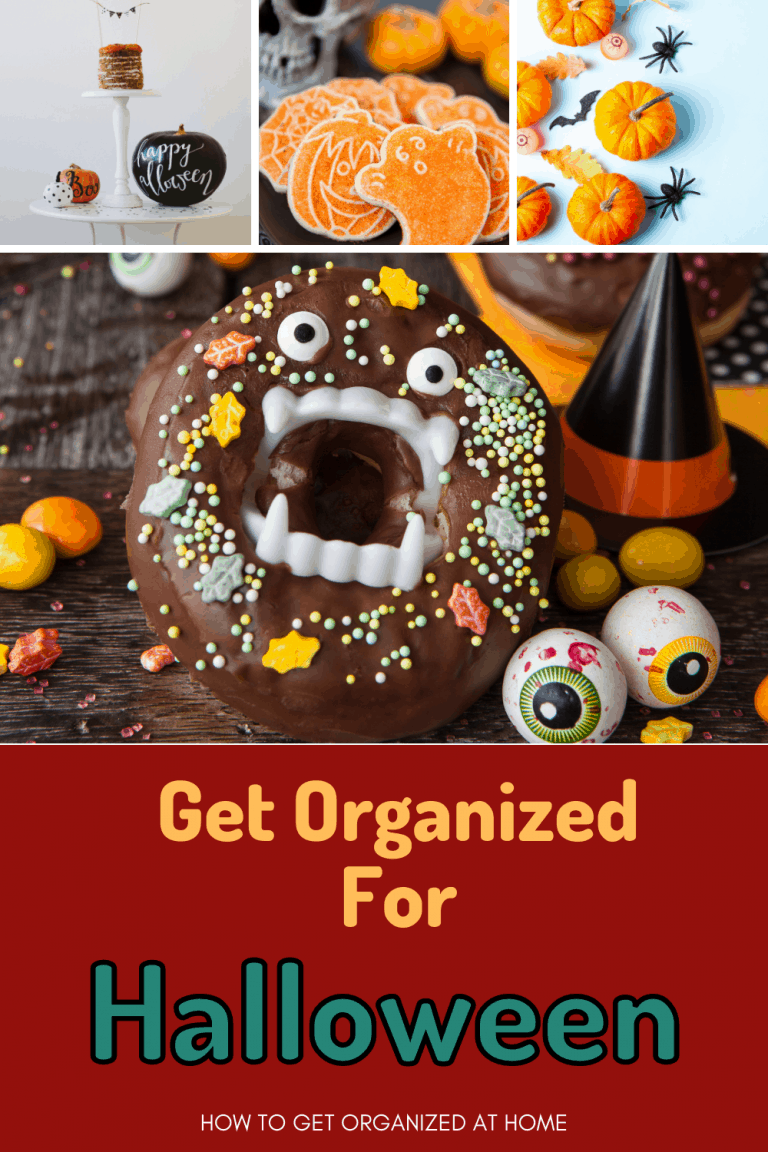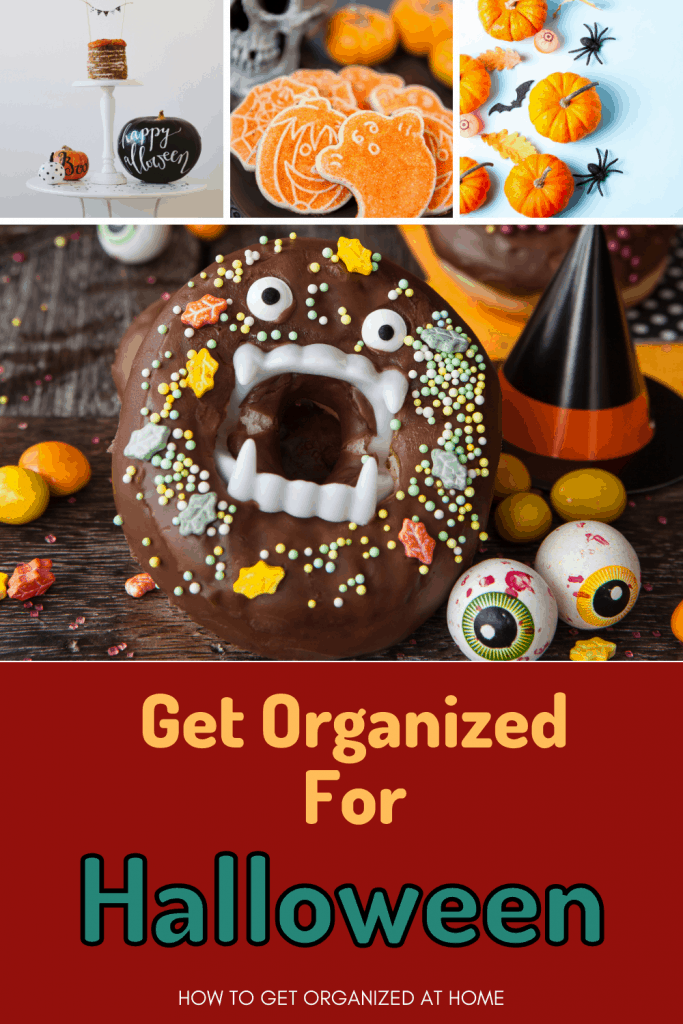 If you are making Halloween costumes, give yourself plenty of time to actually make the costume, it can be surprising how much you have to do. You don't want to rush it and spoil it either.
Related article: How To Find The Perfect Halloween Costume
Halloween Decorations
If you are looking for Halloween decorations to inspire you then you need to think about what you want them to say.
There are so many different types of Halloween decorations from something fun to just a classic look.
Tips For Storing Halloween Decorations
If you are looking to store decorations between years it's a good idea to do this properly to prevent accidents and damage happening.
The simplest way to do this is to buy proper storage containers for your decorations and ensure they are clean and dry before putting them away for the season.
Related article: How To Store Your Halloween Decorations
Food For Halloween Parties
If you have some reluctant cooks, Halloween is the perfect time to get them in the kitchen and make some amazing Halloween food.
The great thing about Halloween food is that it's supposed to look bad, so anyone who doesn't have great presentation skills this time of the year is perfect.
If it looks gross, then it is sure to be a hit with all your guests!
Check your budget to make sure you spend only what you can afford.
Getting Ready For Trick Or Treaters
If you are welcoming trick-or-treaters at your door, it is important that you are ready.
You can tackle this in a number of ways, the traditional bowl of sweets is still a great way to enjoy the festivities without doing too much.
Creating little party bags is becoming a popular option for each child who knocks at your door.
You can choose to fill these with sweets or even a toy but this is difficult unless you know the ages of the children visiting.
Halloween Warning
If you are celebrating Halloween the key to the success of the holiday is a plan.
Planning is the only way that you can ensure that all the tasks happen on time and you are not left rushing around at the last minute trying to pull costumes together or even a few Halloween treats for your friends and family.
There is nothing worse than remembering a few hours before trick-or-treaters arrive on your doorstep that you have nothing prepared.