How To Find The Perfect Halloween Costume
With Halloween just around the corner, it is time to start thinking about what you are going to wear and what you can afford to buy. Sometimes it might be cheaper to make something yourself or get your kids involved to help.
It is important to look at the costs before jumping straight in for the DIY costume, as sometimes this can work out more expensive; check the prices of all the items you need before purchasing to make sure that it is the cheaper option. How to get organized for Halloween doesn't have to be difficult.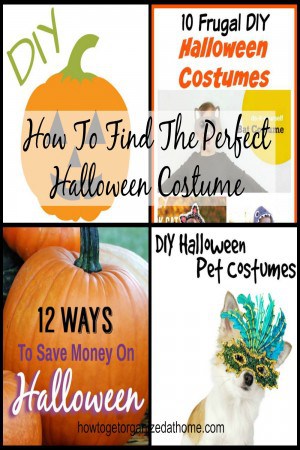 Affiliate links are included for your convenience. (This means if you make a purchase after clicking a link I will earn a small commission which won't cost you a penny more!) Click here to read my full disclosure and privacy policy.
The Perfect Halloween Costume
If you are looking for something different, there are some ideas that people have come up with to scare people when they are trick or treating.
Don't think that home-made is letting your kids down, some of these are fabulous and worthy of any trick-or-treating night out!
If you have a fussy child who just can't make up their mind, here are 50 designs that they can look through and find their favorite option. With that many to choose from they might need to change their minds one or two times!
What you can't forget is your pet, there are costumes and designs that you will just want to put your favorite pet into so they feel part of the fun of Halloween.
For all those teachers among us who like to dress up for special occasions, there are superb ideas that every teacher will find just perfect for their classes.
I just love looking at other people's designs; they can give you so much inspiration to create something special and unique to you.
With the minions craze still going strong there is nothing wrong with a bit of minion dress-up for Halloween.
Don't forget the decorations! There are some awesome ideas here that will get any party going!
The party food for Halloween is something special. It is a time of the year when anything edible looks so gross! I do wonder where some of the ideas come from, but anything with eyes I just love!
Don't worry there are some healthy food options that you can make to look quite gross! They look just as cool and won't send your kids hyperactive with too much sugar.
Don't neglect your budget, there are some great ideas that will help you stay on budget this Halloween.
Halloween is a time of lots of fun and the beginning of the holiday season; your budget might take a hit too. Be prepared and ready for the expense and this will help to lighten the bill, giving you peace of mind to enjoy the fun, too.
Therefore, the sooner you start looking for your Halloween costume to suit the budget you have available, the sooner you will be able to start making progress to a less stressful holiday season.