How To Store Your Halloween Decorations
When it comes to holidays how do you store your Halloween decorations?
It's stressful at this time of year, first, you have to work out how to get organized for Halloween and before you know it you are having to put these decorations away and start thinking about the next holiday season.
But don't panic you can take your time getting the decorations ready to be packed away for next year.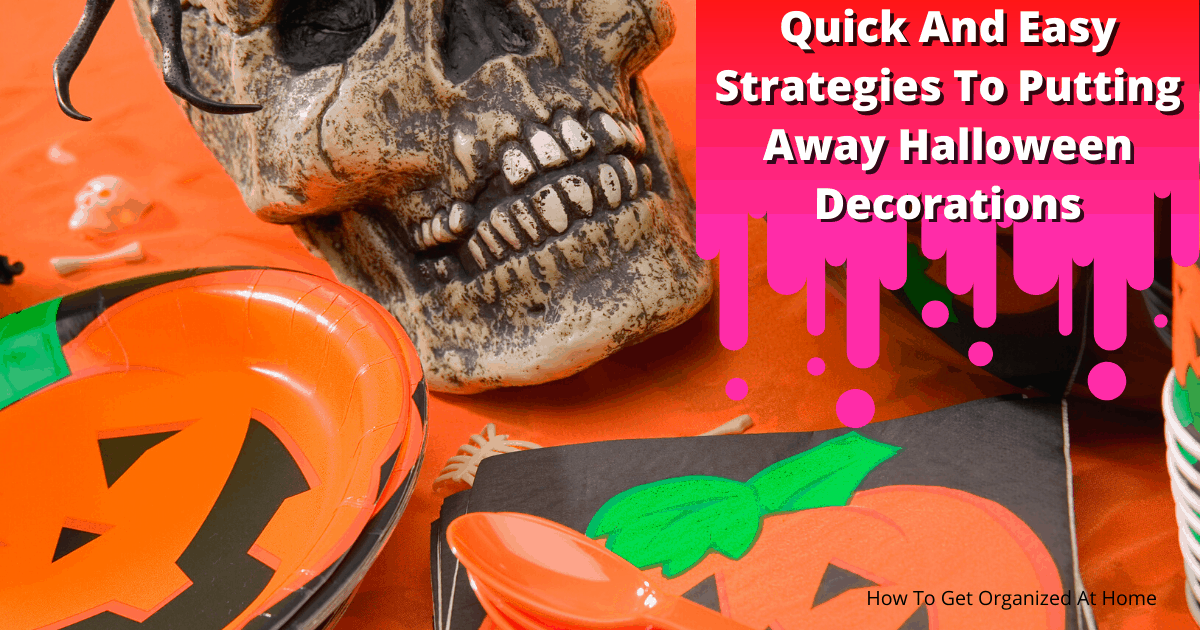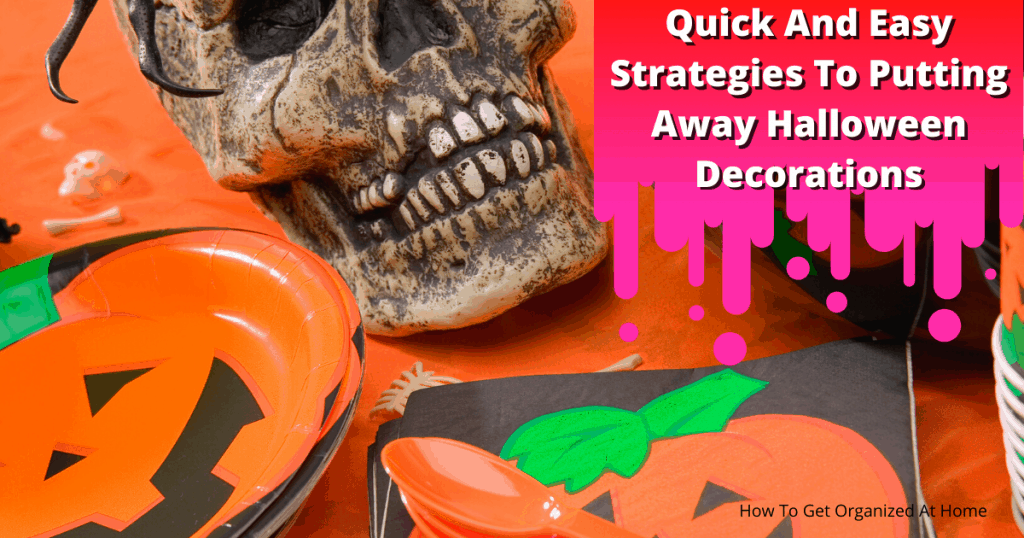 It's more about planning and following the plan than trying to do everything at once.
How To Store Halloween Decorations
With Halloween comes a lot of different shapes and sized decorations. There are so many different ideas and ways to decorate your home that it becomes impossible for one storage-fits-all.
So, before pulling everything down and having a heap of Halloween decor to sort try and do a few at a time to make it more manageable.
Don't forget you need to clean and dry the items before putting them away.
Affiliate links are included for your convenience. (This means if you make a purchase after clicking a link I will earn a small commission which won't cost you a penny more!) Click here to read my full disclosure and privacy policy.
Storing Halloween Ornaments
When it comes to ornaments you want to make sure they are clean and dry and if they are breakable you need to wrap them in something to protect them.
You can choose:
Then you need to place them in a box, I put items into a cardboard box first, and label them.
If it's a small item I will place that inside a plastic container with other items.
Labeling Halloween Decoration Storage Boxes
Remember to label the plastic container with what's in the box.
You can do a card that names every item in the box or you can just put a generic Halloween label.
It will depend on how many boxes you end up with and how much information you want to show on the plastic container.
Cleaning Garlands Before Storage
If you have any sort of garlands whether they are plastic or fabric you are going to want to make sure they are clean and dry before putting them away.
I clean plastic garlands the same way I clean a fake Christmas tree. I spray some disinfectant spray onto a cloth and wipe over the branches, twigs, and leaves.
This helps to disinfect the garland and to help remove any dust. I then go over the garland again with a soft dry cloth to pick up any dust particles and moisture that was left behind.
The garland is allowed to air dry for a while before storage.
Storing Your Garland
You can buy garland storage bags, these make it easy to store and keep dust free for next season.
Alternatively, you can wrap the garland in a sheet. Place the garland flat on the sheet and carefully roll it up and place it in a plastic box.
Larger Halloween Decor Storage
Some Halloween decor does tend to be on the large size and it's important to think about this before purchasing.
Where to store the item
How to store the item
There are some options, if you have a large garage, storing these in there could be an option but you have to live with them, even if they are covered up.
Alternatively, you could store them in a storage locker, but this costs money that could potentially be in your pocket.
So, what do you do?
You could find a company that would rent you these larger decorations and that way you haven't got to find storage for them each year, plus you can change out what decorations you want.
If you are renting you haven't even got to clean them, you might also find that the company renting out the decorations might even come and install them for you.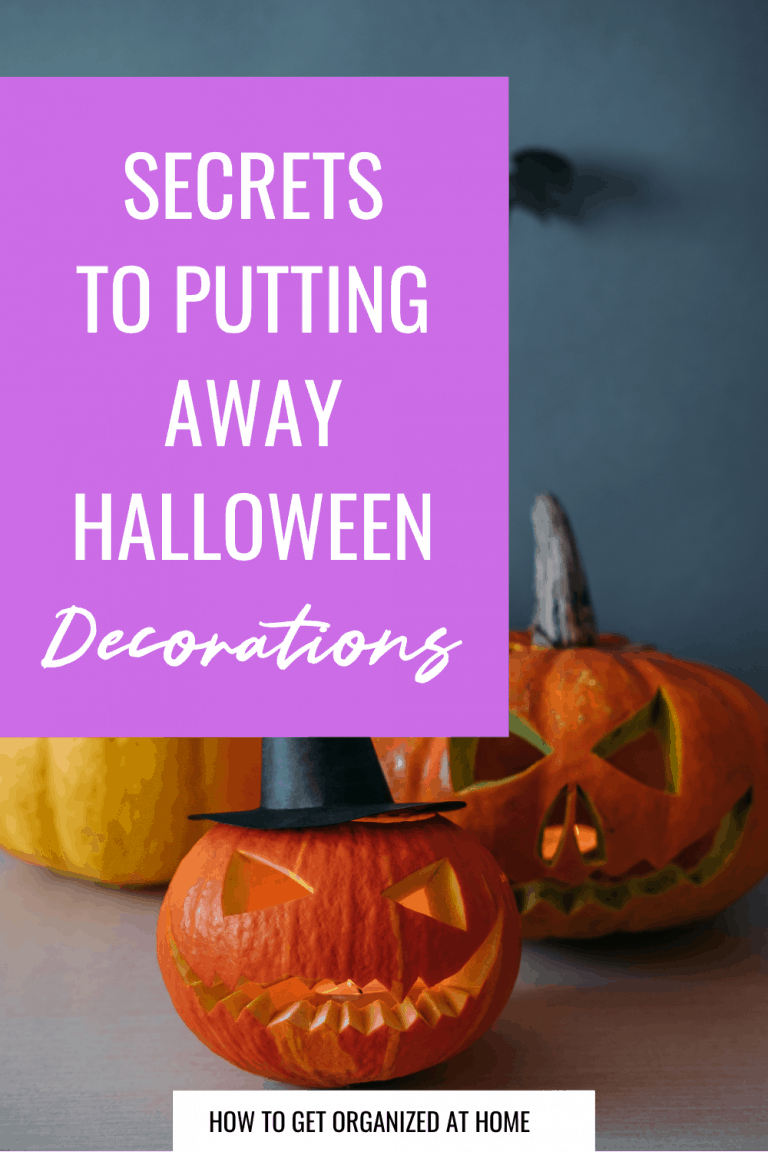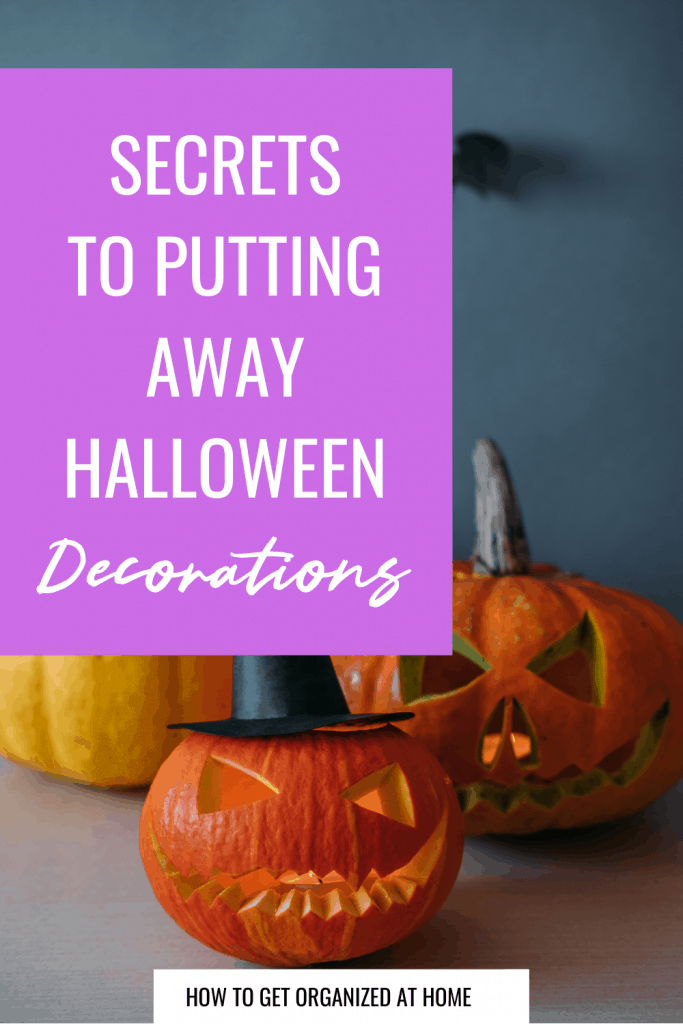 Storing Halloween Costumes
If you like to buy costumes with the hope of wearing them again in the future you are going to need to make sure they are stored correctly so they don't get damaged or go moldy.
You must clean them, you don't want to store dirty costumes, it depends on the costume on how to clean it. If it was purchased it should have a label as to how to wash and dry it.
Once it is clean and dry wrap it up in tissue paper and carefully store it. You could place the costume in a garment bag.
These can take up space in your wardrobe, I don't have much space in mine, so I use vacuum bags to store clothing like this, and they are protected from moisture and insects.
It's still important to label these bags as there is nothing worse than having to open multiple bags looking for one item.
You can either put labels on the outside or write on a card and carefully positioned it on the inside so that can still be read after sucking out the air.
Storing Halloween Masks
The way a mask can look is amazing and they have come such a long way since I was a child and now they can look amazing.
These can be used multiple times but you want to store them carefully so as not to damage them.
Check the cleaning instructions when you buy the mask and make sure it's completely dry before storing.
I would wrap each one in tissue paper and store it in a plastic box.
I just love my D30 label maker it's small and compact and I create the labels on my phone on an app that is simple and easy to use. There is no ink required so it's just black but you can get so many fun stickers to make your designs.
I would add a silica pack to ensure no moisture damages the mask.
Don't forget to label the box noting what masks are inside and the sizes as this is often required when you have a large family.
Storing Halloween Candy
This is something you shouldn't do, there will be a best-before date and you really need to ensure that the candy is used before it goes out of date.
There are a number of ways to use up the candy including just simply eating it.
Chocolate can be melted down and used on cakes for decoration. Or you might consider donating the candy to a local church to give to those who might need it.
Top Tips For Putting Away Halloween Decorations
When storing any sort of Halloween decoration make sure it's clean and dry before you start as you don't want it to become moldy in storage.
Labeling everything is important as it will tell you what's in the box.
Make sure you have appropriate storage options.
Consider hiring large items so you don't have to worry about storage.
Take your time cleaning things and making sure they are dry before putting them away.
Related Articles On Halloween To Help You
With Halloween being so popular there is so much more I need to tell you, check out these Halloween articles below: