Have you budgeted for Halloween? You need to create your Halloween budget now!
There is nothing worse than wondering where you are getting the money from to pay for something, especially a holiday that comes around each year, and then having to use credit to pay for the items you need.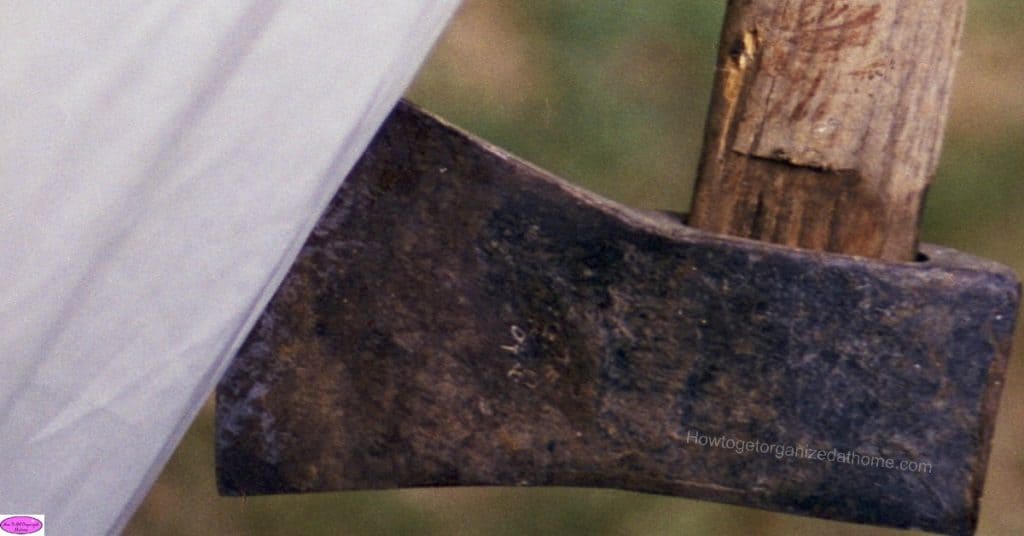 If you budget now, you can enjoy the holiday debt free and the more you practice creating and using your budget, the easier it becomes.
This is important if you want to take control of your finances.
Affiliate links support How To Get Organized At Home
Create Your Halloween Budget
It is possible to have a great Halloween, do all the fun things that make the holiday special but on a budget. You might become more creative and help develop your understanding and relationship about money too.
It is important that, if you want to bring up children who understand why budgeting is important, they will be less likely to spend money on credit and more likely to budget for what they need in the future.
Budgeting for expenses in the future means that you can put less away and still build up a sizable amount for the event.
How you create this surplus which you put towards your Halloween expense will depend on how you run your budget.
You might have a category that you purposely put money into each month to pay for the holidays or you might need to adjust some of your budget categories to find that extra money. Cutting your grocery budget is always a popular choice to cut back on but there are other alternatives including eating out or entertainment.
Building Up Your Halloween Budget
One great way to build up money is to save the change from different categories; this is great if you under-spend, but if you always spend the entire budget then this won't build very quickly and you might need to consider cutting other budget areas to see where you can stretch your budget to save this extra money.
If you can only find small amounts of change, the sooner you start saving the more you will have when it comes to buying the items you need.
If you find it difficult to find small amounts of money in your budget, you have to ask yourself where you were planning to get the money from when Halloween comes round; if you were going to put the expense on credit, finding small amounts now will save you from paying more back to the credit company.
Adding expenses to credit makes the items you purchase even more expensive, because unless you pay the balance off in full each month you will pay interest on your account.
This means the items you buy cost you more in the long-run!
Making Money For Halloween
It is possible to make money for Halloween, it just takes some planning and some thought, you might be better off than you imagine!
Now is a great time to sell your old costumes to bring in more money, which you can add to the Halloween fund. You might even be able to pick up some costumes as well at a great price, compared to closer to the event.
What you can sell:
Old costumes
If you grow pumpkins you could sell these
Old decorations
What You Need To Create Your Halloween Budget
You might find creating a Halloween budget difficult, it might seem uncomfortable putting a limit on the amount you are going to spend. However, it is a great learning tool to prepare your Halloween budget, for when you create your Christmas budget.
You need to have a basic understanding of creating a budget, I have a great post, It's Easy To Make A Budget, this will help you understand where you need to begin.
If you are looking for something more substantial than I love Dave Ramsey's The Total Money Makeover.
Time is important, you need to have time to create your budget and to learn how to create the right budget for you.
Including Your Children In Your Budgeting Practice
It is important to talk to children about the budget for the holiday, let them know the amount you have to spend and work together for the best way to spend that money.
Choose the important areas and look at ways to get creative to save some money.
Think of ways that you can save, sometimes it is cheaper to buy your candy in bulk, however, if you or your children love this food, it is sometimes better to buy it closer to the day. Otherwise, you might have to buy more if you or your family consume the candy before Halloween!
The more you teach your children about how much money you have and where it goes, the more they will understand and be able to learn budgeting skills which they likely won't ever learn in school.
What is your best tip to create your Halloween budget? Comment below!
Therefore, if you start saving now for the holiday you won't need to find as much money to start making a saving fund, you might even be surprised how much you can save. Don't forget to work together as a family with discussing the money available and how it is best spent when you create your Halloween budget.
Looking for more articles on this topic? Halloween is a great place to start!