How To Simply Organize A Small Bedroom On A Budget?
I get it, sometimes we just don't have enough space in our bedrooms for all the things that we want and whilst it's annoying it's not the end of the world.
I've had to deal with small bedrooms for my children on many different occasions as we lived in military accommodation for a number of years.
But we managed and along the way we learned a lot of tips and tricks that made the process easier. Learn how to organize a small bedroom on a low budget.

Affiliate links are included for your convenience. (This means if you make a purchase after clicking a link I will earn a small commission which won't cost you a penny more!) Click here to read my full disclosure and privacy policy.
Fitting The Essentials Into A Small Bedroom
One thing we learned quickly was how to arrange a small bedroom to fit everything that we needed and what the children needed too.
Being a rented property, it often means you can't simply put shelves up you have to think outside the box and come up with different ways to solve all the problems of having small bedrooms.
One thing that also made it difficult was children sharing, it means a larger room suddenly becomes tiny when you have at least 2 beds to fit in.
However, with a bit of creativity and the right furniture solutions, such as day beds by BedKingdom, you can easily organize a small space to accommodate multiple sleeping arrangements while still keeping the room functional and stylish. These simple small bedroom ideas will help you make the most of your space without sacrificing comfort or convenience.
You might have to get creative but it's possible to organize a small space with everything you need with these simple small bedroom ideas.
More Resources:
Storage Ideas For A Small Bedroom
We didn't get bunkbeds for our boys until they were a lot older, we didn't think they would benefit them.
What we did do was to make sure their beds had storage in the base, you couldn't fit anything under the base, but you could fit things into the base.
This was an amazing space and it was perfect for lots of things including toys, it meant we didn't need a lot of toy storage in their rooms as they had access to this under bed storage.
You can use this space for clothes, folded Marie Kondo style and in individual boxes. Shoes, I would put these in boxes because you don't want the space to smell of stinky feet.
The options for underbed storage is huge.
If you have space under the base of the bed this is perfect for plastic storage boxes to store a multitude of different items from toys, out of season clothes, shoes, I've even stored pantry supplies in these before too.
Getting A Murphy Bed
Whilst we are thinking about the bed and the space that one takes up it's possible to think about a Murphy bed.
These are simply beds that you fold up when not in use, whilst they are great if you are in your own home, this won't be an option if you are renting as they will need attaching to the wall.
They fold up onto the wall and are attached for saftey reasons. They are great if space is limited or the room is a spare room. If you are using this every day, I think it would get annoying quickly to put up each morning and take down at night before bed.
The space where the bed needs to rest in the down and up position would need to be quickly cleared as you wouldn't want to do a full room clear out every time you wanted to go to bed.
If you are unsure what a Murphy bed is, here is an example of one that another blogger, Becky Mansfield created in her own home.

Storage At Foot Of Bed
The foot of the bed is often an area that is underused. We have an ottoman at the foot of our bed, and this stores all my husbands work clothes. It's easy access and the space is large enough to accommodate his needs.
If you have space at the bottom of the bed this is ideal real estate for toy storage or even a small bookcase. You don't need a wall for a bookcase, which is valuable space in a small bedroom.
Behind The Bedroom Door
The space behind the door is an amazing opportunity if you have limited storage in your bedroom, the only downside, some of the options for over the door aren't very aesthetically pleasing so you need to find something that you like and something that works well in the space.
It's about finding clever storage ideas for small bedrooms that work well and don't create an eyesore in the room.
This area isn't on view if the door is open but once the door is shut it can be an eyesore so think carefully before buying any over the door storage.
Storing Clothes: Bedroom Storage Furniture
If you don't have space for a closet, how do you store clothes?
I have found that even though my daughter had a closet growing up, she seldom used it so other options for clothes storage was something I became an expert in quickly if I wanted her to have a tidy room.
To be fair a closet does take up a lot of room and whilst it's great to see everything hanging nicely you can get more into a drawer if folded correctly.
Not only does it look nicer it's easier to maintain too.
By using dividers in drawers, it stops things becoming a mess, it holds things into place which is key if you want something to look good for long term use.
Pin This Pin For Later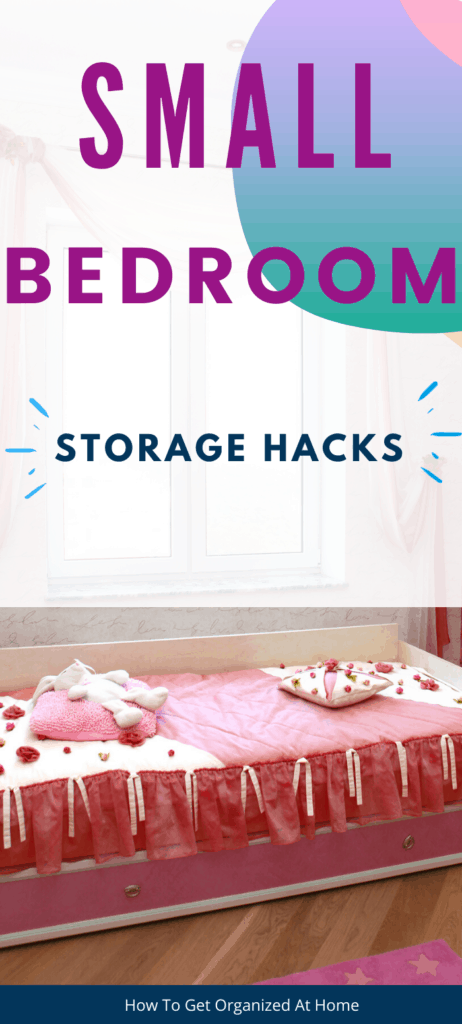 Clothes Storage Ideas For Small Spaces
If you have a small closet that you need to work for you think about the space and how you use it, if there are very few long items to hang but a lot of smaller items think about installing another rail to get double the hanging space.
There are quite a few products on the market that reduces the hanging space by utilizing the vertical space of each hanger. These are great if you are renting and can't add that additional rail or you need longer hanging space.
Getting Shoe Storage Right
There are limited ways to store shoes, they are bulky and often we have more than one or two pairs.
Shoes are something I hate to see kicking around the front door. When my kids where little having shoes by the door was impossible, you had to have somewhere to put the pushchair you couldn't fit in shoes in most of the military housing we lived in.
It's a good idea to store shoes in bedrooms, but it is adding to the already full rooms. We stored shoes in the bottoms of their wardrobes and this caused a few problems.
Dirt and mud can fall off shoes and this adds to the dust and dirt you need to clean on a regular basis.
Ideal shoe storage is hard to find because everyone's needs are different.
Dividing Up The Space
When you are trying to organize a bedroom for two children you want to provide storage but also privacy for each child.
Dividing the room up with multi-purpose furniture is key. Cube storage is great for adding storage space as well as room dividers.
Floating Furniture
If you are limited for space and can attach things to the wall a floating desk is a great option for any child, you can even get ones that fold flat and this is perfect if you are struggling for space.
A floating desk offers the space to write and do homework but also takes up limited space as there are no bulky legs or drawers to accommodate.
If you are unsure what I'm talking about my friend Tasha from Kaleidoscope Living created a floating desk for her daughter.
Bedroom Storage Boxes And Baskets
I'm reluctant to mention baskets because I'm not a fan of seeing these everywhere, yes, they can help with tidying but sometimes they are dangerous in that you can dump stuff in them and never use them again.
If you are tight on space, everything in that bedroom needs a function and to be used otherwise it's taking up valuable real estate that could be used for something you do need and want.
Storage Space Using Shelves
If you are tight on space a shelving unit that wraps around the room at the very top is great for getting storage but it will be difficult to access for most people, so only take this option if you have no other choice.
Floating shelves are great for adding in a touch of decoration as they aren't going to take a lot of weight.
Wall Space For Storage
Thinking about the wall space is going to help you. Mounting bedside lights on to the wall is a great way to free up space, you can also consider using a shelf above your bed as a nightstand giving you more floor space than if you had to accommodate bedside tables into the equation too.
Less To Clean
If you think about going minimalist in your bedrooms, it's going to give you more space and there is less to clean.
When you think about all the possessions that you own and want in your bedroom, it can visually seem cluttered and this isn't want you want in a bedroom.
Relaxation is the key to a good bedroom and for that reason the less that there is on display the more relaxing and calming it's going to feel.

Organizing Doesn't Have To Cost A Fortune
When it comes to organizing a small bedroom you don't need to spend a fortune doing it, there are many ways that you can work with what you have and just to organize it in a different way that suits the space better.
Often, we aren't thinking about a solution we are wishing for a bigger space or more money to tackle the space professionally.
Let's Recap…
You don't need to spend big bucks to make a small room feel organized, you just need to think outside the box.
Keeping the space tidy is a must, a small space will look cluttered quickly if there are things on the floor or cluttering any flat surface.
As long as you aren't renting or have the owner's permission you must consider the vertical space in the bedroom.
This vertical space is often untouched and yet perfect for getting a small bedroom organized.