I'm starting to put a plan together for my daughter's bedroom, she is a young lady now and she needs a room that reflects that, not just something thrown together from a mismatch of items from her room and her brother's rooms when they left home! I want to look at headboards that are affordable and amazing too!
I want to make it special for her, I know we only have a few years left before she leaves home and I want to make those years count!
Getting a new bed is something she needs, so I thought about looking into something more grown-up and stylish for a headboard too!
Headboards That Are Affordable
I'm in love with so many headboards, they have come a long way since I needed to look at them! They are stylish and add something special to the room as well as being practical!
The best part I've noticed is the price, you don't have to spend a fortune on the headboard to come up with something amazing!
If you are crafty and have plenty of time you can easily make some of these too, they wouldn't be too difficult!
I haven't decided on the final product, I just wanted to share with you some of the amazing options I've found!
The Perfect Headboard
It's not easy finding the perfect headboard, there are style factors to consider as well as how my daughter will want her room to look! I have to match the headboard size to the bed, yet to decide on this either so watch this space!
I love some of the lighter coloured boards but she dies her hair a lot and often goes to bed with wet hair and I'm afraid hair dye would get on the headboard!
Then it must be something she likes too!
The Available Headboards
These are in no particular order, just the order I found them when doing my research!
Affiliate links are included for your convenience. (Which means if you make a purchase after clicking a link I will earn a small commission which helps keep my blog up and running but won't cost you a penny more!) Click here to read my full disclosure and privacy policy.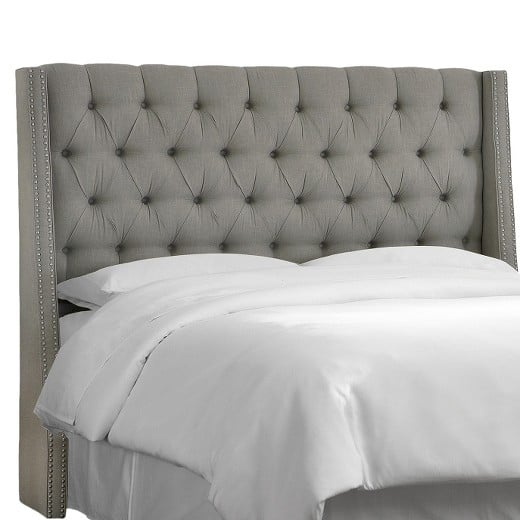 This is a Diamond Tufted Nail Button Headboard, it comes in 13 different colours but I like the linen grey shown in the picture!
Stasie Brass Nail Headboard is available in 5 different colours but I'm loving this taupe colour the best!
Shayne Silver Nail Head Headboard simple yet elegant!
Indigo Blue Stripe Loran Upholstered Headboard, totally modern in colour and style!
Desert Santa Maria Elsie Upholstered Headboard, has the most amazing colours!
Textured Woven Caiden Upholstered Headboard simple and classic!
This Antique Black Wood Farmhouse Radine Headboard looks amazing, I love it!
I love the colours in this headboard! It's a Bindi Loran Upholstered Headboard!
This is super sweet! Rhys II Dovetail Headboard!
The Headboard Options
What do you think about my choices, would you go for something completely different?
It's such a hard choice, there are so many different ways to make the same product! I love that we have the choice, it's just sometimes I dislike the decision process!
I worry about making the wrong choices!
I'm so glad I spent the time looking, it meant that I have a better understanding of the options available. This allows me to have a selection of pre-approved headboards to use once we get to that stage in the planning process!