The Best Built-In Wardrobe Storage Ideas
Have you ever wanted a solution to the chaos in your home when it comes to storing clothes? Something that looks pretty but is also functioning and beautiful?
We currently have separate free-standing wardrobes, but I would love to be able to have a built-in wardrobe.
What is a built-in wardrobe? Let's be clear on what I consider a built-in wardrobe?

Built-In Wardrobe And Closets
These are typically units that are designed for clothes storage, that's the sole purpose of the storage, but how it looks depends on the space available and the style of the person who's creating the space.
Some people have a small room that's turned into a walk-in wardrobe, for me I'm thinking smaller scale but something that is fixed to the wall and can't be moved but has purposely designed insides to cater for clothes and my height.
The space is fairly small but with built-in wardrobe storage I think I would gain loads of extra storage space to finally organize my wardrobe the way I've dreamed about.
Working Out Your Storage System For Clothes
What you need to create is the perfect storage solution for your clothes, it has to be something that you love and functions well.
But how do you create the perfect closet solution?
This is something I've been looking at, I wanted to plan this out for some time and maybe I will actually get around to the transformation sometime in the future too.
You need to know what you want in your space, are you looking for?
Wardrobe hanging storage
Closet Shelving
Drawers for particular items
Shoes
Boots
Full length hanging space
Jewellery
You need a plan for what you are going to store so when you come to design the space you will have some idea of what needs to go in there.
If you don't have a plan for what needs storing, you might forget something important which totally ruins the whole design.
What Do I Use To Create A Built-In Wardrobe?
Once you have a plan for what you want inside your wardrobe then the fun part can start. Working out what type of storage options are going to be right for you and the space that you have. You need storage systems for your clothes that looks great and works well too.
I like the ability to be able to plan something which is why I love tools that you can use to design your space and that are free.
Affiliate links are included for your convenience. (This means if you make a purchase after clicking a link I will earn a small commission which won't cost you a penny more!) Click here to read my full disclosure and privacy policy.
Easyclosets has a free closet design tool that you can use to help you create the space of your dreams. You can even handpick the colours and the style of the accessories to go with your closet too.
If you are looking for alternative options, there are loads of different ideas either on Wayfair, Ikea even B & Q have a great selection of different modular systems that you can use to create your built-in wardrobe.
You want the best closet storage that you can find that fits your budget.
Creating Your Built-In Wardrobe
Once you have the outside structure in place you still need to create storage and organization systems that will help you keep everything together and organized.
This is where the organizing begins.
You need to know what type of storage options you need:
What hangers are you going to use?
Drawer dividers how many and what are the sizes you need?
Open shelves are great but having ways to control and sometimes hide the item makes it even better. So, think about boxes or shelf organizers.
Storage for shoes is so important as they can quickly become a mess and I hate seeing dusty shoes
Dirty washing storage, where are you going to put your laundry that needs doing?
Once you have an idea on how you want to organize your space then you need to work out how each area is going to look and what you need in that space to ensure that it continues to look amazing and great.
It's what you need inside to make the space work for you.
You need to start looking for organization products for closets so you can make this space function and work for you.
Dividing Your Drawers
When it comes to drawer dividers knowing what you are going to store in the drawer is the first step because this will allow you to plan the spacing of the dividers to keep everything looking neat and tidy.
For underwear that is easily folded the smaller the space the better, however if you are storing bras these need more space and a more thought out plan of how you would like these stored.
There are different options to consider, here are just a few ideas to inspire you.
Which Hangers To Use
I know that all stores ask if you would like the hanger with the item and I used to say 'yes please' it was easy and free but this isn't the best option if you are looking for your clothes to have a more uniform look.
Hangers that are free tend to be different sizes and styles and this causes problems when you are trying to make your wardrobe look amazing.
Purchasing matching clothes hangers that all look the same but also do a better job is going to make a big difference. Not only will clothes fit better on these hangers but also you can purchase ones where clothes don't slip off so easily.
If you are looking for pretty hangers these velvet ones are certainly the ones I would go for, but picking the colour of the hanger is going to be a personal choice.
Getting Shoe Storage Right
Shoe storage is a personal preference but for me shoes need to be stored in something. I hate shoes that are dusty, it really bugs me.
I'm not bothered if the shoes are out of site if they are boxed in shoes boxes, it does make it more difficult to see what's on the inside. So, if you have a lot of shoes the clear boxes like this make finding the right shoe easier.
The clear boxes are more pleasing to the eye if they are stored on open shelving.
Don't forget to label the boxes, I use this label maker when it's something that no one is going to see, if it was going to be more on-show I would use my Cricut to make the labels.
Brand of shoe
Size of shoe
Description of shoe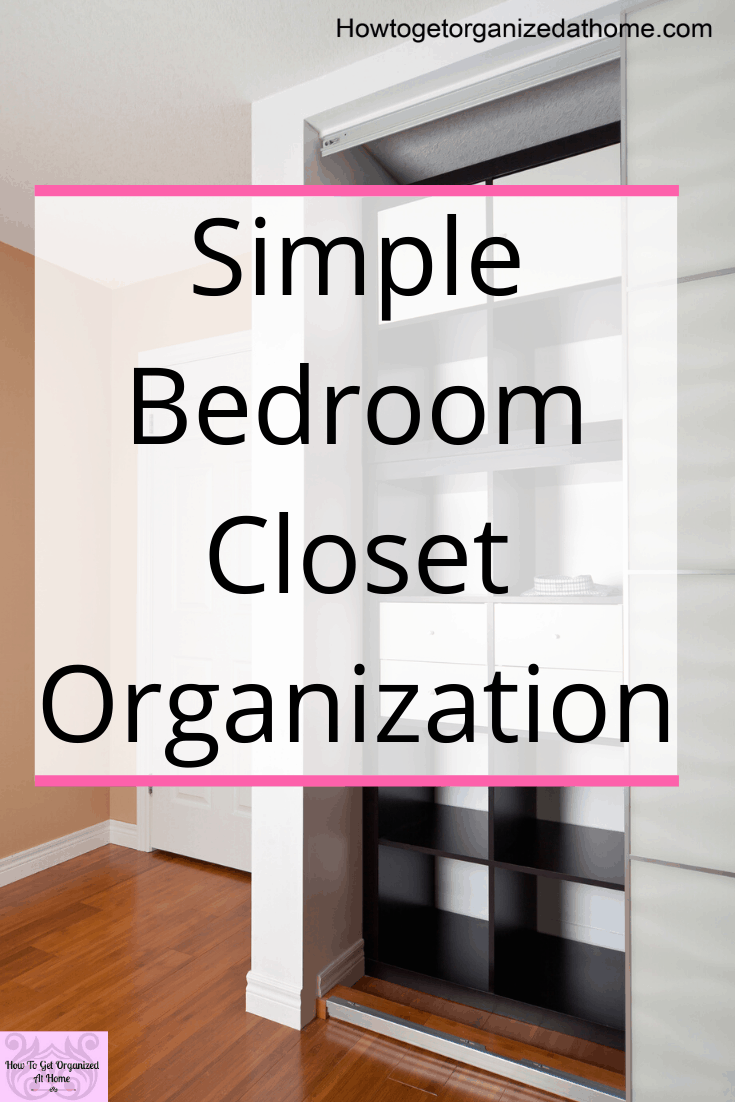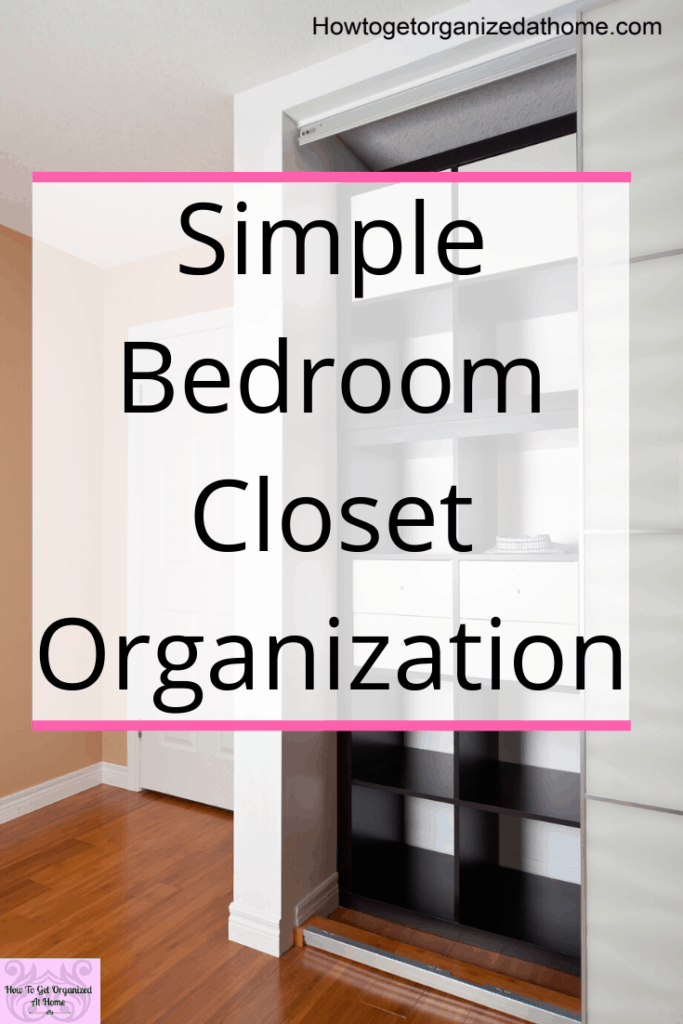 Wardrobe Storage Boxes
I like open shelves to store clothes like t shirts or even jumpers but the trouble with this type of storage it can become an unsightly mess really quickly, not to mention sometimes it can get dusty too.
For this reason, I love baskets, it has been a slow process for me to accept baskets are a good thing, so I don't like many in one area.
This type of t shirt storage I think looks amazing, but I would worry that it would take too long to sort when putting away laundry.
A cute wardrobe storage box is always going to win if you aren't going to fold your items.
Practical Organization Tips And Ideas
Thinking about how you are going to reach something is important. I'm short and so I need to have a plan in place on how I'm going to reach the higher shelving, even the hanging storage can sometimes be too high for me to comfortably reach.
I would consider this type of pulling handle on any higher hanging rail, just to make it easier to get to things without having and issues.
If I could have anything, I want I would install one of those library types of ladders, you know the one that has a rail and it moves backward and forward on to where you need it.
The idea is so that it stays in the closet so I can always reach the items on the higher shelving.
I know having a small step ladder like this that was kept in the wardrobe would be an alternative solution, just make sure if anyone borrows it to returns it to the built-in wardrobe, I would even label it just so know one would forget it was my set of steps.
Hide The Dirty Laundry
Where to put your dirty laundry is something to think about when designing this space.
Do you store this in the closet, or do you store it in the laundry room?
I would love a laundry room, currently we have the washing machine and tumble dryer in the kitchen, but the laundry is stored in the bathroom.
I don't think I would personally store dirty laundry in the closet but that's personal preference. But if I was going to, I would need to think about the type of storage and if there was a lid as well to disconnect it from the rest of the room.
I like this type of storage solution, what do you think? It's easy to keep clean and that's important to.
Display Your Jewellery
Jewellery, you know the cheap kind that you wear everyday but is a pain to store?
I've found a solution that might fit in with your built-in wardrobe plan.
I have a corkboard which I've painted and have hung on my wall.
This could be used in a built-in wardrobe too; I would attach it to the wall, so it was front and central to give a special spot and not hidden away.
Not only would it add a pop of colour to a wall but it's such a practical way to store the everyday jewellery that is awkward and bulky to store in a traditional style jewellery box.
Let's Recap…
If you are considering a built-in wardrobe you need to think about the storage options for the clothes and other accessories that you have.
Make a plan of how you want to store items, it will allow you to think of all the possibilities and variations for when you start to shop for your supplies.
Don't forget to include the organizational aspects of creating this type of storage as this will make all the difference to the final look and feel to the built-in wardrobe.
How do you keep it organized? Make sure that you are spending a few minutes a day keeping your new closet clean and organized, it will make all the difference.