How To Create A Cleaning Schedule That Works
It is not easy fitting in life's commitments as well as finding a cleaning schedule that works for you and your family. You are not going to find a list of tasks and times already specified, it is about finding the right balance for you. One that is flexible, meets your needs, and can squeeze into the period you have available. It is not easy finding one that will fit your needs and for this I think a cleaning schedule is a personal choice, one that takes time to develop but is flexible enough to allow for those changes in life that throw different obstacles in the way of having a clean and tidy home.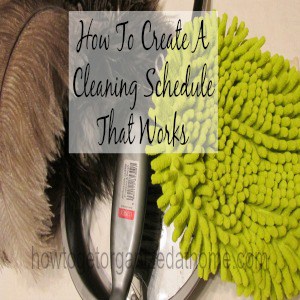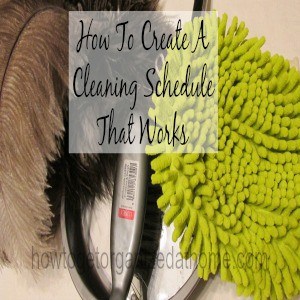 Work Out Your Time And Cleaning Schedule
This is one area that is going to potentially change each week, it will depend on what and how your days plans out and if you look at your calendar on a weekly basis, it is possible to fit the tasks that you want into the time you have available. Being flexible with what you want cleaned allows for those days that are busier than others.
Some people prefer to block out sections of time and tackle all the jobs in one go. I prefer to do a few minutes at a time, spreading my cleaning throughout the week. A few minutes of cleaning at a time can quickly add up over the course of the week and sometimes you have a clean house and it doesn't feel like you have spent much time on the cleaning at all.
Little and often is how I manage to keep on top of the cleaning and housework, it is easier for me as I work from home and can have a few minutes every hour or so to perform a five-minute task. I know that it isn't as easy if you work outside the home, but it is possible; I have been there and done that too.
The Tasks Are Your Choice
I am a firm believer in encouraging people to find their own ideal of clean, then they are able to work out the cleaning tasks they wish to choose and how often items need cleaning.
Some people prefer to do jobs more regularly than others, this will depend on their circumstances and their needs. For me my weekly cleaning consists of:
Vacuuming every couple of days upstairs and everyday downstairs
Sweeping daily
Laundry daily
Quick dust every couple of days
Quick bathroom clean daily
Kitchen quickly cleaned daily
Beds changed weekly
Quick house tidy everyday
The less frequent tasks are then added in regularly when the time allows. I know some people like to break their home into zones for the deep cleaning, for me it is too confusing I just know when jobs are due according to my diary and this keeps me on track.
If you are looking for perfection when it comes to house cleaning you probably won't find it, unless you are spending hours per day cleaning. It is not something that is possible, not to my standards of perfection anyway!
Therefore, if you are looking for a cleaning schedule that suits your needs and is able to work then you need to look at what you want and the time-frame which you have. This will dictate the amount of cleaning you can fit in during the week; if it is not enough and you feel your cleaning needs more attention, it might be time to bring in others to help with your cleaning. This can be your family or you might consider employing a cleaner to take on the responsibilities of cleaning your home.