What Is The Best Way To Use Zoflora?
Have you heard about Zoflora but unsure what it is and how to use it?
Zoflora is a concentrated disinfectant with many different fragrances. It's a great product to use around your home to disinfect it and to keep the germs and harmful bacteria at bay.
I want to share with you the best ways to use Zoflora around your home to keep the germs at bay.

What Is Zoflora?
Zoflora is a disinfectant, you might imagine a bleachy or chemical smelling product.
This isn't the case and there is normally a fragrance you will like and there are a number to choose from.
Affiliate links are included for your convenience. (Which means if you make a purchase after clicking a link I will earn a small commission which won't cost you a penny more!) Click here to read my full disclosure and privacy policy.
My favourite is Linen Fresh, there is something about freshly dried linen that I love.
If you are going to use as a spray disinfectant then you must dilute your favourite scent with water, check out the ratio on the box of water to concentrate and you're good to go.
There are a few instances where I don't dilute Zoflora and one of them is when I disinfecting the drains in my home, it goes down those neat.
Zoflora has been around since the 1920's, there wasn't as many fragrances back then.
It's gotten really popular recently when Instagram sensation Mrs Hinch shared her cleaning products that she uses, and this list included Zoflora. You will often find Mrs Hinch doing a Zoflora hour where she picks items from the Zoflora website (they have sections on what to clean in the different rooms in your home) and cleans as many as she can in that hour.
Related Articles
How To Use Zoflora Safely
There are many unsafe suggestions for using Zoflora, so learning how to use it correctly in your home ensures that you and your family doesn't get hurt by the product.
In it's concentrated form Zoflora is flammable and that means you must keep it away from any source that might start a fire.
It's also important to learn what you can disinfect with this product as it's a versatile product with many different uses.
If you are still wondering what is Zoflora and is it something I should use? There are some great positives in that it's vegan friendly and the product isn't tested on animals and it will disinfect your home.
For more tips on using the product safely check out this leaflet from Zoflora that shows the right and wrong way to use this product.
The Different Types Of Product
As with everything popular, there are more than one product and you might get confused as to what you need to buy.
Ready to use: This product is already diluted and as it's name suggests you can use this without further diluting the product. (I've not found this version yet!)
Concentrates: These come in a couple of different sizes and many different fragrances.

There are specific ones that are classed as pet friendly, they are not to be used on your pet or their bowls, but you can wash the floor and when it's dry it won't harm your pets.
How To Use Zoflora?
This will depend on the application you are using it for. If you wanted a diluted spray. Simply decant water and the correct amount of concentrate into a spray bottle.
If you were looking to mop the floor, then you would decant the recommended amount into a bucket of water.
The idea is that you wet the cloth or mop and use it like you would any other disinfectant.
Does Zoflora Clean And Disinfect?
The simple answer to this is no.
It doesn't have a surfactant in the product, this is what cleans and Zoflora doesn't contain one.
The point of Zoflora is to disinfect an area and to leave a nice scent behind.
Even though you are adding it to water you aren't getting any cleaning power apart from the water itself.
What Are You Doing When Using Zoflora?
You are killing the germs and the bacteria that is present all over your home.
It's good to disinfect the different areas around your home, it can help to protect your family from getting ill.
There are so many different uses for Zoflora, in that you can disinfect many different areas of your home, just remember you aren't cleaning, just disinfecting.
When You Shouldn't Use Zoflora
There are a number of areas that you shouldn't use Zoflora to disinfect your home.
There have been some odd suggestions flying around the internet where they are suggesting that you should add drops of Zoflora to a diffuser.
This is not something I would recommend, it's a cleaning product and not used in this way. It's also flammable when in the concentrated form so I would worry if it gets too hot.
It's not safe to use on polished wood as it could potentially damage it.
The same as you mustn't put it into your iron or your steam mop. Not only could it damage the product you would also invalidate any guarantee that you might have gotten with your product.
Finally, don't use it to wash your dishes or your pet dishes, it's not something that you should be ingesting.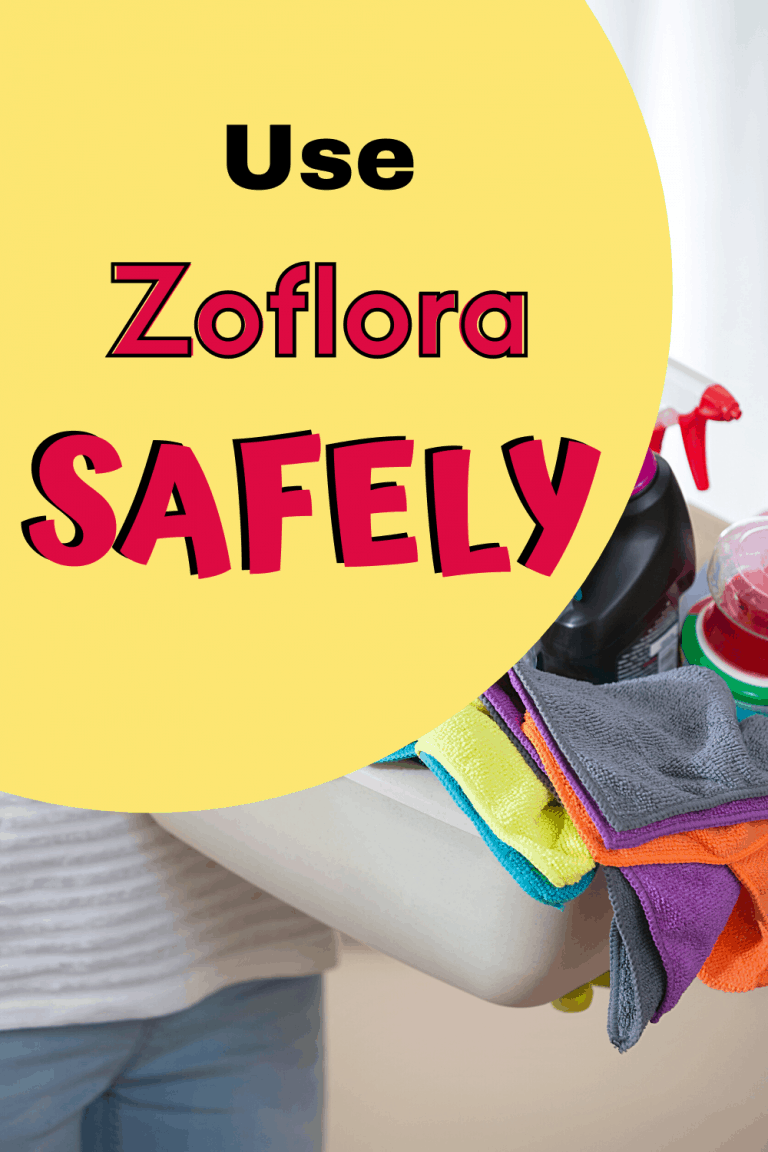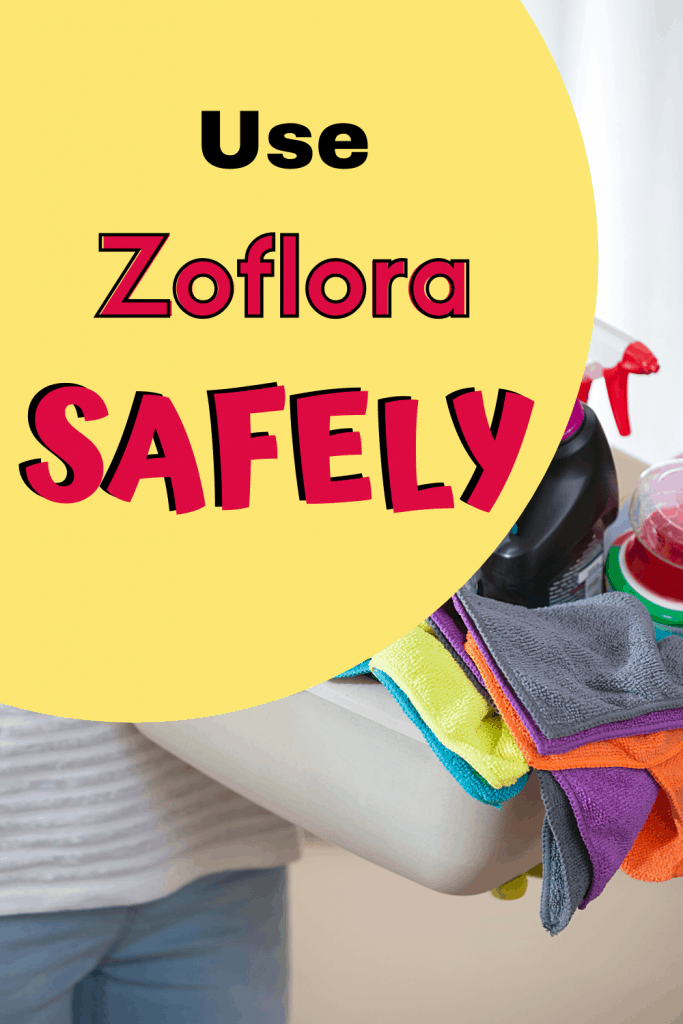 Where Can You Use Zoflora To Disinfect Your Home
Don't get me wrong I love Zoflora and there are a number of different ways you can use it to disinfect your home.
Not only is this making your home germ free, but it also leaves behind a lovely scent.
Dilute your Zoflora first and then spray onto your cleaning cloth so you can wipe down the surfaces easier.
Banisters and handrails (check that it's suitable to use here)
Counter tops (there are some counter tops it's not recommended for so it's important to check first)
Bathrooms and toilets: It's not going to clean these areas, but it will disinfect them. I do this in between cleans.
Sinks and drains, this is great for keeping those smelly drains at bay.
Floors (check your flooring is suitable first). Dilute in water and clean as normal.
Radiators: Wiping these down with diluted Zoflora leaves a pleasant smell especially when the radiator comes on warming the diluted scent.
Remote controls: Always spray onto a cloth and then wipe over the controls.
Door handles: Spray onto a cloth and wipe these.
Kitchen bin: Keeping your kitchen bin clean is a must to prevent it from smelling. Dilute Zoflora and spray onto the bin and wipe down.
Fridge cleaning: Empty out your fridge and wipe the whole fridge down, inside and out.
Light switches: Spray onto a cloth and wipe the switch.
Plastic play mats: disinfect on a regular basis to ensure they aren't harbouring any germs
Highchairs: Disinfect your highchair in between uses.
Cloths can be soaked in a dilute solution of Zoflora to disinfect them.
Zoflora in your washing machine to disinfect the machine. You can add a capful to certain washing machine loads if you are looking for a disinfectant properties in your wash. This is something I do with dog beds and dog towels.
Changing mat: Wipe this down with diluted Zoflora, let to dry before using again.
Use inside the dishwasher to wipe it out when you are cleaning, don't use it to wash dishes.
If you check out Zoflora's website it shows you how to clean certain areas of your home.
Where Can You Buy Zoflora
There are lots of places in the UK that you can purchase Zoflora, however it's more difficult to get it in the USA.
I don't think it's worth spending a lot of money importing it from the UK. I've seen some suggestions of pricing and it's not that good to spend a lot on the product.
Yes, it smells nice but I'm sure there are equivalents produced in the USA that works just as well for the fraction of the price of importing.
Places in the UK that you can buy Zoflora:
B & M sells Zoflora
Zoflora in Tesco's
The Range stocks Zoflora
Zoflora in Dunelm
Wilko holds a selection of Zoflora
What's The Difference Between Zoflora And Fabulosa?
So many people ask this question because they are curious as to what the best product is.
I think my answer depends on what task you are doing.
The main difference apart from being made by two separate companies, Fabulosa has a surfactant in it and this means it cleans as well as disinfects.
Fabulosa is bring out more of a selection of different products compared to Zoflora, they are just sticking with the disinfectant at the moment.
Check out the Fabulosa range.
This does make it useful for some areas that you want to clean as well as disinfect.
For instance, if I was mopping the floor, I want to clean the floor at the same time, so I would use Fabulosa.
However, if I just wanted to disinfect my counter tops, I would use Zoflora.
Let's Recap…
Zoflora is a concentrated disinfectant that can be used diluted around your home to keep to germ and bacteria free.
It's not a cleaner as it doesn't have any surfactants in the product.
It's Vegan friendly and the company that makes the product don't test on animals.