My Honest Review Of The Hoover H Free 500 Pet Model
If you know anything about me it must be my obsession with floors. If the floor is dirty then to me the rest of the room needs cleaning, if the floor is clean I might not notice the rest of the room. So, when Hoover reached out to me and offered me a chance to review their Hoover H-Free 500 Pet Cordless vacuum I jumped at the chance.
There is nothing worse than needing a new vacuum and not knowing which way you should go. There are so many different options that it can be overwhelming as to what will work for you. This is why I love doing reviews because I can give you my honest thoughts and feelings on a product so you get to make the right choice for you.
Hoover gifted me the vacuum, but my thoughts and opinions are 100% my own.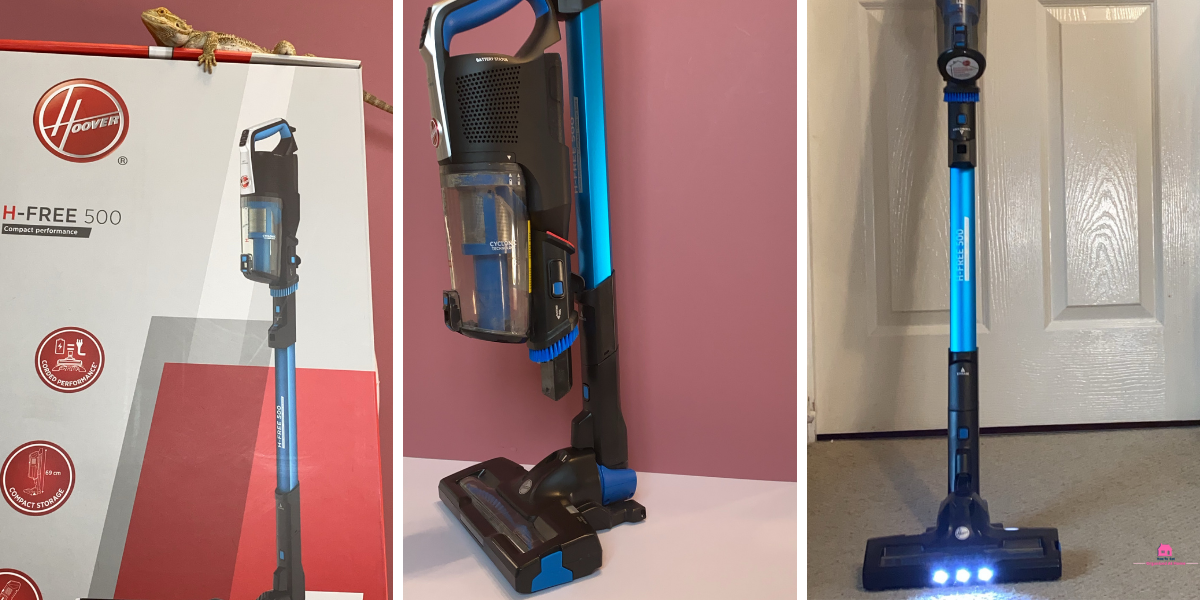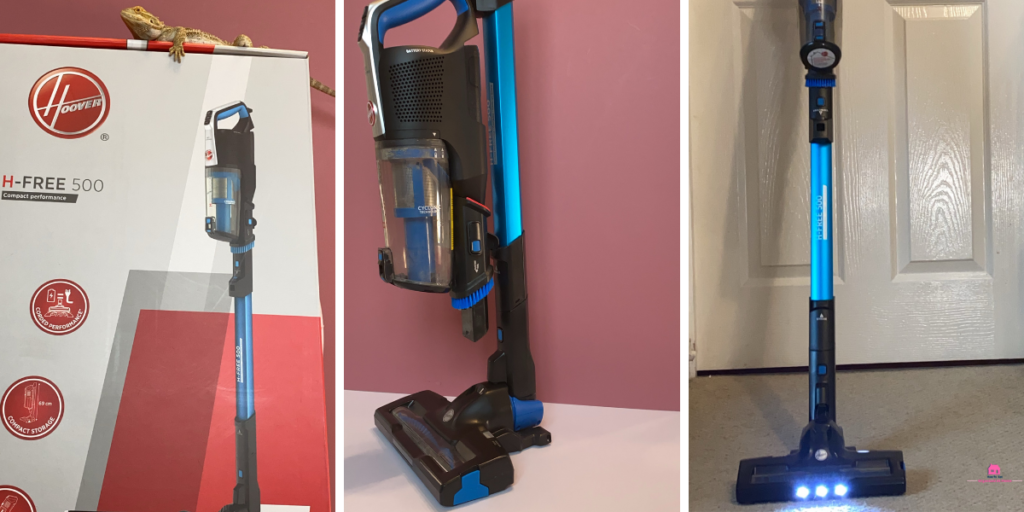 Affiliate links are included for your convenience. (Which means if you make a purchase after clicking a link I will earn a small commission which won't cost you a penny more!) Click here to read my full disclosure and privacy policy.
Let's look at what you really want to know?
Use my code HTGO20 to get 20% off!
Do I recommend this vacuum and the honest answer is yes. I love it, it's powerful even though it's cordless, it does an amazing job of getting my dog hair out of the carpets in my home and most importantly, it doesn't fall over, yes you read that right the vacuum can stand up right on it's own.
It's an incredibly lightweight vacuum cleaner that is easy to use and is great at removing pet hair from my carpet.
The vacuum is compact and is able to be stored in small spaces due to a unique feature of being able to store the upper section on a secure spot on the lower section of the vacuum.
However, if you are doing a large space the chances of the battery running out is high, it is possible to have two batteries and that will just mean swapping batteries when one dies.
But, with the indicators on the top of the vacuum it tells you how much charge the battery has and this helps me to judge how much time I have left to vacuum.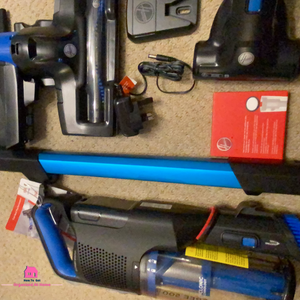 How Does The Hoover Perform?
I have had no problem with how the vacuum performs and I've put it to the test with having 3 dogs who love to share their fur with my home and everything in it.
It has picked up the fine dust as well as larger debris and in my opinion it has outstanding suction capabilities.
I found the performance and the suction power is amazing on different floor surfaces.
You have a button to turn off/on the carpet mode. When you turn off the carpet button the power head doesn't spin as there is no carpet that needs agitating to pull out the dirt. This also prevents hard floors from getting scratched by the brushes.
The advantage of stick vacuums means how you configure the vacuum to how you wish to use it.
How You Choose To Configure It
Not only can you use it in the standard mode of the upright vacuum but you can also transform it into other options to make the most of its cleaning power.
I love the fact that you can shorten the length of the vacuum so you can tackle those jobs like the stairs whilst giving you better control.
Using the pet-head for the stairs is awesome, but you can also shorten the vacuum and use the normal head too.
The turbo mode is amazing, but it will zap the power out of the battery quicker, so use it sparingly.
I find that my hand tries to turn on the turbo button first so it is taking time to adjust my hand position to this new vacuum.
Does It Clean Well?
When it comes to cleaning I don't think I have used a vacuum with such incredible performance from a cordless vacuum. I like a clean floor and I haven't been disappointed in the performance as well as the tools that are contained on the vacuum itself.
If you are using the vacuum on carpet you do have to change the head on the bottom of the powered head and while this might look fiddly it really isn't and it does make a difference to how it cleans on the carpet.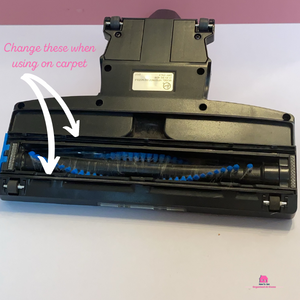 The integrated crevice tool is amazing, you don't have to do anything, like hunt out the alternative attachments as so many are integrated into the model. You can use the other attachments, these include a more defined crevice tool and the mini turbo brush which is amazing at pulling out pet hair.
My Thoughts On How Well It Performs
In my opinion, the Hoover H-Free 500 pet model provides excellent cleaning results every time, even pulling out the most stubborn dog hairs out of the carpet.
It is more suited to smaller homes if you intend to vacuum the whole house in one go and don't go for the 2nd battery, but you won't be disappointed because of the excellent cleaning results that you will get with this cordless stick vacuum.
Cleaning Soft Furnishings With A Vacuum
When it comes to keeping soft furnishings clean, having a vacuum that you can rely on is so important.
I use this for spot cleaning tasks on my fabric sofa as well as for more detailed deep clean.
You can also turn this into a high reach dusting tool that is amazing at dusting those corners of the room as well as curtain poles.
With this vacuum having the cordless agility makes it an even more versatile appliance as you don't have to worry about plug sockets and cables.
As with any product review looking at the pros and cons of an appliance is important, nothing is ever perfect and whilst they might seem like cons for me, for you it might not cause a problem.
Pin This: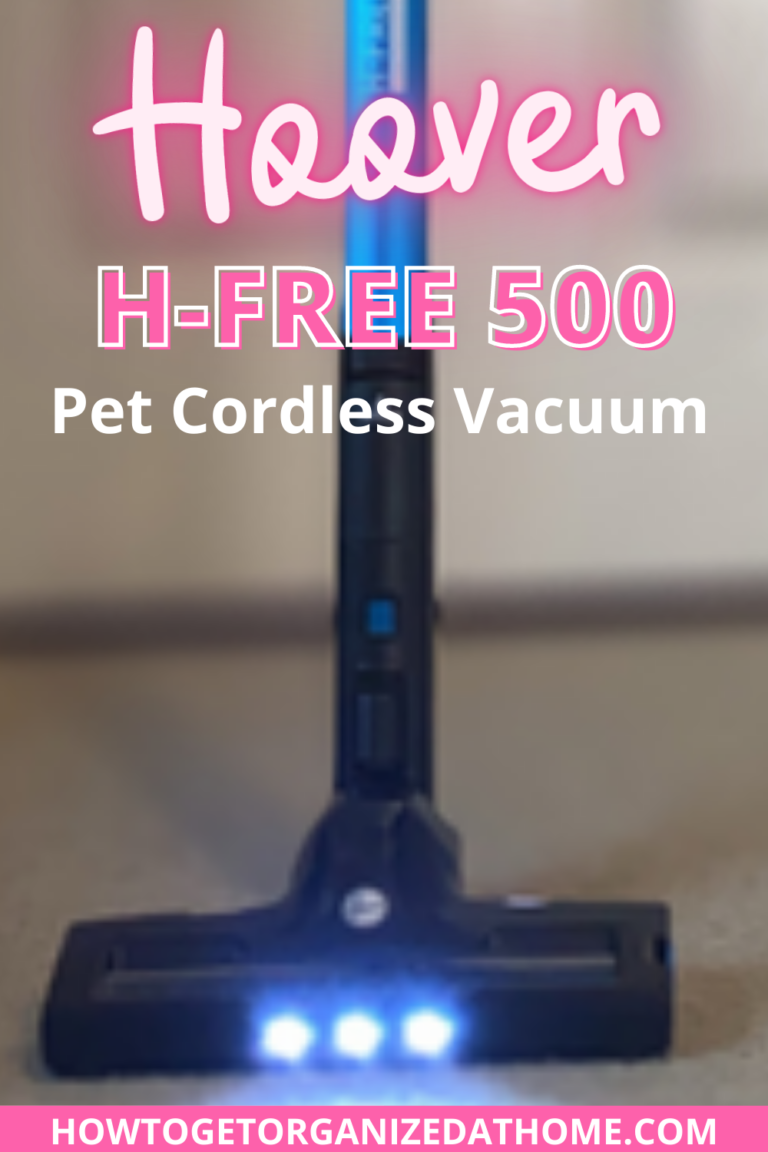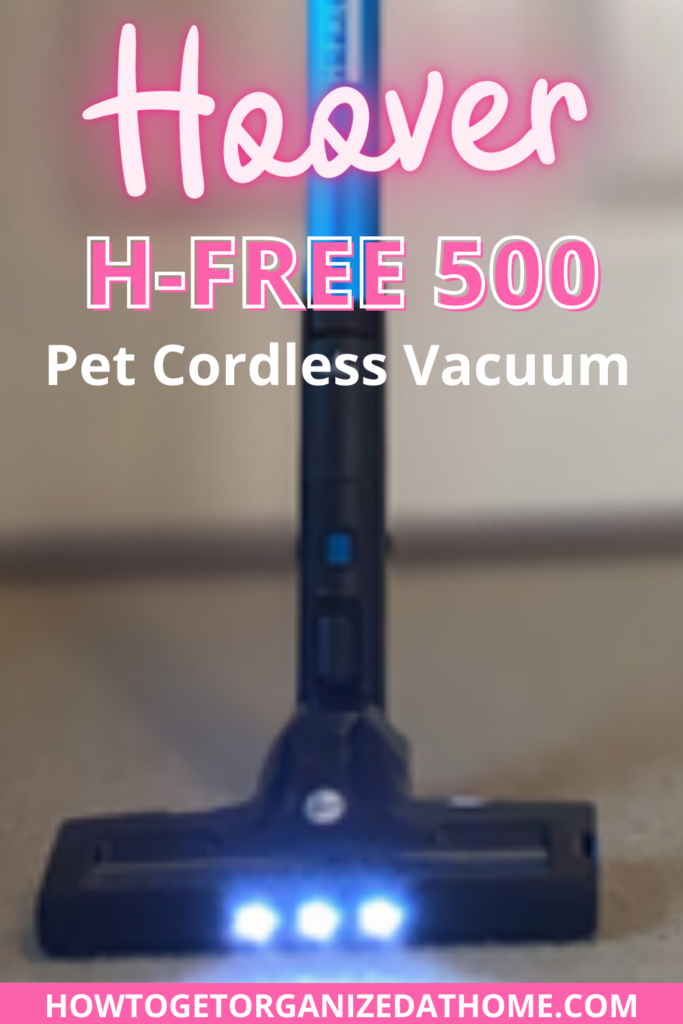 Let's start with the pros:
It has an amazing trick when it comes to storage and can easily fit inside a small kitchen cupboard. The height of the vacuum at its smallest is just 69 cm making this an easy storage option.

When you stop vacuuming it will stand up on it's own! This feature is amazing. How many times do you want your vacuum to just stand up?

It can be used on multiple floor types and I have not had a problem on tile, carpet or laminate flooring.

The LED light on the powered main brush is amazing and it really highlights the dust and dirt that you might not notice otherwise

It can manoeuvre in tight spaces with the head getting underneath a lot of my furniture

The cleaning tool is amazing at pulling out the dirt from the cylinder
The cons of the vacuum:
The cylinder is quite small, but it does hold a lot of debris but it has a limited amount because of the size. So, it means you have to empty more frequently

There is nowhere to put the other accessories. It comes with a wall mount but this doesn't hold the pet head or the extra crevice tool. It does come with a bag but this isn't something I would use as it becomes another item to store.

Because this isn't a corded vacuum there are limitations to the life of the battery. It's powerful and that means it uses a lot of battery power to run meaning the life of the battery is short.
Cleaning The Vacuum
I think this is one of the most important aspects of seeing what machine to purchase is how easily it can be cleaned.
If this isn't good then I wouldn't buy it.
You won't be disappointed you will love this vacuum. It comes with a hook and brush two in one tool and it's what's been missing in my life! This little tool makes emptying the dust collecting tank a breeze.
No more sticking my fingers in the dirt that's been collected to pull out anything that's gotten stuck, I love this little tool so much, in some ways it's even better than the vacuum itself, but not quite. So, when it comes to emptying out the dust collection bin it's simple.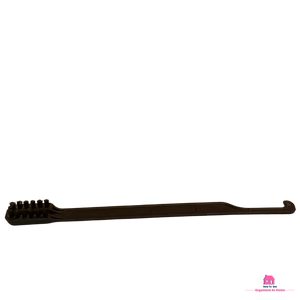 There are two ways to empty this compartment, the first is with the catch at the bottom and the dirt comes out. Alternatively, you can remove the cylinder from the vacuum and take the filter out from the top and this gives you access to the dust collecting chamber.
Related articles:
Cleaning And Accessing The Parts
You can also wash the dust chamber and any filter that is washable, but remember to let them dry completely before putting back into the vacuum.
I've never been so impressed with how simple it is to remove the roller/ brush bar. It is simply a little clip and it's out, no searching for a coin to undo a plastic screw device that doesn't want to turn. Cleaning the rotating brush bar is extremely simple, it hasn't got tangles with dog hair but odd pieces of cotton that it has found whilst doing its job.
This is a cordless vacuum and this means you don't need a power socket or a long cord on the vacuum to get around your home.
I have found that charging the vacuum to be extremely easy. It can be charged in two different ways, the first is to just plug the charger in with the battery still in position on the vacuum, the second is to take the battery out of the vacuum and charge it separately.
I intend to fix the wall bracket that it comes with close to the socket that I intend to use to charge and then it can be charged as and when it needs to but when it's in it's stored position.
Let's Recap…
I was kindly gifted the Hoover H-Free 500 Pet Vacuum to try and to give my honest opinion on the product and I must say that I have fallen in love with it's amazing power.
It's lightweight and makes light work of the dog hair in my home.
It's a compact cordless stick hoover that performs amazingly and is versatile and easy to use. It comes with different tools including a crevice nozzle that you can use to reach those hard to reach places as well as a dusting brush and a furniture attachment.
A very powerful lithium battery that really makes light work of the task of cleaning your home, meaning that you also don't have to worry about cords as it's a cordless machine making vacuuming a less stressful process.
It also offers a turbo function that gives more minutes of extra powerful suction, but it does reduce the cleaning time of the battery.
I fully believe that this is an amazing vacuum and one that I would recommend to pet owners because it works. I truly believe in the quality of the product and the price.
The HF500 is an incredible pick for a cordless vacuum that even includes a pet head attachment to get rid of pet hair from furniture and stairs.