I know from experience that planning which isn't done correctly can and will waste your time, preventing you from reaching your goals. I have learned three secrets this last year that will help you achieve your goals and put you closer to your dreams. They require some work, they aren't magical or happen by themselves, but without them you might find yourself setting the same goals and dreams for years to come and never get any closer to actually achieving them. This is why I want to show you how to make the best New Year plans for you.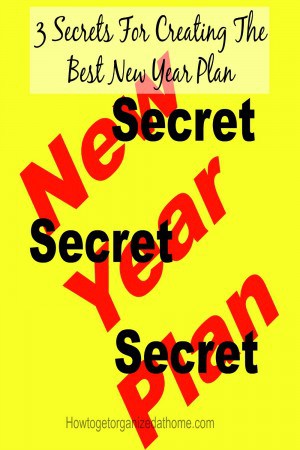 The Best New Year Plans
The first secret is the most difficult to do, you must learn to plan; without planning you are not going to work out the time that you have available to do anything. Planning is the key to success, it can help reduce your stress levels; how many times have you run around looking for something when you are already late, this makes you stressed and it can even impair your judgement and you might even take more risks than normal. This isn't good for you or your health.
The idea of planning allows you to ensure that you are ready in time for appointments and that you have plenty of time in advance to prepare. Without this you will forget things, turn up late and increase the risk of developing stress related illnesses; it can also affect your work too. Being late and not being prepared isn't the best example if you are looking for a promotion or an increase in your wages.
I thought I was a great planner, unfortunately, I was fooling myself, I set myself a challenge to hold myself accountable for my goals and because I didn't know how to really plan for these I quickly learnt that I needed to learn more about planning and quickly!
The Second Secret For Creating The Best New Year Plan
If you are looking to achieve your goals and dreams, the only way forward is to put these into your plans. How many times have you created New Year resolutions only to find that you break them within hours?
The problem that you have is that you haven't planned these goals properly, they might be too vague and not really feasible and this is why they fail. It often means that you set the same goal each year with the thought that some point you will actually achieve your dreams, but with very little actual hope of ever getting there.
This is why you need to start thinking about those goals, dreams and ambitions that you have now, start thinking about ones that you can break down, that are manageable and that you can actually achieve.
You must create a plan for your goals, the same as you need a plan to ensure that you are on track with your life; you need one for your goals too.
They need to break down into smaller tasks so that you can spread them out over the course of the year. As a minimum, you need your goals to break down into at least 12 manageable chunks; you might even need to break these down further. You are setting yourself up to succeed and to achieve your goals and dreams.
The Third Secret To Successful New Year Planning
Not everything goes according to plan, and understanding that you have the power to change things is important. After all, it is your life and circumstances change, life can get in the way; knowing that you might have to adjust things is important, you can still reach your goals but it might be in a different direction or you might need to change some aspect of your goals.
This is why it is important to keep yourself accountable as to your progress every month or week; it allows you to judge for yourself your actual progress. Don't be tempted to hide or to make excuses for failings, look at them objectively and see what you can learn about your own planning, or if there is something else that you need to put into place to help you move forward towards your goals and dreams.
Therefore, it is time to look forward, start planning the New Year, focus on those dreams and desires that you have and put plans into action so that you can finally reach your dreams.
If you are looking for more articles on this topic head over to the landing page where you will find links to other posts on personal organization.