Organize And Finalize Your New Year Plans
I know that Christmas isn't even over and I am suggesting finalizing your New Year plans. However, getting all the details sorted now will reduce the mad panic next week. You will be more in control and your stress levels will reduce, especially after Christmas, knowing what you need to do and where you will be celebrating the start of the New Year. If you don't intend to celebrate the New Year in with a bang, that is fine, don't worry but let family and friends know not to call you at midnight!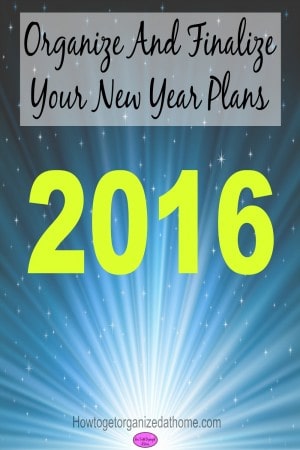 Your New Year Plans
Getting your plans straight can help you prepare in advance, budgeting for the extra expense is important especially as it is so close to Christmas, that is a big enough expense without adding the cost of yet another celebration just one week later.
If your New Year plans include going to family or friends planning is important, remember to ask if you need to bring anything to help them out, it might be food or drink so you will need time to prepare in advance.
Be prepared if you are taking young children in case they don't manage to stay awake. Take things with you in preparation for this and plan how you are getting home with a sleeping child or two, it could just mean an extra blanket to cover them on the drive home. Having a favourite toy might help them settle down to sleep in a quiet corner.
If you are entertaining on New Year's Eve and planning a party, then you need to start planning now. Are you inviting any guests to stay over, if you are you will need to consider the sleeping arrangements. Planning helps to organize the details so you know what to do and when you will have the time to fit in the finer details of hosting a party.
If you need any of your guests to bring anything to the party, it is only polite to ask them in advance. It will give them time to sort out the requested items; don't hope someone will bring something, it is best to ask in advance.
New Year Celebrations
If you are throwing a New Year celebration, it is important that you plan. Celebrations are not cheap and getting everything you need will require planning and creating a budget.
Having a budget is important; you should spend only the money that you can afford, or, what you have saved for this particular event. Rushing into a party without working out the costs in advance is asking for trouble.
It is not surprising, but when shopping for a party it is easy to get carried away with buying the food and the drinks, spending more money than you have, not only will this lead to stress, where to find the extra money, but it can also lead you down the path of debt. If you find that putting the extra on credit is your only avenue, then unless you have spare cash in January you will be paying interest on your party celebrations and this is not worth the expense. Try cutting back on what you buy and ask people to help by bringing certain items.
If you work within a budget, you will become more creative with your food and drink, encouraging people to bring drinks and or food will help reduce the cost of the party for you.
If you are planning, overnight guests remember that you will need more food options for the morning making you the perfect host.
By finalizing and organizing your plans this week, it allows for any amendments and gives you time to plan accordingly. Don't forget to ask if you are providing food if there are any dietary needs, this helps when planning the menu, you don't want guests to have nothing to eat if you haven't catered for their needs.
Creating Your New Year Plans
It is that time of year when you create your New Year plans you start to think of the New Year. You begin to look at what you want for the coming year, it is time to start considering, if you haven't already, what your New Year resolutions might be.
Having something in mind that you might like to achieve is great to start the New Year with some goals or dreams, but unless you plan, even just a little bit, those plans and dreams won't become a reality.
Spend some time thinking about your goals; it might save you from a blank expression if someone asks you what your New Year resolutions are and how you intend to achieve them in the New Year.
Thinking about what you want to do and what you want out of this next year is important if you are a wife, mother you can still have dreams of your own, a destiny that you want to fulfil. It is something that you need to address, you only have one life and living it how you want is just as important as your children reaching their own dreams and desires.
Looking ahead at a New Year seems scary; it is something that we put off, thinking it is something we will tackle in the future. We sometimes forget that future is here and now and putting ideas into practice and making our dreams come true, so while you are planning how to celebrate the New Year, think about what you want from life too, what dreams you can make come true.
Therefore, whilst Christmas isn't yet over, it is time to start planning what you intend to do on New Year's eve, start finalizing those plans and start organizing what you need when you are ready to welcome in a new and exciting year. Think about your goals and resolutions for the coming year and how you will achieve them for yourself. Don't forget your budget, it is key to a stress-free January.
If you are looking for more articles on this topic head over to the landing page where you will find links to other posts on organizing.