Starting the year off with a great plan of spending less money and making any money that you do have to work harder for you, is easier if you consider creating a budget. It might scare you, perhaps send shivers down your spine, but seriously, it is not as bad as you might first think. Creating a budget for the entire year is not necessarily that difficult and it can help you to see ways to draw the money together into one big picture. However, any goals or desires you do have with regard to your budget need to be measurable and achievable, only then will it be easy to break these goals down into the smaller chunks that are manageable.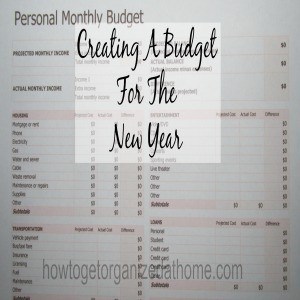 Pulling Together Details For Creating A Budget
It is a difficult task to bring all your bills together and analyse them in such a way that you can account for every penny, also making sure you are sure that you have no charges for any item that you have not used.
Once you are fully aware of the money that you spend each year on your bills in all categories, including any car repairs or house repairs that might occur, then you have an annual figure of the expenses. It is important at this stage to include consumable expenses like food as well as any debt and utilities that you incur during the year.
You need to know the money that you have coming into the home, the wages that you earn and any benefits that you might receive. If you look at the annual figure, it gives you a great vision of your whole accounts over the course of the year. It can help you determine the potential that your income actually has and the amount that you spend.
If you plan to go on holiday during the year don't forget to have a category for this, too.
Having a visual that you can turn to during the year is important, you can use it to help create your budget every month.
How To Use This Information To Create A Budget
If you know how much money you spend annually on different bills it can help to ensure that you are putting enough money away each month to cover these expenses.
When you are creating the expenditure it is important to add a percentage on to the figure, this equates to the inflation that all bills go through each year, a rough idea is to increase the amount you spend by 2%; this should cover the costs of any increase.
Divide the amounts that you need to save for annual bills by 12, but include the right payments amounts for monthly bills when you are creating an individual budget. If you have more money going out than you have coming in, means that you will need to adjust your figures to help reduce the expenditure to keep within your monthly income.
The areas that have the most wiggle room for adjusting your budget are the expenses that are incidentals like groceries and treats that you might have hoped for, while this is difficult to manage when you have to reduce the amount of food you can buy or treats you can have living within your means is important. It gives you the freedom not to be trapped by paying back debt along with interest occurred.
Therefore, by creating a budget for the New Year it can help for you to take control of your finances and to not allow them to control you.