25 Things To Declutter Before Summer Ends
Do you want to tackle a few different decluttering projects but you just don't know where to start? I have created a list of 25 items that you can go through and declutter knowing there is less to clean and keep organized.
These items to declutter before summer ends will set you up ready to enjoy time with your family and not worry so much about having too much clutter in your home.
What's important is to just get the ideas to declutter your home, you might want to add to the list and that is fine.
Let's jump straight into these simple ideas to get your home decluttered before the summer ends.
1) Declutter Your Winter Clothes
Go through your winter clothes and pull out items that you won't need next winter because they will be too small or not in great condition. Do this for each family member and you will have a list of the items that need replacing before the following winter.
Affiliate links are included for your convenience. (This means if you make a purchase after clicking a link I will earn a small commission which won't cost you a penny more!) Click here to read my full disclosure and privacy policy.
2) Clear Out And Declutter The Pantry
There are going to be foods that aren't eaten as often in the summer months, make sure to use these items up first.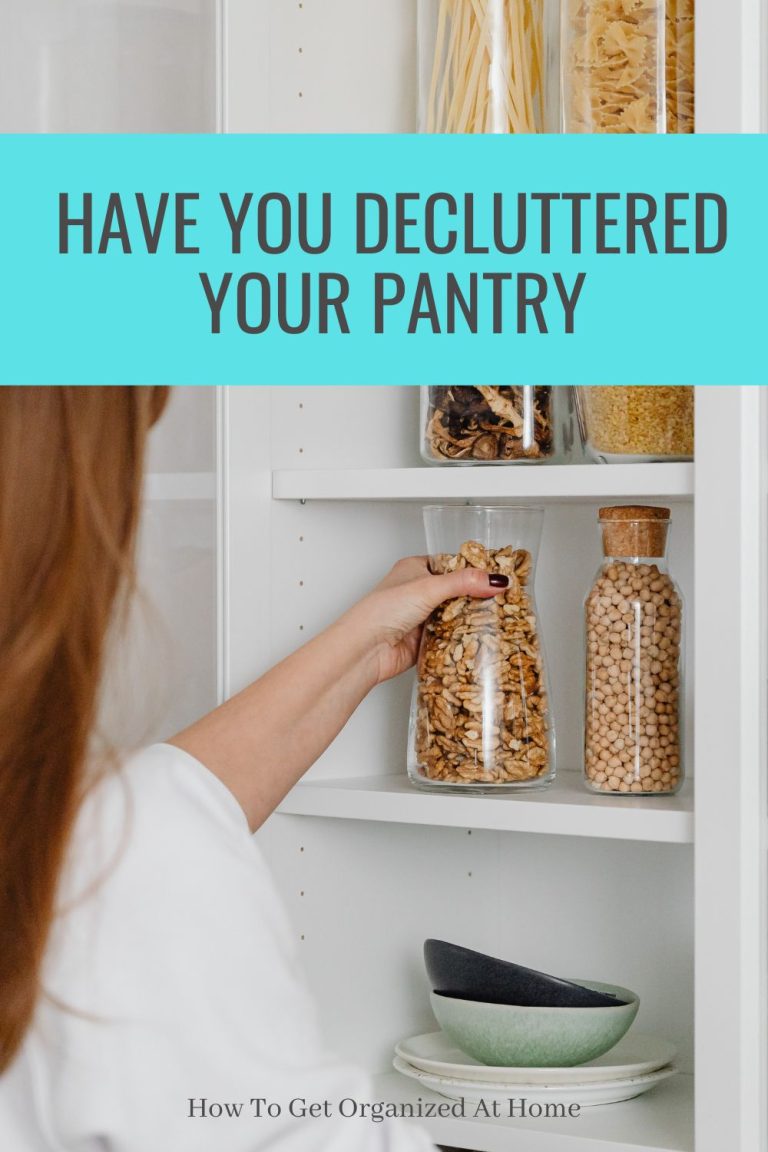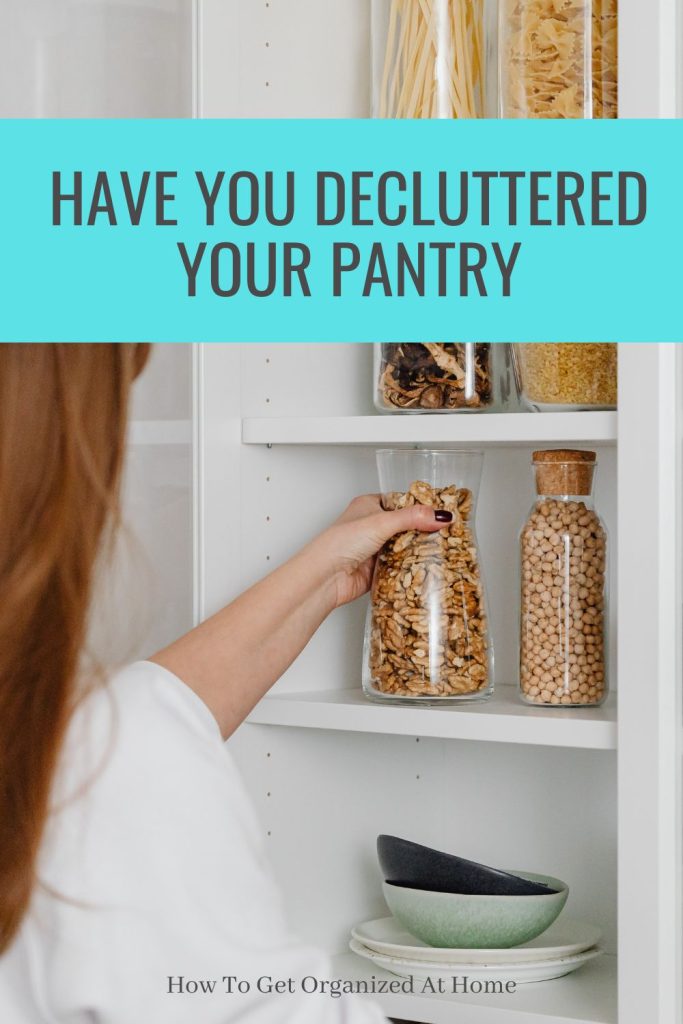 Remove any items that are out of date or just won't get eaten. Remember if they are still in date you could see if your local food pantry want these items rather than just throwing them away.
3) Going Through The School Items
This is a great way to ensure that you have a list of the things that your children will need when they go back to school. Get all of the basic stuff by keeping an eye on the sales to get the best deals.
4) Declutter The Garage
You will be surprised how much stuff gets dumped in the garage during the colder months, with the promise that you will deal with it when the weather is warmer.
It's now time to deal with that stuff.
5) Declutter That Summer Clothing
Check what summer clothing you have and make sure they are going to fit and are still in good condition. This is the perfect time to make sure all family members will have appropriate summer items they can wear.
6) Car Decluttering And Reorganizing
There are some things that you won't need in the summer in your car, but other things will be a requirement. Make sure you have suncream, plasters, and hand wipes as these are essential no matter how old you are.
Removing items that aren't required during this season will save you space in the car.
7) Winter Decor Still Hanging Around
It might surprise you the amount of winter decor that gets missed. Take this opportunity to go through the items that are still out and make sure they are in good enough condition to get stored away.
8) Winter Coats And Summer Coats
It depends on where you live but you might find that swapping out coats is part of the process.
So, check the winter coats and make sure they are in good condition and keep only those that you will need.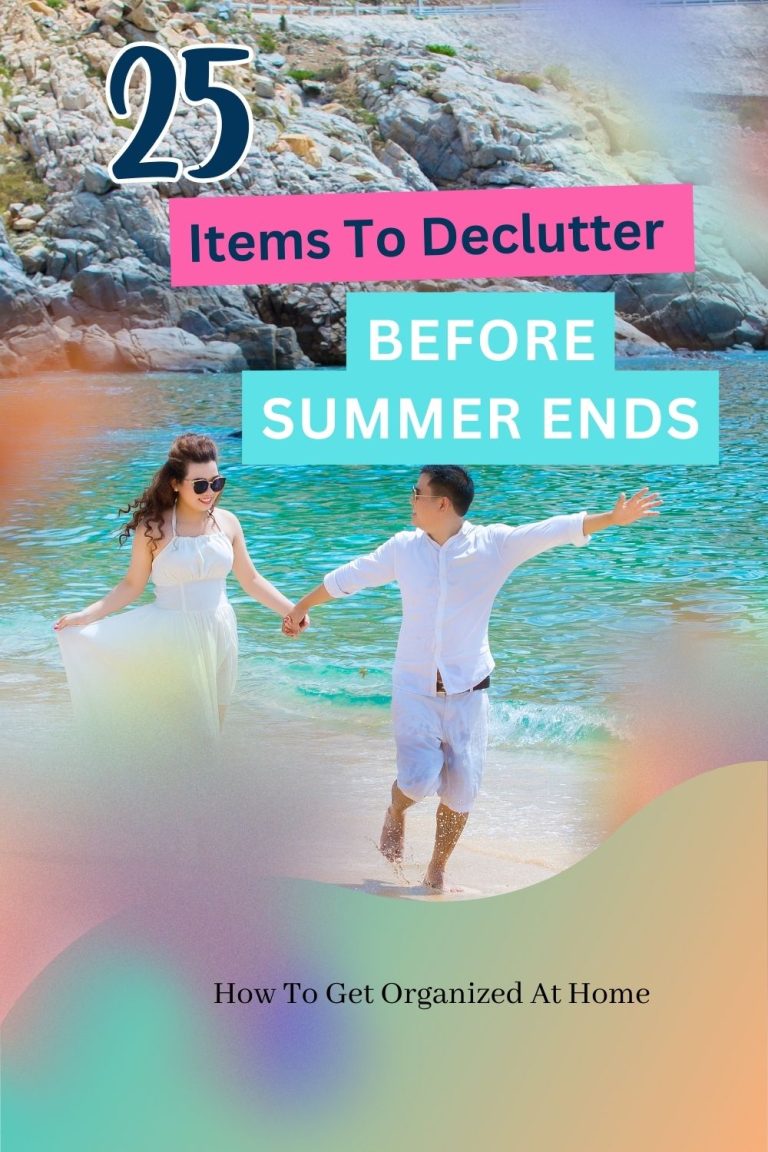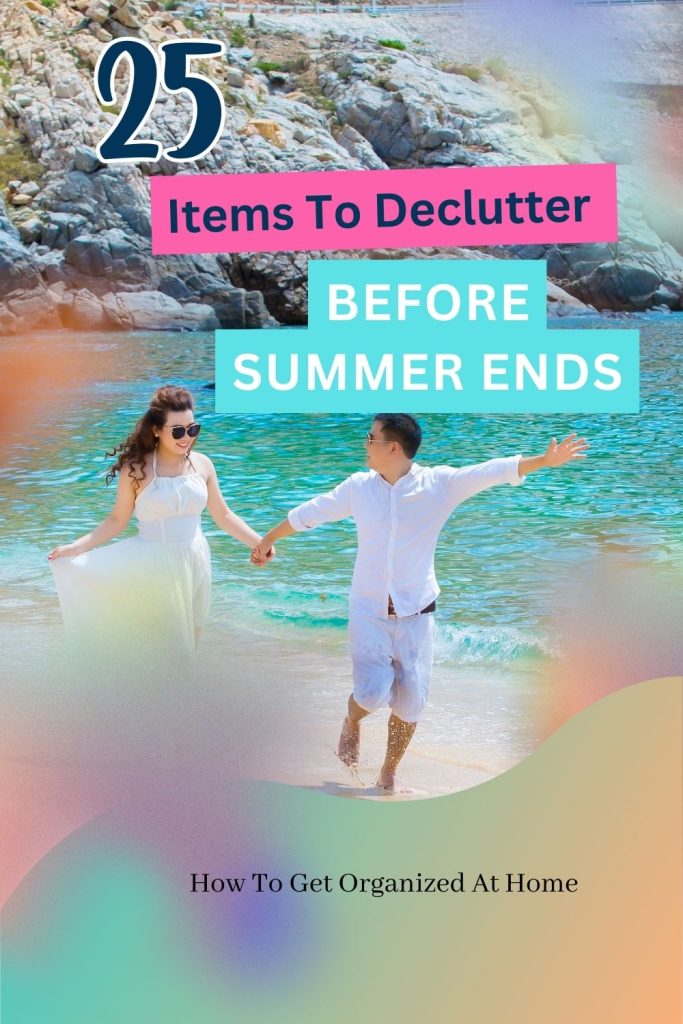 Pull out summer coats and check that they are good and fit perfectly.
9) Time To Declutter Toiletries
We use different products for different times of the year so starting decluttering and swapping out your toiletries from winter to summer products is a great idea and it also gives your toiletries a good decluttering too.
10) Hats for Summer And Winter Ones
We all have hats that we use in the summer, get these ones out and go through them making sure that they all fit for the summer.
Go through the winter ones and declutter the ones you no longer need and store the ones that are going to see you through next winter.
11) Declutter Winter Shoes
It's surprising how quickly shoes can wear out when you wear them a lot. Get rid of the shoes that aren't fit for another season and donate or sell the ones that are great but you just want some new ones for next season.
Get this done sooner and you might find some great deals on end-of-range winter sales.
12) Get Rid Of Water Bottles
I'm sure water bottles grow and sprout and create new bottles each time I look in the cupboard.
It's time to declutter them and check if they are still in good condition for the upcoming summer time.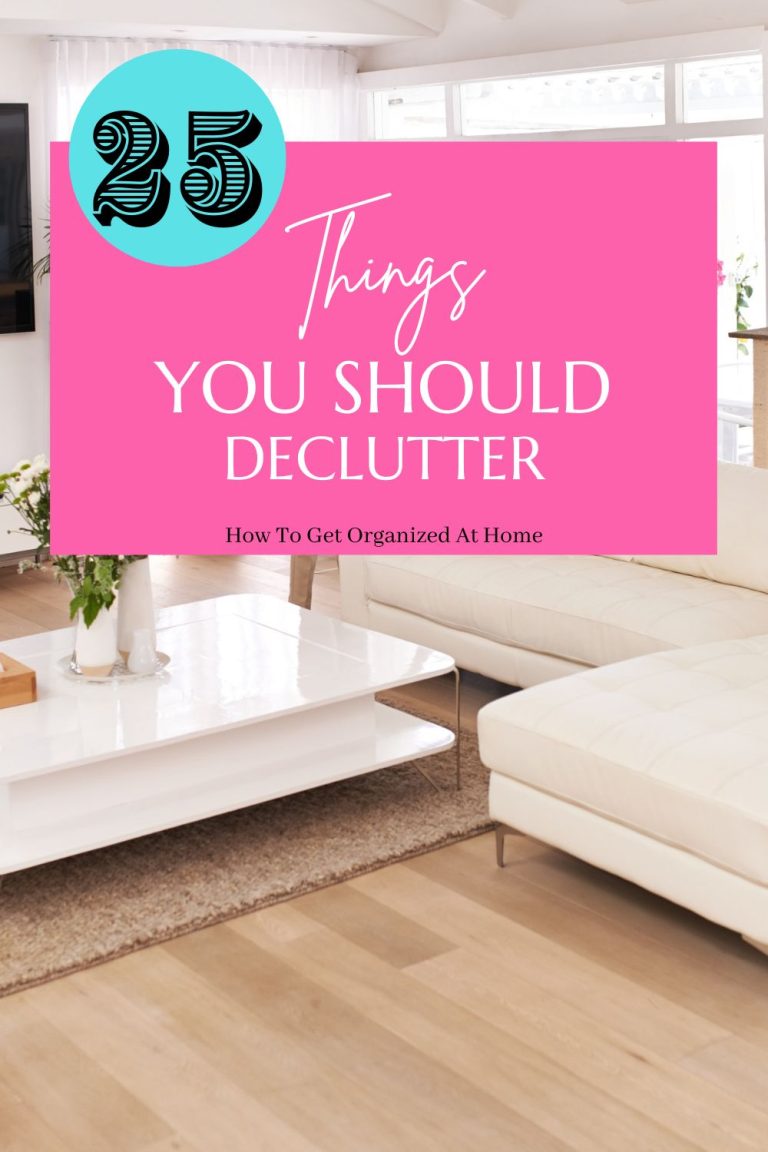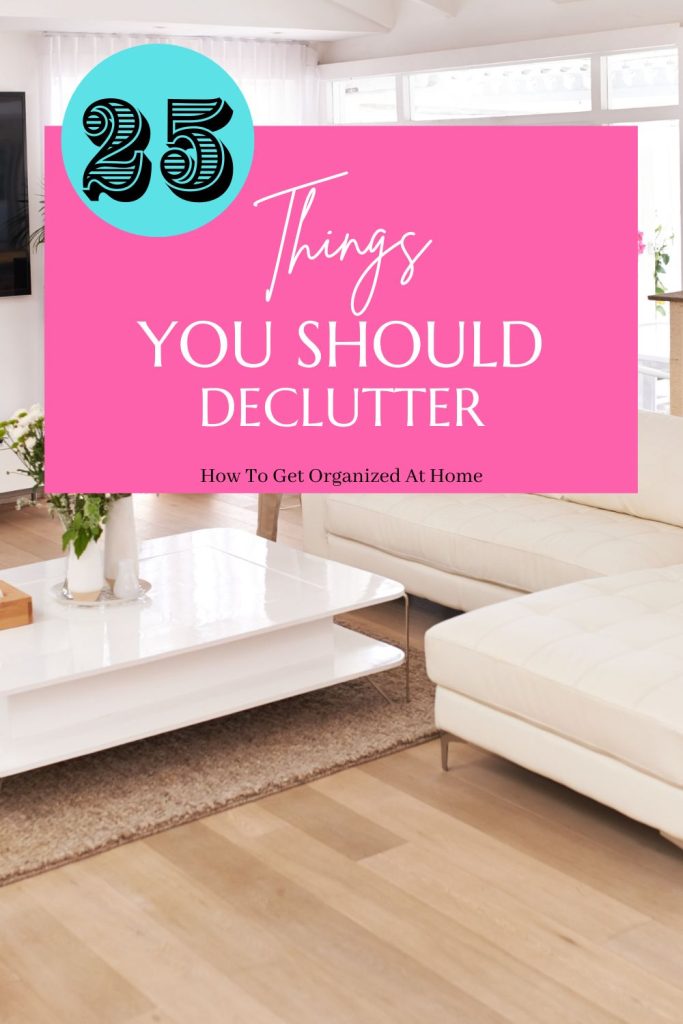 If they are looking moldy then it's time to replace and get new ones.
13) Outdoor Furniture Declutter
When it comes to outdoor furniture we can be great at getting it all undercover for the winter, but how often are you checking to make sure that these items are in great shape before you put them away?
Check them over now and make sure that you aren't going to have any accidents with broken furniture, get rid of the broken items as soon as possible.
14) Declutter Your Outdoor Toys
Outdoor toys don't stay out all year, well they never did in my home, and often the last time they were used they were then probably shoved in their storage spot until the following year.
The summer is when I found it easy to go through garden toys and declutter the ones that were broken or outdated or no longer suitable for my children.
15) Garden Tools Declutter
When was the last time you went through your garden tools and checked which ones are broken or not worth keeping?
This is something I try and do every year, checking on shears and anything that is supposed to cut is the first tool selection I pick.
Then I move on to the general tools and check their condition.
16) Indoor And Outdoor Blanket Declutter
The summer is the perfect time to check out all of your blankets, inside and out, and see if there are any that need to go.
You might just not like the color and that's fine. Declutter them and move on.
17) Fridge Decluttering Time
The fridge should be done on a regular basis, it's essential to keep the fridge clean and tidy. We don't want food that has been hiding going moldy in our fridges.
So get them sorted and get them out of your fridge now!
18) Ditch The Old Sunblock
Protecting the skin from the harmful rays of the sun is important. Using old and out-of-date suncream is not saving you any money.
Make sure you are protecting your skin in the summer sun and use in-date sunblock.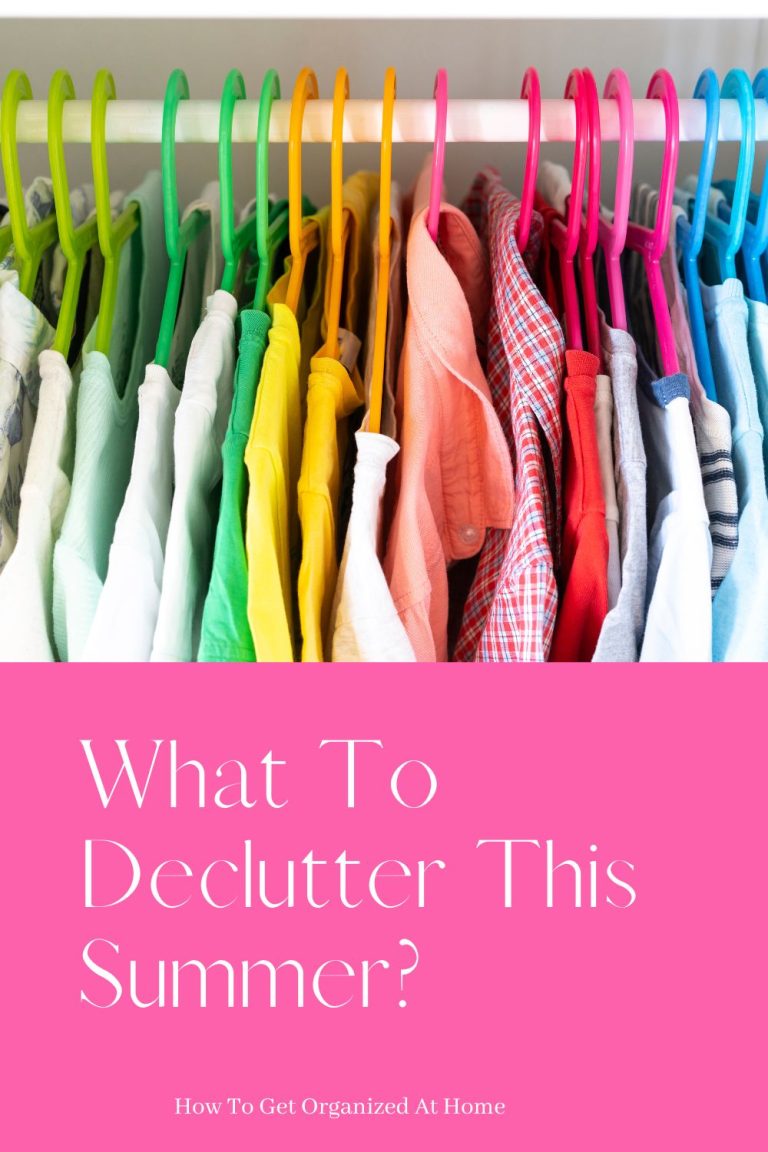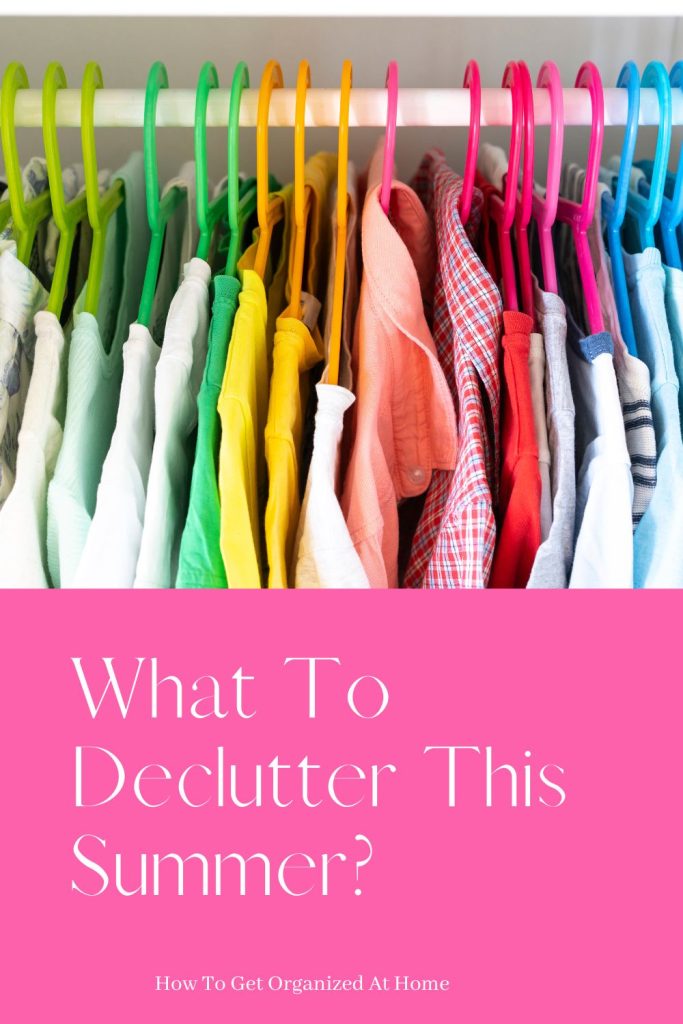 Don't donate old suncream, dispose of it properly.
19) Beach Bags Decluttered
If those beach bags weren't cleaned out at the end of last season, you will need to do a proper check to make sure that there aren't any holes or mold inside or outside the bag.
It's never really safe to use a beach bag if it's not dried properly and it has mold growing, it's best to get a new one.
20) How Many Beach Towels?
If you are a fan of the beach and swimming, chances are you have a few towels.
This is the perfect time to declutter the older towels and the ones that have seen better days.
A couple of towels per person should be enough in any household.
21) Declutter Out Grown Clothing
If you have clothing that no longer fits, it's too small then it needs to go.
Storing good baby clothes and children's clothes is OK, only if you have children of similar ages. You don't want to store it forever, it's a waste.
Good quality clothing can be donated or sold bringing some other child the joys of having the use of it too.
22) Multiples Of The Same Item
Unless you have multiples in your home having more than one item the same is a waste.
Declutter the items that you have multiples of.
Pick the best one and either donate, trash, or sell the duplicate items. You don't need more than one item that does the same job.
23) Are You Storing Broken Items
Having broken items stored in our homes is not a good use of space.
Get rid of items that are broken.
Don't save them because you intend to fix them, this seldom happens.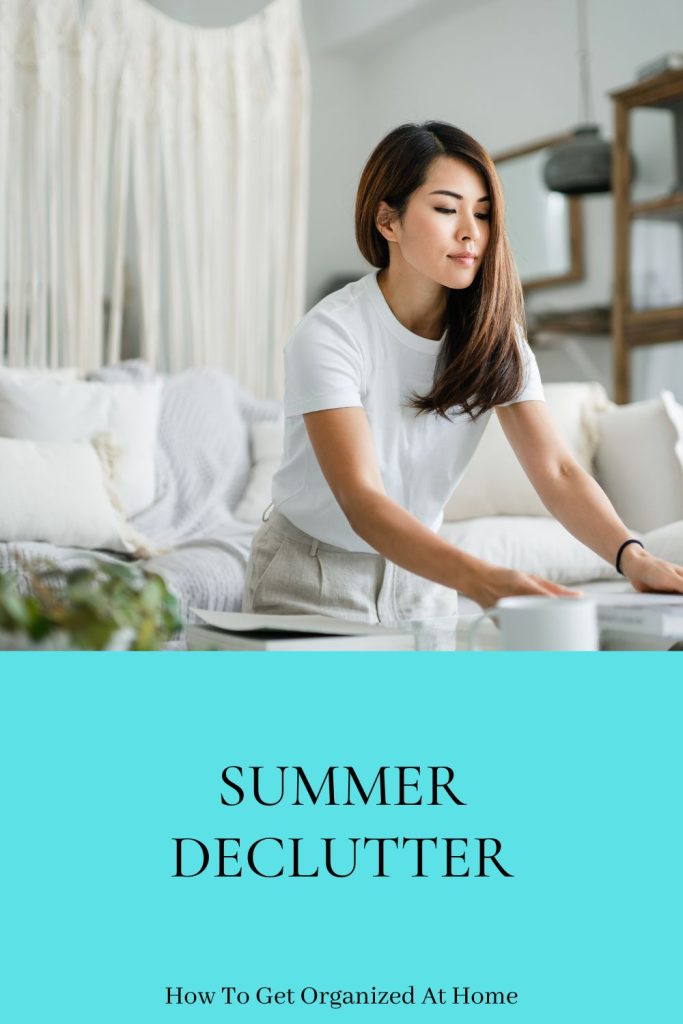 You might be able to sell them for spares and if this is the case get the money now instead of waiting around for that moment when you might be able to repair the item.
24) Declutter Your Garden Ornaments
Do you have too many garden ornaments?
Yes, it is possible I have seen gardens so full of them that you can't appreciate the ones that are there or the garden either.
It's the same for ornaments inside, too many and they can look cluttered and they take time to keep clean too.
25) Get Picnic Ware Ready For Summer
Dig out that picnic ware and see if it's fit for another year!
Check for broken items, or even discolored.
Just keep pretty and practical items and get rid of the ones that you know you just won't use.
Do You Need More Ideas On Decluttering
There is never enough time to go through everything in just one list. Check out these resources below for more tips and ideas on decluttering your home and life.