Using Colour In The Holidays
Are you afraid of creating a colour scheme for the holidays; are you unsure how you will get all of your holiday season decorations to fit into one colour scheme? It is simple, you don't have to put out all your decorations every year, only the ones that go with your current colour theme for this holiday season.
Choosing colours that will add a touch of sparkle and Christmas cheer is always good and is easier to manage than you might think.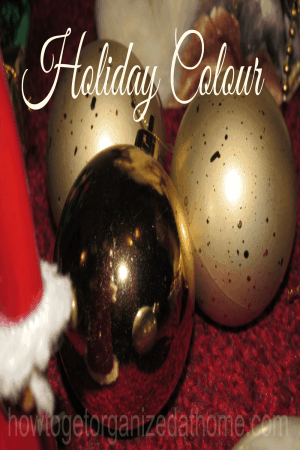 Buying Decorations With Colour
Choosing the colour that I am working with for the season is difficult because I like to pick decorations in January when they are all on sale, so I give myself two choices and this means that what I don't use this year I can choose to sell or I can use it the following year.
When I buy the colour themes I am not spending a fortune on loads of decorations it is normally no more than £1 – £2 on the main theme colour items and these are for the tree like baubles and small tree decorations.
You don't have to fill your home with every decoration that you own, you can mix and match so they appeal to you and go with the colour scheme you have chosen.
I tend to pick the chosen colour in the baubles that I plan to use and I try and follow that colour through on the table-cloth we use and the candles that I have around our home.
We have a couple of tablecloths to meet the season and I have a few that I use during the year and at different seasons. I take the tablecloths off to eat the meal and just use mats; it means if a spill happens, it is easy to clean, dirty tablecloths, mean more washing.
Going Through Your Decorations
Go through your decorations and only use the ones that go with your theme, I tend to put some of my normal ornaments away over the holiday period and that way it does allow me to use perhaps more colour than normal.
It is not possible to put out all your decorations each year, this is the same with children's decorations they make. I tend, now they are older, to only get one or two out per year and this makes each Christmas special thinking about the memories we have made together as a family.
If I was still getting decorations made each year, I would just keep the old ones stored away until they no longer feel the need to make new ones. You can then just choose a few at a time to display.
I then just use the colours that I want and if I feel that I have too many decorations I donate some to charity shops, you could sell them to make some money too.
Christmas Themed Table Ware
I like to pick colours that will match my Christmas themed tableware; because I don't use it very often, for me it is special and it is only out about two months of the year. I don't want to waste money each year buying new tableware when the Christmas themed one I have will survive a few more years and this does save money. It's put away after Christmas until the next holiday season.
Therefore, adding colour to your Christmas decorations isn't as difficult as you might have thought. If the colour of the item doesn't match your other decorations then try putting them away even for a few weeks, that way you can pick different colours for your festive theme.
If you are looking for more articles on this topic head over to the landing page where you will find links to other posts on organizing your holiday season.