If you love to read and you have books around your home, it is important to take care of them because damage can happen and this will make them become a useless commodity. While any form of storing can cause potential damage there are ways in which you can reduce potential damage. Books that exist in the physical world are some form of paper or card and this material, whilst it has been a popular choice for many years as the medium to use; it is susceptible to the elements and can quickly become a health hazard, it can harbour dust that damages the book and can affect your health too. Keeping your books clean and storing books with care will ensure they are around for years to come!

Affiliate links support How To Get Organized At Home
Storing Books On Bookcases
It is important that you have a place to store your books, and while a bookcase is a serviceable unit, it has its limitations when it comes to protecting the books in its care.
Books need regular maintenance even if they are on a bookcase. It is possible for dust and mildew to build up on the pages of a book and this can turn to damage if not removed. If you use a microfiber cloth to dust your books, always dust away from the spine of the book; this protects the dust from being trapped in this area causing potential damage to the spine of the book.
If the dust is too thick it is possible to use a vacuum with a brush attachment where you can carefully remove the dust from around the edge of the book before more damage happens.
Sun can also fade the ink of the covers, the traditional leather covers of a book faded by the sun is going to reduce the resale value. It is also important to note, whilst a dust cover is annoying at the best of times if this is missing when you sell the book expect to take a reduction in the value.
Sorting books into categories is not the average person's idea of fun, but it is satisfying if a bookcase looks great and in some sort of order! You must consider these points when maintaining your books:
Regular maintenance
Reduce humidity, this increases possibility of mould
Keep dust free
Storing Books Long-Term
If you are looking to pack your books, whether for a move or a long-term plan then it is important to take care. Don't pack too many books into one box, it will become too heavy to move carefully and the result could be damage to your books or the person trying to move them! It is equally important that you consider the packaging and the potential for damage, some containers are better than others at protecting the items on the inside.
Any books that are going into storage, ensure the facility isn't damp, this is the biggest threat to any book collection and consider the temperature of the storage containers, if it is too humid, moisture will build and damage the books.
A book that has mould spores on the pages can quickly and easily spread this to other books, this is why it is important to pack your books carefully and check for any damage. If you are looking to protect them, don't use too much plastic as this can make them sweat and increase the chances of mould developing and ruining your books.
The Future Of Books
The future of books is changing; many people predicted the demise of the book since the E-Reader, this is an electronic book reader that allows you to store your books and read them on one device. The main disadvantage to this is losing that experience with an actual book, holding it and touching the pages as you turn them.
However, the ability to read some of the best titles ever written without the need to hold a heavy book is just as a fantastic experience.
For me I like the best of both worlds, I like the ease of reading on an electronic device and yet I still get pleasure from reading a book with actual pages.
Looking for a way to protect your books?then these look like a great option.
If you are looking for articles on reading then check out this article I wrote!
Therefore, it is important that you consider the care of your books and retain their life by ensuring that dust and mould don't have a chance to take up residence and ruin the pages and potentially destroy your books.
If you are looking for more articles on this topic head over to the landing page where you will find links to other posts on home organization.
What are your top tips for storing books?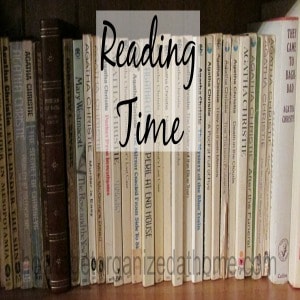 Join Amazon Kindle Unlimited 30-Day Free Trial