Understanding The Snowball Debt Reduction Method
Being in debt is a difficult situation to get out of, it can cause stress and sleepless nights, but with a plan of what to do and how to do it, debt isn't part of life, there is an alternative. Living a debt free life is good, you are not paying high rates of interest on the products that you buy and often, if you have to save up the money for a purchase, you can quickly realize that you don't need to have everything, it won't bring you happiness and it can save you a lot of money. There are different methods you can use for paying off debt, one method is the snowball debt reduction method.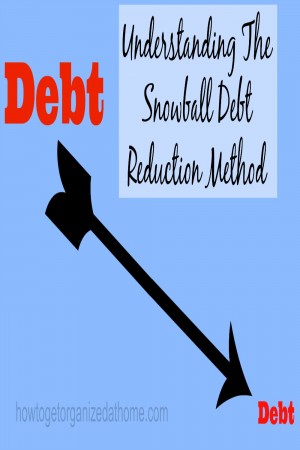 Affiliate links support How To Get Organized At Home
The Snowball Debt Method
The snowball debt method of paying off your debts isn't difficult but it will take some hard work and commitment to achieve. The time it takes will vary because you have to take into consideration the amount of debt you owe and the spare income that you have to pay off these debts, it is as long as 5 years.
This system works because you are focusing resources on one area to pay it off quicker, reducing the term and the interest you would pay meaning more money to put towards other debts.
How To Start Your Snowball Debt Reduction
The most important step that you must take is admitting to yourself how much you owe. Writing this down and looking at how much this debt is costing you each month is important, it helps you visualize exactly what the debt is doing to your finances and your ability to enjoy life.
You must commit to not adding more debt into your life because that will make things worse and will take longer to sort out.
List your debt and include all this information:
How much you owe
What is the minimum monthly repayment
What is the interest rate
How long do you expect to have this debt
What is the company name
Once you have collated all the information you need to put them into order, if you start with the smallest debt at the top and the largest debt at the bottom.
How To Work A Snowball Payment Method
You must continue to pay your minimum amount of all your debts every month.
You pay more towards your smallest debt every month; this reduces the amount you owe quicker than just paying the minimum.
Once you have paid off the first debt you apply the money that you would have paid towards the first debt to the second debt on the list, making this debt paid off sooner.
You keep snowballing the amount of money that you pay towards your top debt and this will increase as you pay off more debts. Using this method, you will quickly see results happening. You will owe less money and you will have paid less interest by paying off the debts earlier.
Understanding, your financial situation and what you need to do isn't always easy, I love the author of this book his ability to talk money in a practical way makes so much sense!
Working Out The Extra Payment
Knowing how much extra you can pay towards your debt is in your budget. Knowing that you need to prepare a budget and learn how to use your budget effectively is important in knowing how much spare money you can put towards your debts each month. It is important to realize that your budget might change every month and therefore, the amount you can afford to pay off extra on top of your minimum monthly payments might change too.
Therefore, the most important step that you need to address is the amount of debt that you owe and being prepared to budget correctly, so you don't increase your debt burden but start to see the difference in the debt as you pay more off each month. Debt repayment is not easy and it will take time, but it is worth the effort not paying credit companies interest on the purchases that you make.