If you are planning to get away for a summer vacation this year you must start saving now if you hope to have a debt free get away. Having the money to pay for your vacation will mean that in theory it will cost you less rather than putting it on credit, which you will end up paying interest on. Having a fun-filled family vacation is the perfect way to relax and unwind, but if you are putting the whole bill on credit it will mean there is not going to be the money for the rest of the year for any other fun activity.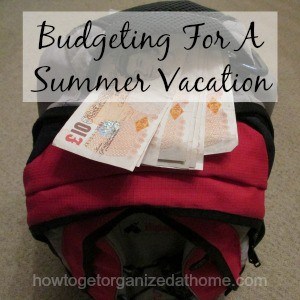 How Much To Put Aside
How much you need to put aside each month will depend on the amounts that you can afford. If you can't afford to put away a lot then you might have to consider a cheaper holiday than what you might normally opt for.
Don't forget you will need spending money as well as any holiday shopping that you will need to do before you go.
If you are looking for a debt free vacation saving is the key to this idea, you put money aside every month for your holiday, the more you are able to save the more expensive holiday, in theory, you can afford. However, you might feel good about the money you save and consider paying down debt and forgoing the holiday for a year.
Don't Spend More Than You Can Afford
I am an advocate in the spending only what you have category; there is little benefit from living beyond your means and getting into debt. If you want to do the fun things or to have nice objects around your home then the only option is to save for the items you want. If you haven't the money then you don't do the fun things or have the high ticket price items.
This is true with holidays too; if you can't afford the holiday or you need to put the holiday on credit then in my opinion it is not an option. It is sometimes difficult to have a year without a holiday but if you can't afford one then it's your only option.
Ways To Increase Your Holiday Fund
If you are looking to increase your holiday fund so you are able to go away and have some fun this summer you might need to find different ways to save the money that you need.
Some options for increasing your income:
Getting a 2nd job
Use coupons for shopping and put away the saved money for your holiday fund
Collect all change at the end of the day and have a holiday fund jar
Look at ways to cut back in other areas, try eating out less and save the money you would have spent
What you must consider is the extra effort in finding the money, something that you are going to focus on long-term. If you're committed to reducing your spending, then you must make this a worthwhile effort; it has to be a long-term savings plan, you will need to stick to it for at least a few months to save up even a small amount of money.
Therefore, if you are looking to go away on a summer vacation, it is important that if you want a debt free holiday then you must start saving now to be able to afford the holiday and all the accessories, which you will need to get away.