Finding a home for the items in your home is important, but finding them the right home is key to protecting yourself from exposing you and your family to health risks. Some health risks are more obvious than others and some pose a greater risk by enabling the spread of germs. Knowing what items that you should keep in the bathroom from those items that are best not to store in your bathroom to protect the health of your family.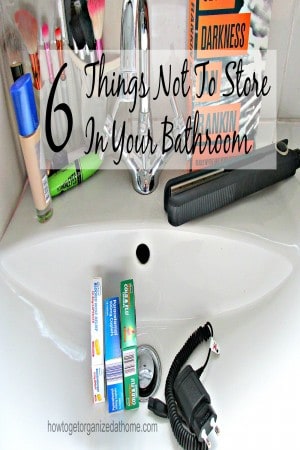 Affiliate links support How To Get Organized At Home
6 Things Not To Store In Your Bathroom
Have you ever wondered where you should store something, or have you not given much thought? Well, some items not to store in your bathroom as they can pose a risk to your family's health.
Medication: This you must not store in the bathroom, the fluctuation in temperatures and the high humidity is not good for any type of medication. Storing medication in this way can actually reduce its effectiveness in the condition that it's designed to treat.
Electrical devices: You should not take into the bathroom an electrical device that isn't able to withstand the high moisture levels found in bathrooms. Certainly, you should not have the electrical item in your hand whilst in the bath; this is dangerous.
Electric charging cables: You know the ones I mean, the one to charge your razor, which is probably stored in your bathroom cabinet. This is not the place to store it, the high moisture content could cause an electrical short when plugged into re-charge.
Make-up: Do you keep your makeup in the bathroom? You are reducing the shelf life of your products and potentially using out of date makeup on a sensitive area of your body, your face.
Make-up brushes: Do you store these in your bathroom? These items can pick up the germs that float around in our bathrooms and then you use these brushes to apply makeup, spreading the germs to your face and into your makeup allowing for the cross contamination to continue and for germs and bacteria to grow.
Do you read in the bathroom? If you are a bathroom reader, apart from the obvious spread of germs when the toilet's flushed, but there is another area to consider. If you leave the paper or book in there, the high moisture content and paper are not a great combination, it can cause mould and mildew to grow and this is not good for anyone's health. If you must read in the bathroom then take it with you when you leave.
Why The Bathroom Is Unhealthy
The bathroom has the perfect mix of high moisture and the potential for spreading lots of germs and bacteria. It is the same in every bathroom, and whilst it is a difficult area to keep clean and to ensure your family is kept safe, there are things that you can do to prevent the spread of more germs.
My biggest hate in the bathroom is to leave the toilet seat up, especially when you flush, this will spread a thin layer of spray around your bathroom and this will have particles that contain germs and bacteria.
The other problem is ventilation, you hear so much about these wonderful new products that reduce energy loss from our homes, but in effect, you are sealing in the problem. A house needs to breathe and with the high concentration of moisture in a bathroom, the lack of ventilation causes mould growth.
Therefore, by reducing the spread of germs, storing only items suitable for storage in the bathroom, you are making it a safer place for your family to use.
If you are looking for more articles on this topic head over to the landing page where you will find links to other posts on the home.
What other items can you think of not to store in your bathroom?
I wrote an article that I think you will like, 18 Reasons Why You Need To Clean.