What Are The Best Blinds For A Conservatory
Is your conservatory too hot in the summer and cold in the winter? Have you considered blinds but not sure what to do or how to attach them? Finding the best blinds for a conservatory window seems hard but it doesn't have to be.
Are you worried about attaching fixings in your conservatory because you don't want to drill into the plastic? This might damage your conservatory guarantee or if you are renting you will potentially lose your deposit if you start drilling holes into the frame work of your conservatory.

But what do you do? There are blinds that need no drilling, look amazing and work. They literally fit between the plastic that holds your window in place and the glass, there is no damage to the window if you need to remove them.
This article is sponsored and product gifted by Make My Blinds they provided me with two EcoFit Honeycomb Dimout Off White blinds to try, but the opinions are 100% my own!
Why I Needed Blinds
I was fed up with sitting in my conservatory with sunglasses on, the sun screams through those windows and I just didn't know what to do.
I paid a lot for my conservatory I didn't want just anything, I wanted it to look sytlish but simple too! Finding the best blinds for a UPVC conservatory seemed impossible, without damaging the plastic of the windows.
I didn't want to drill holes into the plastic, so when I heard about the EcoFit blinds I thought they seriously couldn't work, my windows are quite large and I was unsure about the colour too.
Best Blinds For Conservatory Windows
But I didn't need to worry the guys at Make My Blinds understood how difficult it is to make a decision and they provide free of charge samples. This made the process so much easier, I could look at and touch the material and I had a choice of colours.

On the Make My Blinds website there is a guide on how to measure your windows and this is important if you want to get the fit right.
Take your time and measure a few times this will help to make you feel comfortable with the information you are providing.
The blinds I choose were simple to install, I couldn't believe it, no tools needed. This was amazing, how often do you look at a DIY project and are confronted with a list of tools you will need!
My blinds once ordered where with me really quickly, I was so impressed with the speed of delivery and the quality of the product.

The Different Type Of Conservatory Blinds
You want something that is easy to install simple to use and look good. That's exactly what I got from Make My Blinds. In my opinion these are the best type of blinds for a conservatory that causes no damage to the frames.
There are three different options that you can go for when it comes to blinds that fit into the window recess.
Perfect fit venetian blinds
Ecofit honeycomb dimot
Blackout honeycomb pleated blinds, these have aluminum foil in the honeycomb which prevents the light getting through the blind and will reflect the light and heat too!

There are pros and cons with all types of blinds and the main reason for going with the Ecofit Honeycomb Dimout blinds was the fact of less cleaning comparied to the venetian blind that made me choose this option.
I have had venetian blinds and they can be a pain to keep clean.
The main difference between the products it the ability to change the amount of light that you get in the room. With the venetian blind, you can tilt the slates and get as much or as little light into the conservatory. Whilst, this is great as you can make so many different adjustments it doesn't stop the fact that you need to wipe each slat over regularly to keep them dust free.
You can still clean your Ecofit blind but you haven't got an infinate number of slates that you have to clean on a regular basis.
One disadvantage to the Ecofit blind is you can't adjust the light, if you need to pull down the blind you don't have any options for adding in more light into the room. Unless, you turn on a light. This is one reason why we went with a lighter colour so the light could still get through but it's not harsh dazzeling light.
Benefits Of Blinds In A Conservatory
The benefits for having blinds in the conservatory are important!
Having a blind in the summer cuts down the heat in the conservatory
If you have a TV in the conservatory then the glare from the windows can often make watching it impossible.
If you want privacy then blinds are a must, you don't always want neighbours looking in to your home.
Having blinds means that in the summer you can actually use the room, it doesn't become so hot that it is impossible to spend more than a minute or two in the room.
These aren't bulky blinds ruining the asthetic of the conservatory, the clean simple lines are still there.
Sometimes the glare from too many windows can make sitting in other rooms difficult and this is one of the reason we love the blinds, we can now watch TV whenever we want in the living room without glare.
Want a softer look then go for a sheer colour, it doesn't block out the light completely it softens it.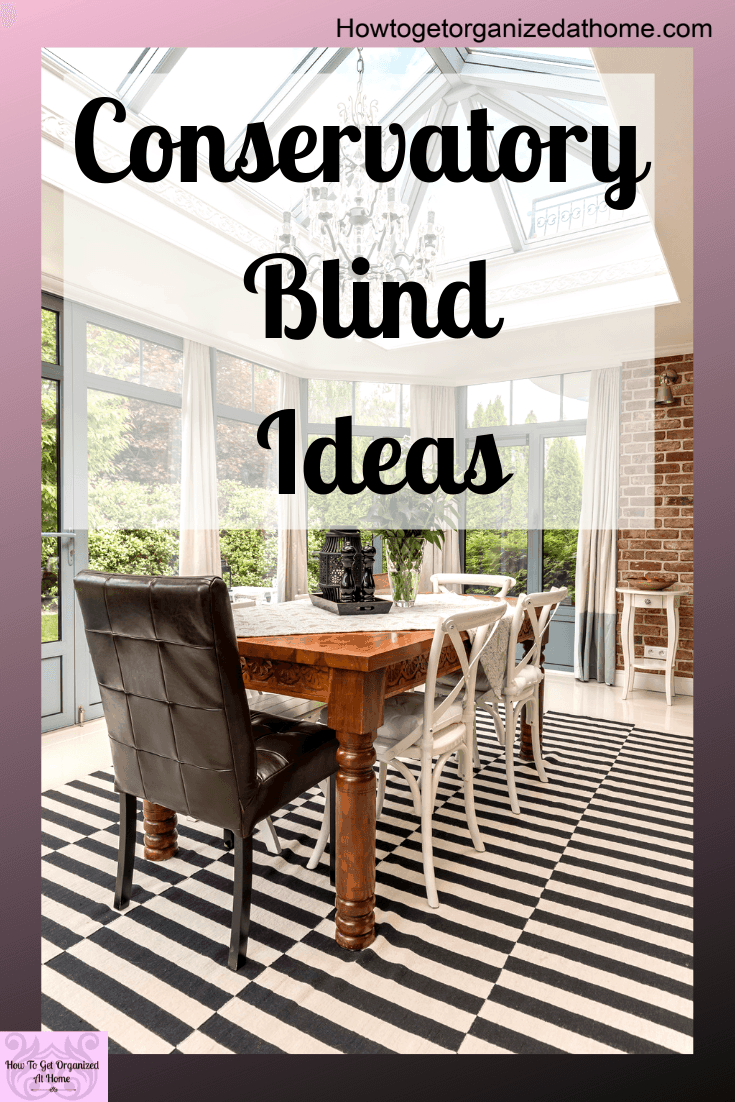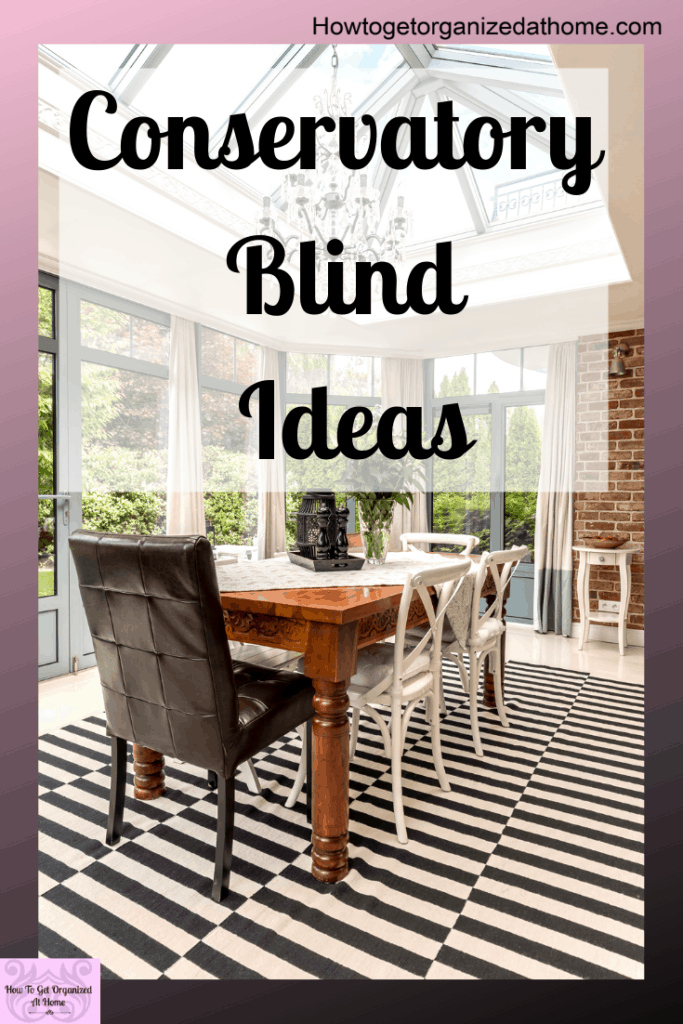 Thinking about what you want to use the room for is important in what sort of blinds that you opt for.
If you have neighbours close by, you might want something that gives you the privacy in your conservatory so thinking about the colour is important.
A light colour will mean that shapes are visable if you have a light on, this isn't something that I need to worry about because our back garden backs onto a school field and so we don't have to think about that.
But you might need to take the colour of the material in mind if you are looking for an effective light reduction to watch a TV for example. A sheer colour or a light colour might not give you enough to block out all the glare. But, if this isn't something you need to consider you might just want the privacy of a blind but not to darken the room too much.
You have to find the best blinds for consevatory windows that meet your needs and your budget.
Best Blinds To Keep A Conservatory Cool
One important factor that I found with Make My Blinds, the material facing the outside is white and if you opt for their blackout blind aluminium foil is inside the honeycomb. Both of these products would reduce the light and heat coming into the room making it a more pleasant room to sit in when it's hot outside, or warmer on cooler days.
If you have any sun getting into a conservatory then you need to think how this heat is going to affect how you use the room. A conservatory has a lot of glass and this can make the room impossible to even be in. It can heat up quickly, you want to consider the blinds and how you can use them to help you keep the room cool when it's hot outside and warm when it's cold.
What To Consider Before Buying
You will need to consider these before you purchase any blinds for your windows.
The material that is being used, the blind I picked is made from a polyester material. I wasn't interested in a venetian blind as I already have one of those and I hate cleaning it.
The Fitting how it fitted into the window was important, I didn't want to go down the route of drilling holes and fitting them to the window frame, I've done that in the past and in the conservatory I really didn't like the look but once they are up you have the holes to deal with if you want to take them down.

The Easyfit system is so easy, the only thing we needed was some washing-up-liquid to help it slide into place and this tip is on the website for the fitting instructions. The Venetian blinds are slightly more complicated to install, you need a screwdriver too!
To put them on all windows or just a few? We are considering buying more blinds, we opted for two to try them and to see how they fit and how they work and I'm so impressed that we are going to buy more.
However, I'm not sure if we buy blinds for the big windows and the little windows at the top or if we just need the big windows with the blinds! I just can't make up my mind!

Remember the bigger the window the more the blind will be, we have large windows in our conservatory and I know they are going to cost more than if they were smaller, but I'm happy with how it looks and how it makes the conservatory feel complete.
Pros And Cons Of PerfectFit Blinds
The pros and cons of the PerfectFit Blinds that I chose.
I love the blind, the simplicity of the install the only thing that annoys me is the little 'tail' that falls out of the bottom. I'm told that it should just tuck up in the bottom frame but it keeps falling out and it's the only thing that I find annoying!
There is a slight bend in the top bar but the window is large and there is a lot of glass to cover, however this is only noticable if you sit and stare at the top bar for sometime. In general, you don't notice this and it has no effect on the performance.
I'm not convinced that the PerfectFit blind is the best blind for UPVC doors, as it's a lighter fabric it might get easily damaged if it gets rained or snowed on. My conservatory door opens outwards and can easily end up getting wet on the inside. It has also been known to end up with bird mess on it too, but that's another story!
Check out this article: When Did You Last Clean Your Windows for inspiration on window cleaning.
I do think the venetian l blind would work better on a door. I also think they would deal with any weather that hit the door when it's opened better because of the different material.
I haven't tried cleaning my blind yet and the dogs haven't paid it any attention which is always good. But, I would be scared to have the veintian purely because of the cleaning it would require and the number of blinds I would have in my conservatory.
My Reasons For Buying
My expereince of the blinds made by Make My Blind has been a positive one and I can't wait to extend the range of my blinds fully in the conservatory.
I would recommend these blinds and I can't wait to order them and not just for the conservatory but for other rooms in my home. You will have to watch this space to see where they end up.