How To Deep Clean Your Carpets
Keeping your home clean is important and there are certain areas of your home that you will need to attend to and provide a deep clean. Your carpet is just one of those areas and how you clean it, can give you the reassurance in case of a fault with your carpet; following the manufacturer's recommended guidelines is a requirement if you make a claim against the company. If you don't follow the guidelines, or you just want to keep your carpets deep down clean, you need to consider how you clean a carpet and how often this must happen.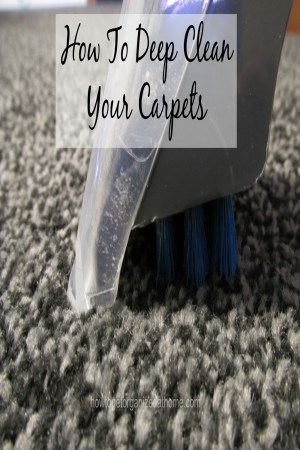 How To Deep Clean Your Carpet
If your carpet guarantee stipulates that you must have the carpet professionally cleaned annually and you try to make a claim, obviously, the claim will face rejection if you have no proof to this claim.
If this is part of the agreement then you need to take this cost into the cost of the carpet, is it worth the extra expense? Finding out the cost of this annual expense is key to help you decide whether you're interested in the guarantee of a carpet. If you're prepared to do the cleaning yourself, it can save you money, but it is not a stress-free task.
I have a carpet cleaner, it is something that we have always had, it made sense as we moved a lot due to work, and didn't want the added cost of a professional clean when some of the carpet cleaners on the market do a great job.
Before You Get Out The Carpet Cleaner
You must start with a clean carpet before you can wash it, you need to perform a good vacuum, try going in different directions, this helps to dislodge any loose dirt that the vacuum can collect, saving the carpet cleaner some work. Don't forget the edges, this is where you get built up dirt and dust; it gets trapped and it does take special attention to remove this build up, either use the extension hose on your vacuum or a damp rubber glove is great at getting this dirt out, when rubbed along the edge between the carpet and the baseboards.
It depends on your choice of cleaning options as to the next stage, if you are hiring a professional you must find out what he needs you to do before he turns up to clean your carpets, different companies will have different requirements.
Doing the cleaning yourself, you still have a few options; a carpet cleaner that wets the carpet and draws the dirt out with the excess water with a suction power or alternatively, you can use a steamer. These don't tend to come with the option to draw out the water, but they do tend to use less water and the carpets are less wet using this option, the cloth on the end of the cleaner is what picks up the dirt.
I think it depends on what you are looking for, I have dogs and I want that deep down clean, which I get from a carpet cleaner; I feel that while a steamer freshens and kills germs it doesn't get the deep down dirt that is in the carpet. However, this is a personal preference and your choices might differ to mine.
You must wait until your carpet is dry before putting the furniture back, you don't want to cause damage to your furniture being placed on a damp floor; this can breed mould and can ruin your furniture as well as being bad for your health.
Planning Your Deep Clean For Your Carpet
Deep cleaning carpets is a time-consuming job, don't think that you can do a large number of rooms in just one day, you have to empty the room as much as possible, vacuum and then clean before starting the process in the next room, without putting furniture back as you need to wait for the carpet to dry.
How often you deep clean your carpets will depend on a number of different factors, including how dirty they get and if you need to clean them more frequently. I like mine cleaned about twice per year. I will freshen them during the year with a light sprinkling of baking soda and a good vacuum after it has had about an hour to penetrate the carpet fibres; baking soda is a great freshener for carpets, it can remove pet smells and freshen a carpet up lovely.
Therefore, it is important that you plan enough time to deep clean your carpets and have plenty of help when it comes to moving items of furniture, don't lift anything that is too heavy as this can damage your health and stop any progress on deep cleaning your carpets.